Over the years, Quadratec has proven to be a reliable source of parts for our Jeep projects. Even when manufacturers were backordered, Quadratec usually had parts in stock and came through. Because of this, when we purchased this 2014 Wrangler Sport, Quadratec was our first stop. As the project progressed, it was evident that, except for a few parts, Quadratec would be supplying almost everything for our Wrangler. Why not call the Jeep "Project Q," the Q standing in for "Quadratec"? Plus, in WWI, Q-Ships were heavily armed merchant ships with concealed weaponry, built to lure submarines to the surface where the Q-ship could open fire and sink them. They were wolves in sheep's clothing. We had no plans to cut the fenders, use a radical lift, or do anything that would make Project Q look like anything more than a sleeper. Perfect.
Project Q started life as a mild-mannered 2014 Wrangler Sport. It has a 3.6 VVT V6, WA580 5-speed automatic transmission, 241J transfer case, Dana 30 front and Dana 44 rearend. John Williams, owner of Impulse Off-Road in Salt Lake City, Utah, asked if he could build the mild Wrangler into Project Q. As John is a JK guru, we quickly agreed.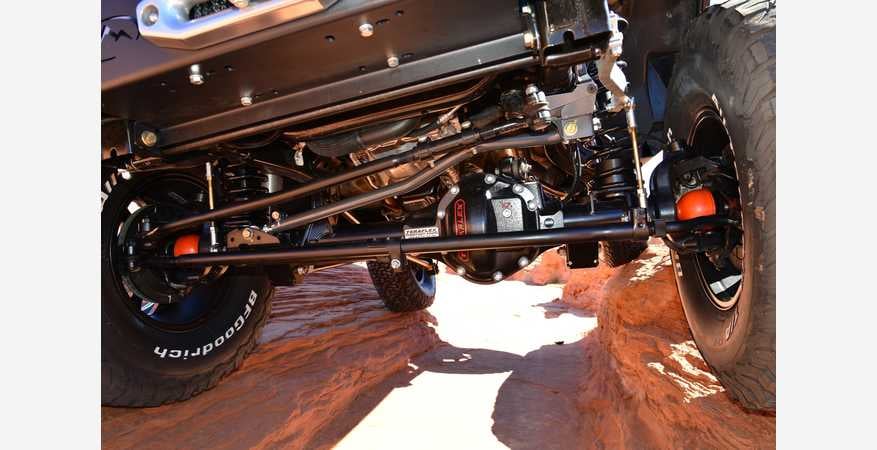 The plans for the Project Q project included a long arm suspension and a new frontend to replace the weak OE JK Dana 30 frontend. Quadratec shipped a Teraflex LCG Elite 3" long arm suspension system with Fox 2.0 reservoir shocks to Impulse, as well as a strong, beautiful Teraflex Tera44 front housing. Yukon 4.56 gears, the new Eaton 4-pinion Dana 44 ELocker, Synergy Mfg. ball joints, and RCV CV axle shafts replaced weak stock pieces up front. A Synergy Mfg. front track bar and sector shaft brace kit, and a Synergy adjustable front track bar (required to work with the brace kit) ensured Project Q would have no steering issues.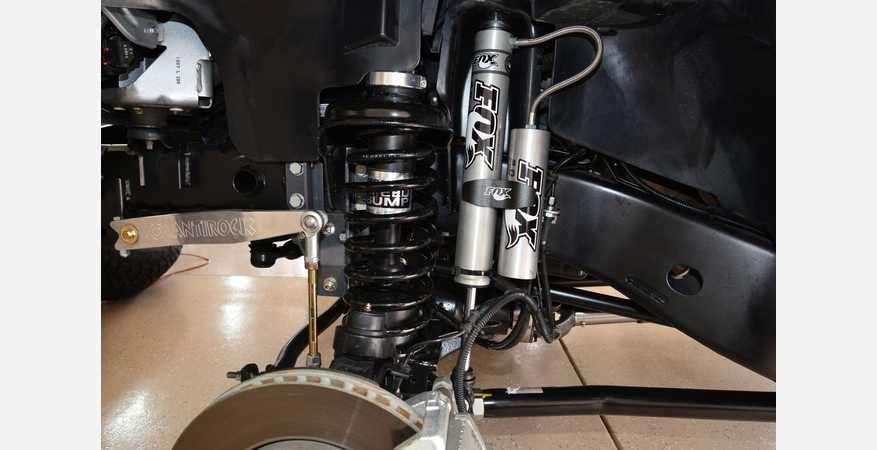 Fox 2.0 reservoir shocks are valved softly and work perfectly with Teraflex SpeedBumps to provide a phenomenal ride off-road, especially when driving at high speeds through the bumps. Teraflex JK coil springs have always been among the best and are the perfect spring rate for 2-door and 4-door JK Wranglers. The OE JK swaybar was replaced with a Currie AntiRock swaybar that allows controlled articulation in the rocks, yet a controlled ride on the tarmac.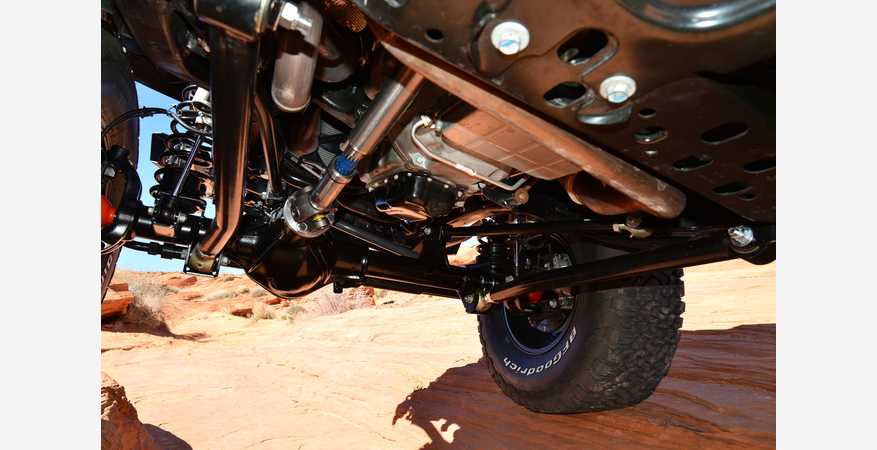 The Teraflex LCG Elite long control arms are bent for clearance and the provided bracketry ensures correct suspension geometry. Tom Wood's Custom Driveshafts built the front 1350 CV driveshaft. Teraflex exhaust spacers keep the crossover pipe from being crushed by the driveshaft at full droop.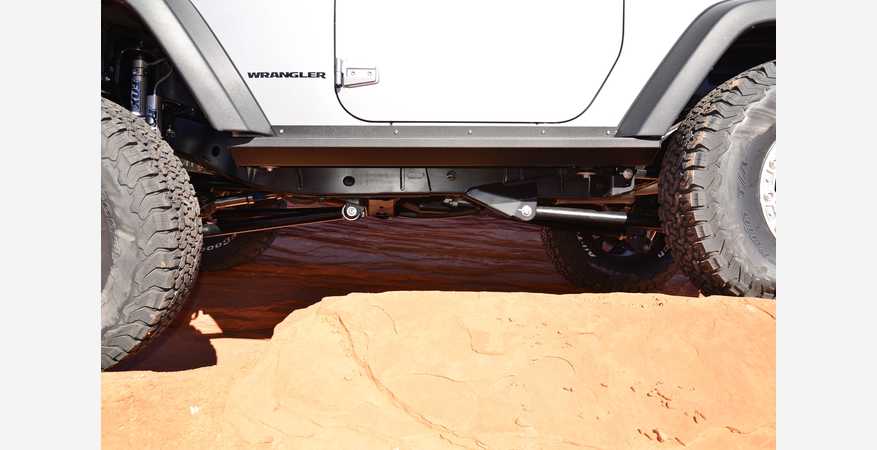 On the 2-door Wrangler, the long lower control arm bracketry does affect ground clearance when breaking over obstacles. We feel that's an acceptable trade-off for the JK's outstanding handling and climbing ability provided by the long arm suspension.
Tom Wood's staff built the polished rear 1350 CV driveshaft. The vapor canister needs better protection than the thin stamped steel OE canister skid, so Quadratec sent an M.O.R.E. canister skidplate that was easily installed. Also note the Impulse Off-Road JK transfer case reinforcement plate on the back of the 241 J transfer case. Many JK Wrangler OE transfer case housings have cracked, some even while driving on the highway, so John Williams designed this plate to keep that from happening. It works well.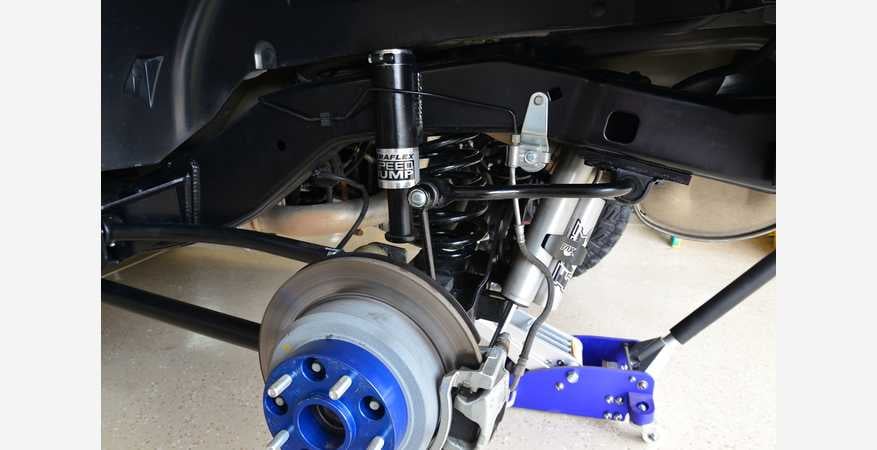 The rear Teraflex SpeedBumps were welded on the frame. Impulse Off-Road does outstanding work. Spidertrax wheel spacers were used while the Project Q project was in progress and OE wheels were being used.
Teraflex's 44 cover has oil fill plugs for both low and high pinion third members. John installed RCV 300M axle shafts, Yukon 4.56 gears, and an Eaton 4-pinion Dana 44 ELocker electronic locking diff. The Elite LCG suspension system includes a raised track bar bracket. After this photo was taken, we replaced the OE track bar with a Teraflex adjustable track bar from Quadratec. As in front, the soft Fox reservoir shocks, Teraflex SpeedBumps, and Teraflex 3" coil springs provide an outstanding ride.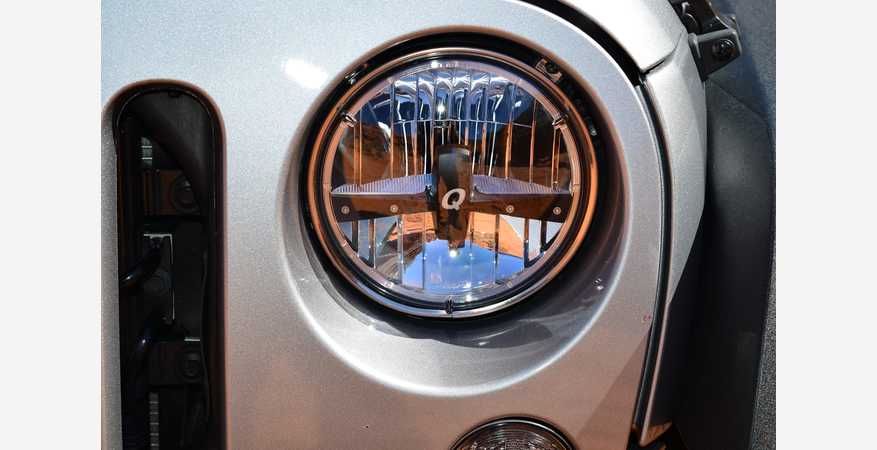 LED headlights are popular for their white light and low amp draw. While most LED headlights available today are top quality, Quadratec's LED JK headlights are less expensive and work just as well as more expensive offerings. They're available in stealth mode without the "Q", or as you see here. We thought keeping the "Q" was a nice touch on Project Q.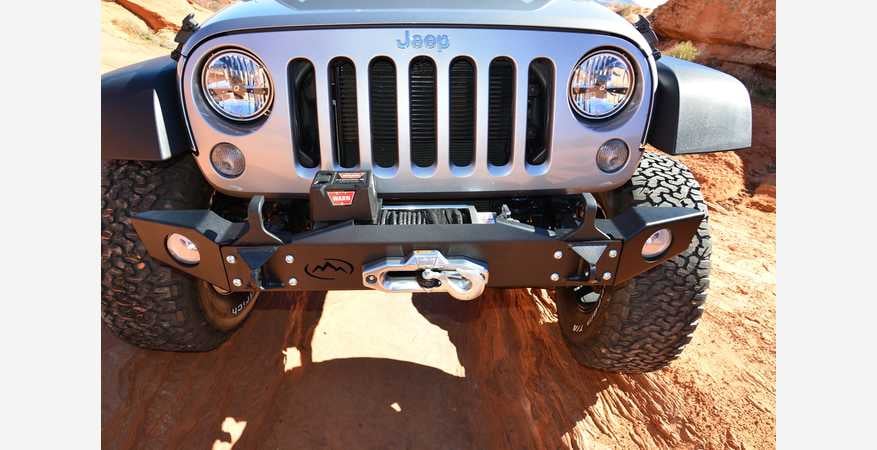 The Expedition One Basic DX is a lightweight, basic front bumper for the JK Wrangler. Ours came with optional foglight wings that are easily removed when hard core 'wheeling is anticipated. OE foglights were replaced with Quadratec LED foglights. The Warn M8000-S winch is one of Warn's venerable workhorses updated with synthetic rope.
The Basic DX bumper provides plenty of approach clearance.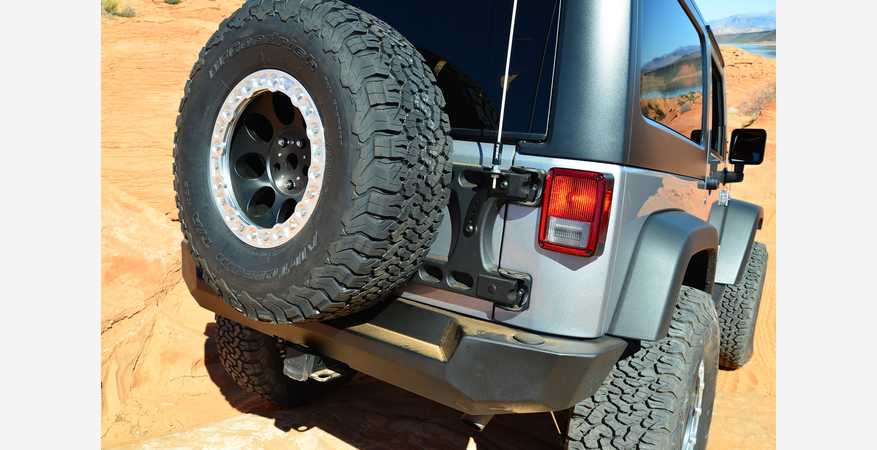 In back, the Expedition One Core Series rear bumper looks great. Our Sport model didn't come with a tow package so had no hitch. The Jeep tow package is nothing but a hitch and trailer light harness and costs in the neighborhood of $350.00. Quadratec sells a hitch and harness kit for $79.97 that's bolt-on and plug-and-play, taking less than half an hour to install. Look for the installation feature here soon. The Teraflex tire carrier hinge reinforcement and tire carrier kit is one of the top 10 products ever invented for the JK. Able to carry up to a 40" spare rattle-free, the Teraflex carrier easily handled Project Q's spare.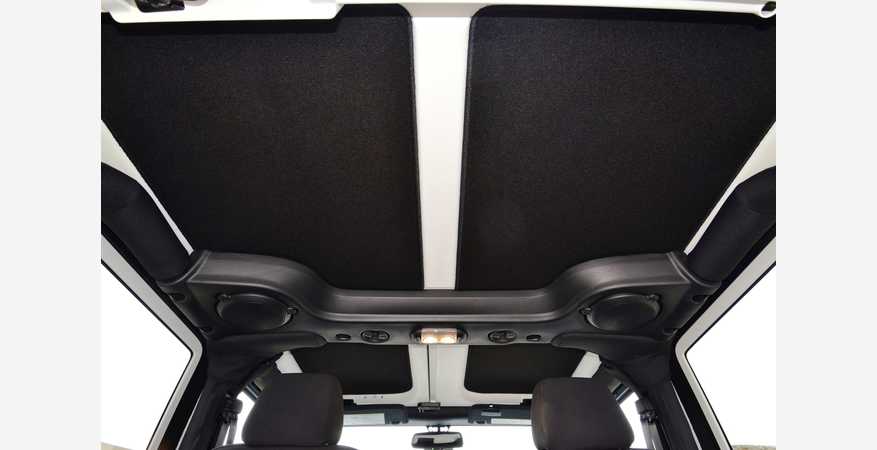 To insulate the hardtop and act as a sound absorber, a Mopar headliner kit was installed. It wasn't as good as the headliners we've used in the past. We recommend the Boom Mat hardtop headliner that's less expensive and works better.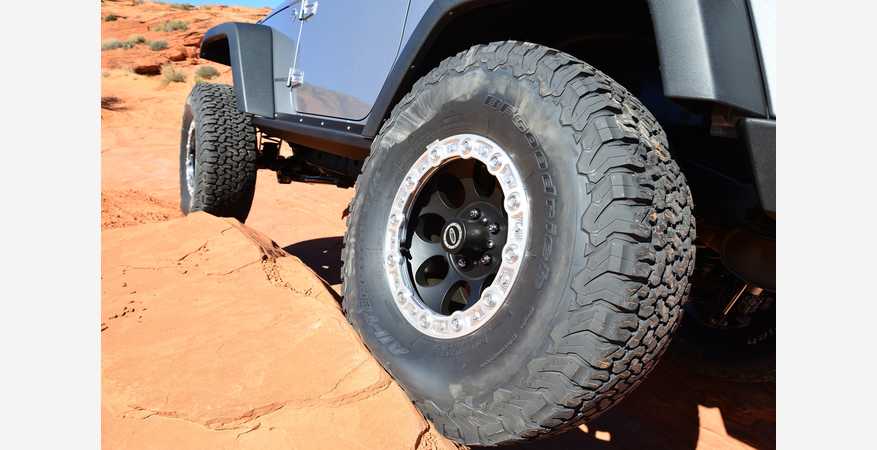 Quadratec's new wheel lineup intrigued us, so we opted for a set of 17x9", 4.75" backspace black Quadratec Baja Xtreme wheels and had them beadlocked by OMF Performance, using their Rocklite rings and Rock Domes. 37x12.50R17/D BFGoodrich All-Terrain KO2 tires were mounted on the wheels. The package balanced well, with two taking only 2.5 ounces of weight, one taking 4 ounces, and the last taking only 6 ounces to balance. There was no radial or lateral runout to deal with. On the highway, the KO2s grip like glue and are silent. They're the quietest all-terrain tire we've ever run! Sporting the Mountain Snowflake symbol, the tires will work well in the snow. Off-road, we used them in sand, in the rocks, on slickrock, and in the dirt. They're outstanding tires. Coupled with the OMF-beadlocked quality Quadratec Baja Xtreme wheels, Project Q was shod well.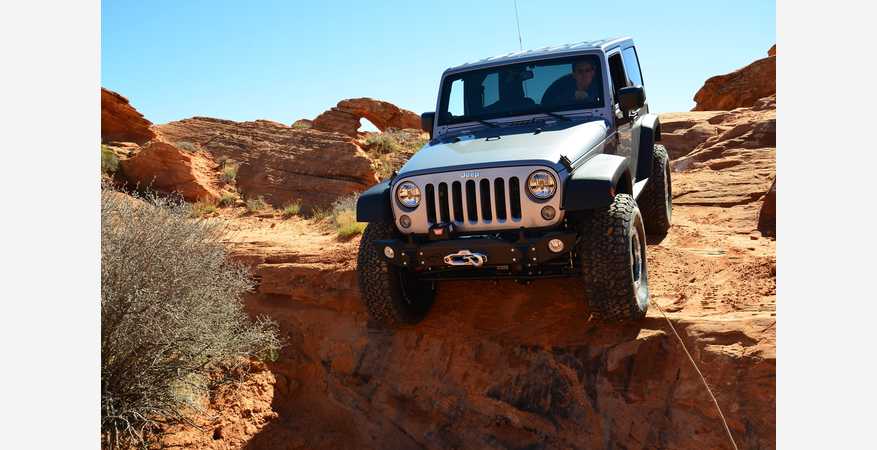 With the help of Impulse Off-Road and Quadratec, Project Q works well both on the road and off. Its impressive performance turned quite a few heads in Moab this year, including a few friends who are retired Jeep engineers. Sourcing parts from Quadratec reduced the headaches that always accompany a project build. While the beadlock wheels tell the average observer there might be more here than meets the eye, without the beadlocks, Project Q is a real sleeper . . . a wolf in sheep's clothing. A speedy, rock- and highway miles-eating Q-ship.