The SDB-160HB has an internal light frame to protect the lamp from vibration and shock when running off-road, plus an impact resistant polycarbonate body protects the exterior. Heat and weather resistant EPT material helps protects lamp integrity.
The lens of the SDB-160HB is protected by a stone guard in a "V"-shape to let air cool the lens surface, allowing extended operation of the lamp. Hardened glass lens has excellent heat and thermal shock resistance, strength and translucency.
Easily adjustable illumination angle to 15° up or down. Dual beam control switch includes relay control feature and LED illumination when lamps are in use.
SPECIFICATIONS/PART NUMBER  
Part Number: 37606
Model: SDB-160HB
Bulb:  H4
Rating:  12V 100/90-Watt
Maximum Brightness:  100,000CD
Spot Beam:  770'/235m
Driving Beam:  410'/125m
Beam Color:  White
Lens Diameter:  5-1/4"/134mm
Attachment Bolt Dimensions:  13/32"/10mm
Switch:  1 (12V/24V)
Relays: 2
Harness:  1 (H4 TYPE)
Cord Clamps:  4
Relay Locating Clamp: 1
U-clip: 4
Clip Tape:  4
Self-Tapping Screw/Washer: 2
Switch Locating Double-Sided Tape: 1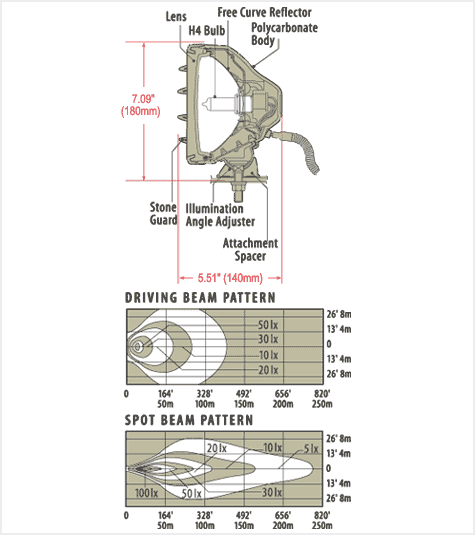 Installation Notes
Installation Difficulty:
Level 2
Intermediate
Installation Time:
1-2 hours
Parts Included
Two 6" Round Lamps
Wiring
Switches
Installation Hardware
Warranty
Limited Lifetime Warranty.