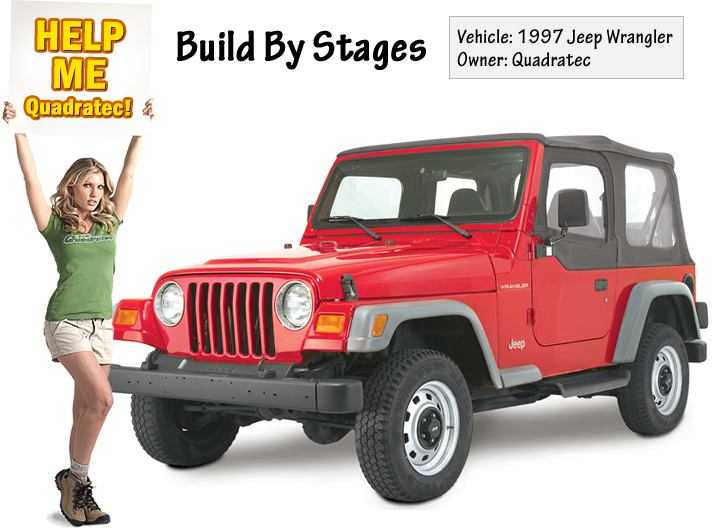 Help Me!
It's a little bit worn but it's the perfect fixer-upper. We purchased our red, '97 Wrangler for about $7000. This mechanically fit 6-cylinder Jeep has 84k miles with a 5-speed manual and air conditioning. The tattered and torn soft top appears to be the original and certainly needs to be replaced. The seats are nearly as faded as the fender flares, and both are going to need to be replaced. The tires are bald, and besides, they are mounted on those wimpy, stock steel rims. Those need to go. The good news is that the body is nice & straight, and the paint only needs a little TLC.
What are "Stages" anyway?
Realizing that no single Jeep build-up will appeal to every kind of enthusiast, we decided to design and create three very different Wrangler stages based on the same original vehicle. These three stages illustrate dramatically different types of build-ups that you can do yourself.
Each stage features components to appeal to different tastes, uses and budgets. Some of the components can be used in all of the stages, but each of the stages makes for a truly a unique vehicle. Quadratec provides the "Essential" building blocks and the expertise you need to design and construct your own customized rig. We hope you'll enjoy a lasting sense of satisfaction & accomplishment every time a stranger comes up and tells you "hey, nice Jeep!"
1
Lighting Upgrades
Our Headlights are old & dim! We want to upgrade them and add auxiliary lights for extra brightness.
2
Replacement Bumpers
The factory bumpers are OK, but we want to give our vehicle more style and more protection.
3
Stretched & Worn Soft Top?
The lifespan of a soft top is usually about 5 years. This one is about 6 years old. It's showing small rips and the windows are a bit difficult to see through.
4
Worn Out Wheels & Tires
Our '97 Wrangler is sitting on a set of 205/75 r15 tires that have extensive wear. Along with the tires, our 15x6" wheels need some serious attention.
5
Faded Fender Flares
Fender Flares on older vehicles tend to fade to gray and crack after a few years, ours are no exception.
6
Tired Stock Suspension
After almost 90,000 miles the suspension system is definitely ready for an upgrade.