Chart showing Lug bolt patterns with torque specifications and instructions for determining bolt patterns.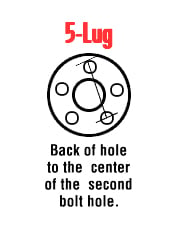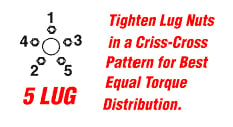 Bolt Pattern

Vehicle Description

5x5"
07-Current Wrangler & Wrangler Unlimited JK

5x4.5"
'97-'06 Wrangler TJ & TJ Unlimited
5x4.5"
'87-'95 Wrangler YJ
5x5.5"
'41-'86 MB & CJ Series
5x4.5"
'84-'01 Cherokee XJ & Comanche MJ
5x4.5"
'93-'98 Grand Cherokee ZJ
5x5"
'99-'04 Grand Cherokee WJ
5x5"
'05-Current Grand Cherokee WK
5x5"
'06-'10 Commander XK
5x4.5"
'02-Current Liberty KJ
5x5.5"
'62-'73 J Series & Full Size Wagoneer
6x5.5"
'74-'91 J Series & Full Size Wagoneer

Lug Size

Ft/Lbs Torque

7/16"

55-65

1/2"

75-85

9/16"

95-115

5/8"

135-145

12mm

72-80

14mm

85-95
IMPORTANT NOTICE: After install new wheels and lug nuts, check the torque of the lug nuts after 20-30 miles. Recheck the torque after an additional 100 miles.
Reference the Owner's Manual for factory specifications of proper wheel torque
For all our wheel options, please check out our Wheel and Wheel Accessory page.