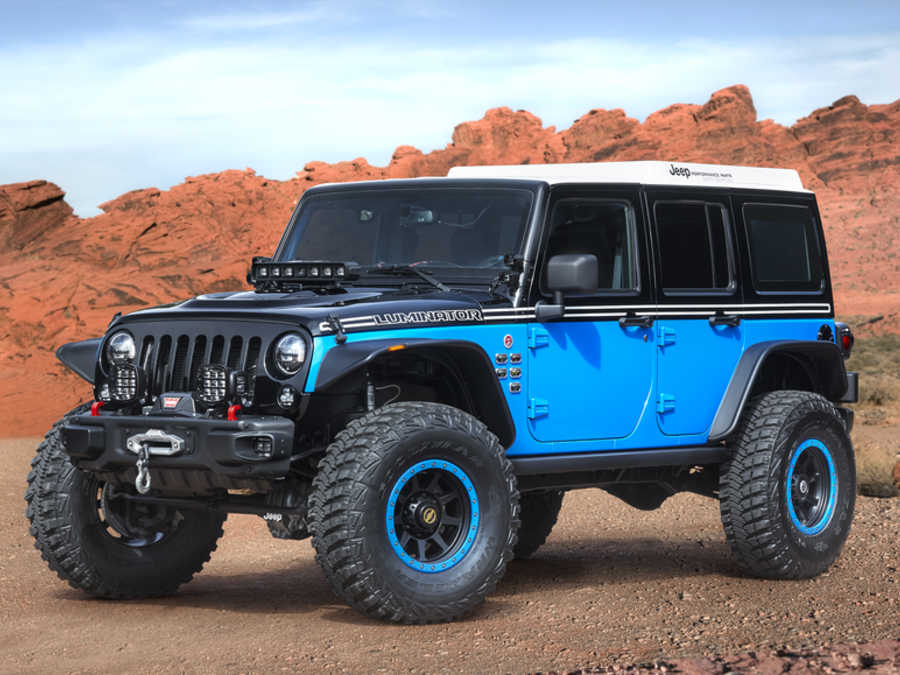 The Jeep Luminator reigns supreme in off-road lighting performance, with a full arsenal of advanced lighting features designed to deliver superior visibility on the trail, jointly developed with the Automotive Lighting division of Magneti Marelli.
This Wrangler-based concept features magnetic underbody rock lights, powerful 7-inch LED projector bi-function headlamps, unique LED tail lamps, A-pillar-mounted high-powered LED spot lights, upper bumper LED auxiliary lighting with cornering fog lamps controlled by the steering angle, and low-profile integrated overhead LED auxiliary spot lights protected behind the windshield. The Jeep Luminator also includes LED versions of the standard 100 mm fog lamp and grille-mounted turn signals unique to the Wrangler.
On the Luminator's hood is a scanning LED light bar module with active spot and dynamic following technology, which delivers spot lighting to avoid wildlife or hazards on the trail ahead. On the rear, the center high-mount stop light acts as a scouting/trail lamp with four-color LEDs for trail rides, indicating stop (red), 1-3 miles per hour (amber), 3-25 mph (green) or providing rear flood lighting (white).
Other features include a roof-mounted solar panel, a drone landing pad with lighted drone and removable spare tire storage case, and a capacitive touch interactive display on the driver's side rear window linked to GPS and internet services.
Photos of the Jeep Luminator 2017 Easter Jeep Safari Concept Vehicle.