Recovery Points:
Recovery points manufactured from flame cut 20mm steel plate pass through the rear bumper and are welded to the mounting bracket uprights for extra reinforcement. The rear bumper recovery points include an elongated slot so that the shackle bow can be passed through the point, allowing the shackle to pivot when pulling from slight angles.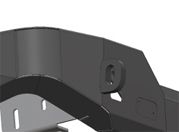 Hi-Lift Jack Points:
Designed primarily for Hi-Lift brand jacks, the Hi-Lift jacking point is reinforced with 4mm steel plate to prevent distortion or damage. When the jack leg is inserted into the point, the lip of the jack foot locates past the internal reinforcing plate to prevent slippage. When not in use, jacking points are fitted with a rubber plug.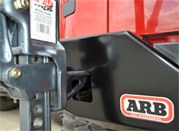 Knock Outs:
Pre laser cut holes are provided in the rear bumper for fitment of the wheel carrier. If no carrier is to be fitted, the knock out sections are simply left in place.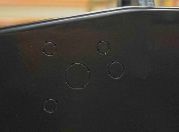 Features:

Integrated Receiver

Color:

Black

Style:

Modular Bumper

Material:

Steel

Shipping Weight:

78lb

Shipping Dimensions:

65in x 14in x 10in (L x W x H)
Jeep Wrangler (TJ)

2006 Jeep Wrangler (TJ)
2005 Jeep Wrangler (TJ)
2004 Jeep Wrangler (TJ)
2003 Jeep Wrangler (TJ)
2002 Jeep Wrangler (TJ)
2001 Jeep Wrangler (TJ)
2000 Jeep Wrangler (TJ)
1999 Jeep Wrangler (TJ)
1998 Jeep Wrangler (TJ)
1997 Jeep Wrangler (TJ)
Jeep Wrangler Unlimited (LJ)

2006 Jeep Wrangler Unlimited (LJ)
2005 Jeep Wrangler Unlimited (LJ)
2004 Jeep Wrangler Unlimited (LJ)
Jeep Wrangler (YJ)

1995 Jeep Wrangler (YJ)
1994 Jeep Wrangler (YJ)
1993 Jeep Wrangler (YJ)
1992 Jeep Wrangler (YJ)
1991 Jeep Wrangler (YJ)
1990 Jeep Wrangler (YJ)
1989 Jeep Wrangler (YJ)
1988 Jeep Wrangler (YJ)
1987 Jeep Wrangler (YJ)