Key features include mandrel bent 3" diameter x .109" thick seamless tubing joined by miter cut vertical connectors that are fully welded 360°. Versions available for both winch mount and non-winch mount applications. Non-winch bumpers feature 2 auxiliary light tabs. Final finishes include e-coated steel w/oven baked powder coatings in textured black, gloss black or titanium gray. These are the finest finishes available and carry a one-year limited warranty.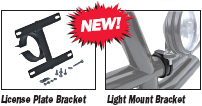 Handy Accessories for all 3" Tube Bumpers
License Plate Bracket #12107.901
Light Mount Bracket #12107.902
Installation Notes
Installation Difficulty:
Level 2
Intermediate
DO NOT DISCARD ORIGINAL HARDWARE
Installation Time:
Less than an hour
Warranty
Minimum 5 Year Limited Warranty.
Features:

Light Mount Tabs

Color:

Black

Style:

Tube Bumper

Material:

Steel
Jeep Wrangler (TJ)

2006 Jeep Wrangler (TJ)
2005 Jeep Wrangler (TJ)
2004 Jeep Wrangler (TJ)
2003 Jeep Wrangler (TJ)
2002 Jeep Wrangler (TJ)
2001 Jeep Wrangler (TJ)
2000 Jeep Wrangler (TJ)
1999 Jeep Wrangler (TJ)
1998 Jeep Wrangler (TJ)
1997 Jeep Wrangler (TJ)
Jeep Wrangler Unlimited (TJ)

2006 Jeep Wrangler Unlimited (TJ)
2005 Jeep Wrangler Unlimited (TJ)
2004 Jeep Wrangler Unlimited (TJ)
Jeep Wrangler (YJ)

1995 Jeep Wrangler (YJ)
1994 Jeep Wrangler (YJ)
1993 Jeep Wrangler (YJ)
1992 Jeep Wrangler (YJ)
1991 Jeep Wrangler (YJ)
1990 Jeep Wrangler (YJ)
1989 Jeep Wrangler (YJ)
1988 Jeep Wrangler (YJ)
1987 Jeep Wrangler (YJ)
Jeep CJ-7

1986 Jeep CJ-7
1985 Jeep CJ-7
1984 Jeep CJ-7
1983 Jeep CJ-7
1982 Jeep CJ-7
1981 Jeep CJ-7
1980 Jeep CJ-7
1979 Jeep CJ-7
1978 Jeep CJ-7
1977 Jeep CJ-7
1976 Jeep CJ-7
Jeep CJ-8

1985 Jeep CJ-8
1984 Jeep CJ-8
1983 Jeep CJ-8
1982 Jeep CJ-8
1981 Jeep CJ-8
Jeep CJ-5

1983 Jeep CJ-5
1982 Jeep CJ-5
1981 Jeep CJ-5
1980 Jeep CJ-5
1979 Jeep CJ-5
1978 Jeep CJ-5
1977 Jeep CJ-5
1976 Jeep CJ-5