The heavy duty caliper is designed to offer
superior stopping power compared to the
stock drum configuration.
The caliper is manufactured using a tight tolerance casting process. The machined surfaces allow the piston to effectively transfer
heat for proper cooling.
The integrated emergency brake system
makes the disc brake conversion a simple
and easy modification. The emergency
brake is designed to work with the integrated
drum cast and machined into the rotor. New E-Brake Cables are available separately for a no hassle conversion.
The late model Jeep® specific bolt pattern
backing plate is designed from heavy duty
steel for superior strength, and the dust
shield keeps debris from reaching critical
braking components.
The rotor is designed to offer excellent
heat dissipation, with resistance to cracking.
The rotor is machined on the disc mounting
surface as well as the integrated emergency
brake surface to ensure parallel and even
braking performance. Dual bolt pattern (5x4.5
& 5x5.5) allow multiple wheel choices. Early Model Jeep Bolt Pattern Shown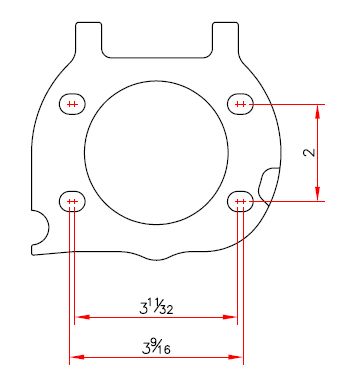 Notes:
This kit does not work with ABS sensors. You will not be able to install the ABS
sensors into the disc brake mount backing plate.
Some factory Jeep® 15" Wheels may rub on the caliper. Do NOT operate the
vehicle until you confirm adequate caliper/wheel clearance.
TeraFlex does not make any Disc Brake Kits to fit factory Jeep® axles built prior to the YJ Wrangler, except for the XJ Cherokee axles.
The years between 1987 and 1991 are the dark years where anything is possible
from Jeep®, so check the bolt pattern with the drawing before ordering a kit.
If you don't want to replace the wheel bearings it is okay to cut a slot in the preload ring and slide it over the axle shaft.
Installation Notes
Installation Difficulty:
Level 3
Advanced
Fits all Jeep® YJ factory rear Dana 35 non-c-clip axles 1987 through 1991 . Also fits XJ Cherokee non-c-clip rear axles from and XJ Dana 44 axles up through 1988.
Installation Time:
2-4 hours
Parts Included
2- Rear rotors
1- LH rear caliper
1- RH rear caliper
2- Brake pad kit (LH & RH)
2- Preload spacers
4- Bolt caliper
8- Retaining Bolts
8- Nuts
1- Plate Assembly L
1- Plate Assembly R
1- Flexible brake line kit
Jeep Wrangler (YJ)

1991 Jeep Wrangler (YJ)
1990 Jeep Wrangler (YJ)
1989 Jeep Wrangler (YJ)
1988 Jeep Wrangler (YJ)
1987 Jeep Wrangler (YJ)
Jeep Cherokee (XJ)

1991 Jeep Cherokee (XJ)
1990 Jeep Cherokee (XJ)
1989 Jeep Cherokee (XJ)
1988 Jeep Cherokee (XJ)
1987 Jeep Cherokee (XJ)
1986 Jeep Cherokee (XJ)
1985 Jeep Cherokee (XJ)
1984 Jeep Cherokee (XJ)