The Steering Stabilizer Tie Rod Mount from JKS is a direct replacement for the light-duty and awkwardly shaped factory part. Unlike the original mount which only accommodates the factory mounting position, the new JKS mount offers as many as six unique mounting configurations. So no matter how your stabilizer is positioned, the angle of the mounting stud will match. This prevents any binding when mounted, and eliminates stress at the stabilizer shaft which is one of the leading causes of premature wear and failure.
The Steering Stabilizer Tie Rod Mount is also much stronger and more compact than the factory part. The low-profile base has been designed to clear all aftermarket differential covers with room to spare, whereas the original part would interfere with most oversized covers. Unlike conventional U-bolts, JKS supplies special high-torque U-bolt straps that clamp to the tie rod with a tenacious grip. As a result, the mounting position will never creep when subjected to extreme steering forces.
To prevent corrosion, a protective zinc finish covers the Tie Rod Mount and U-bolt straps. Premium quality hardware and fine thread fasteners ensure a secure attachment. Installation is a quick and simple bolt-on process and can be accomplished in just a few minutes with basic hand tools.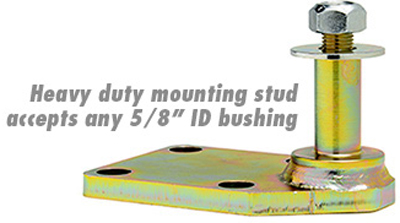 The Steering Stabilizer mount can be installed in various configuration based on your individual requirements. Illistrated below are just two of the most common configurations.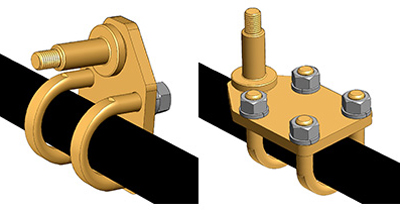 Product Features
Eliminates binding of steering stabilizer shaft caused by misaligned mounting points
Precisely positions installation point on tie rod to accommodate original or relocated axle mount
High-torque U-bolt straps and fine-threaded fasteners greatly increase grip on tie rod
Up to six unique configurations ensure maximum mounting versatility
Low-profile design easily clears aftermarket and oversized differential covers
Easy bolt-on solution to leading cause of premature steering damper failure
Installation Notes
Installation Difficulty:
Level 2
Intermediate
1. Not compatible with OE steering stabilizer. Requires aftermarket stabilizer with 5/8" ID bushing.
Installation Time:
Less than an hour
Parts Included
Stabilizer Mount
U-bolts
Washers
Nuts
Jeep Wrangler 2-Door (JK)

2017 Jeep Wrangler 2-Door (JK)
2016 Jeep Wrangler 2-Door (JK)
2015 Jeep Wrangler 2-Door (JK)
2014 Jeep Wrangler 2-Door (JK)
2013 Jeep Wrangler 2-Door (JK)
2012 Jeep Wrangler 2-Door (JK)
2011 Jeep Wrangler 2-Door (JK)
2010 Jeep Wrangler 2-Door (JK)
2009 Jeep Wrangler 2-Door (JK)
2008 Jeep Wrangler 2-Door (JK)
2007 Jeep Wrangler 2-Door (JK)
Jeep Wrangler Unlimited 4-Door (JK)

2017 Jeep Wrangler Unlimited 4-Door (JK)
2016 Jeep Wrangler Unlimited 4-Door (JK)
2015 Jeep Wrangler Unlimited 4-Door (JK)
2014 Jeep Wrangler Unlimited 4-Door (JK)
2013 Jeep Wrangler Unlimited 4-Door (JK)
2012 Jeep Wrangler Unlimited 4-Door (JK)
2011 Jeep Wrangler Unlimited 4-Door (JK)
2010 Jeep Wrangler Unlimited 4-Door (JK)
2009 Jeep Wrangler Unlimited 4-Door (JK)
2008 Jeep Wrangler Unlimited 4-Door (JK)
2007 Jeep Wrangler Unlimited 4-Door (JK)