Legendary WARN reliability and performance; 12,000 lb. (5443 kg) capacity - perfect for the bigger vehicles.
Unique exterior styling and symmetrical design give this winch a look that is advanced, capable, and strong.
New-design planetary gear train and series-wound motor deliver fast, quiet, and reliable pulling power.
Flat black powder-coated finish with stainless steel fasteners and clutch lever looks great and inhibits corrosion.
Convertible control pack can be attached to the winch or remotely mounted, allowing for various winch mounting options and looks.
Aluminum winch drum reduces rope wear, is light weight, and has an integrated rope anchor for easy rope installation.
Robust aluminum structure is durable and helps dissipate heat.
Extreme waterproofing meets rigorous IP68 standards - the highest rating in the WARN Truck/SUV winch lineup.
Contactor control for extreme reliability and weather resistance.
Automatic mechanical cone brake holds the full rated load and offers excellent control while winching.
Ultra-durable metal-reinforced rubberized corded remote with 12' lead.
Includes 80' of 3/8" Spydura Pro synthetic rope and aluminum hawse failead with powder-coat finish.
Proprietary and strongest-in-class Spydura Pro synthetic rope is found on many military vehicles. This rope features a urathane-coated 12-strand braid, heat treated under tension. A 20 ft. Nomex™ heat sleeve protects the rope on the layer nearest the drum.


ZEON™ 10 SPECS/PART NUMBERS
Part Numbers: PN 95950
Rated Line Pull: 12000 lbs. (5443 kgs.) single-line
Motor: 12V DC, Series Wound™
Electrical Controls: Solenoid
Remote Control: Remote switch, 12" (3.7m) Lead
Geartrain: 3-Stage Planetary
Gear Ratio: 216.1
Clutch (freespooling): Sliding Ring Gear
Brake: Automatic Direct Drive Cone
Drum Diameter/Length: 2.5"/9.0" (6.4cm/23cm)
Weight (kit shipping): 80 lbs. (44 kgs.)
Wire Rope: 3/8" x 80' (9.52mm x24.38m) Spydura Pro™ Synthetic
Fairlead: Aluminum Hawse
Recommended Battery: 650 CCA for winching
Battery Leads: 2 gauge, 72" (1.83m)
Finish: Satin-black Powder coat
Warranty: Limited Lifetime
12V DC PERFORMANCE SPECS
Line Pull
Lbs.(Kgs.)
Line Speed
FT./min(M/min.)
Motor
Current
Pull by layer
layer/Lbs(Kgs.)
0
30 (9.1)
50 amps
1/8000(3629)
2000(910)
13.4 (4.1)
128 amps
2/7280(3302)
4000(1810)
10.1 (3.1)
196 amps
3/6670 (3026)
6000(2720)
7.9 (2.4)
257 amps
4/6230 (2826)
8000(3630)
6.1 (1.8)
316 amps
10000(4536)
4.5 (1.4)
375 amps
12000(5443)
3.1 (0.9)
438 amps
Above performance specs are based on first layer of drum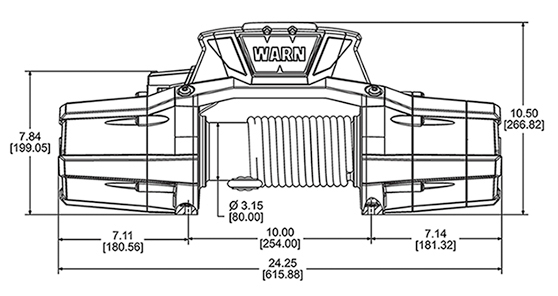 Winch Dimensions:
Integrated configuration 24.25" L. x 6.09" D. x 7.15" H.
(615.9mm L. x 165.6mm D. x 181.6mm H.)
Low-profile configuration 24.25" L. x 7.15" D. x 7.84" H.
(615.9mm L. x 181.6mm D. x 199.02mm H.)
Mounting Bolt Pattern: 10.0" x 4.5"
(254mm x 114.3mm)
Warranty
Limited Lifetime Mechanical Warranty & 7 Year Electrical Warranty
Line Length:

80 ft

Line Pull:

12,000 lbs

Max Line Speed:

30 ft/min

Current Draw:

316 amps

Remote:

Wired

Intended Usage:

Frequent

Solenoid:

Integrated

Line Type:

Synthetic Rope