Pro Comp Xtreme Mud Terrain Radial
Featuring an aggressive tread design and Tri-Ply construction, the Pro Comp Xtreme A/T 4x4 Jeep tires deliver excellent performance in harsh terrain, making them ideal for the serious off-road enthusiasts. 40,000 Mile Tread-Wear Warranty.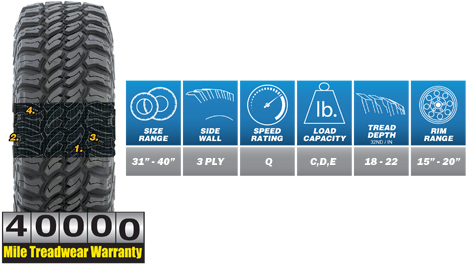 Color:

Black

Backspacing:

5.0"

Backspacing Range:

5.00" - 5.24"

Tire Style:

Mud Terrain

Bolt Pattern:

5 on 5"

Published Size:

35x12.50R20 or 37x12.50R20

Rim Size:

17.0" or 20.0"

Tire Height:

35.00" or 37.00"

Tire Width:

12.5"
*Please make a selection above to view specs on a specific product
Jeep Wrangler 2-Door (JK)

2017 Jeep Wrangler 2-Door (JK)
2016 Jeep Wrangler 2-Door (JK)
2015 Jeep Wrangler 2-Door (JK)
2014 Jeep Wrangler 2-Door (JK)
2013 Jeep Wrangler 2-Door (JK)
2012 Jeep Wrangler 2-Door (JK)
2011 Jeep Wrangler 2-Door (JK)
2010 Jeep Wrangler 2-Door (JK)
2009 Jeep Wrangler 2-Door (JK)
2008 Jeep Wrangler 2-Door (JK)
2007 Jeep Wrangler 2-Door (JK)
Jeep Wrangler Unlimited 4-Door (JK)

2017 Jeep Wrangler Unlimited 4-Door (JK)
2016 Jeep Wrangler Unlimited 4-Door (JK)
2015 Jeep Wrangler Unlimited 4-Door (JK)
2014 Jeep Wrangler Unlimited 4-Door (JK)
2013 Jeep Wrangler Unlimited 4-Door (JK)
2012 Jeep Wrangler Unlimited 4-Door (JK)
2011 Jeep Wrangler Unlimited 4-Door (JK)
2010 Jeep Wrangler Unlimited 4-Door (JK)
2009 Jeep Wrangler Unlimited 4-Door (JK)
2008 Jeep Wrangler Unlimited 4-Door (JK)
2007 Jeep Wrangler Unlimited 4-Door (JK)
| Part Number | Catalog # | Tire Pressure Monitor Sensor | Tire | Tire Size | Quantity | Price | |
| --- | --- | --- | --- | --- | --- | --- | --- |
| 92609 2660 | 92609.2660 | 07-12 Wrangler | Pro Comp Xtreme MT/2 | 35x12.50R20 | 1 | $779.97 | |
| 92609 2662 | 92609.2662 | 07-12 Wrangler | Pro Comp Xtreme MT/2 | 37x12.50R20 | 1 | $824.97 | |
| 92609 2660 | 92609.2660.P4 | 07-12 Wrangler | Pro Comp Xtreme MT/2 | 35x12.50R20 | 4 | $3,019.88 | |
| 92609 2662 | 92609.2662.P4 | 07-12 Wrangler | Pro Comp Xtreme MT/2 | 37x12.50R20 | 4 | $3,199.88 | |
| 92609 2660 | 92609.2660.P5 | 07-12 Wrangler | Pro Comp Xtreme MT/2 | 35x12.50R20 | 5 | $3,774.85 | |
| 92609 2662 | 92609.2662.P5 | 07-12 Wrangler | Pro Comp Xtreme MT/2 | 37x12.50R20 | 5 | $3,999.85 | |
| 92609 2661 | 92609.2661 | 13-17 Wrangler | Pro Comp Xtreme MT/2 | 35x12.50R20 | 1 | $779.97 | |
| 92609 2663 | 92609.2663 | 13-17 Wrangler | Pro Comp Xtreme MT/2 | 37x12.50R20 | 1 | $824.97 | |
| 92609 2661 | 92609.2661.P4 | 13-17 Wrangler | Pro Comp Xtreme MT/2 | 35x12.50R20 | 4 | $3,019.88 | |
| 92609 2663 | 92609.2663.P4 | 13-17 Wrangler | Pro Comp Xtreme MT/2 | 37x12.50R20 | 4 | $3,199.88 | |
| 92609 2661 | 92609.2661.P5 | 13-17 Wrangler | Pro Comp Xtreme MT/2 | 35x12.50R20 | 5 | $3,774.85 | |
| 92609 2663 | 92609.2663.P5 | 13-17 Wrangler | Pro Comp Xtreme MT/2 | 37x12.50R20 | 5 | $3,999.85 | |