by Matt Konkle
Quadratec Channel Editor
Kevin Ralston couldn't stop smiling. He stood with one arm leaning against the roof of an elongated golf cart and excitedly surveyed the wrapped contents that sat in a pile on the cart's back end.
A pile that kept growing in size as others dropped off a few more things — a Poison Spyder front bumper, Magnaflow exhaust, Bilstein shocks, Warn winch.
All around him, people swirled and made their way to one of several different destinations during Saturday's 13th annual Quadratec Tent Sale. Many clutched their own treasures, tags fluttering in the early October breeze.
But for Ralston, co-owner of Off-Road Up-Fitters in Middle Grove, New York, the items he found inside the scratch and dent tent more than made up for what was an early wake up call.
"Two a.m.," Ralston said, with a touch of pride. "We were on the road by two so we could get here in time. My customers, they all have a list of things they want, so I had a pretty good idea of what I was looking for, and this (tent event) is great way to find some good deals. And some things were better deals than I thought I'd find."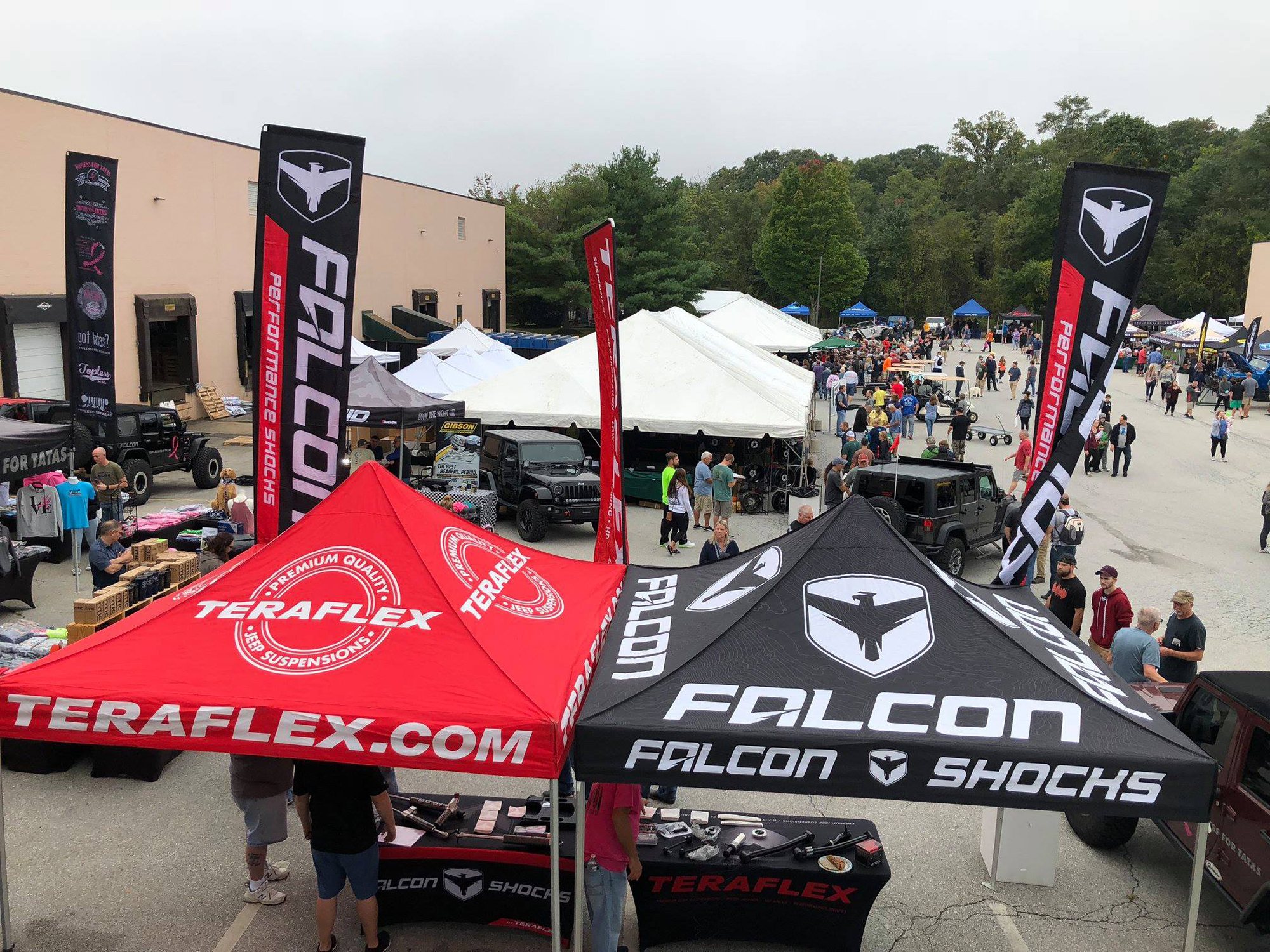 The deals were certainly there Saturday, and so were the people as thousands of owners, friends and family members came out to the company's West Chester, Pa. facility for discounted new products, scratch and dent deals, interaction with dozens of vendors, impressive raffle prizes, music, food, and plenty of family activities.
You even had a chance to get yourself, or the kids, photographed on a Quadratec replica catalog cover inside a 2018 Ocean Blue Wrangler JL Sahara. Or relax on ARB Camping Chairs in order to watch some of our videos in the specially designed Quadratec camping area.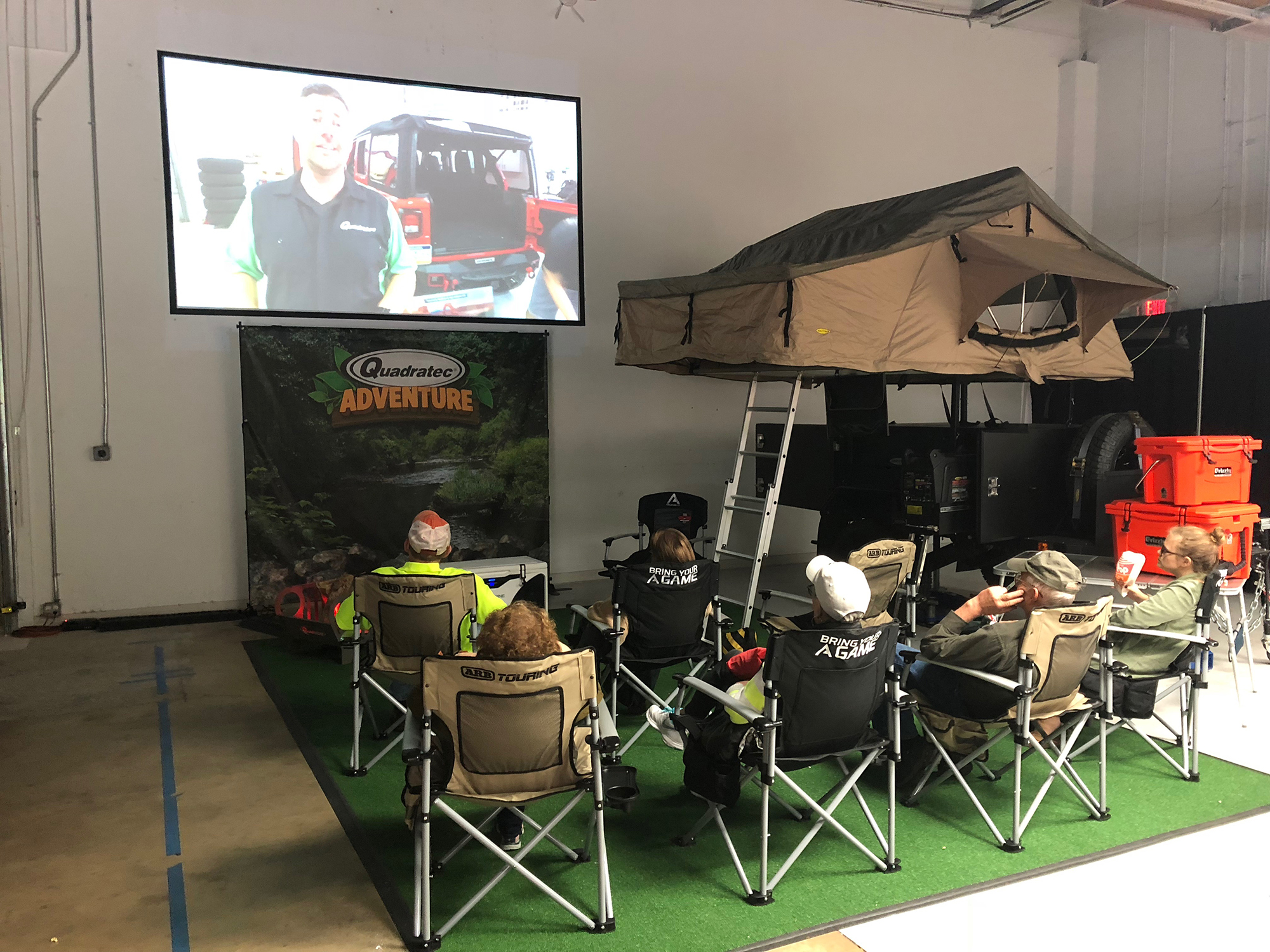 "We really like to give people a little something of everything for coming out to see us," said Quadratec Outside Events Coordinator Craig Jaros. "We are out at events all year long where we have a role to play in a larger theme, but for this event, as the host, it is something we look forward to so our great customers can come out and spend the day with us."
While the deals were numerous, the sheer amount of Jeeps that roll in for the event is something that really makes the whole tent show special. Of course, there were plenty of JK Wranglers in all sizes, shapes and colors – many tagged with names like Stormtrooper (white, of course), Pumpkin's Revenge (orange), Satan's Sidekick, Bond Girl, Insane, Joker and Dunkin'. No coffee though.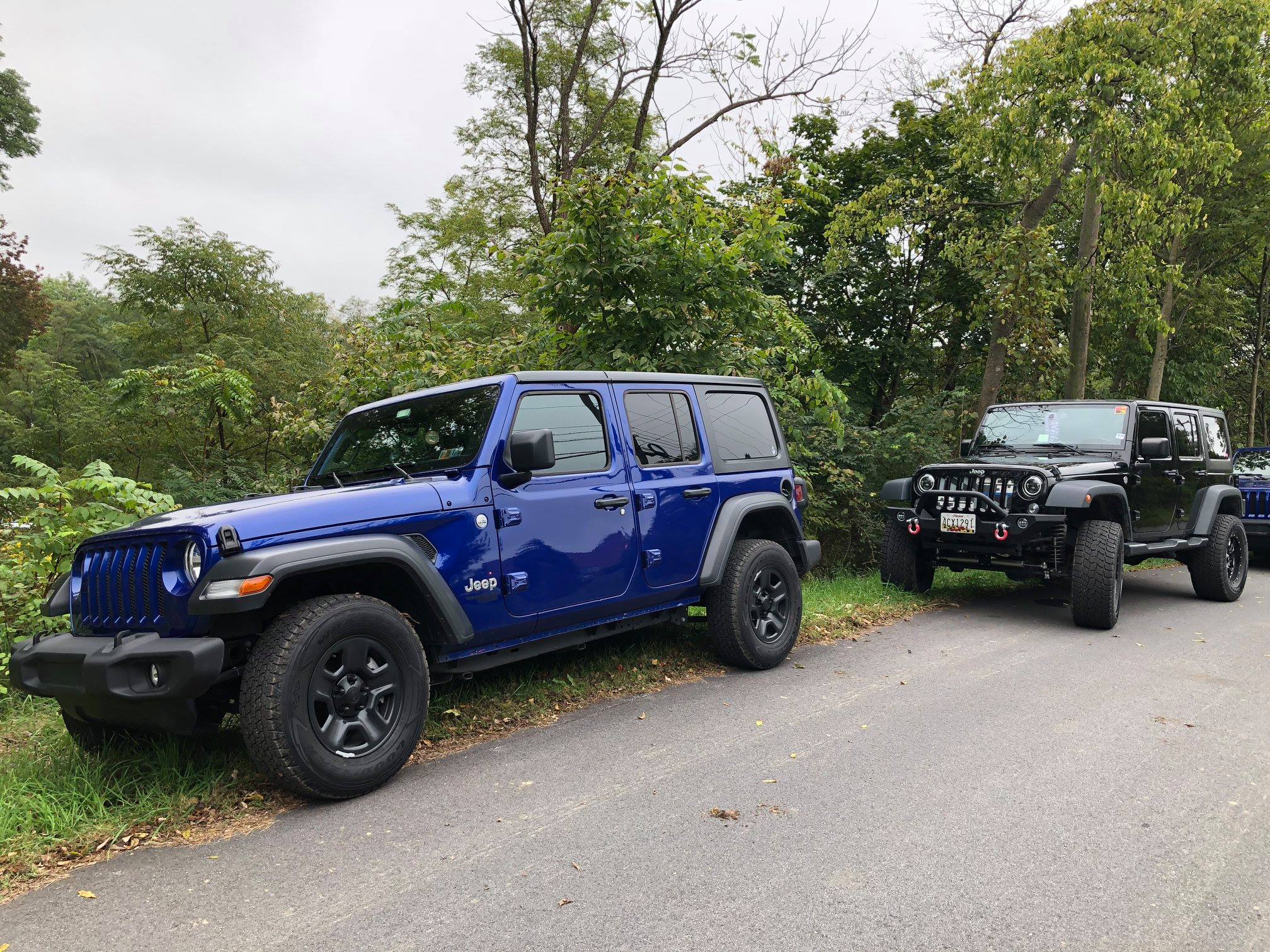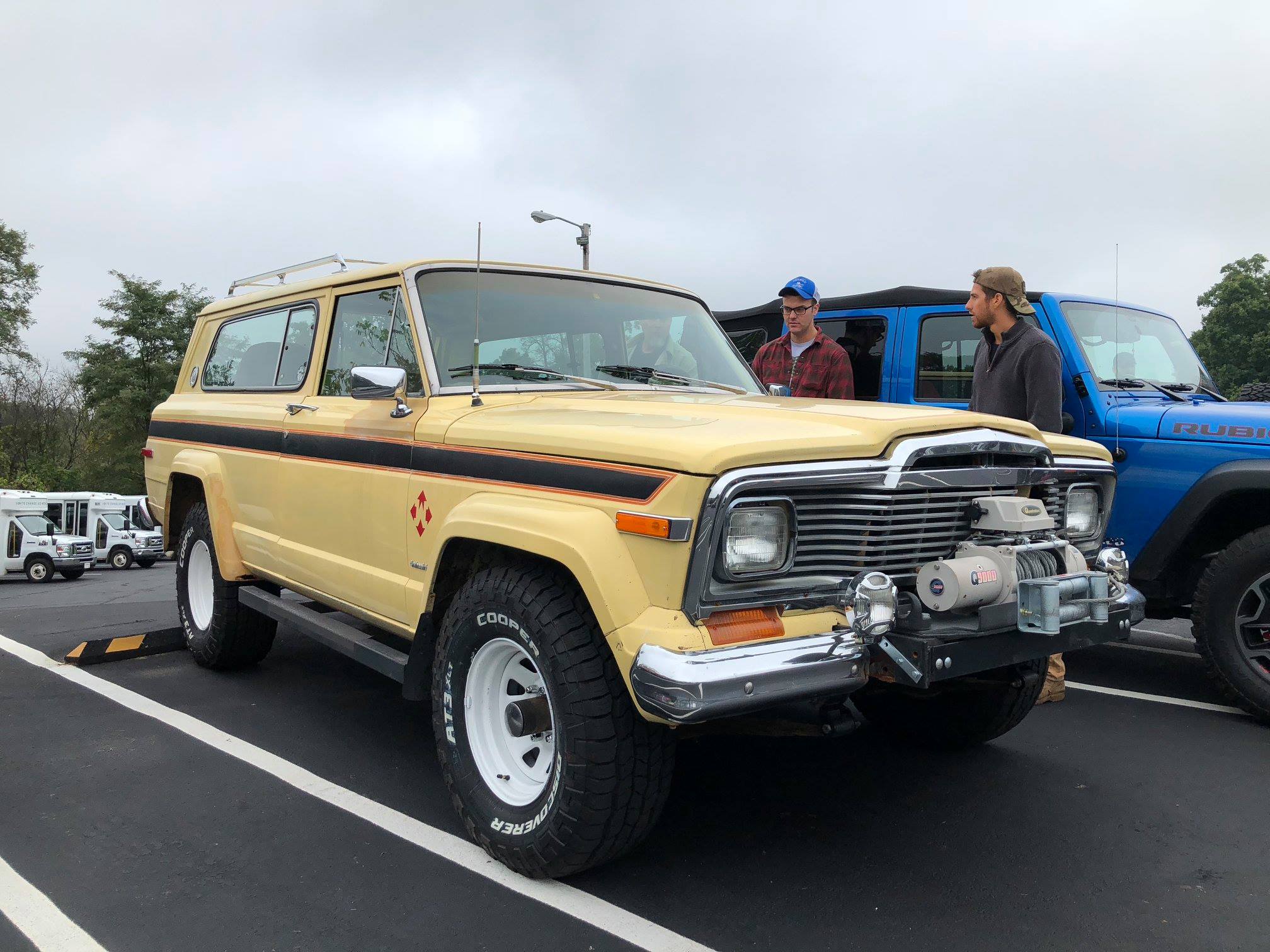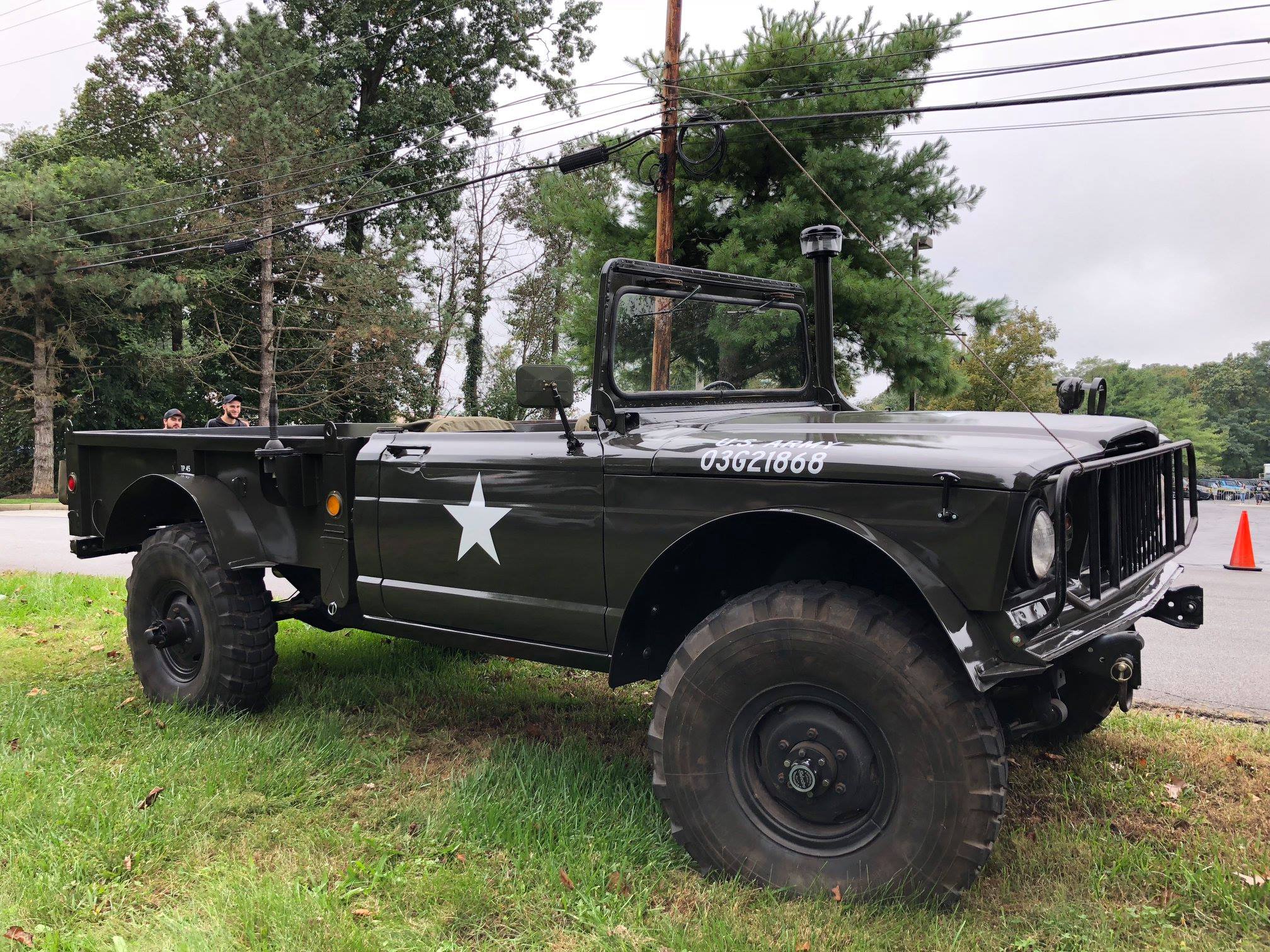 The new JL Wrangler also represented well, with quite a few in attendance. And no doubt those numbers will only climb over the coming years. Plus, numerous CJs, YJs, XJs, WJs, even a beautiful tan Wagoneer and dark green M715, all helped fill not only the Jeep-only parking lot, but everywhere around the surrounding area.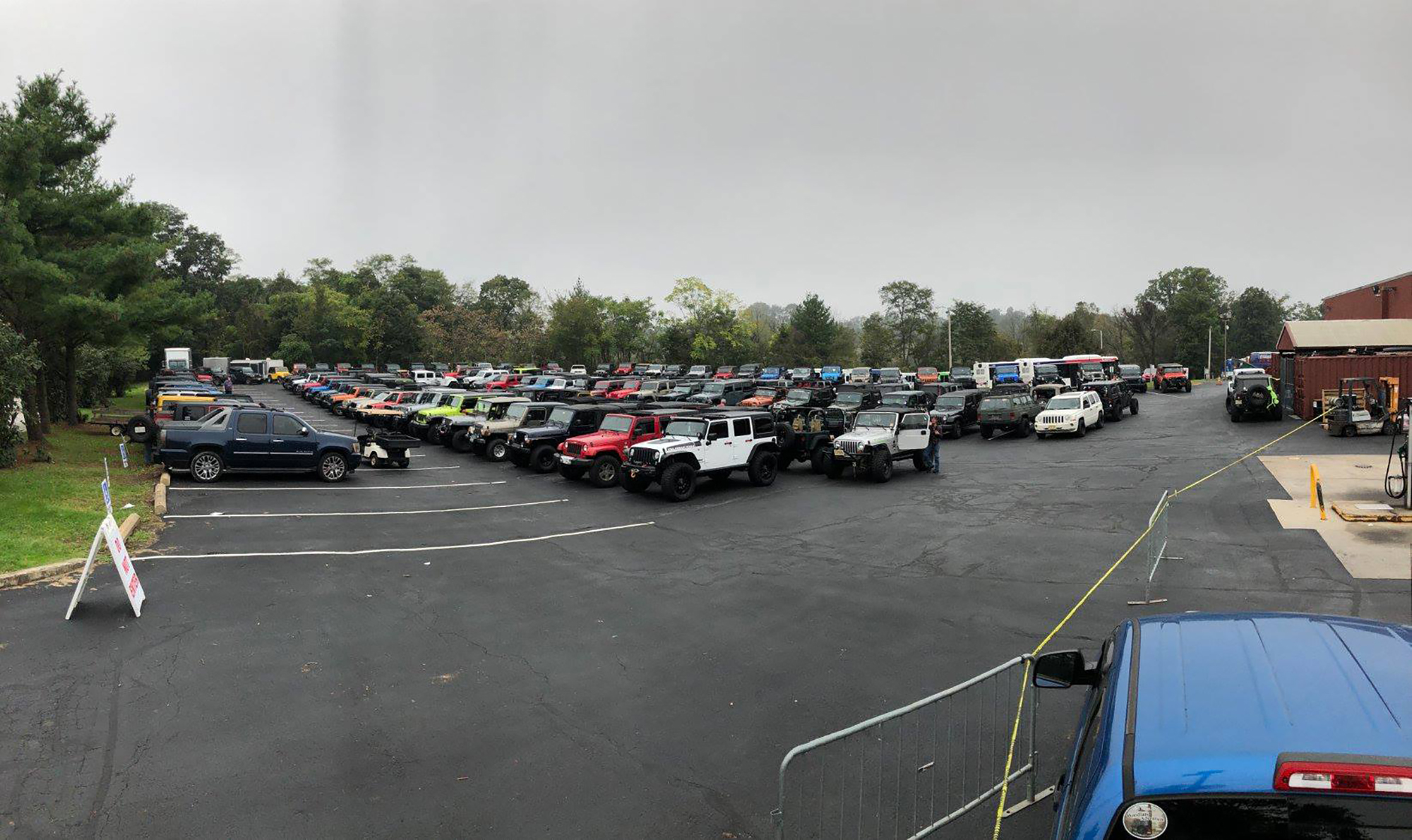 All these vehicles had plenty of admirers all day long, with many even stopping to check out certain parts or gather modification information from respective owners.
"About five or six times so far today, at least," said James Hart, standing next to his dark gray JK and sipping from a half-empty water bottle.
Over the past two years, Hart said he has added a Skyjacker lift, new Pro Comp All Terrain tires, Quadratec QR3 front bumper and Q9500 Stealth winch.
"It's not much compared to some of these other Jeeps out here," he said. "But people seem to like the look and want to know about them."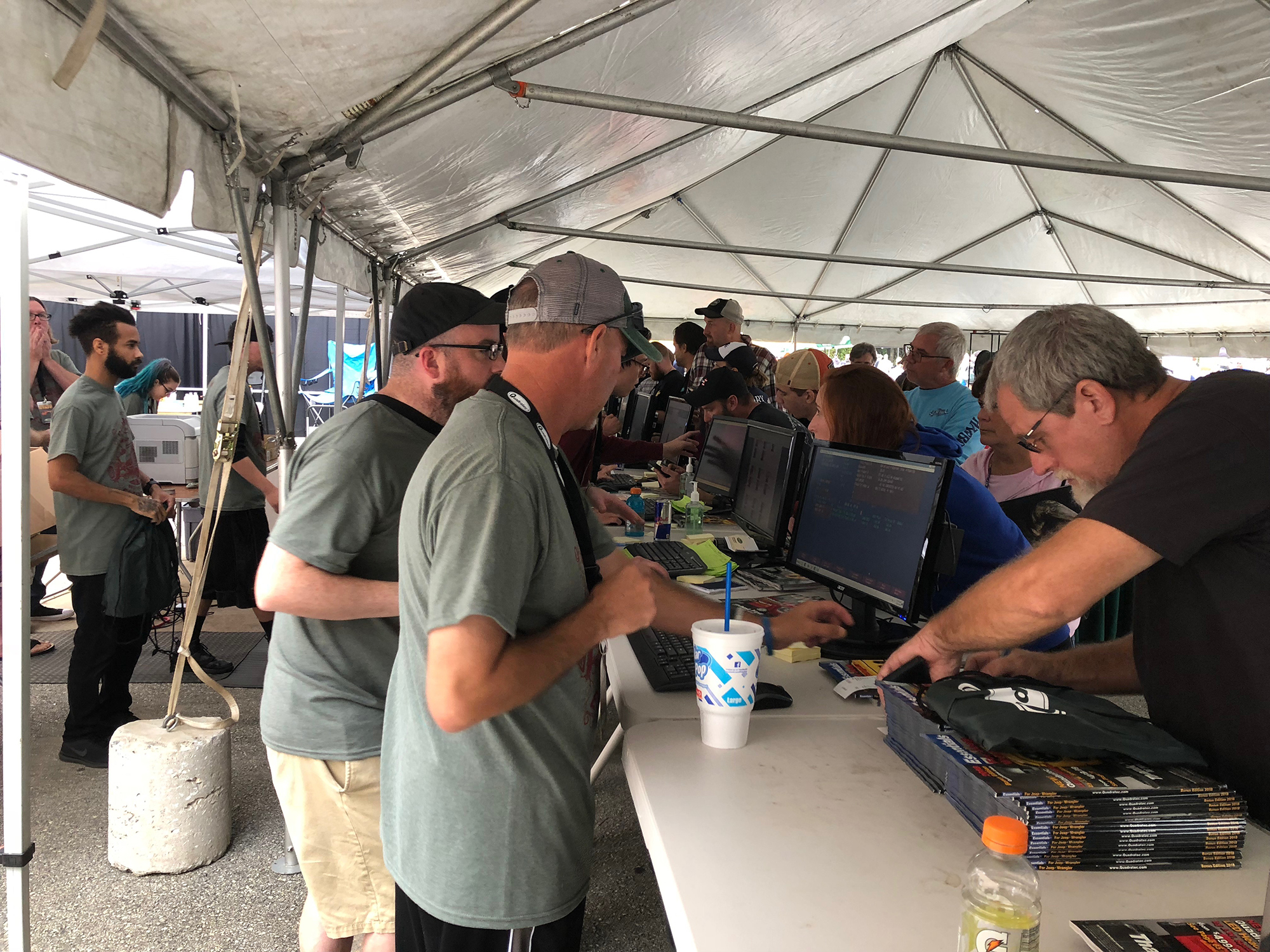 Those indeed looking for new products to bolt, Velcro, weld, or otherwise attach on their vehicle, could take advantage of Quadratec's new products tent — receiving a 10 percent off show special in the process. They were then able to pick up their order and have it whisked right to their vehicle in one of Quadratec's courtesy shuttles.
Scratch and dent, though, was once again the go-to spot for nearly everyone who made the drive to West Chester on Saturday looking to find a deal. Numerous tables filled with bumpers, seats, hi-lift jacks, air compressors, side bars, and all kinds of other products, greeted potential buyers who stared at the inventory from behind white barricades, trying to pick some winners.
These were products that, like the description said, picked up some nicks or dents during the shipping or picking process, or was otherwise unsellable as new for whatever reason. Depending on the issue, these products were marked up to 80 percent off.
Quadratec Category Manager Howard Fullerton supervised a staff of over a dozen who helped process scratch and dent orders and restocked the tables when needed; each time closing off the area for a bit while the heavy bumpers and other products moved from a staging area to the tables.
Then the barricades lowered and the dance continued.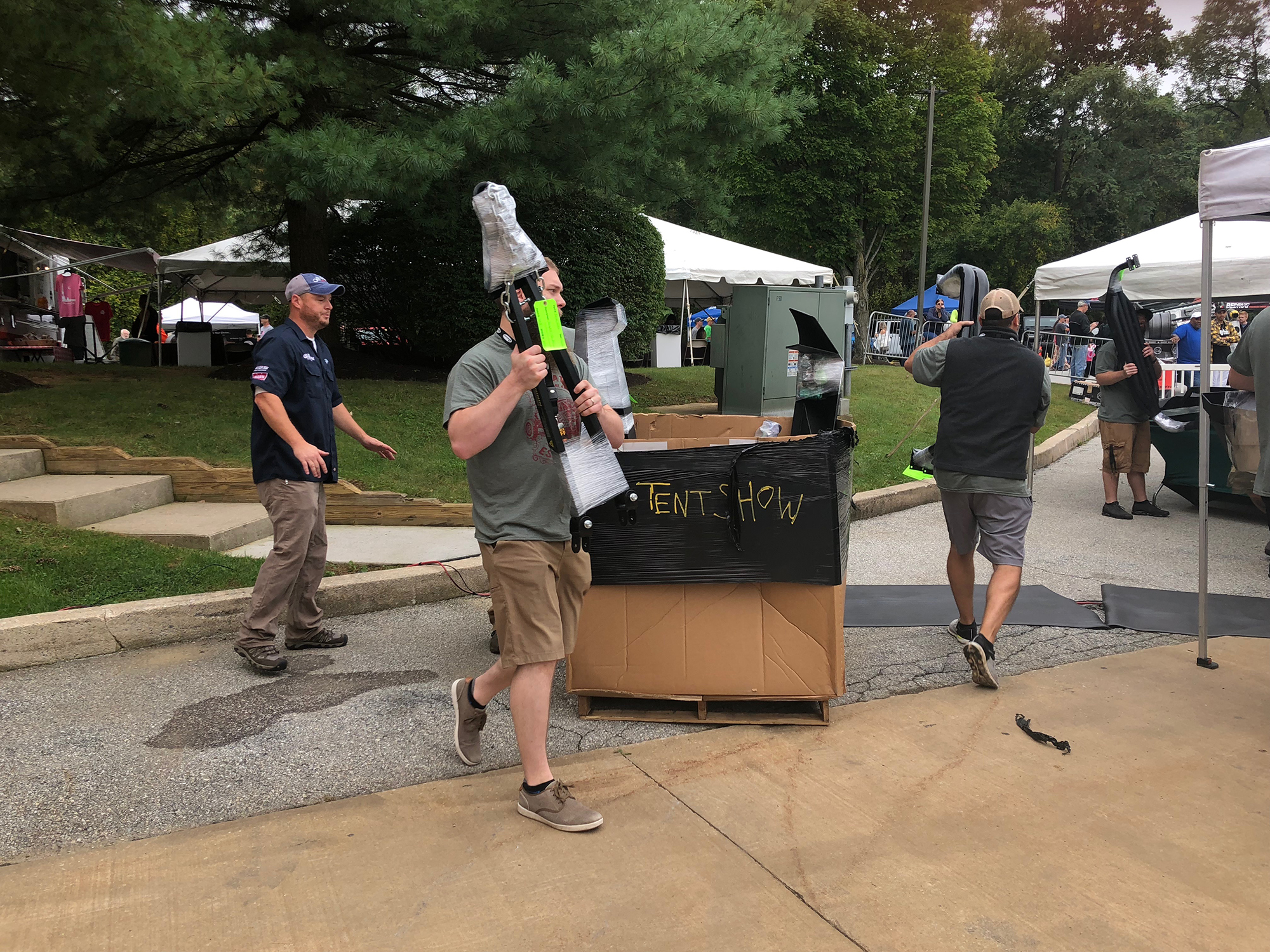 "You know, every year the scratch and dent area is the most popular thing we have going on here at the show and the buzz this tent gets is exciting for us," Fullerton said. "But it is not an easy job overall for these guys. The customers we have here want to get in and buy the things they want, and in order to do that, our guys have to make sure the stuff is safely moved from box to table, and these things aren't light. We're talking bumpers that weigh 50, 60, 70 pounds or more, with sharp edges. Or sidebars, tire carriers. Things like that. So I'm proud of the hard work these guys did so our customers could get the deals they wanted."
"I'm beyond happy," said Will Crinks, proudly showing off his scratch and dent bumper purchase. "I've been coming here a few years now and every time there are some good deals for me. So I was finally making the decision to upgrade my bumpers, and it just happened that of the two I wanted, you had the more expensive one on sale for much less. It's awesome."
Besides those great scratch and dent deals, or the new products sale, many of Quadratec's vendors also stepped up and donated dozens of raffle prizes that helped raise money for The Crohn's and Colitis Foundation of America.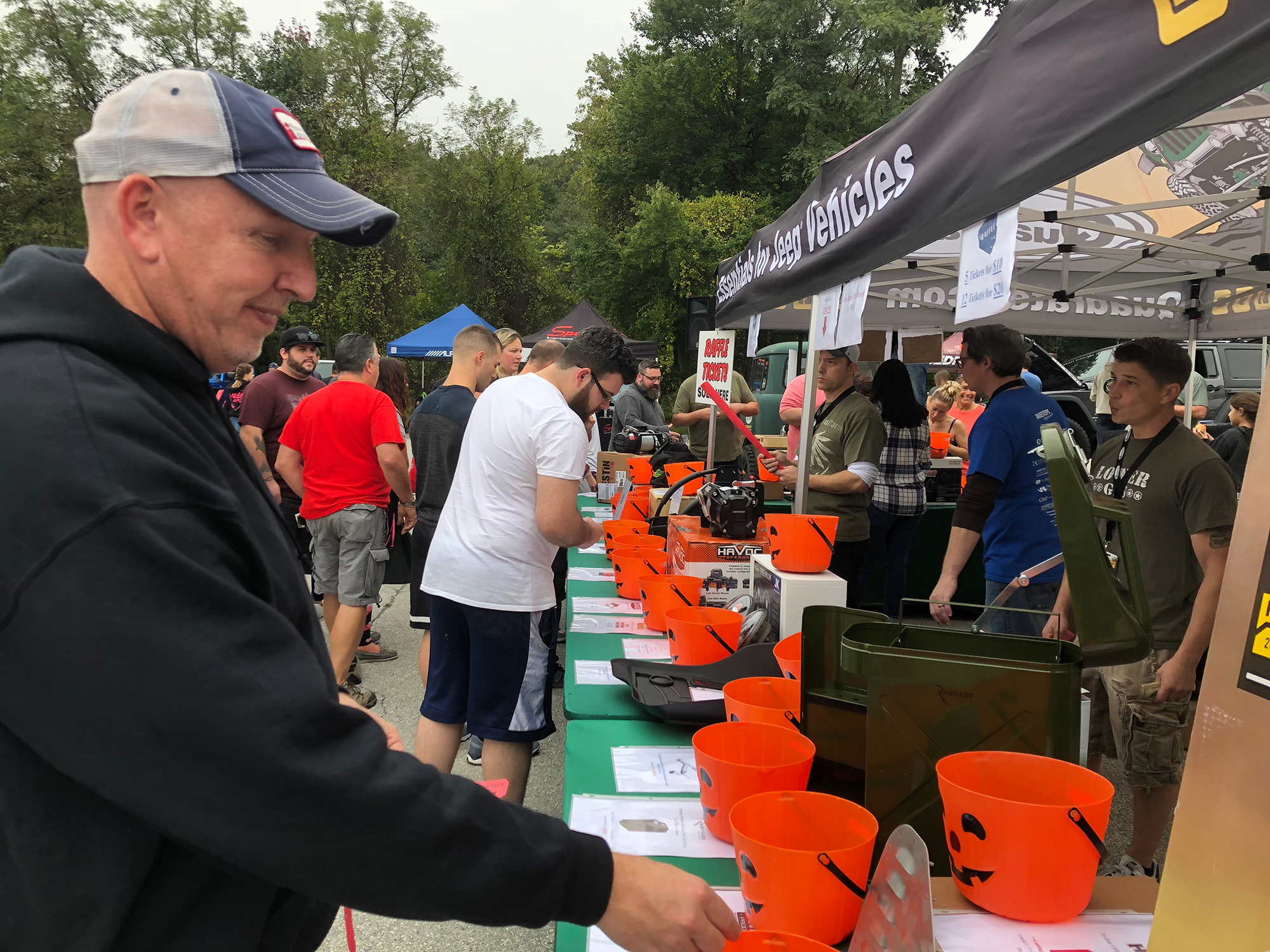 Those at the event could purchase tickets and decide exactly which product(s) they wanted, and items were raffled off throughout the day — culminating with a new Quadratec Q-Performance Stealth Winch as the grand prize which was claimed by Robin McMahon.
"Ecstatic," McMahon said about her grand prize win. "We weren't really looking for one at the moment because (my husband) already has one on his Jeep."
"But this one will look great on (my Jeep) Bond Girl."
Thanks to everyone who bought raffle tickets, as well as anyone who made a donation, it was a record fund raising year for the Quadratec Tent Show.
"We're thankful for everyone who bought tickets for the raffle, and congratulations to all the winners," said Quadratec's Tim McAveney. "We're also thankful to all the vendors who helped out by donating great prizes."
Speaking of vendors, more than 35 were available during the tent show to answer product questions, provide advice and make recommendations — with virtually all aftermarket product genres covered.
Saturday's vendor attendees included: AEV, Rigid, Gibson, Weather Tech, Teraflex, Omix-ADA (Rugged Ridge/Alloy USA), Owens Products, Bestop, Westin, Putco, Rightline Gear, Grabars, Vision X, Lund, Fishbone Offroad, Kentrol, Bedrug, NFab, Aries, Anzo, Cliffride, DEI, Jet Performance, Kleinn, Ready Lift, AMI, Smittybilt, Rubicon Express, G2, Poison Spyder, RIPP, Dometic, Fuel Offroad, Pypes Exhaust, Cold Case Radiators, PIAA, Daystar, Voodoo, Alpine, Hyline, Wheel Pros, Go Rhino and JW Speaker.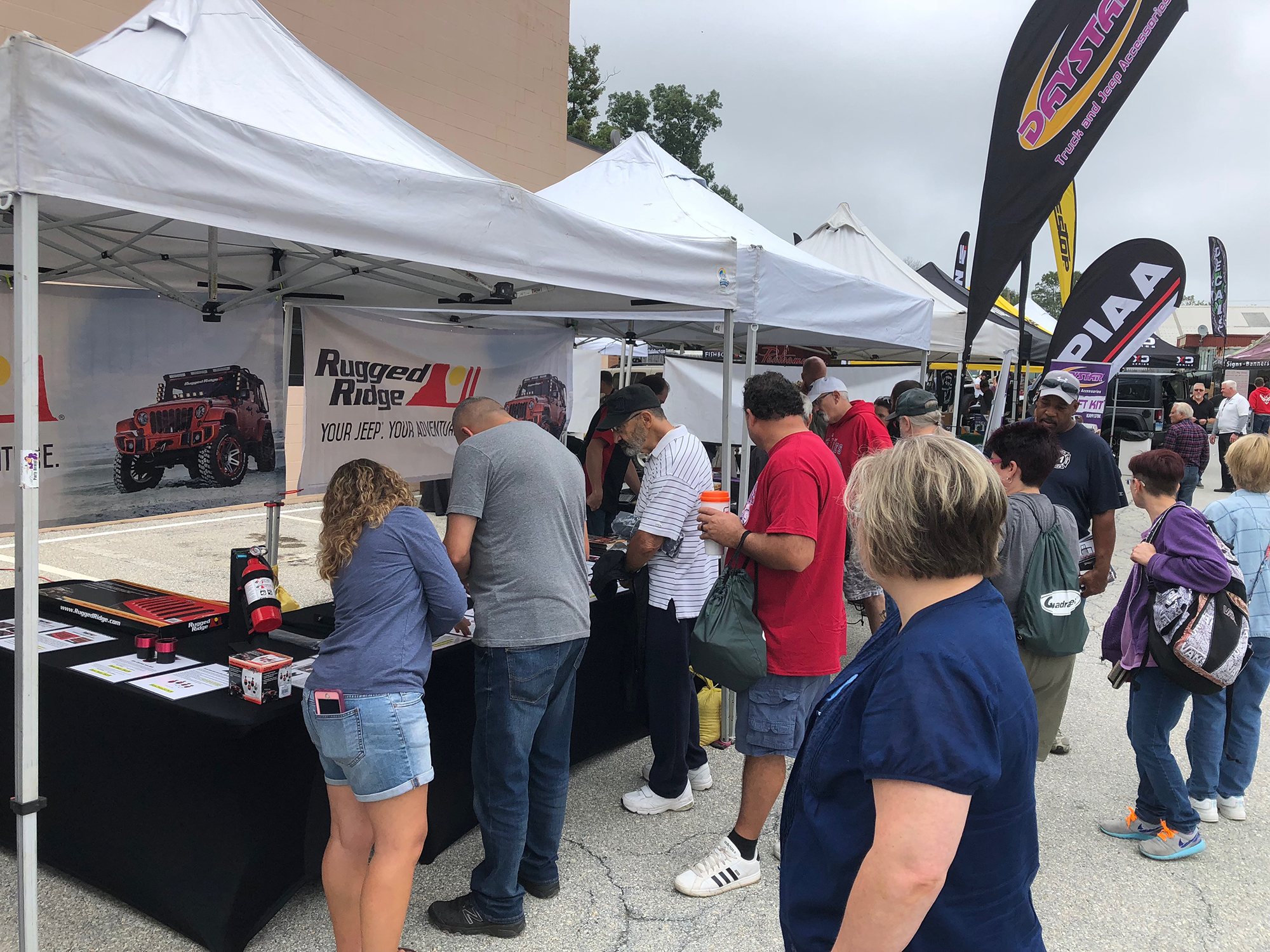 "We do probably over a dozen events during the year, but we really want to stay with more of these local events because we get a true Jeep enthusiast at these events, and not just the general public," said Omix-ADA's National Sales Manager Pat Johnson. "We're out here getting some great contact with consumers and some great feedback on products. And hopefully helping (Quadratec) sell a lot of product."
Whether it was scratch and dent, new product discounts, kids' activities, the chance to speak with vendor reps, or just that you, like Ralston, got up before the crack of dawn to drive out and see what was going on at Quadratec's World Headquarters, the day certainly offered something for everyone.
"This is my fifth year coming down here (from New York) and each year the deals get better and better," Ralston said. "Can't wait for next year."