by Matt Konkle
Quadratec Channel Editor
It's just a Wrangler with a bed.
For some, that statement seems to be the prevailing theory regarding Jeep's upcoming Gladiator truck release. A vehicle thought to be all Wrangler up front and through the cab, but with a five foot bed hooked up on the back. Well, six-and-a-half feet of bed if you take down the tailgate.
But when you look a little closer, and see exactly what Jeep designers have done with the Gladiator, you realize that the brand's first truck in 27 years is something more than just a stretched out Wrangler. Something quite a bit more. In fact, it is an all-new set up that includes the best features of Wrangler and incorporates them into a unique platform, the company hopes, that will dominate the increasingly popular mid-size truck segment for years to come.
"Unquestionably a truck and instantly recognizable as a Jeep, the all-new 2020 Gladiator is the ultimate vehicle for any outdoor adventure," said Fiat Chrysler Automobiles Head of Jeep Tim Kuniskis last November during the Gladiator's media unveiling. "There is tremendous demand for this unique vehicle from our loyal Jeep customers and pickup truck buyers everywhere. Born from a rich and proud heritage of tough, dependable Jeep trucks, Gladiator combines rugged utility, versatility and functionality resulting in the most capable midsize truck ever."
The Gladiator is scheduled to reach dealer showrooms towards the end of June, and while no pricing has been announced, it is widely anticipated to carry about a 10-17 percent higher tag to justify those additional features—with many estimating the entry level sport somewhere around $35-37K. That would put the vehicle around $3,500-$5,500 higher than a 2018 Jeep Wrangler JL Unlimited.
So, what kind of differences and features? Well, here is some categories where the vehicles have differences.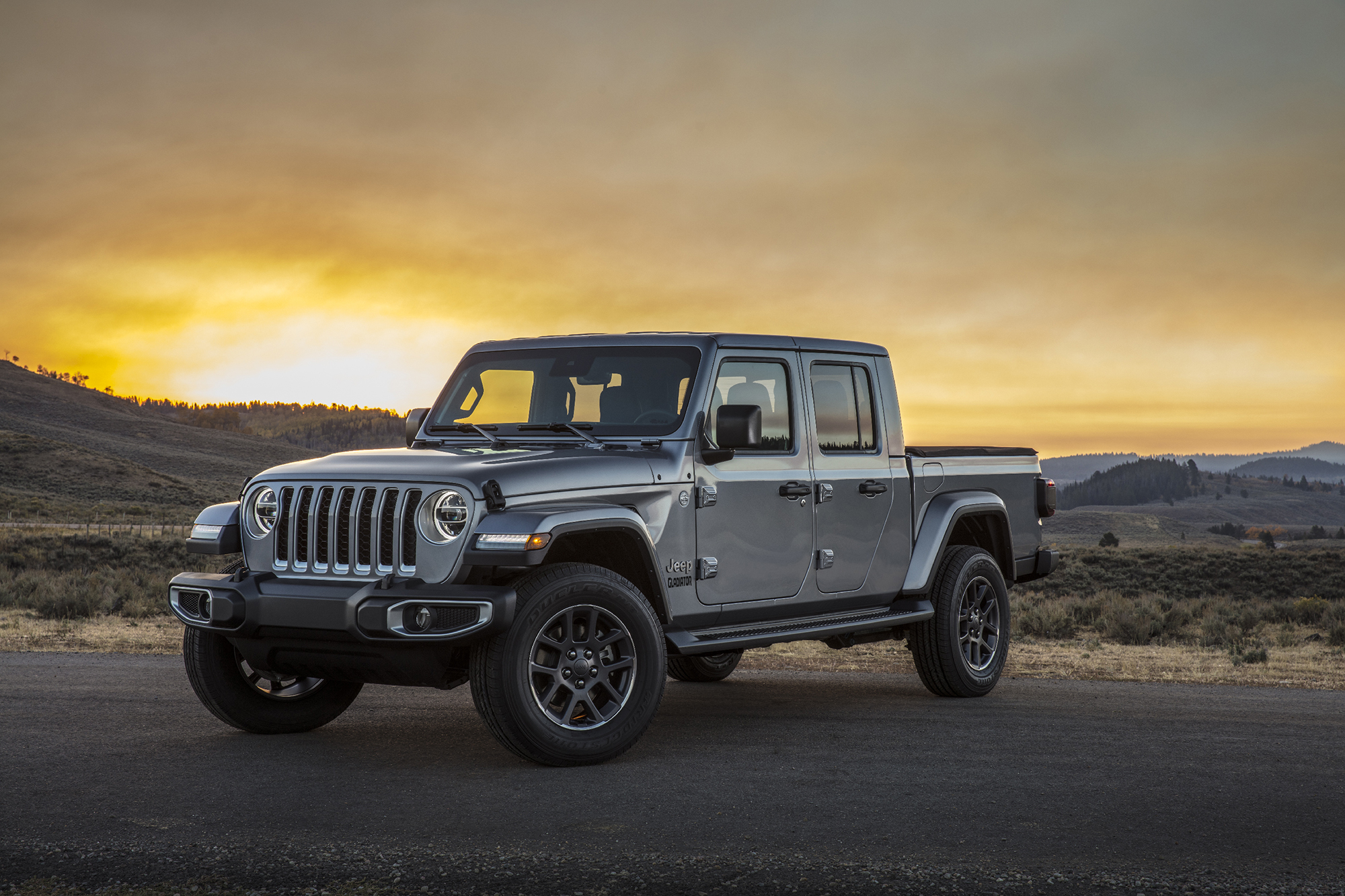 Trim Editions
With its eye on the ever-expanding Overlanding crowd, Jeep ditched the Sahara trim level name for Gladiator and replaced it with something called Overland. Like Sahara though, this is the 'luxury' version of the truck lineup and includes 18" wheels, available color matched hardtop, color matched fenders and side steps, refined leather interior, available LED headlight and taillights, as well as accented call outs in the headlights and front bumper.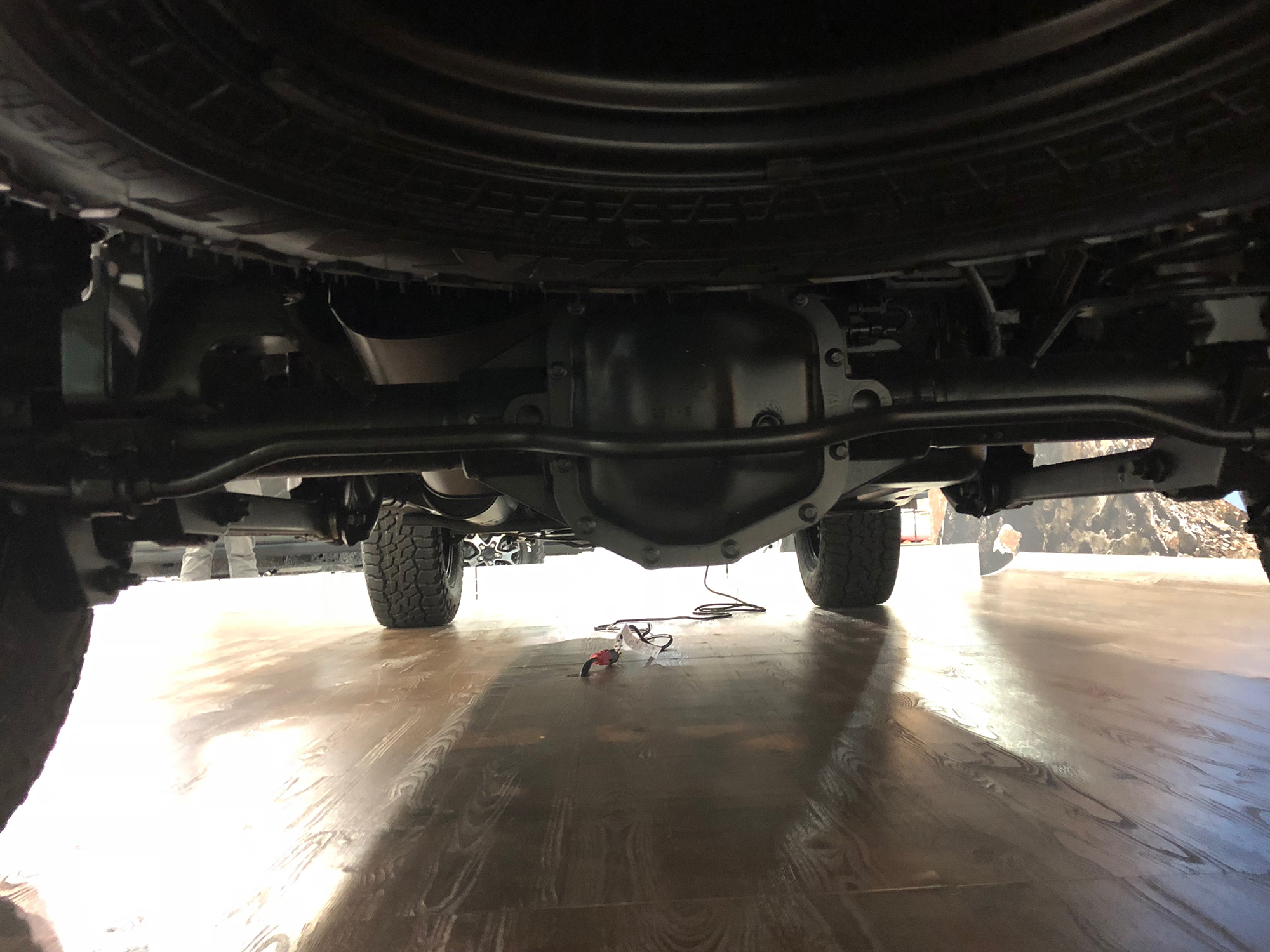 Body And Frame
First off, like we said earlier, Jeep's engineers and designers didn't just take a JL Wrangler Unlimited and slice off the area behind the rear seats when creating the Gladiator. Instead, they engineered an all-new, lightweight, high-strength steel ladder frame for the Gladiator designed to effectively support the vehicle's overall 219-inch length and 4,650 pounds. That's about 31 additional inches of length and up to 400-ish pounds heavier than the JL Wrangler Unlimited.
Along with that added weight and length comes added responsibility, and Jeep contracted with Dana utilize the company's third generation Dana 44 heavy duty front and rear axles throughout all trim levels. With Wrangler, you get these just in the Rubicon edition. Also, the Gladiator's rear suspension differs from the Wrangler as it uses two upper and two lower forged control arms, as well as a track bar for better overall stability. The vehicle's rear shocks are even forward facing in order to provide better ride quality, while re-tuned springs help provide the same comfortable ride whether or not you are carrying cargo. Likewise, a larger vehicle will require larger brakes for that needed stopping power and Jeep says Gladiator will have the largest brakes in the midsize truck segment.
Exterior
Aside from the actual truck bed on the Gladiator, there are a few other differences the Gladiator offers which sets it apart from Wrangler. One is an optional front facing camera on the Rubicon edition, which even includes a washer nozzle to keep the thing clean in all conditions. This is certainly designed for the off-road audience out there to assist with visibility, as well as tire placement on more difficult obstacles.
Staying up front, the Gladiator's grille face is still the same size and seven-slot look as Wrangler, but the grille slats themselves are wider in order to promote better engine cooling—especially valuable when towing.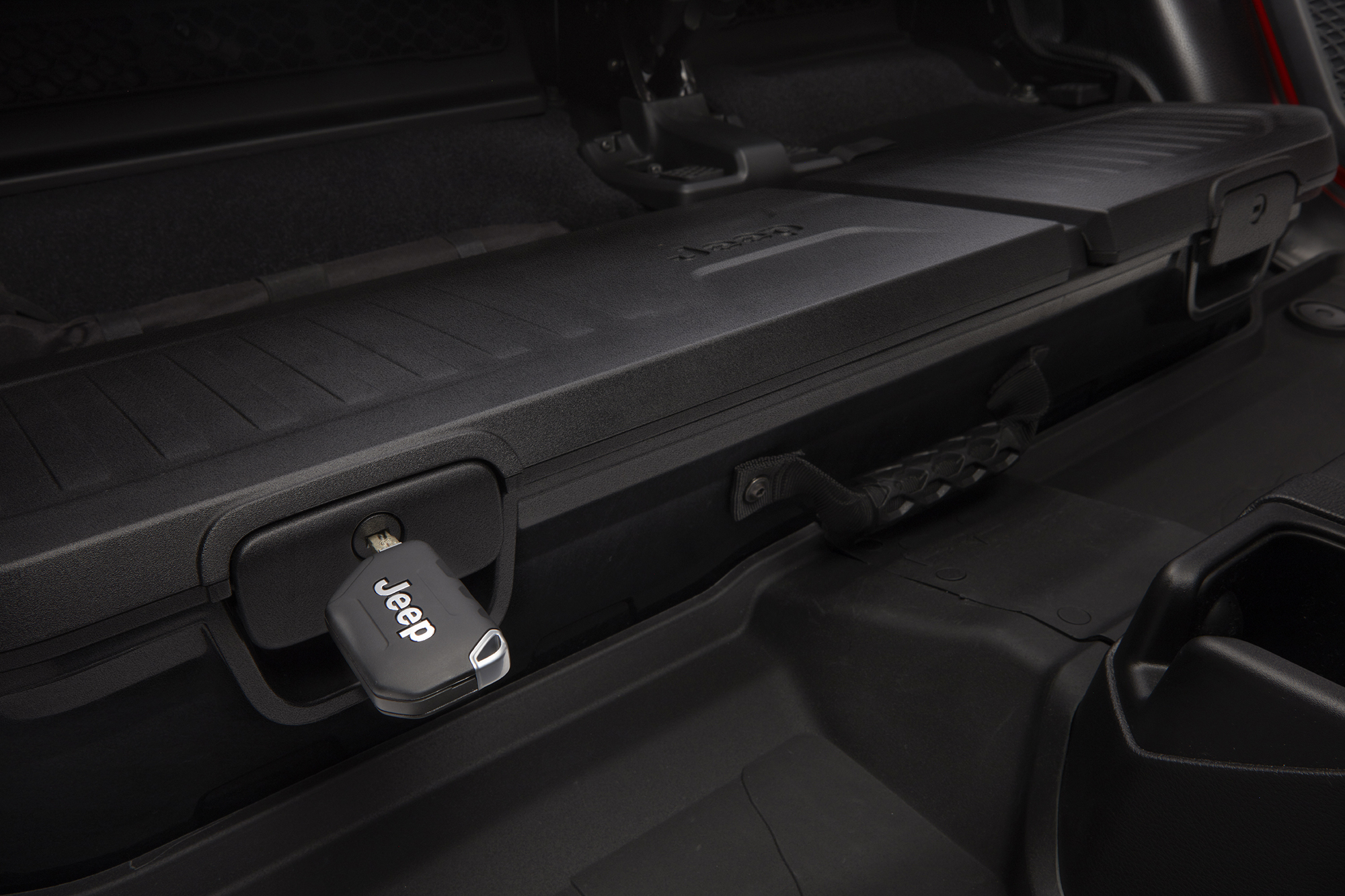 Interior
The Jeep Gladiator veers away from its Wrangler brother thanks to an all new rear seat set up that includes underseat rotomolded lockable storage units that are also removable. These units are large enough to store camping gear for that upcoming weekend adventure, or other things like baseball bats and soccer balls, fishing rods and hunting equipment. The rear seats also fold down to help increase storage space, while the Rubicon edition has an available wireless Bluetooth speaker that is removable if you want to take it with you.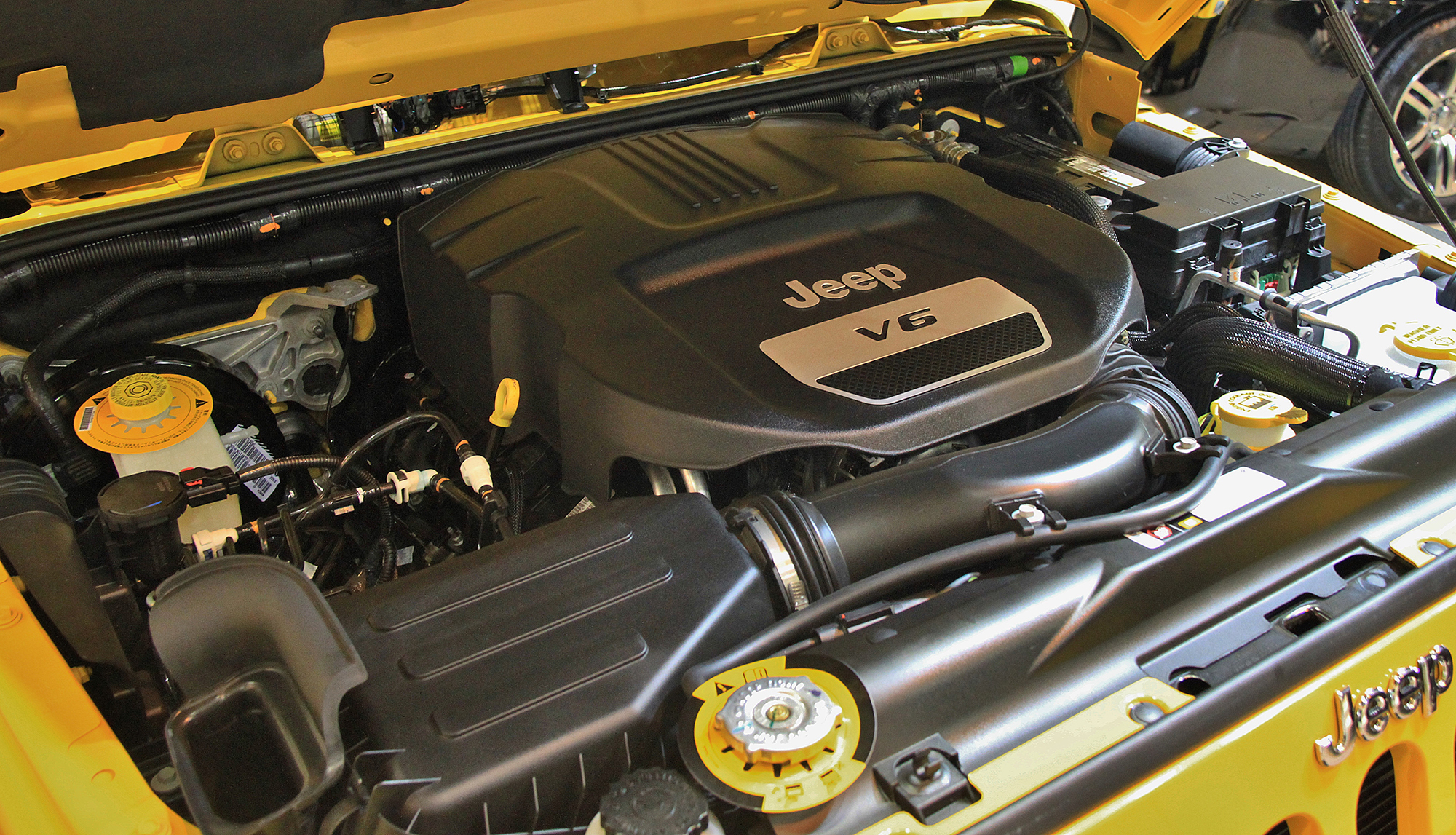 Powertrain Options
Unlike the 2018 Wrangler JL which gives owners a few different engine options, the Gladiator initially will only ship with the 3.6L Pentastar that offers 285 horsepower and 260 lb-ft of torque. Another option, the 2.0L 4-cylinder turbocharged e-torque, was dropped from Gladiator production as engineers believe it doesn't have enough juice to meet towing needs. However, Jeep does plan to offer a diesel engine at some point in 2020, which the brand notes, will provide 260 horsepower and 442 lb-ft of torque.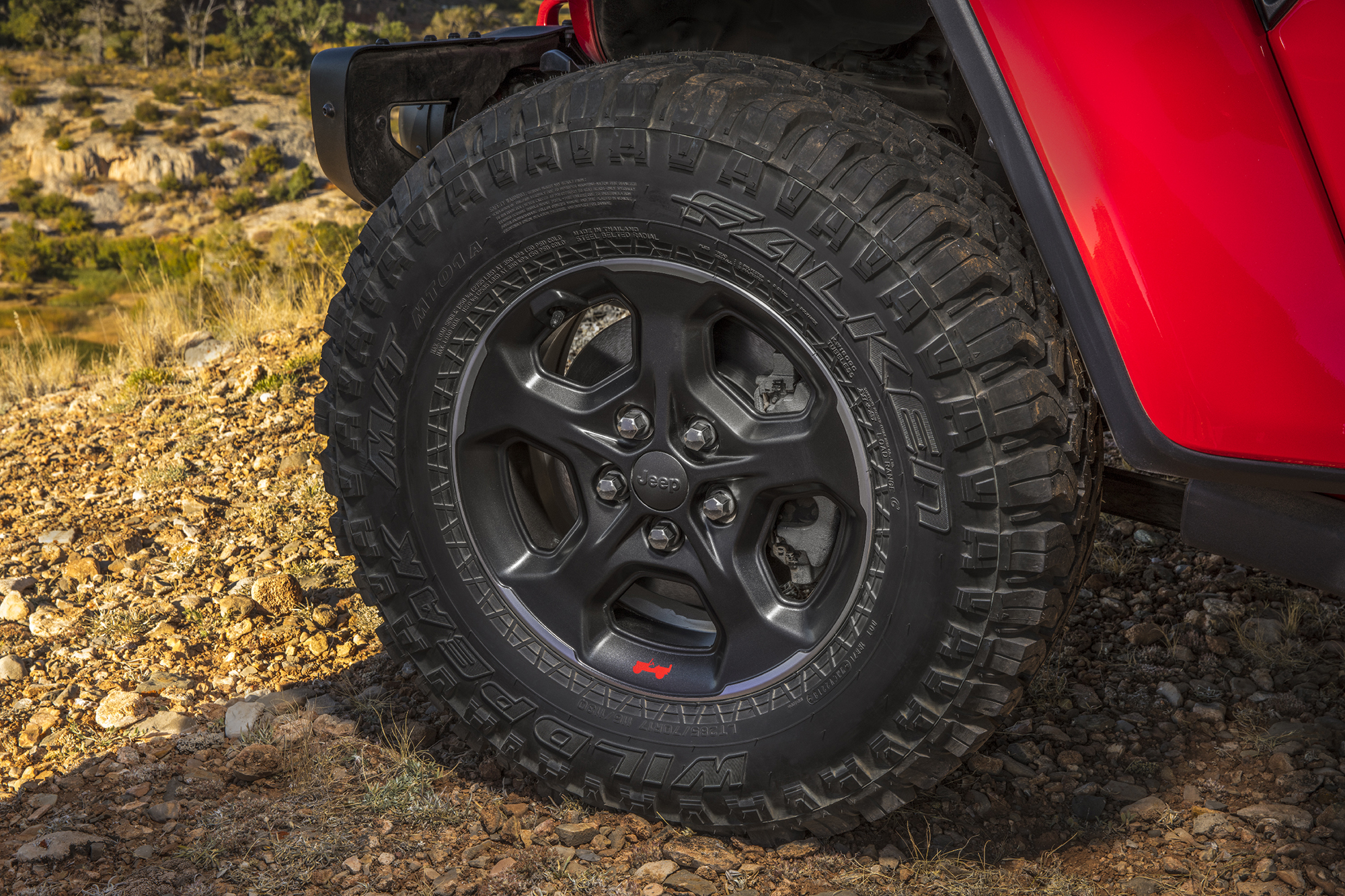 Tires
Aggressive tires have always looked good on the Jeep Wrangler, however, there really have not been options to do that straight from the factory. For those choosing a Jeep Gladiator Rubicon, they will now have a option to pick Falken Wildpeak all- or mud-terrain 33" tires. Additionally, Bridgestone Dueler all-terrain are available for the other trim levels, while Bridgestone H/T (highway tread) are stock.
Another difference from Wrangler is where Gladiator stores its spare tire. While Wrangler has placed it on the tailgate since its inception, Gladiator logically moves that spare tire under the vehicle. Designers then protect that spare with a sheet metal casing—not exactly a skidplate, but enough to ward off potential damage while off-road.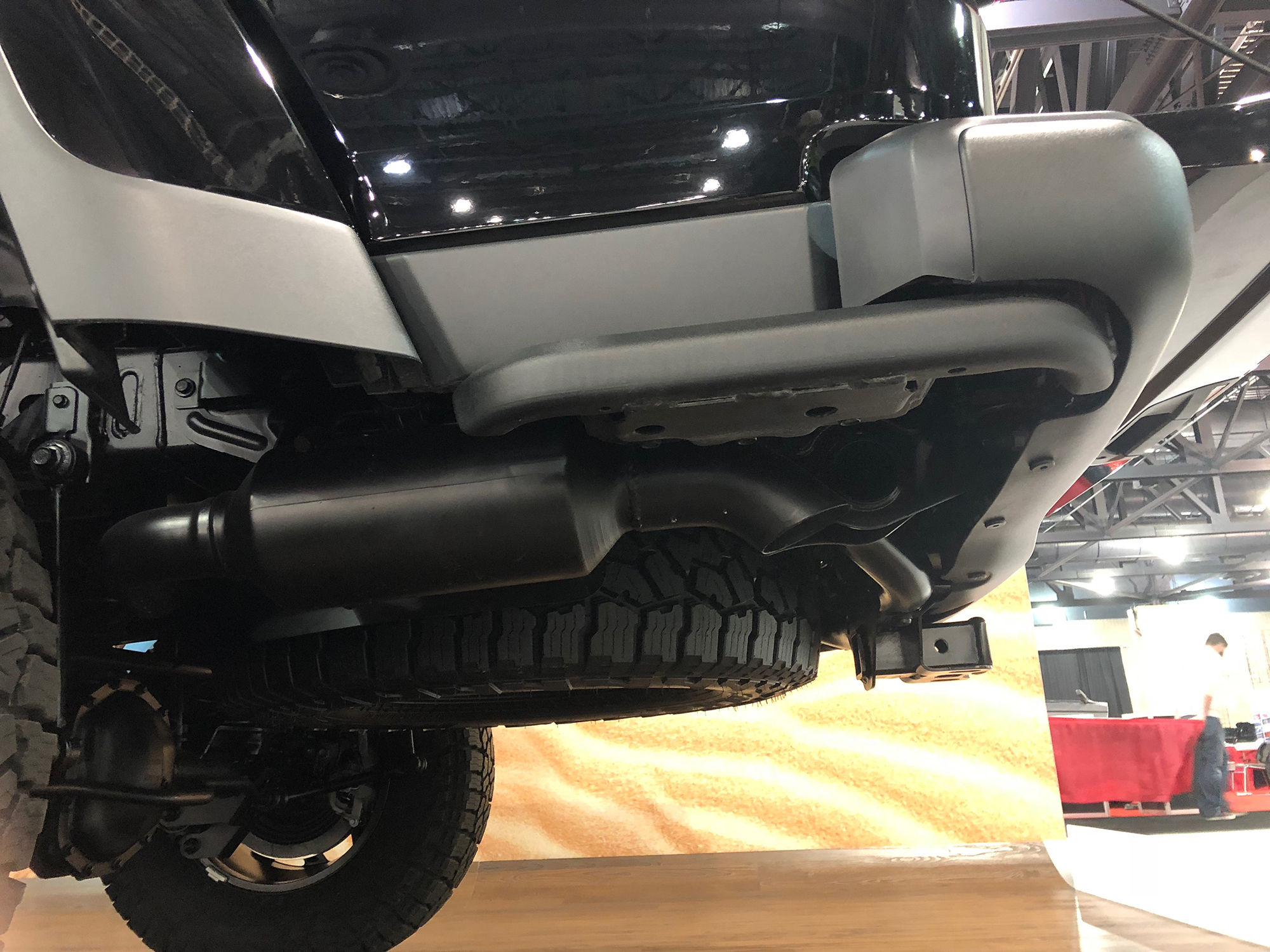 Off-Road
Speaking of protection, the Gladiator poses a bit bigger challenge to vehicle protection than Wrangler. Especially for those seeking to push the vehicle to its limits on trails or during overlanding expeditions. So, while designers gave both vehicles plenty of skid plates, side protection rails, and available steel bumpers, they also added a unique set of metal rock rails behind the rear tires on Rubicon edition Gladiators. These rails will help absorb impacts during obstacle departure because of the larger Gladiator size, and can also help the vehicle more easily 'slide' off these obstacles to improve off-road performance. Additionally, Gladiator will see something that no other Jeep vehicle currently offers—high speed off-road calibration which allows drivers to keep the front sway bar connected, while unlocking the front differential and electronically locking the rear. All of that means the ultimate in high-speed traction over both dirt and sand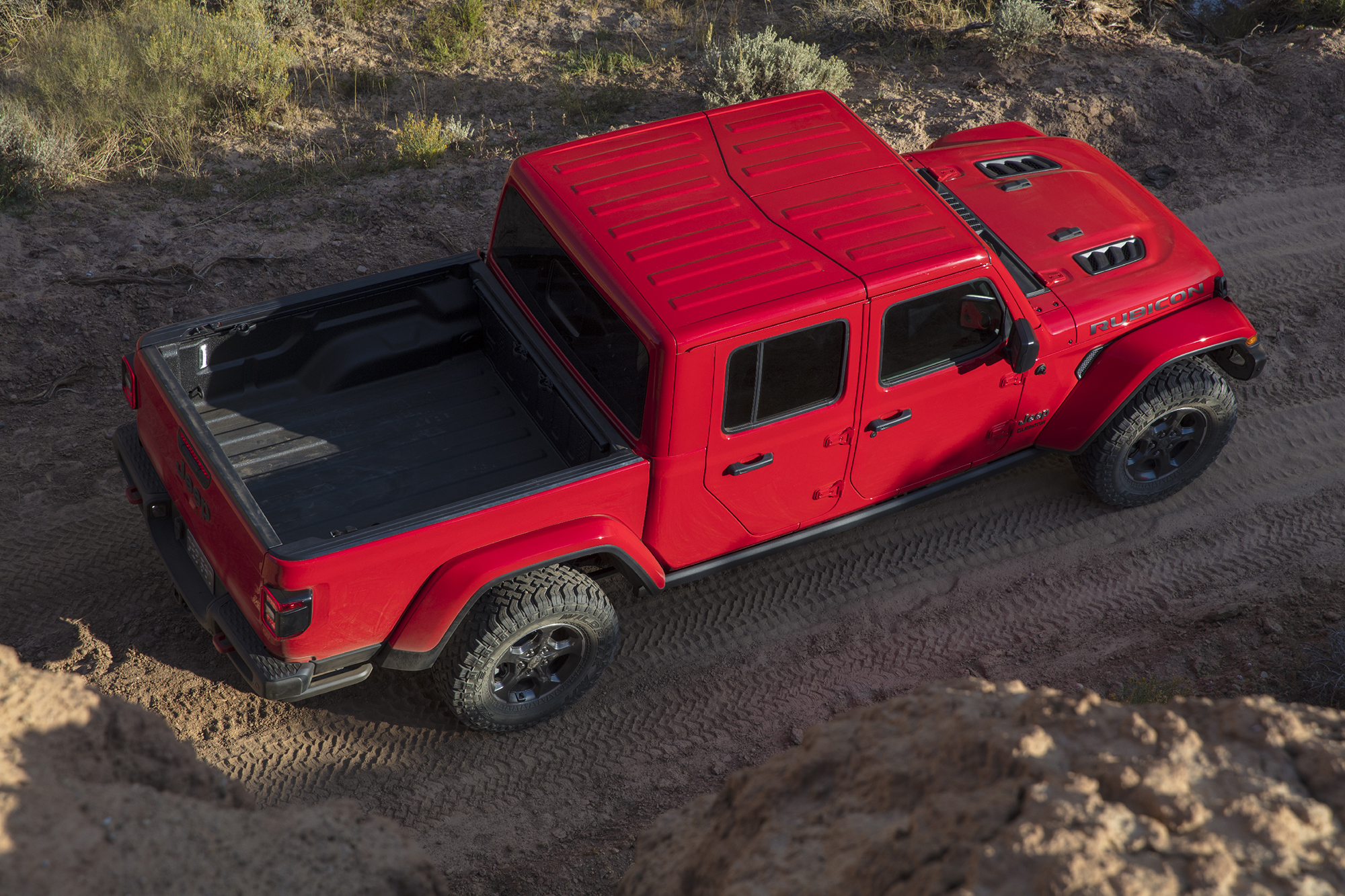 Truck Bed
Obviously the biggest difference between the vehicles, and the one that provides the most functionality, is the Gladiator's truck bed. Again, like we said before, the bed itself is five feet long and does extend to six-and-a-half feet when the tailgate reclines. But the bed itself is only the beginning as Jeep has added a whole slew of Gladiator-unique features such as under bed lighting, available external power source, cargo tie down points, as well as an available Trail Rail Cargo Management system. Plus, Jeep Gladiator designers intentionally kept the bed sides low to allow for easier cargo access, while dampening the tailgate so it doesn't crash down with a thud. They've even added side cables so the tailgate can be placed in three different positions depending on cargo needs. Rounding out the differences is an available tonneau cover to protect cargo and a spray-in bed liner. Fin ally, Gladiator checks in with a 1,600 pound payload capacity.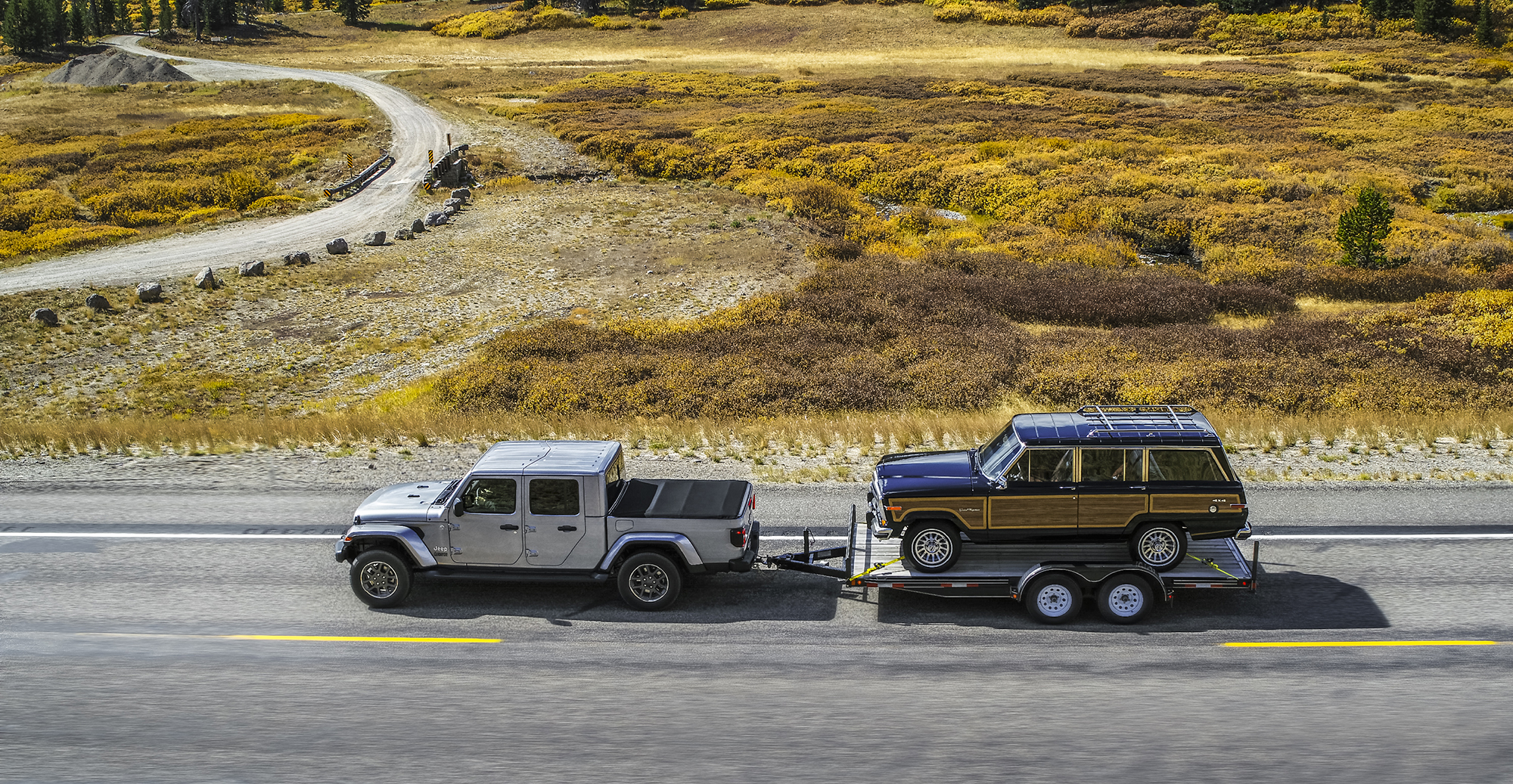 Tow capacity
Whether you have a Wrangler, or plan to get a Gladiator, both vehicles do have towing ability. However, the difference is just how much you are able to tow. The Wrangler JL Unlimited currently weighs in with a 3,500-pound tow capacity, while those choosing the Gladiator will see up to a 7,650-pound capacity—7,000 on the Rubicon edition. This puts the Gladiator at the top of its midsize class in towing ability. And that rating could even increase once the diesel engine comes into play.
Easter Eggs
One of the fun things Jeep designers get to do when creating a vehicle is to put various little 'easter eggs' at different spots on the thing. These small design cues, like the T50 mark Wrangler has on its door hinges, or the bare feet impression on the cowling underneath the windshield wipers, are neat call outs to help inform and entertain owners.
And the Jeep Gladiator has its own unique set.
First is the most obvious one, where a heart and '419' are embossed right into the back driver side part of the bed. For those not in the know, this signifies the area code for Toledo, Ohio. Where Wranglers (and now Gladiator) have been built since 1986.
"Being from Toledo, right here I put a heart and 419," said Jeep Gladiator Lead Exterior Designer Taylor Langhals. "That's the Toledo area code. That's a tribute to Toledo. They've been doing this for us forever. Toledo is Jeep."
The other is a bit more subtle and sits right on the front wall of the cab. This one is a set of dirt bike treads which not only look neat, but help perfectly line up those dirt bikes when loading into the cab. Plus, when those treads are added to the other 'grille' looking slots on the cab wall, you notice it is the seven-slot design—complete with 'headlight' and 'signal markers.'
"I'm a big dirt bike guy," Langhals said. "If you look at the front wall of the bed, I stamped in two imprints of dirt bike tires. I did that on purpose. I want guys like me to not have to think about it when they're putting their bikes in the truck. You line it up here, the bike is gonna sit perfectly in the truck, helps guide you into the right spot."
For more Jeep Gladiator news as well as other information, check out our Jeep Gladiator Information Page.