by Matt Konkle
Quadratec Channel Editor
A parade of Jeeps showing support for those supporting us. That's the message one eastern Pennsylvania Jeep club wanted to relay when it recently organized caravans at several regional hospitals.
The goal was a line of Jeeps with flashing lights, honking horns, drivers and passengers waving or shouting encouragement, and signs plastered all over windows.
And that goal was certainly achieved.
The Jeep Enthusiasts of Eastern Pennsylvania Jeep club Friday held this caravan at three different Lehigh Valley (PA) hospitals, and vehicles slowly circled each one as drivers and passengers offered an emotional tribute for doctors, nurses and other hospital staff fighting on the front lines of COVID-19.
Around 90 total Jeeps participated in the event between the three different locations, said club co-founder and president Brandon Zeigler, with several coming to all three caravans while others did two and some one.
"I was just looking for something we could do to help the health care workers, no matter how small it may be," Zeigler said. "And the appreciation they showed us for this little Jeep parade was amazing. It really meant a lot to them and it was kind of emotional for them and us."
The event targeted Cedar Crest, 17th Street and Muhlenberg hospitals around the Allentown area, which is about 60 miles north of Philadelphia.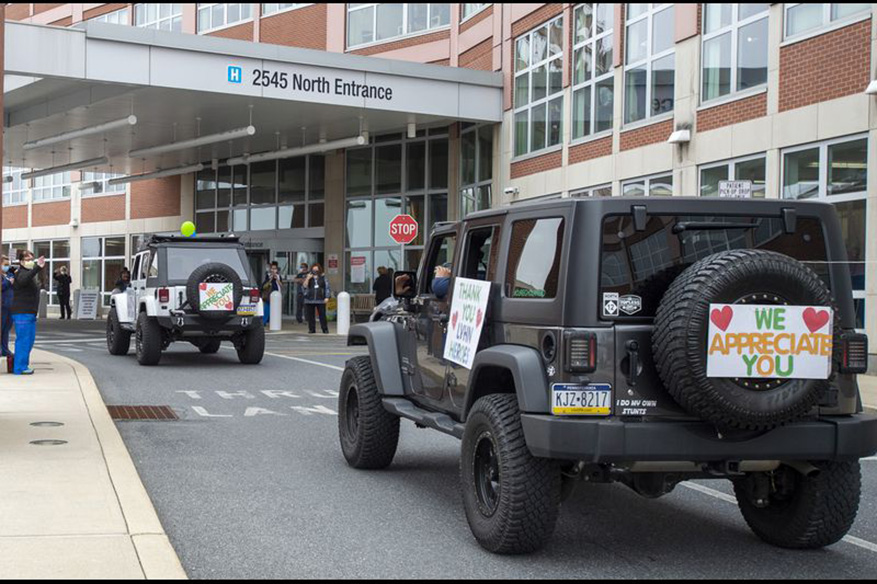 Organizers opened parade spots through the club's Facebook page, but limited participation in each hospital caravan in order to follow Lehigh Valley Hospital Network guidelines for the safety of both riders and hospital spectators. Additionally, all caravan riders were required to remain inside their respective vehicles during the entire time and many used CB radios for communication.
"We posted as much info upfront ahead of time as we could so people had an idea as to what was going on," Zeigler said. "I used a megaphone to announce the line up and how it would go as well as used a CB channel. LVHN really helped the process and took lead by setting up the routes and meeting spots and having their security lead.
"Honestly I don't think it could have went any better. They were very pleased with how it all went too."
The caravan at each location definitely attracted its share of attention from those workers around and inside the respective hospitals. Many took videos or photos from smartphones, while others applauded and waved back.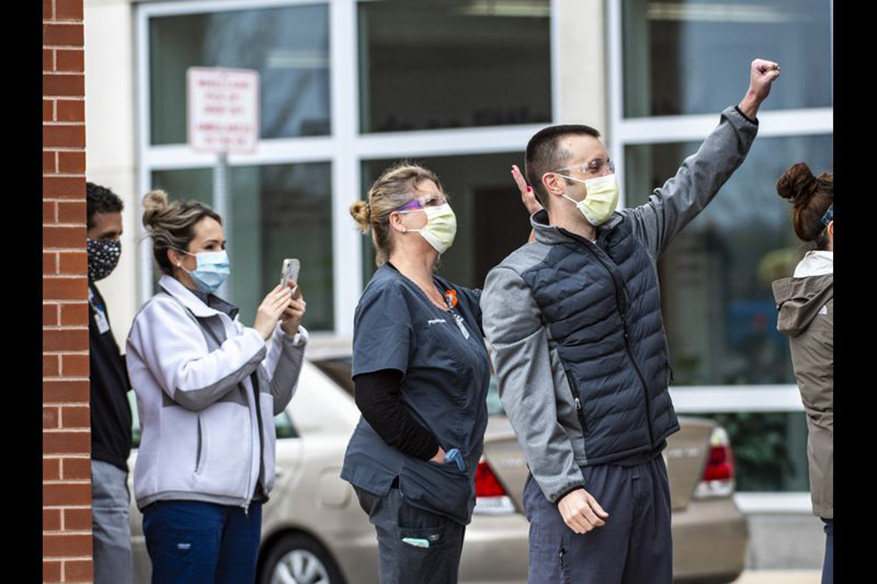 "I work at the Muhlenberg Campus and watched the parade today. Thank you so much for doing this! It made our day," said Kelly O'Connell in post on the club's Facebook page.
"Very grateful for your support at LVHN 17th Street," Andrea Hallman Russell said in another post on the group's Facebook page.
But it wasn't just doctors, nurses, first responders and other hospital workers who caught up with Friday's Jeep parade. It also attracted the attention of hospital patients, and made an impression on those hospital workers who were in the parade as well.
"Just a quick thank you, my uncle is a patient at LVHN, Muhlenberg, and saw you guys cruising around the hospital," said Donald Basta on the club's Facebook page. "(It) not only lifted the nurses and (doctor) spirits, but also the patients. Thanks again."
"I work at LVHN and was in the middle of the parade," B.J. Simpson said in a post. "We were grateful to show our appreciation for all that the front line workers do, including my Biomed team."
Following the success of this event, Zeigler said the club will be holding another Jeep caravan at the LVHN's Schuylkill hospital location on Thursday, April 23. Those interested in participating can find more info on the Jeep Enthusiasts of Eastern PA's Facebook page.
"A big thank you to all of you who came out today and joined us in showing your appreciation for the doctors, nurses, and all hospital staff working on the front lines of COVID-19," the club said in a statement. "You all helped make this a great and memorable event."