Mike Briggs' Jeep adventure began, simply, with a need. A desire to be part of something special; something exciting.
Something legendary.
"I've always loved the iconic Jeep Wrangler and heard tales of its off road capability," Briggs said. "I started seeing more and more of them on the road, and really paid attention to those with all kinds of mods. And I wanted to be in that crowd."
So he did his research, watched You Tube videos for advice on buying and upgrading, and then brought home his 2016 Unlimited Rubicon Hard Rock Wrangler in early January.
Now his adventure is full time, with each turn of the key. Wherever the road takes him. And he certainly has plans.
"I bought the baddest Jeep that they make, the Rubicon," he said. "And I fell in love with the idea of driving (it) to the highest drivable peak in all 50 states."
For Haylie Brass, the story was somewhat different.
As the daughter of Jeep lovers, it was almost a foregone conclusion she would also end up with one. She did, and her vehicle of choice came to be the older XJ Cherokee. A vehicle, she said, that could be changed and molded exactly the way she liked.
"I knew that's what I wanted when I would buy my first vehicle, and let's just say it's been one of the best things I have ever purchased." she said. "I love being able to make it mine – it's not like any other brand new car I see at school. It's my older Jeep Cherokee that everyone can tell is mine."
It is this love of adventure, of personalization - not only from Briggs and Brass - but from legions of other Jeep owners and potential customers all over the globe, that has Fiat Chrysler Automotive (FCA) bullish on the future of its scalding hot Jeep brand.
From the slightly-tweaked 2016 Wranglers now at dealer lots, to the upcoming 75th anniversary models, FCA has rolled out a Jeep line that has several choices available to fit virtually everyone's needs.
"Jeep vehicles have defined the authentic SUV and set the benchmark for off-road capability and freedom since they were first produced in 1941," said Mike Manley, Head of Jeep Brand – FCA Global. "Today, Jeep SUVs continue to deliver 4x4 leadership, as well as fuel efficiency, world-class craftsmanship and premium on-road dynamics."
As FCA turns its spotlight to focus mainly on expanding the Jeep line, make no mistake they are also turning that spotlight on anyone who has ever dreamed of having a Jeep yet for one reason or another never followed through.
So the question emerges – what can a Jeep offer to close the deal for new buyers?
Long time Jeepers know, like Briggs and Brass said, it is the adventure that helps set Jeep apart. The personalization. But it is also so much more.
How about versatility? The small wheelbase handles well and makes the Wrangler easy to maneuver and park in tight spots; while the four-wheel drive system is extremely capable in all weather or terrain conditions.
Or fun? The award-winning 285 horsepower, 3.6L Pentastar engine provides plenty of power and torque for either off-road or on-road use. So, you have the ability to go almost anywhere and do almost anything you want.
Plus, many find the ease of upgrading their vehicle with so many accessable aftermarket part choices fun as well. Like the saying goes 'Jeeps are built, not bought.'
And then there is the community. Very few vehicles have a fanatical following like Jeep. Hundreds of clubs around the country offer not only trail riding excursions, but also meet and greets, community events and informational sessions designed to allow you to get the most out of your vehicle.
"I love the Jeep community, the wave, and feeling (of being) almost a kinship to fellow Jeep owners," said Briggs.
"Having a Jeep also has allowed me to meet and talk to other people with Jeeps and it's great getting to know them and their Jeeps," added Brass.
These are actually the best of times to own a Jeep because a 21st-century Wrangler is a perfect bend of useful daily driving and personal adventure machine. There is really something for everyone.
All trim levels of the current generation Wrangler have modern features, real safety, and actual comfort. But a Jeep remains one of a small number of vehicles that can still take you to those hard to reach places that others just can't touch.
At Quadratec, we've published an in depth Jeep Buying Guide for those who are seriously interested in these life-changing vehicles (new or used) and what they offer. You can order yours at www.quadratec.com/jeep-buyers-guide/.
So, what is new for 2016 in the Sport, Sahara, and Rubicon Wrangler and Wrangler Unlimited models?
Overall not much, as FCA decided to stick with what has worked for the past several years and has propelled Jeep to an all-time popularity rating. However, they did slightly alter the Jeep Sahara model and added a new 'Black Bear' edition this year. FCA also has several special edition Wrangler versions available such as the Rubicon Hard Rock Edition, Freedom Edition, Willys Wheeler, and (limited edition) Wrangler Backcountry.
In addition, FCA is unleashing a 75th anniversary Wrangler model to dealership lots this Spring that they hope appeals to those with a sense of history mixed into their adventurous side.
However, as a first-time buyer, all these choices can be confusing. But it does not need to become overwhelming.
We cover this more in depth in the Buyers Guide, but here are a few tips. Plan out your needs and wants. Is this a family vehicle, or individual? Will the vehicle travel street only or are you planning to have the best rock-crawling machine on the block? What is the budget?
Keep in mind, unless you really want everything on the Jeep from the start, many factory-optional items can be purchased later via the aftermarket route, thus saving money off the vehicle purchase price.
For 2016, all popular trim levels (Sport, Sahara, Rubicon) come with the aforementioned award-winning Pentastar engine that boasts 285hp, 260lb-ft of torque, and best-in-class fuel economy at 17c/21hwy, as well as either a six-speed manual or five-speed automatic transmission. Factory colors for 2016 include Billet Silver, Black, Bright White, Firecracker Red, Granite Crystal, Hydro Blue, Hypergreen, Rhino and Tank (darker green).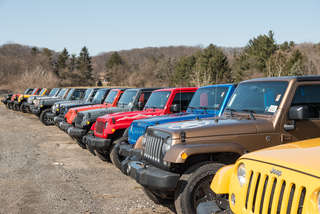 In the ultra popular, and easily upgradable, Sport model ($23,895 2dr/ $27,695 4dr msrp) you can expect (among many standard features) the solid Dana 30 front axle and Dana 44 rear, steel wheels, skid plate, eight-speaker sound system, tow hooks, hill start assist, and soft top. Additional options like air conditioning for the two-door model, power locks and mirrors, remote entry, tow packages, and hard top are also available.
The 2016 Sahara model – both Wrangler ($29,895) and Wrangler Unlimited ($33,695) – received updates to its exterior and interior appearance. New features include a body-color bumper applique, modified 18-inch wheels with Granite Crystal painted pockets and polished surface, and modified "Sahara" logo. Additional design touches include high gloss fine silver metallic seven-slot grille throats and iconic headlamp rings, satin chrome steering wheel bezel, and quick silver grab handle, bezels and vent rings.
FCA offers its top level Rubicon ($33,095/$36,895) as the beast you want if rock crawling is your desire right off the lot. This vehicle comes with a host of off-road features such as front and rear Dana 44 axles, locking front and rear differentials, sway bar disconnects, rock rails, and 17" aluminum wheels.
The new-for-2016 Jeep Wrangler Black Bear Edition ($28,790/$32,590) builds off the Sport trim level by adding special content to the interior and exterior of the vehicle.
On the exterior, this edition features a heritage "Wrangler" hood decal, topographical Black Bear Pass trail hood decal, off-road rock rails, satin black grille, mineral gray bumper applique, standard premium Sunrider soft top or optional body-color hard top, 17-inch five-spoke black wheels and added traction with Silent Armor tires, and black tail lamp guards and fuel fill door.
The interior of the Black Bear Edition features black cloth seats, a leather-wrapped steering wheel with black accent stitching, iron gray bezels, grab handle vent rings and door handles, sport bar grab handles, all-weather slush mats, standard air conditioning, and the Connectivity Group and Power Convenience Group.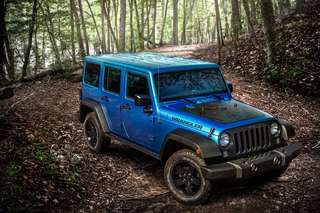 FCA's 75th anniversary edition Wrangler ($34,545) and Wrangler Unlimited ($38,375) will be available in Jeep-exclusive green exterior paint (Sarge Green, Recon Green or Jungle Green, depending on model), low gloss 17" bronze wheels, bronze and orange exterior accents, unique interiors including exclusive seats with embossed 75th Anniversary logo or mesh fabric, and a 75th Anniversary exterior badge.
The exclusive, and limited-time, vehicle will also offer (among other things) a Dana 30 front and Dana 44 rear axle, a body-color grille with low gloss bronze grille throats and headlamp rings, power dome hood with functional air vents, 75th Anniversary grab handles, and a 6.5-inch touchscreen radio with Uconnect handsfree phone, and SiriusXM radio.
"In honor of the brand's 75th anniversary, we have created eye-catching, special-edition models of each vehicle in our lineup that celebrate the unparalleled history of the legendary Jeep brand," Manley said.
Rounding out the 2016 offerings are the Rubicon Hard Rock, Freedom Edition, Willys Wheeler, and Wrangler Backcountry.
The Rubicon Hard Rock Edition ($37,895/$41,695) is the most initially-capable Wrangler you can purchase. Based on the Rubicon model, it is equipped with Wrangler's part-time four-wheel drive system that has electronic-locking front and rear Dana 44 axles utilizing the Rock-Trac transfer case with a "4-Low" ratio of 4:1. Also, a 4.10 axle ratio, front and rear, is standard as are Tru-Lok locking differentials. With a six-speed manual transmission, the Wrangler Rubicon Hard Rock edition has an impressive crawl ratio of 73.1:1 that makes it a breeze to negotiate any obstacle. A five-speed automatic is also available.
FCA offers the 2016 Freedom Edition ($29,790/$33,590) as a tribute to US Military members and it features (among other standard features) new hard "Oscar Mike" fender badges and decals on the hood and rear quarter panels, new optional tan premium Sunrider soft top with deep-tint rear windows, granite crystal-painted 17-inch aluminum alloy wheels, granite crystal-painted grille and front and rear bumper inserts, body-color fender flares, side steps with matching black tail lamp guards and fuel fill door, and optional off-road rock rails.
The 2016 Willys Wheeler Edition ($28,195/$31,995) utilizes the Sport features, but has upgraded hardware including a Dana 44 rear axle with Trac-Lok limited-slip rear differential and 3.73 gears, BF Goodrich KM Mud Terrain LT255/75R17 tires, rock rails and a Jeep Trail Rated Kit that includes a D-Ring, tow strap and gloves in a Jeep-branded bag. The Willys Wheeler also has the Jeep Command-Trac 4x4 part-time, two-speed transfer case with a 2.72:1 low-range gear ratio to give it serious off-road performance.
Jeep Wrangler's Backcountry edition ($34,195/$37,995) boasts a winter capability theme and is based on the Wrangler Sahara model. Key features include a Backcountry decal on the front fender and rear quarter panel, a unique off-road front and rear powder-coated bumper, side rails, 17-inch Rubicon wheels painted in mid-gloss black and a black fuel fill door. A black hard top is standard on this edition, but an optional body color hard top is also available.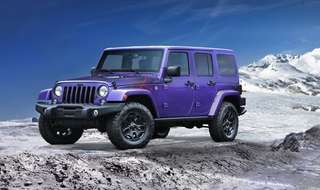 For Briggs, it was the adventure and excitement. For Brass it was personalization and that unique feeling.
Regardless of which vehicle you choose, which emotion you follow, your new Jeep will unlock not only the adventurous side in you, but also a whole community of like-minded people who love and respect the Jeep life. Just like you.
And one more thing. Don't forget to wave.
Since 1990, Quadratec's mission has been to deliver Expert Advice and Unbeatable Prices to enthusiasts of the legendary Jeep® CJ, Wrangler, Cherokee and Grand Cherokee vehicles. For more information, or to see our vast selection of Jeep inventory, contact us at 800-745-2348 or please visit our website at www.quadratec.com.