by Matt Konkle
Quadratec Channel Editor
For Fiat Chrysler Automobiles at this week's Consumer Electronics Show in Las Vegas, Nevada, it looks like blue is the new green.
That is, all kinds of blue accents on its green-friendly electrified Jeep Wrangler.
FCA Tuesday showed off its first-ever plug-in hybrid Jeep Wrangler JL Rubicon, fully decked out in a granite crystal finish with light blue accents on the trail-rated badging, Rubicon lettering, tow hooks and rear 4XE logo.
As it does in most of its models, FCA uses these color schemes to differentiate between certain editions. And there is no denying this one is all Wrangler. In fact, at first glance, you may not even know you are staring at an electric version of the iconic Wrangler—until you notice the driver's side charging port and perhaps take a look at the vehicle's underbelly.
Sitting nearby in the booth Tuesday were also FCA's Compass and Renegade plug-in hybrids, however those two vehicles were already introduced last March at the Geneva Auto Show. The company said these three models represent the first steps in the brand's plan to offer electrification in all Jeep models by 2022.
Meanwhile this Wrangler delivers on a 2017 promise made by FCA CEO Mike Manley to bring an electric one to market, and the company believes it will be on showroom floors by late this year.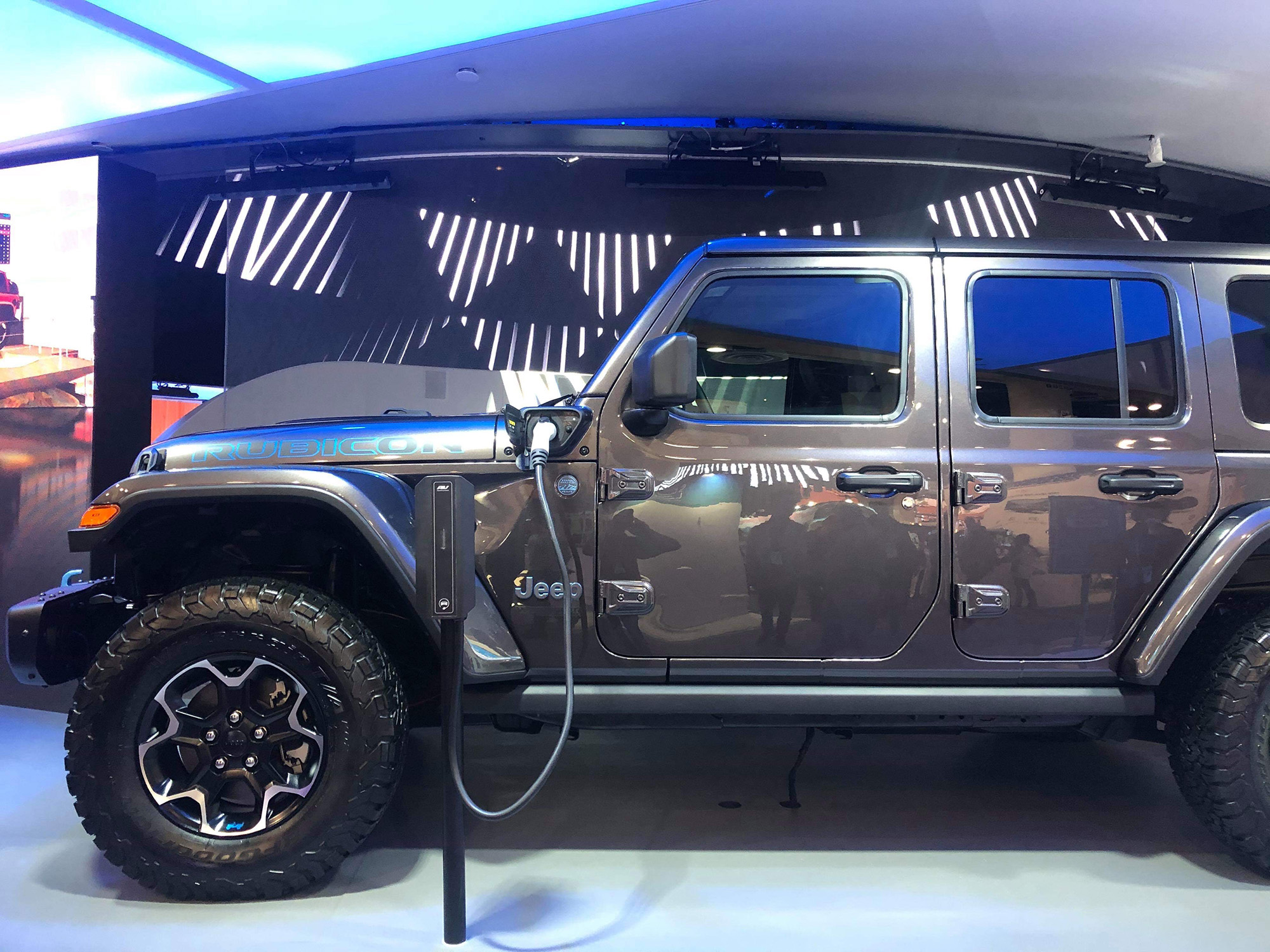 Although the plug-in hybrid Wrangler is front and center in the FCA CES booth, those interested in its specifics will have to wait a bit. FCA does not plan to fully reveal the plug-in Wrangler's stats until the Geneva show, which opens March 5.
However, it is hard to imagine the automaker won't utilize its prized Pentastar 3.6L engine as the main powerplant, backed up by a rugged hybrid powertrain that offers somewhere around 30 miles on a full charge.
FCA currently utilizes this same set up in its Pacifica minivan—combining the Pentastar with a 16.0-kWh lithium-ion battery pack that fully charges in two hours on a 240-volt, 30-amp circuit, or in just over 14 hours using a 120-volt wall plug. That combination provides about 30 miles of electric-only range.
In contrast, the smaller Compass and Renegade combine a turbocharged 1.3L engine up front, with a electric motor in the back that, FCA says, provides upwards of 240 horsepower along with around 31 miles of all-electric range.
This all-new electrified Wrangler version differs slightly from the currently available mild-hybrid JL, dubbed eTorque, that utilizes a 48-volt battery to capture energy while braking, in order to assist either its 3.6L or 2.0L gas engine on launch.
With the Wrangler JL engine options expanding a bit this year thanks to a diesel version, electrification now gives brand enthusiasts access to two solid off-road choices as both offer significant low-end torque, while the electric allows for immediate engine response.
Those into the overlanding scene also may have electric accessory options should FCA include these in the final Wrangler edition.