Fear not, mister Easter Bunny, should you get stuck hopping down the bunny trail somewhere around Moab, Utah during your holiday travels this year.
Fiat Chrysler Automobiles (FCA) will have a Trailcat, Comanche, Crew Chief, Trailstorm, and something called a Shortcut all available should you require assistance.
Not exactly the Avengers, none have a hammer or shield, but this year's Moab Easter Jeep Safari (MEJS) concept crop from FCA certainly does push the trail and performance envelope, according to details released Thursday from the company.
All told, FCA will have seven custom concept Jeep vehicles on display at the 50th annual MEJS, which runs from March 19-27 and draws thousands of hardcore Jeepers to the area.
"Every year the Jeep team looks forward to pushing the limits with new, exciting and capable concept vehicles for our most loyal enthusiasts at the Easter Jeep Safari in Moab, where we receive a tremendous amount of valuable feedback," Mike Manley, head of Jeep Brand-FCA Global, said in a statement. "This year is extra special, as together with our biggest fans, we celebrate Jeep's 75th anniversary — as well as the 50th running of the Jeep Safari. We're delighted to share seven of the most capable and eye-catching concept Jeep vehicles we've ever created at this year's historic event."
While FCA did release a tease last week with its announcement of two concept vehicles – the Trailcat and Crew Chief – details were scarce on both while opinions were plenty.
Thursday's concept announcement filled in the gaps and reads like a 'Fifty Shades of Grey' for Jeep lovers.
Here are details for the seven concepts:
■Jeep Trailcat will be a Wrangler-based concept modified with a supercharged 6.2-liter Hemi Hellcat V-8 engine and 6-speed manual transmission with a custom shifter ball featuring an embossed Hellcat logo. To accommodate this high powered 707-horsepower Hellcat engine, FCA designers stretched the wheelbase an additional 12 inches while chopping the windshield two inches. Inside the Trailcat, Jeepers will find sport bucket seats from the Dodge Viper, made from carbon fiber and featuring Katzkin leather seat covers with accent stitching. Exterior-wise, this vehicle has a power dome vented hood, Satin Black grille, LED headlamp and foglamps, rock rails, steel bumpers, 17-inch beadlock wheels, 39.5-inch BF-Goodrich Krawler T/A KX tires, front and rear Dana 60 axles, and Fox shocks.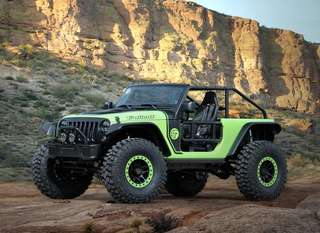 ■Jeep Comanche is a diesel pickup concept based off the Renegade and features a concept "Beige Against the Machine" exterior paint accented with a satin black hood, a concept lower front fascia, winch, steel rear bumper, soft top and spare tire in the bed. The vehicle's wheelbase has been stretched an additional six inches compared to a production Renegade to accommodate this Comanche's 5-foot bed. Under the hood, the vehicle is powered by a 2.0-liter diesel I-4 engine and FCA engineers added a 9-speed automatic transmission with Jeep Active Drive Lock, which includes low range and a locking rear differential.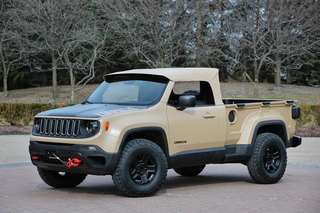 ■Jeep FC 150 is a concept based off the vintage CJ-5 design and is homage to the original FC 150s built from 1956-65. This vehicle features a 2005 Wrangler chassis modified to accept a Dana 44 front axle, Dana 60 rear axle and 17-inch white steel wheels wrapped in 33-inch BF-Goodrich Mud-Terrain T/A KM2 tires. The interior has vinyl seat covers with a vintage 'duck hunting' pattern, CB Radio, and compass. Powered by a 4.0-liter PowerTech I-6, the FC 150 uses a 3-speed automatic transmission.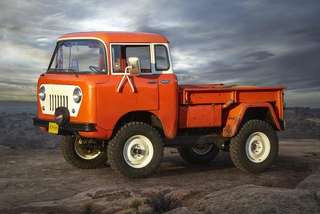 ■Jeep Renegade Commander is the first concept FCA has done on its newest vehicle and it is sure to get a reaction- good or bad. FCA engineers placed a 2.4-liter Tigershark engine with MultiAir2 under the hood and mated it to a 9-speed automatic transmission with Jeep Active Drive Low. This concept also features a "fluorescent gray" color with Renegade's MySky open-air roof with removable panels, custom body decal, off-road rock rails, skid plates and a modified exhaust. FCA also saw fit to install a 2-inch lift, trailer hitch, and front and rear auxiliary lights.
■Jeep Shortcut is a Wrangler-based concept which honors the Jeep CJ-5. FCA shortened the body of this concept 12-inches, and added exterior features such as a unique grille, hood, tailgate, front and rear wheel flares and custom chrome front and rear bumpers. It's powered by the 3.6-liter award-winning Pentastar V-6 engine and tied to a 5-speed automatic transmission. A modified exhaust, 17-inch red steel wheels and 35-inch BF-Goodrich Mud-Terrain T/A KM2 tires, along with front and rear Dana 44 axles and 2-inch lift all certainly help this Jeep Shortcut seem, er, not that short.
■Jeep Crew Chief 715 is a "tactical green" colored concept based on an open-air Wrangler Unlimited, meaning extra doors and rear seat, and is powered by the award-winning 3.6-liter Pentastar V-6 engine with automatic transmission. This vehicle features steel front and rear bumpers, an onboard air system, master cylinder brake upgrade, cold air intake, 20-inch beadlock wheels, and 40-inch military tires that give a snappy salute to original Jeep military vehicles – especially the Kaiser M715. The exterior features off-road rock rails, a winch mounted into the front and rear bumpers, Dana 60 front and rear axles and a 4-inch lift kit with Fox 2.0 Remote Reservoir shocks.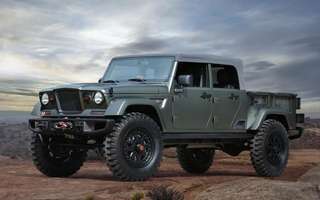 ■Jeep Trailstorm is another concept Wrangler Unlimited and is powered by the 3.6-liter Pentastar V-6 engine with 5-speed automatic. This vehicle also shows off many of the available off-road enhancements on the market, including 17-inch off-road wheels wrapped in 37-inch tires, a 2-inch lift kit with Fox shocks, a Rubicon winch, and Dana 44 front and rear axles. Wrapped in camouflage, the Trailstorm exterior enhancements include a winch guard, satin black grille, LED headlights and fog lights, high top fenders, power-dome vented hood, off-road rock rails, Big Brake Kit, a concept fastback soft top, tail light guards and fuel filler door.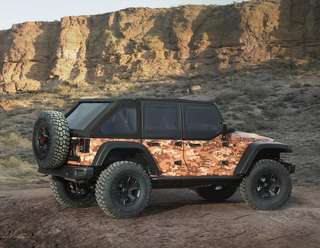 If you are not attending the 50th MEJS, be sure to check in daily here at Quadratec.com as we'll have updates, pictures, and videos of all these concepts - and everything else going on all week.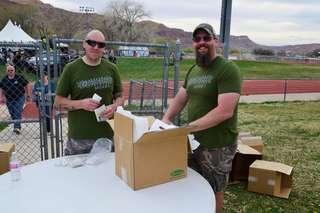 About Quadratec:
Since 1990, Quadratec's mission is to deliver Expert Advice and Unbeatable Prices to enthusiasts of the legendary Jeep® CJ & Wrangler. From classic Jeep vehicles to the current day Wrangler, Quadratec's courteous factory-trained sales & customer service staff has the knowledge to make sure you, and your vehicle, get exactly what you need. Contact us at 800-745-2348 or www.quadratec.com.