by Matt Konkle
Quadratec Channel Editor
"Here you come again lookin' better than a body has a right to."
—Dolly Parton
Well, those lyrics may not have anything really to do with Jeeps, but Parton's 1977 ballad just might be heard all over the vast parking lot at the LeConte Center in Pigeon Forge, Tennessee this weekend.
That's because an expected crowd of more than 16,000 people, as well as 9,000-plus Jeeps are expected to descend on Pigeon Forge for the 7th annual Great Smoky Mountain Jeep Invasion—ironically, right in the shadow of Parton's own Dollywood Amusement Park.
And with all those Jeeps around, there is bound to be plenty of Jeep obsessing, cleaning, gawking and loving going on all over the complex for a vehicle brand that always looks better than it has a right to. If you, er, believe the song that is.
"It is really quite a site," said Quadratec Outside Events Coordinator Craig Jaros. "You look inside the (LeConte Center) and it is a packed house. Then you look outside and there is a sea of Jeeps all over the parking lot."
"It really says a lot about this thing that so many people make it a must attend event for this time of year."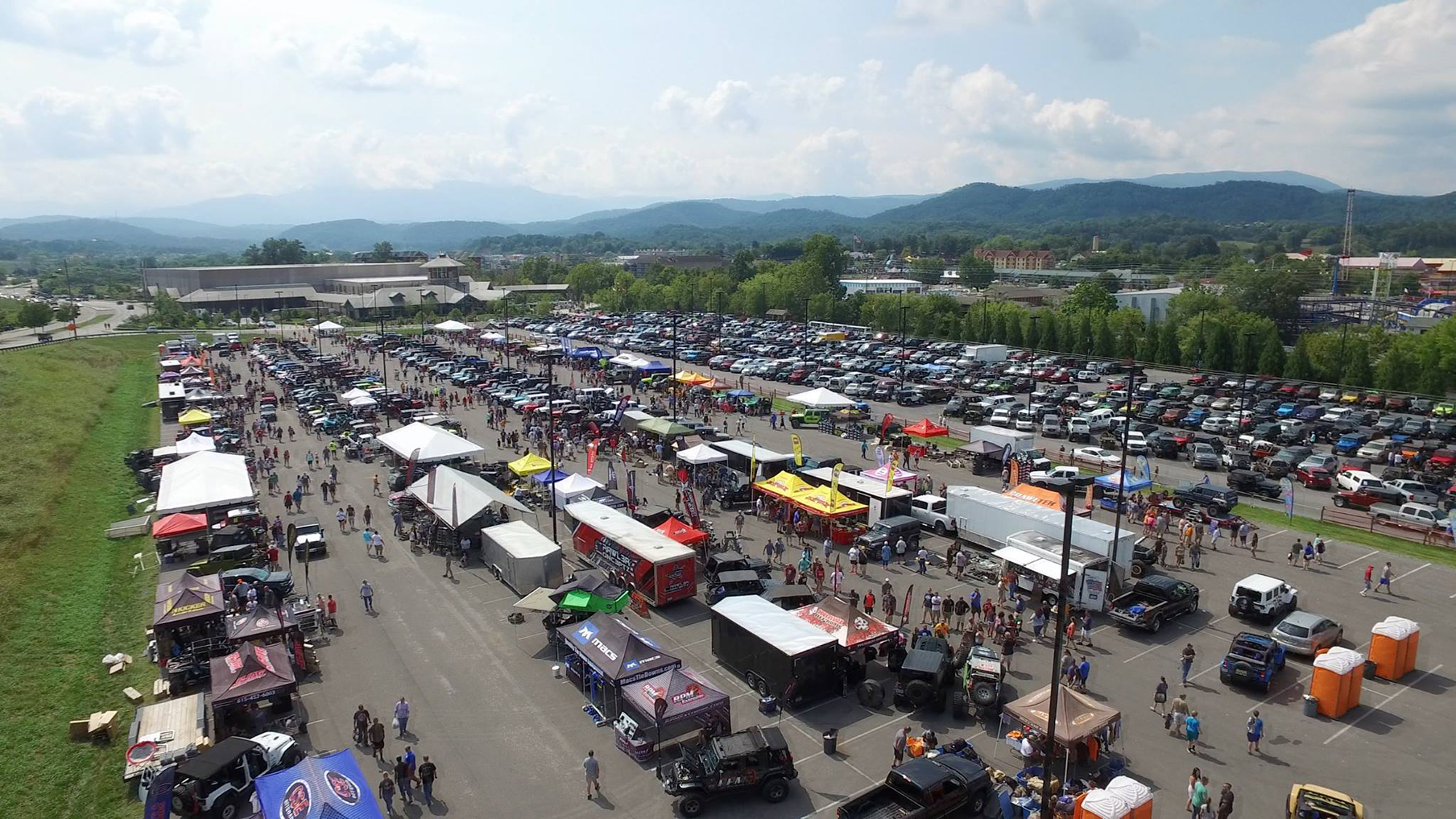 Quadratec is one of around 200 Jeep-related vendors filling out the Invasion event, and—for the first time—will have a limited amount of items for sale directly at its tent location. The company will also have special tickets available for all event attendees good for a 10 percent discount on any new phone or web orders.
For those who can't make the event, but still want to see what it is all about, Quadratec will provide coverage all weekend long of the Smoky Mountain Invasion—with videos, pictures, interviews and other event highlights.
Besides the chance to catch up with all your favorite vendors inside the LeConte Center, the event also offers a Show and Shine with five separate categories, as well as an overall People's Choice category.
And, for the first time ever, participants can elect to take a Jeep Invasion Trail Course ride through the heart of Pigeon Forge. This stock-friendly course, organizers say, is over a mile long with twists, turns, steep climbs and descents, along with plenty of scenic views.
Additionally, the Southern Four Wheel Drive Association is offering off-road education and environmental workshops on both show days from 10 a.m.–4 p.m., while Lady Jeepers off-road driving educational classes will take place from 11 a.m.-4 p.m. Friday and Saturday.
The Smoky Mountain Jeep Invasion helps sponsor the Smoky Mountain Service Dogs, which is a non-profit organization that enhances the physical and psychological quality of life for wounded Veterans by providing custom trained mobility assistance service dogs—at no cost to the Veteran.
Many event vendors donate items that will be raffled off both event days at 2:30 p.m., and all raffle proceeds go to Smoky Mountain Service Dogs. The event raised $20,000 in 2018 thanks to all the raffle donations.
For those around Sunday after the event wraps up, there will also be a Jeep group riding down to nearby Cades Cove, Tennessee for an 11-mile loop through one of the most scenic and popular destinations in the Smoky Mountains.
The Smoky Mountain Jeep Invasion event began in 2012, and is currently hosted by the Great Smoky Mountain Jeep Club of Maryville, Tennessee. It is open to all Jeep enthusiasts and clubs throughout the country. Event registration is still available online at: https://www.greatsmokymountainjeepinvasion.com/. Those interested in attending can also pay at the door. Cost is $12 per day or $20 for both days. The Smoky Mountain Jeep Invasion is open 9 a.m.–5 p.m. each day.