WEST CHESTER, PA - There you are in front of the computer, a holiday warrior ready to do the gift battle. Maybe some festive music is playing softly in the background. Possibly a half-empty eggnog at your side.
You've been tasked with buying a nice gift for that special someone, friend, or family member who owns something Jeep-ish. Or Jeep-e. You're not quite sure on that. But you know you need to buy something and other than a Jeep catalog, which now looks like mangled evidence from a crime scene, you were not given much direction.
So the parts scroll by on the screen like bland white noise. Some top this, a bumper that. You don't even know what this other thing is supposed to be.
And now you are throwing your hands up in frustration as it's becoming apparent that buying Jeep parts for a gift is akin to just grabbing a deck of cards and tossing them in the air - then guessing what each card is before you pick it up.
You never know the right answer.
Well, take a deep breath and sip on that eggnog. Everything is going to be all right. Because here at Quadratec, we deal with this every day, and we have combed through the myriad of products out there to find some proven winners to make your 2015 Holiday Jeep gift buying simple and quick.
Period.
We've whittled these products down to a list designed to fit both a variety of different budgets and vehicles – CJ/Wrangler, Cherokee and Grand Cherokee.
See, we definitely know there are a lot of confusing options out there when you look at buying a Jeep gift, but there are even more easy and awesome products for purchase that will leave your 'Jeep gift receiver' smiling and appreciative.
Not to mention, it just may be something they actually use.
So let's get to it.
Gifts Under 50 Dollars
Quadratec Compact Storage Rack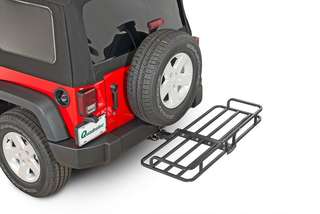 We love this rack for its simplicity and elegance and so will your Jeeper. Everyone knows storage space in a Jeep is always at a premium, so this rack is an excellent solution when additional room is needed. Plus, it works with any 2" receiver hitch. Holds up to 300lbs. The compact storage rack is available for purchase now.
Bartact Paracord Grab Handles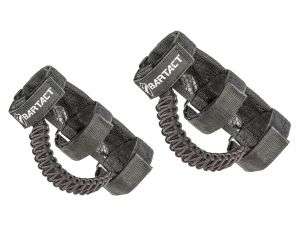 Grab handles are great and definitely important when you need something to hold while driving over uneven terrain - but not great if they don't work right or come off at the first pull. Bartact utilizes Paracord (parachute cord) material to ensure their comfortable handles stay in place and are as rugged and dependable as they look. These Bartact handles are available for purchase now.
Quadratec Safari Mirrors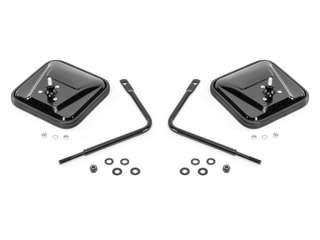 But your Jeeper already has mirrors on their vehicle, you say. Well, true, but when summer hits and they want to take the doors off, so go the factory mirrors. These Safari mirrors can fill that need. They are the most popular choice when the doors come off because they are easy to install, look great, and keeps everyone safe. You want your Jeeper to be safe, right? These mirrors are available for purchase now.
ARB Air Locker Camping Chair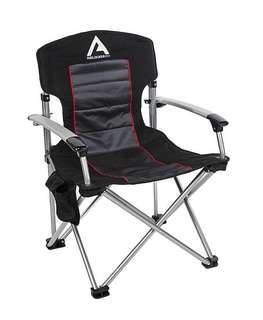 Strong, durable, and lightweight. This is a camping chair that has it all for your Jeeper. Its alloy frame and aluminum arm rests are designed to stand up to just about anything, while the durable Oxford weave material both in the padded seat and backrest provides maximum comfort when seated. This chair is so good you may end up ordering one for yourself as well. The ARB Camping Chair is available for purchase now.
Bestop Soft Top Cleaner/Protectant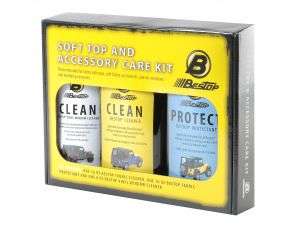 Simply put, anyone who has a soft top on their Jeep needs one of these kits. Especially this time of year. Bestop is a leader in the soft top field and their care kits provide everything your Jeeper needs to remove dust, grease, mildew as well as whatever other soil and grime accumulate on a daily basis. Vinyl cleaner, top protector and window cleaner all come pre-boxed in this pack of top cleaning perfection. The Bestop Care Kits are available for purchase now.
Gifts Under 100 Dollars
Quadratec Floor Liners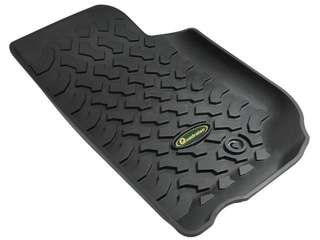 Jeeps get messy. It is just something in their DNA. So why not help keep your Jeeper's vehicle clean with a set of these ultra-popular rugged and durable floor liners. Designed to firmly secure on the existing vehicle's carpet, these super thick floor liners feature a non-skid tread design made to trap whatever mess tries to invade the vehicle, as well as being easily removable for quick clean-up. Plus, the unique tread design prevents cargo from sliding around. Quadratec Floor Liners are available for purchase now.
Hi-Lift Jack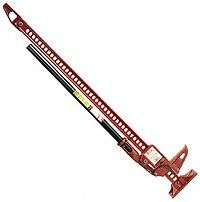 A staple gift product year after year. They call it a jack but truthfully this 48" piece of cast-iron magic can do so much more that we could sit here all day and talk about its functionality. But no one has that kind of time. So, in one sentence: for lifting, pushing, pulling, winching or clamping, there isn't anything better you can buy for your Jeeper. You'll thank us later. The Hi-Lift Jack is available for purchase now.
Smittybilt Gear Seat Covers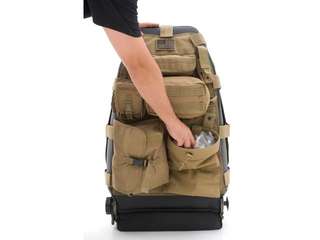 Help out your Jeeper this holiday season with an innovative seat cover/storage solution for their vehicle. These premium seat covers come equipped with numerous pockets and compartments to store everything a Jeeper may need for short and long trips. Covers are completely adjustable with high grade restraints that won't come loose no matter how bumpy the ride, while the Denier Polyester material is UV stable so the covers will not fade when the top is off. Gear Seat Covers are available for purchase now.
Quadratop Emergency Top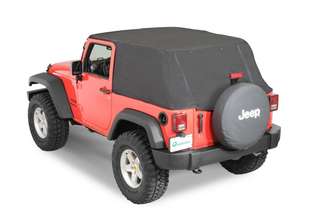 All Jeep owners with soft tops have that moment when the top is completely off, it starts to rain, and they are miles from home. Well, help your Jeeper through the tough, wet times with this smart and practical Emergency Top that can unfold and attach in moments. The rain-resistant PVC fabric will keep everyone dry inside until the rain passes, or they get home. Simple perfection. Emergency Tops are available for purchase now.
Quadratec Replacement Mirror Sets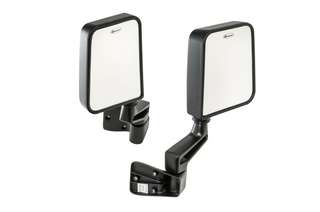 The years can take a tough toll on a Jeep's exterior parts. Especially mirrors. With fading, cracking, and scratching all an issue, give your Jeeper a new look with these Replacement Mirrors. Designed to directly fit into the factory Jeep doors, your Jeeper can use these as an easy to install replacement or for an extra set to fit on tubular off-road doors. Replacement Mirror Sets available for purchase now.
Gifts Under 250 Dollars
Lange Hoist a Top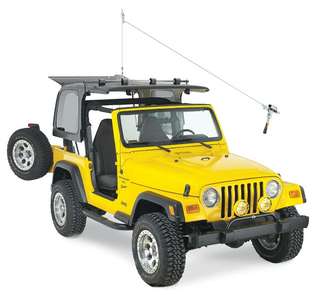 This is a 'must have' accessory for those Jeep owners who sport a hardtop and soft top combination. The reason? Well, the Hoist-a-Top makes taking off and storing a hardtop an easy one-person job. Gone are the days three people try to lift off the hardtop and hopefully not break it in the process. This Hoist-a-Top allows your Jeeper to attach the frame to their hard top, and then simply winch it up and off. They can even suspend it from the line all winter until they are ready to reattach thanks to the high-grade cabling. Hoist-a-Tops for 76-06 are available for purchase now. Hoist-a-Tops for 07-16 available for purchase now.
Check Corporation Seat Heater Kits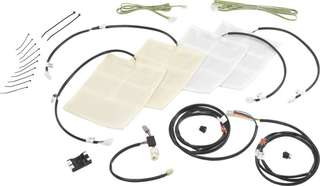 Nothing ruins a nice fall or winter ride more than freezing cold seats. So why not get your Jeeper something hot and practical like Seat Heaters. These kits connect with the vehicle's existing wiring which reduces installation time and kits have temperature controls so your Jeeper can personalize for their own comfort level. Help your Jeeper extend that soft top 'top down' season so they can ride in heated perfection all year long. Seat Heaters for 99-10 available now. Seat Heaters for 11-12 available now. Seat Heaters for 13-16 available now.
Deluxe Storage Cart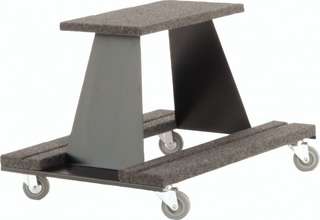 Jeeps were made for the open air. Yet many Jeepers are afraid to remove their doors because of storage issues, or the fear of scratches and dents. This Storage Cart is the perfect fix for that worry. Made of solid steel and carpeted wood, this cart can safely store both full and half doors. Plus, the caster wheels allow worry-free mobility so the cart can store anywhere there is room. The Deluxe Storage Cart is available for purchase now.
Drake Locking Hood Hold Downs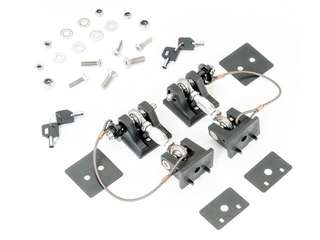 Give your Jeeper the ultimate in style, security and protection with these best-selling race-inspired locking Hood Hold Downs. Designed to replace the humdrum factory hood latches, these hold downs feature solid billet aluminum turnbuckles and durable stainless steel heim joints. They also securely lock in place thanks to stainless steel lock pins that are tethered to the mounts with UV protected, PVC coated stainless steel cables. Locking Hood Latches for 97-06 available now. Locking Hood Latches for 07-16 available now.
Quadratec 7" HID Off-road Light Kit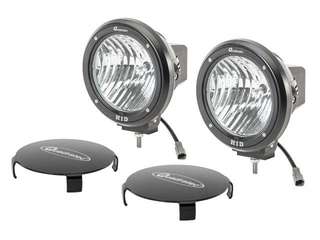 Most Jeeps today come with some sort of auxiliary lighting. The bad news? This lighting is usually far underpowered for effective use off-road. Help your Jeeper fix this problem with these 7" Round HID (High Intensity Discharge) Light Kits offering super bright HID light that is very similar to a welder's electrode. These kits come with a custom wiring harness including Deutsch style connectors that ensure a trouble free and waterproof connection. Kits also include clip on protective covers. Housings are ABS with hardened glass waterproof lenses that are built to endure whatever the trail throws at them. And more. Quadratec 7" Light Kits available for purchase now.