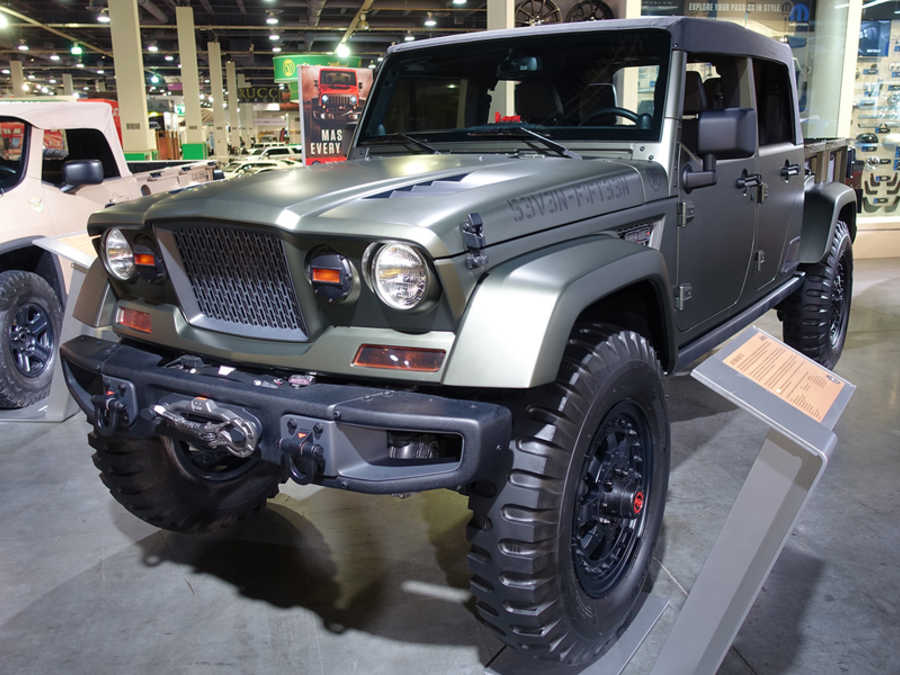 The Jeep Crew Chief 715 concept vehicle was built as a salute to legendary Jeep military service vehicles, in particular the Kaiser M715. This open-air Wrangler Unlimited-based concept vehicle showcases a burly design with heritage styling cues. The Crew Chief 715 utilizes modern-day construction with a rear seat and extra doors for additional passenger capacity while staying close to it's classic military roots.
Original Jeep military service vehicles were legendary for getting troops through rugged terrain, and the Jeep Crew Chief 715 illustrates this legacy. Steel front and rear bumpers, 20-inch beadlock wheels and 40-inch NDT military tires pay homage to the original Jeep military vehicles. The Crew Chief 715 utilizes an on-board air system with a hard-mounted quick-disconnect fitting for airing up or lending assistance to other vehicles on the trail. Other features include a master cylinder brake upgrade, cold air intake and a modified exhaust.
Exterior features such as Jeep Performance Parts off-road rock rails, a winch mounted into the front and rear bumpers, Dana 60 front and rear axles and a 4-inch lift kit with Jeep Performance Parts/Fox 2.0 Remote Reservoir shocks give the Crew Chief 715 increased capability. The Tactical Green color scheme runs from the custom modified M715-inspired front-end to the tailgate.