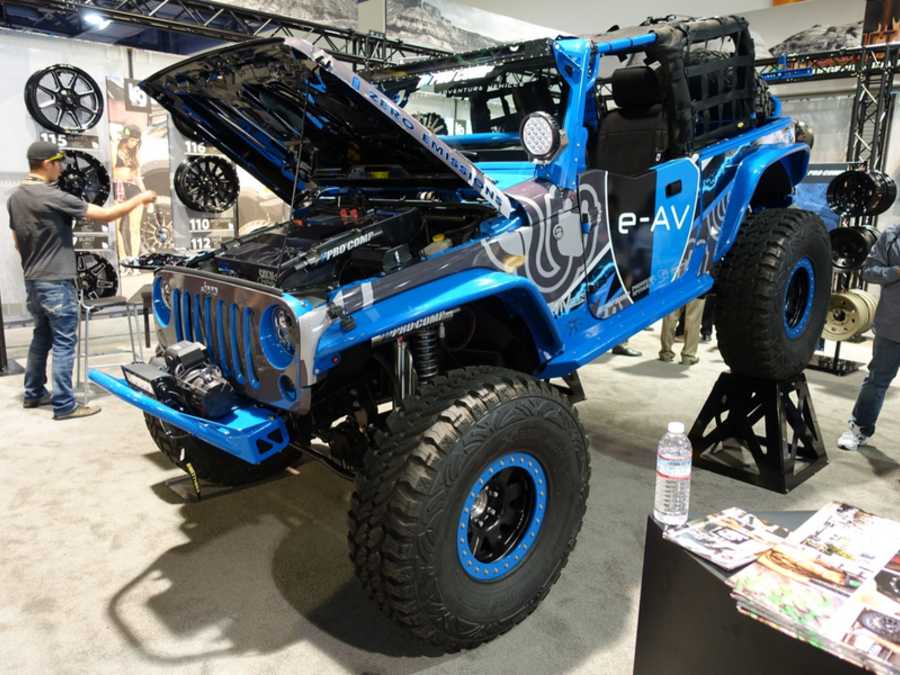 The Poison Spyder E-AV Electric Adventure Vehicle is a beast off-road. It rolls on 40 inch tires and doesn't use a drop of fuel.
Looking at this vehicle makes me think of the Tyco Turbo Hopper remote control car I once had as a child. Eight AA batteries meant a day in the dirt. This rig needs a bit more power than eight double A batteries can provide, but it's a lot more fun too!
Poison Spyder is a California based company. Like most Californians, they're concerned about clean air. That's why they set out to create a zero emissions rock crawler that could out perform it's gasoline powered brethren while still providing the range to tackle some of the hardest trails in the United States.
When most people think of an electric car, they think of a Volt or a Leaf. Those are tiny compared to most cars. In fact, those cars are tiny compared to the tires on this Jeep. To compensate for the extra weight of a fully built Jeep, the builders at Poison Spyder added two Kokam/EMVcon batteries. One battery consumes the entire space where a motor would normally reside. The other sits comfortably in the trunk.
If you take a close look at these pictures, you'll see some interesting details. In the engine compartment, there's no motor. Instead, there is a giant box with a fan on the side. That box is your front battery. In the rear trunk, there is a box on the sides of the cargo bay. That's your rear battery.
Underneath, there are two silver cylinders, a short one and a long one. The longer one is the electric motor. It sends power into the smaller cylinder which is a gearbox. Finally, the power is delivered into the Rubicon's NV241OR transfer case which splits the power to the front and rear axles.
On the inside, the builders connected the Jeep's gear selector via a short linkage to an electric switch on the side of the electric motor. That switch sets the motor in forward, reverse or neutral. The transfer case 4-high, 4-low and 2-wheel-drive selector works as in a regular Jeep since the transfer case is unaltered. A new electronic gauge cluster is integrated into the dash.
Switching between front and rear batteries is accomplished using a simple rocker switch on the dashboard kick panel. This switch might look familiar. It's a tank selector switch from an F-250 truck. Incidentally, it's perfect for this application since you're switching between your front and rear "fuel tanks".
The range of this vehicle is reported to be about 150 miles of on-road driving or about two full days of off-road driving.
If these parts were available as a kit, would you convert your Jeep? Comment below.