Top First Upgrades For New Jeep Owners
Is that a factory fresh Jeep sitting in the driveway? Well, you definitely are not alone this time of year. The spring season brings all kinds of Jeep enthusiasts out to dealer lots in the hopes of picking up a new ride as warmer weather approaches.
For most, this new Jeep will be their daily driver and weekend toy. Sure, some will plan to take their vehicle off-road which brings on a whole other set of possibilities, but the vast majority are just looking for initial improvements. So what first-time upgrades work the best for those who still have that new-Jeep smell? We have some ideas that will help provide safety, protection, and versatility.

One of the best ways to improve safety while driving is by installing LED headlights to replace those weaker factory halogen lights. These LEDs not only make everything brighter, but they also throw a deeper and more powerful beam which allows you to see further and improve reaction time. Plus, LEDs draw quite a bit less on the battery so you will have the power you need for any other modifications down the road.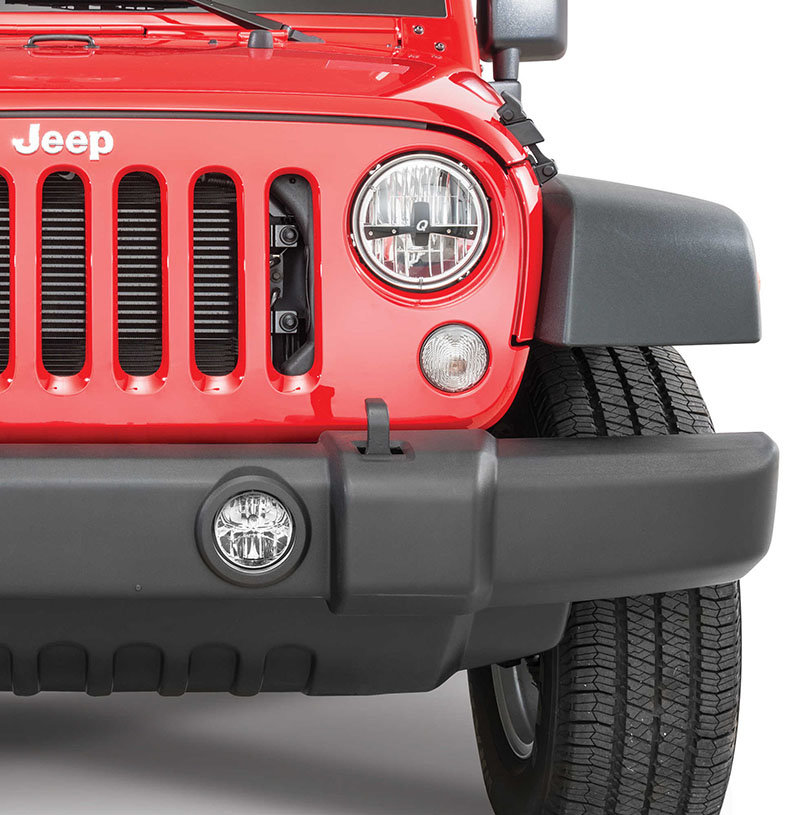 Combining LED fog lights along with that LED headlight installation will make sure you have the best possible visibility every time you turn the switch. Like the headlights, LED fog lights replace those dim, yellow factory halogen lights and a provide crisp, white light that rivals actual daylight.

Mud, snow, kids, pets - there are all kinds of things that can quickly tear up your Jeep's carpet. While you may think clean up is as simple as pulling out the carpet pieces and hosing off, truth is stains and other blemishes can become way more of a problem than anticipated. Installing floor liners with a deep tread pattern is an easy way to combat all kinds of interior issues. With these liners, any spills or weather issues can be quickly contained and erased by removing the liner and applying that hose.

A Jeep's lower door sill can take all kinds of abuse from just routine climbing in and out of the vehicle. Luckily, the solution is simple and inexpensive. Door entry guards install quickly with 3M adhesive, and are designed to take just about whatever abuse you can dish out.

Whether your Jeep came with a hitch or not, adding functionality to your vehicle is as simple as this VersaHitch. The patented hitch design features a 2" Class II receiver at the center with two additional 1.5" accessory receiver tubes for superior stability over a single receiver design. This allows easy and secure installation of items like bike racks, cargo steps, cargo racks, etc.

Changing out the factory wheel lug nuts can add some personality to your new vehicle - especially if you are swapping into aftermarket rims and new tires. These sport a chrome or black finish and include five anti-theft wheel locks to provide peace of mind when installing those new wheels.