by Eric Ammerman
Quadratec Channel Staff Writer
Over the years, nearly all factory Jeep bumpers have been a disappointment for those who expect excellent front or rear protection on their off road adventures. That's because most Mopar bumpers utilize some combination of steel and flimsy plastic, and were really engineered for on-road safety and not the harsher off-road environment.
Here is the good news, though, for Jeep owners who do want that extra protection: The market for upgraded bumpers is booming and there are no shortages of options to customize your Jeep how you want; all the way from a basic double tube style bumper to the completely restyled front end of a Fab Fours Grumper. And everything in between.
So with that in mind, here is a list of the top five reasons you should consider investing in bumper upgrade for your next Jeep modification.
Protection
Getting out and trail riding is one of the best parts of Jeep ownership for many of you out there. In doing so, though, the front and rear of your Jeep are going to be impacting rocks, trees and the earth no matter how hard you try to keep them out of harm's way.
Very quickly you will realize the factory setup was not designed to live up to that kind of abuse, which is why a swap is definitely recommended. Most aftermarket options are constructed from heavy steel to keep the body of your Jeep protected from impacts. Plus, for those of you who also daily drive, those heavier duty bumpers will also make that guy in the Prius think twice before tapping your bumper while parallel parking.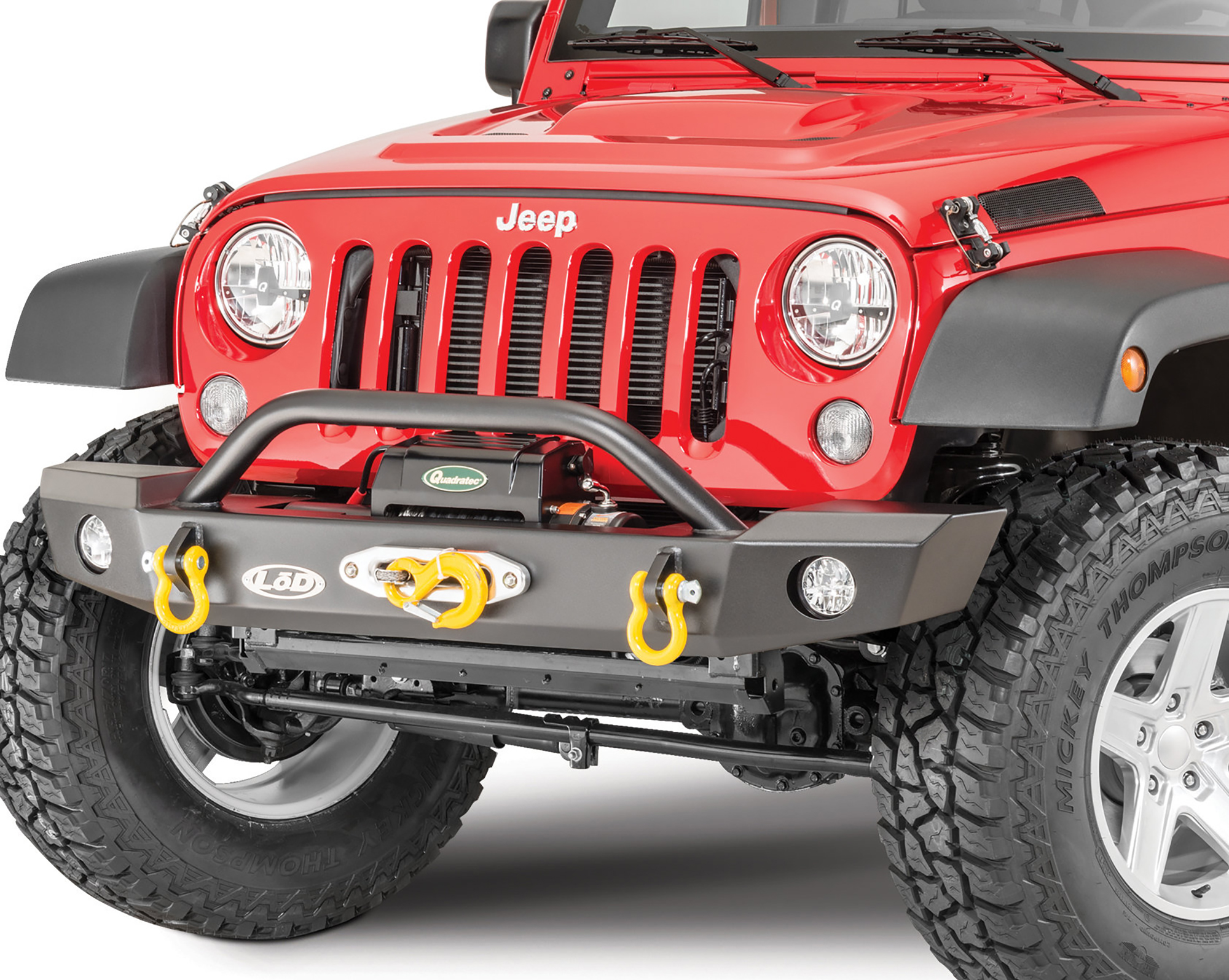 Mounting options
If you spend enough time on the trail, you or a buddy will most likely need a winch at some point to help recover from a mistake. Thankfully, winch-mounting options are built into most front bumpers out on the market. All you need to do is make sure the bumper you choose can accommodate your winch.
In addition to winch mounts, many Jeep bumpers also offer connection points for a wide variety of accessories, including d-ring shackles, auxiliary lighting, spare tires, hi-lift jacks, and even front or rear license plates.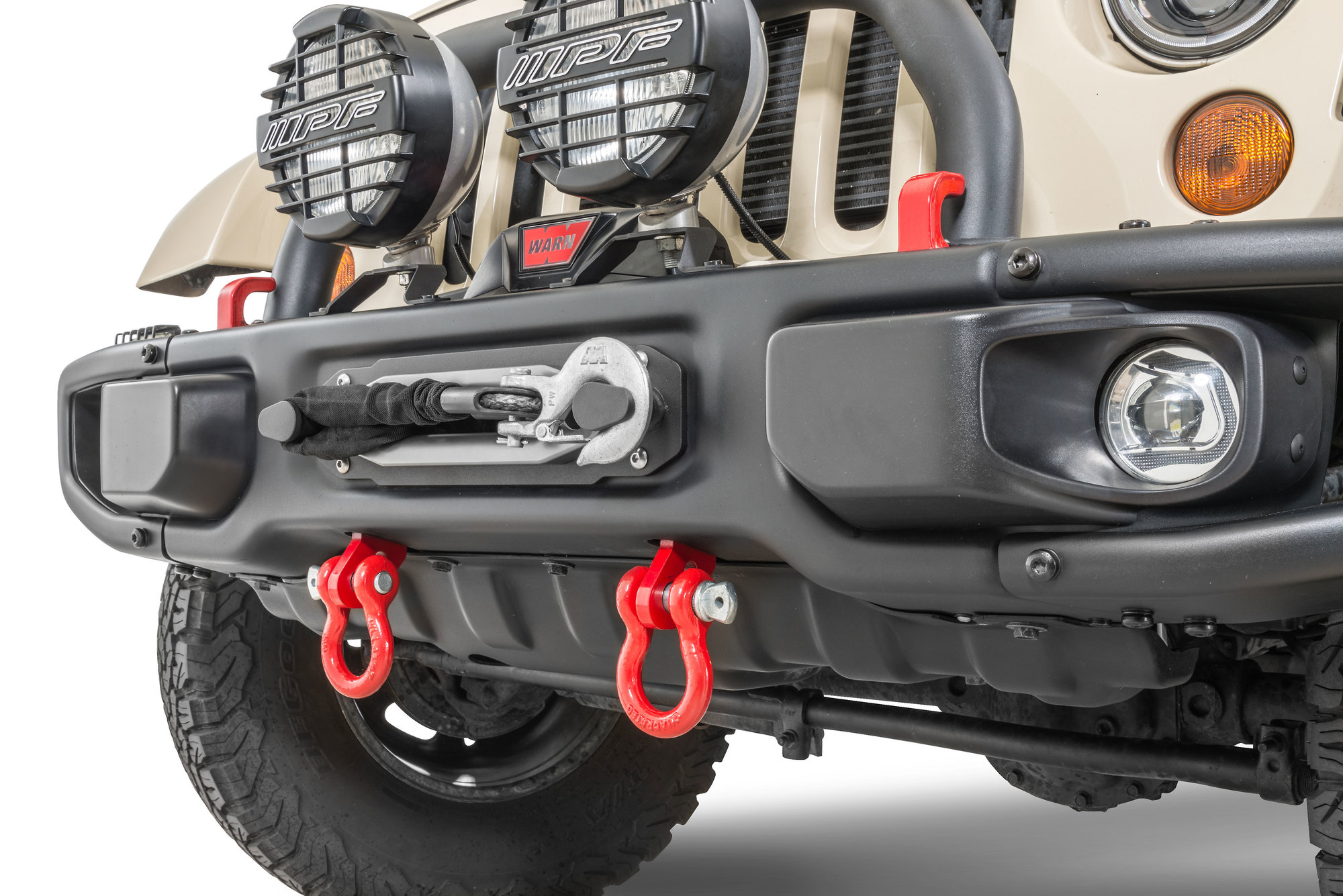 Recovery points
Like we discussed earlier, a winch is an invaluable tool for vehicle recoveries, whether your own, or a buddy, but they aren't the only asset in the recovery arsenal. Which is why most aftermarket front and rear bumpers have a shackle mount on every corner where you can attach a D-ring and strap in order to tug a stuck Jeep out of the mud. Or, if a catastrophic failure has left the Jeep unable to continue, you can use that strap to tow the vehicle all the way back to the road or trailhead for repairs or a long tow home.
Tire clearance
Unlike factory bumpers, aftermarket versions are not a one-size-fits-all accessory. In fact, they come in several different widths and choosing the right one can be important if you have added larger tires on your Jeep.
For daily drivers, full width bumpers that extend the entire face of the vehicle, work well no matter what tire size is on the Jeep. But when the vehicle is taken off road, and you have above average tire articulation on an obstacle, then those larger tires (generally 35-inch or higher) can press into a wider front bumper.
So that's why bumper versions like mid-width that stop about midway through the flare, or stubby, which end around the edge of the grille, are popular. These shorter bumpers eliminate tire articulation concerns, while still providing ample front end coverage, and allow you to better concentrate on successful approach angles.
Style
One of the first things most people see when a Wrangler pulls up is the front bumper. It doesn't matter if the vehicle has a lift kit, shiny new top, or aggressive wheels and tires, eyes just seem to focus on the bumper to make that first impression.
Luckily there are MANY options out there for Jeep bumpers, and when you nail down the style you like, there are even more decisions to make as far as lights, winches, grill guards, color. So really you can go as custom as you like to fit the exact style you want to present. Don't be intimidated by all the options, customizing is a big part of the Jeep life and just because you pick one now, doesn't mean you have to settle with that choice. You can always change that bumper look in the future if your tastes change.