by Eric Ammerman
Quadratec Channel Staff Writer
One of the more iconic design elements of the Jeep Wrangler is its rear-mounted spare tire. While not the only vehicle out there that keeps a spare tire proudly displayed on the rear tailgate, the Wrangler without question is the longest-running production vehicle to use a rear tire carrier.
No matter what year Wrangler you own, the engineers at Jeep designed that tire carrier specifically to hold the weight of a factory wheel and factory-sized tire. When you start putting bigger tires and wheels on your Jeep, the weight of that spare is going to start pushing the limits of what your factory tire carrier was designed to support.
With added weight comes added strain on that tailgate, and you may notice those latches no longer lining up when it closes, the hinges start to sag and in some extreme cases the mount may actually break and send your spare bouncing down the road.
That can be frightening to some who have an eye on purchasing larger wheels and tires. But don't worry, as the Jeep aftermarket has been dealing with this problem for many years and has crafted the perfect solution — the rear-mounted spare tire carrier.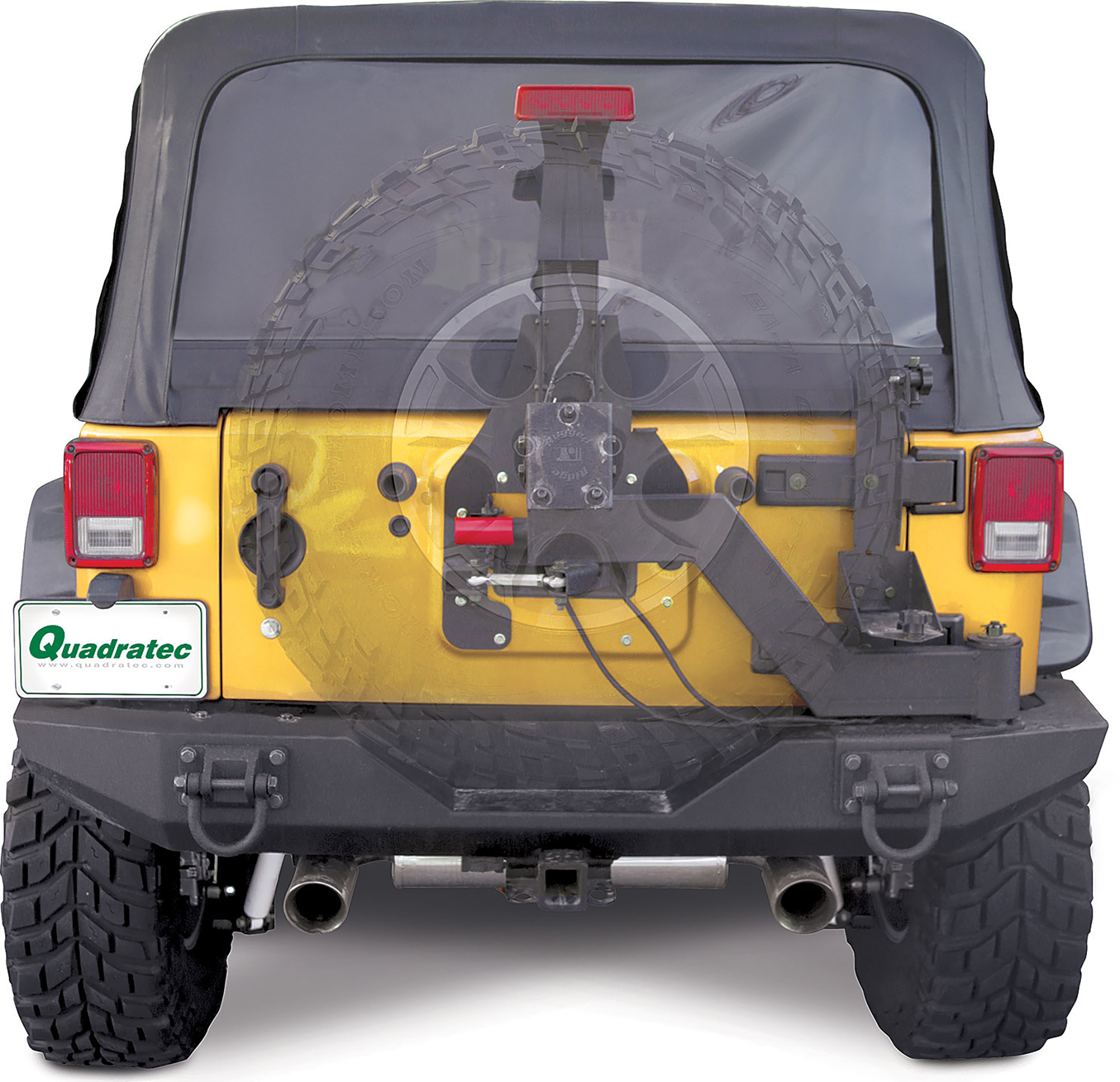 These tire carriers fall into 2 basic categories; bumper mounted tire carriers and tailgate reinforcement style carriers.
The great part about a bumper-mounted tire carrier is that you can mount a super heavy full size spare with very little worry about damaging your tailgate. The bumper mounted carriers take the weight off the tailgate hinges and move it to a large pivot point, usually on the right hand side of the bumper. Some feature independent latches that hold the carrier still in the closed position, while others (more commonly found on the 2007-2018 Wrangler JK) use a turnbuckle system that keeps the tire carrier swinging at the same rate as your tailgate, so you only have to use one handle to get into the rear storage.
The other main style is a tailgate reinforcement tire carrier. This type uses a thick metal bracket (sometimes steel, sometimes aluminum) to carry some of that extra load over to the hinges for a much stronger mount. In addition to the reinforcement brackets, you'll want a bracket that lifts the spare wheel up and further out from the factory location to keep that larger tire from hitting your bumper.
Whichever way you choose to go when selecting a tire carrier, definitely make sure you pay attention to the product's information to make sure it will work with your size tire.