Even though the bar itself is very compact it still has many features including full SRS compatibility. Each outer wing section features high lift jacking points. Brackets are provided for fitment of driving lights to the bar. And sitting on top of the 76mm (3") main tube is a mount that can be used for LED light bars or communications antennas. Central on each outer wing section are 20mm (.79") thick 350 grade recovery points which tie through the wings and into the chassis mounts directly. The kit also features a new bracket to relocate the vacuum pump on later model vehicles.
The winch platform will allow the mounting of most traditional low mount style winches and narrow mount pattern competition type winches. A bracket is provided for those who wish to run their control box in the center of the bar.
Two front 'flip up' style license plate mounts are provided. One to suit roller fairleads and one for the Hawse type fairlead. These allow the number plate to be located over the fairlead and flipped up out of the way when the winch is in use.
Front Profile:
At only 1127mm (44.37") wide, the Stubby Bar is no wider than the JK's grille panel. Frontal protection to vital engine components is achieved while allowing the fitment of larger diameter tires without interfering with the wider wing sections found on traditional ARB deluxe bars.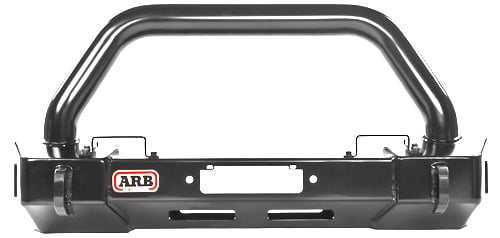 Rear Profile:
The Stubby bar includes a solid mounting platform for mid framed low mount winch models & narrow drum competition winches including: WARN's Zeon range, XD9000, XP9500 & XDC9500 Quadratec Q-Series Smittybilt X20 Series.
Wing sections include additional 4mm reinforcement braces for added strength.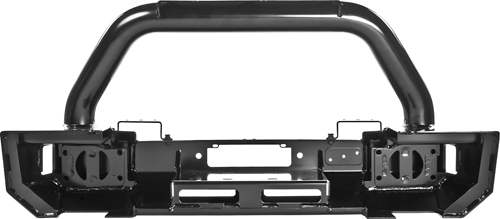 Side Profile:
The Stubby bar projects a mere 123mm (4.842") forward of the chassis (chassis mount to leading edge of recovery point) offering optimum approach angles.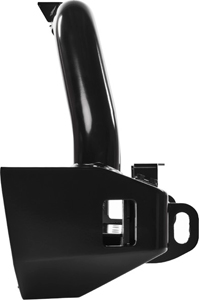 Recovery Points:
Manufactured from 20mm (0.787 inch) 350 grade steel, the recovery points pass through the front face of the bar, attaching to the chassis mount for increased structural integrity.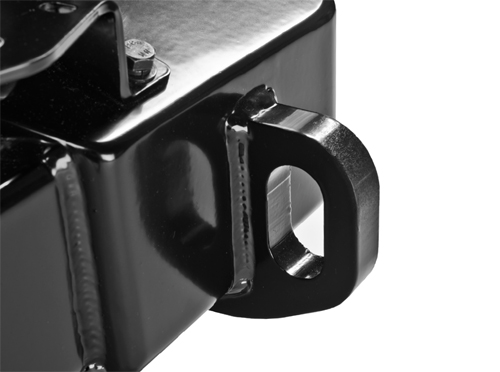 High Lift Jacking Points:
Both wing sections include reinforced cutouts providing suitable jacking points for Hi-Lift ® and similar style jacks. The High Lift jacking points are reinforced with 3mm steel plate to prevent distortion or damage. When the jack leg is inserted into the point, the lip of the jack foot locates past the internal reinforcing plate to prevent slippage. The angled wing profile allows the jack handle to raise and lower without fear of contact with the vehicle body.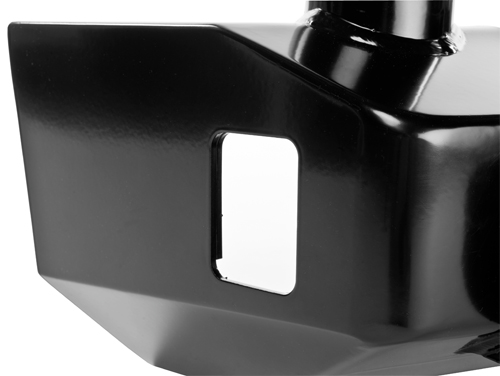 Light Bar Mount:
The 76mm main tube features a 3mm laser cut mounting bracket designed to accept LED light bar "U" Cradle mounts and communications antennas.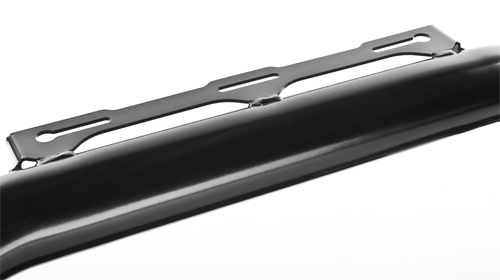 Light Mounts:
Bolt on pedestal type mounts are provided for fitment of a large range of traditional style driving lights including IPF and the just released ARB Intensity LED driving lights.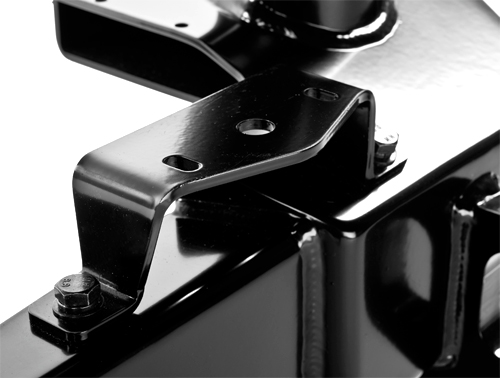 Specifications:
Manufactured from 4mm laser cut and folded steel sheet
20mm 350 grade steel recovery points
76mm x 2mm ERW Centre frame tube
All hardware zinc plated for corrosion resistance
All exterior surfaces are CMT pulse welded
5 stage anti corrosion pre-treatment and finished in durable black satin powder coat
Includes fully illustrated fitting instructions
Bar weight: Approx 30 kg (66 lb)
Bar dimensions: 510mm (20") H x 1127mm (44.37") W
Shipping weight: 47 kg (104 lb)
Shipping carton dimensions: 1200mm x 570mm x 380mm (47.25" x 22.44" x 15")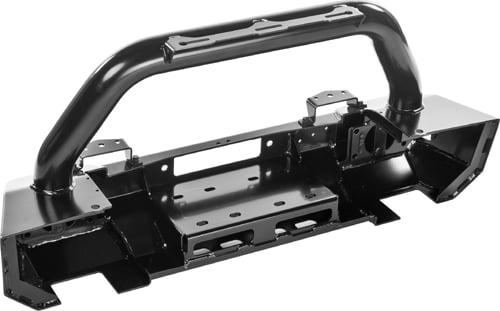 Installation Notes
Installation Difficulty:
Level 2
Intermediate
1. Clearancing of front frame horns may be necessary on some models. 2. Not Compatible with Warn Zeon Winches
Installation Time:
3-4 hours
Parts Included
Winch Bumper
Roller Fairlead License Plate Mount
Hawse Fairlead License Plate Mount
Light Mount Brackets
Solenoid Bracket
Installation Hardware
Features:

Bumper Hoop, Integrated Winch Mount, Grille Guard, Light Mount Tabs

Color:

Black

Style:

Stubby Bumper

Material:

Steel
Jeep Wrangler 2-Door (JK)

2017 Jeep Wrangler 2-Door (JK)
2016 Jeep Wrangler 2-Door (JK)
2015 Jeep Wrangler 2-Door (JK)
2014 Jeep Wrangler 2-Door (JK)
2013 Jeep Wrangler 2-Door (JK)
2012 Jeep Wrangler 2-Door (JK)
2011 Jeep Wrangler 2-Door (JK)
2010 Jeep Wrangler 2-Door (JK)
2009 Jeep Wrangler 2-Door (JK)
2008 Jeep Wrangler 2-Door (JK)
2007 Jeep Wrangler 2-Door (JK)
Jeep Wrangler Unlimited 4-Door (JK)

2017 Jeep Wrangler Unlimited 4-Door (JK)
2016 Jeep Wrangler Unlimited 4-Door (JK)
2015 Jeep Wrangler Unlimited 4-Door (JK)
2014 Jeep Wrangler Unlimited 4-Door (JK)
2013 Jeep Wrangler Unlimited 4-Door (JK)
2012 Jeep Wrangler Unlimited 4-Door (JK)
2011 Jeep Wrangler Unlimited 4-Door (JK)
2010 Jeep Wrangler Unlimited 4-Door (JK)
2009 Jeep Wrangler Unlimited 4-Door (JK)
2008 Jeep Wrangler Unlimited 4-Door (JK)
2007 Jeep Wrangler Unlimited 4-Door (JK)