The Tera Low231's high input torque rating will handle extreme torque applications. Each Low231 is covered with our exclusive two-year warranty.
The 4.0:1 gear reduction planetary
is the heart of the HD 231 transfer
case. Our planetary features a
hardened steel housing and gears.
TeraFlex is still the only aftermarket
company to offer a low range gear
conversion for the 231 transfer
case.
Because of the additional gear reduction
when in low range, engine
RPMs should be kept under 2500
(remember the planetary is turning
at 4 times that rate 2,500 x 4.0
= 10,000 RPM). Severe transfer
case damage can occur if this RPM
warning is not observed. Check the
oil pump screen for blockage.
Recommended Accessories
The Tera Low231 is compatible with the 2WD Low-Range Shift Kit, the
TeraLow Extreme Short Shaft Kit, and the Short Shaft Kit.
Low Range Crawl Ratios
Trying to figure your final low range crawl ratio can
sometimes become difficult. There is a zone that is ideal for rock crawling and other off-roading. Generally, a crawl ratio between 50:1 and 75:1 works well in hightraction terrain.
Crawl ratios are calculated by multiplying the axle
ratio by the transmission's first gear ratio by the transfer case low range ratio. This gives you the final crawl ratio. Generally a final crawl ratio of 50.0:1 to 100.0:1 is a good off-road crawl ratio. This chart shows the improved gear reduction benefits of the TeraFlex Low231 case.
To find your crawl ratio, use this simple formula (refer to the chart). Multiply the first gear ratio by the transfer case ratio. Multiply that number by the axle ratio (of the ring and pinion) to get your crawl ratio.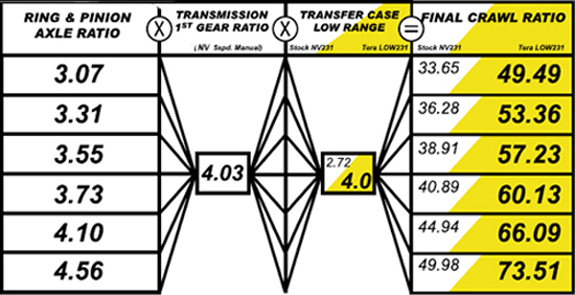 Installation Notes
Installation Difficulty:
Level 3
Advanced
Must Reuse Original T-Case Studs
Installation Time:
4-6 hours
Parts Included
Low231 Case
Front Output Seal
Transfer Case Model:

NP231
Jeep Wrangler (TJ)

2006 Jeep Wrangler (TJ)
2005 Jeep Wrangler (TJ)
2004 Jeep Wrangler (TJ)
2003 Jeep Wrangler (TJ)
2002 Jeep Wrangler (TJ)
2001 Jeep Wrangler (TJ)
2000 Jeep Wrangler (TJ)
1999 Jeep Wrangler (TJ)
1998 Jeep Wrangler (TJ)
1997 Jeep Wrangler (TJ)
Jeep Wrangler Unlimited (TJ)

2006 Jeep Wrangler Unlimited (TJ)
2005 Jeep Wrangler Unlimited (TJ)
2004 Jeep Wrangler Unlimited (TJ)
Jeep Wrangler (YJ)

1995 Jeep Wrangler (YJ)
1994 Jeep Wrangler (YJ)
1993 Jeep Wrangler (YJ)
1992 Jeep Wrangler (YJ)
1991 Jeep Wrangler (YJ)
1990 Jeep Wrangler (YJ)
1989 Jeep Wrangler (YJ)
1988 Jeep Wrangler (YJ)