OBSESSION
noun ob·ses·sion \äb-ˈse-shen
a state in which someone thinks about someone or something constantly or frequently especially in a way that is not normal
someone or something that a person thinks about constantly or frequently
an activity that someone is very interested in or spends a lot of time doing
------
We all have our obsessions, right? And for most of us, these usually come down to things involving a certain four-wheeled vehicle with seven grille slots and a heart that still beats strong after 75 years.
It is love, really, rolled up into an infatuation that we use to justify our need to lift, tinker, wheel, and modify these magnificent vehicles.
Well, Merriam-Webster may say an obsession is thinking about something in a way that is not normal, but we say, 'Nah, It's a Jeep Thing.'
We also say, here at Quadratec, that one of our biggest obsessions is our annual Tent Sale because, yeah, it is certainly an activity we spend a lot of time creating and executing.
If you also share this obsession - this desire to take advantage of some of the year's best pricing, insane scratch-and-dent deals, or being around over a thousand of your closest Jeep friends – then here are 11 things to know about our 11th Annual Tent Show on Saturday, October 8th from 9 AM to 4 PM.
1. Scratch & Dent
Have you ever seen the running of the bulls? Crazy, right? Well, our scratch and dent sale items are priced right in that crazy zone. That's why just about everyone lined up at our gates will storm through at 9 AM and sprint full-speed to the scratch and dent tent. No bull.
But even if you can't get here right at the start, we promise to refill the tent throughout the day with items for just about every Jeep around. So check back often and see what we have on the shelf. You never know.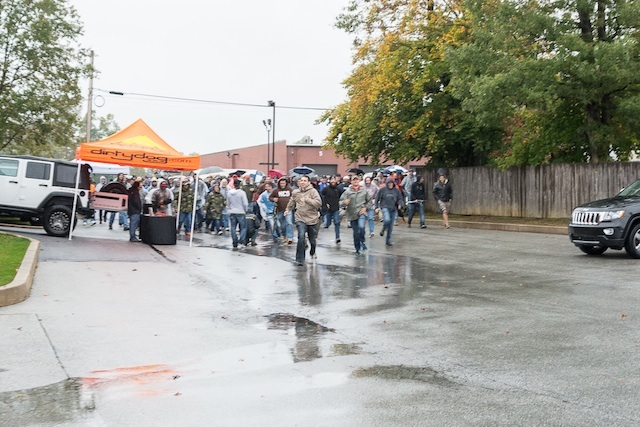 2. Raffle
We have great vendors who love Jeeps, and the Jeep community, just as much as you. And this year, once again, our vendors have stepped up to donate dozens of prizes for our popular Tent Show Raffle. Drawing times are at 11 AM, 12:30 PM, and 2 PM, while raffle tickets can be purchased in 5 for $10, or 12 for $20, amounts.
All raffle proceeds benefit the Crohn's & Colitis Foundation of America and Quadratec will also accept donations for CCFA at the Tent Show. In addition, Quadratec is also accepting canned goods for this November's WMMR Camp Out For Hunger Event.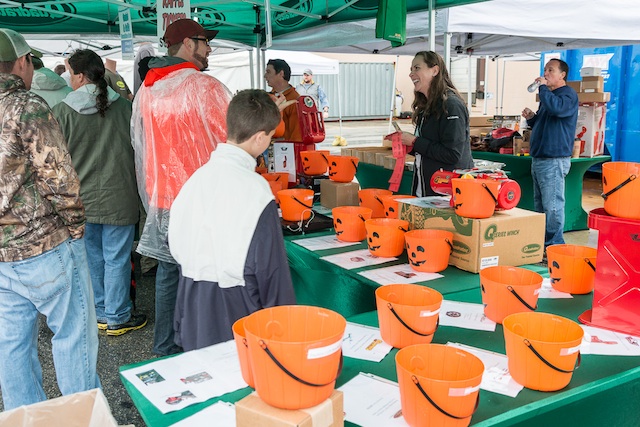 3. Vendors
Speaking of our great vendors, we have 38 scheduled to attend the Annual Tent Show – many of whom will have their own tent area set up where reps can answer product questions, select the perfect part to fit your needs, provide tech info, or just 'shoot the breeze', about Jeeps because, like we said, these manufacturers all love Jeeps just as much as you do. Then, you can take their recommendations right to our new parts counter.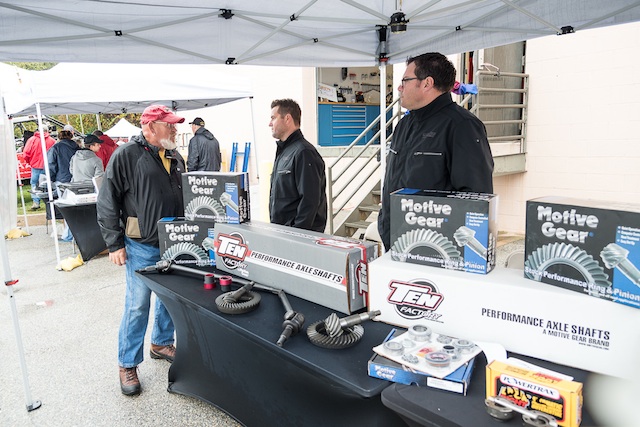 4. New Parts Sale
Sure the scratch and dent tent is mega-popular, but so is our new parts counter. We offer a 10 percent show discount on all our products, and you can receive your order instantly. We'll even help carry your products right to your car with one of our Quadratec shuttle vehicles. This way, you don't have to lug your new bumper, winch, or whatever, around with you the rest of the day like some massive stuffed animal carnival prize. We'll even have catalogs right at the order desk just in case you don't remember exactly what you want.
5. Kids Activities
You didn't think we would forget about the next generation of great Jeep lovers, did you? Nah, we've got plenty of family friendly activities for all your young ones. From inflatable bounce houses to pumpkin painting; even face painting and corn sand boxes. Don't spend another minute stressing about finding a sitter so you can attend our Annual Tent Sale. Bring the kids. There's plenty for them to do. Plus, you know, a ton of great Jeeps for them look at because you do want to raise them right, after all.
6. Music/Food
What would our Annual Tent Show be without some great food and live music? We're not exactly sure, because we always strive to provide the best of both for our Tent Show guests. This year, our great friends at Jimmy's BBQ are stopping by to serve up some made from scratch, slow-cooked Memphis dry-rubbed BBQ. If you are like us, you're picturing it right now and, yes, it's that good. Plus, we'll have plenty of entertainment all day thanks to talented area musician John Valerio.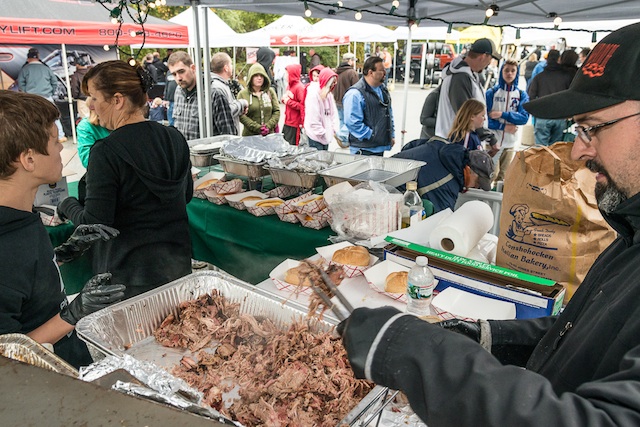 7. Lift Kit Install
We've made some great 'how-to' and product review videos over the years. Now you can see how it all comes together as we are shooting a live AEV Lift Kit install video during our Annual Tent Show. Come take a look as AEV and Quadratec personalities install the 3.5 DualSport SC Suspension System on one of our 2016 JK Rubicon vehicles. AEV's reps will also stick around to answer questions and you can even take a look at the kit's individual parts while the video is shooting.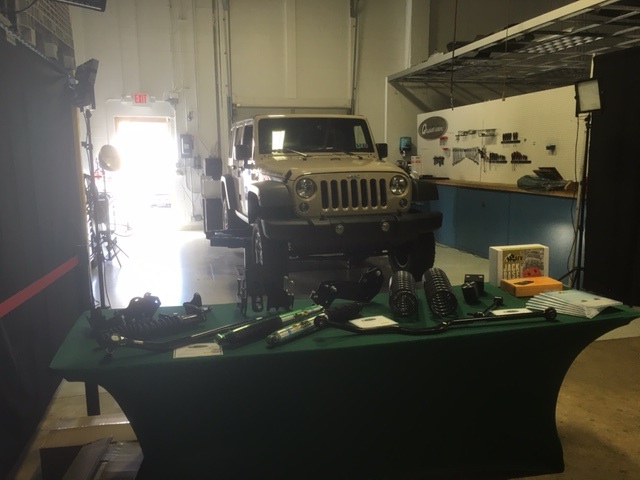 8. Catalog Cover
So, how many of you get our catalog in the mail, take a look at the cover, and think 'I could really see myself on this!' Well, our Annual Tent Show is your chance. We'll be shooting replica Quadratec Catalog Cover photos all day so you, your family, friends, kids, or whoever, can see what you'd look like heading up one of our catalogs. You can even take the picture home and frame it up if you want, uh, not like we're speaking from experience or anything. Now, we can't guarantee you'll actually be on our catalog's cover any time soon, but you never know.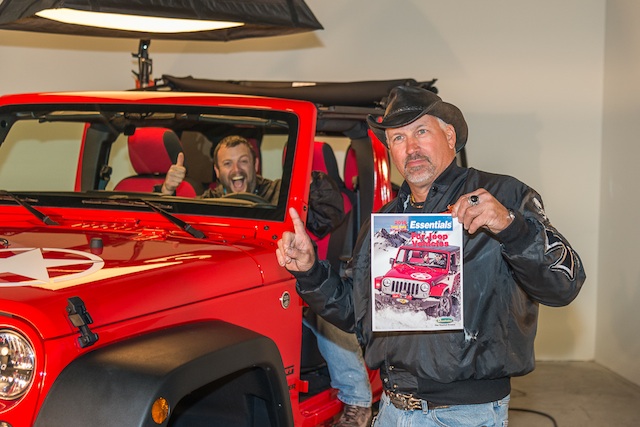 9. Jeeps
Rows and rows of Jeeps. Old and new. Wranglers, Cherokees, Grand Cherokees, CJs, Willys, and more. Not only can you get great deals on Jeep products at our Annual Tent Show, but you can just walk around the parking lot and inhale the 'Jeep' experience thanks to scores of our great customers who have built up, modified, and otherwise 'beautified' their Jeep vehicles into something that even Rembrandt would find fascinating. And the best part – our customers (and Jeepers in general) are great folks who usually don't mind answering questions about mods or builds they have done. So don't be shy. If you see someone with a Jeep who has installed that exact bumper or wheel you love, ask him or her.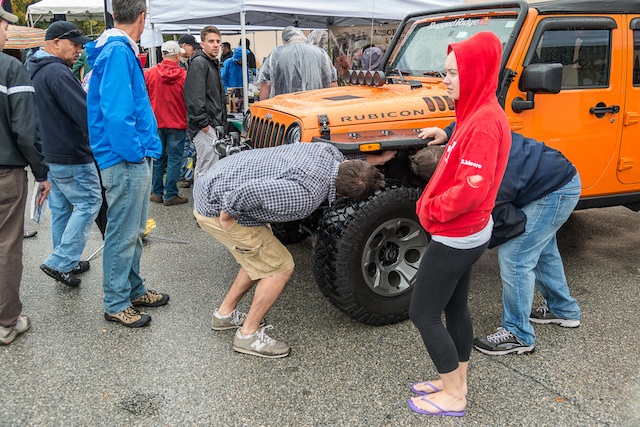 10. Geo Cans
When it comes to Jeep parts, we're not big mystery fans. We like to know what the part does and how it benefits our customers. However, when it comes to our Geo Cans, well, time to get that mystery on!
Our Quadratec Geo Cans are loaded with special prizes and gift certificates, and we make sure to bring them out during just about all the events we attend. Our Annual Tent Show is no exception and for this one, we're hiding FIVE Geo Cans at various locations around the Quadratec campus.
So make sure and pay attention to our Facebook and Instagram pages for location clues to these Geo Cans of greatness. You'll be glad you did. Don't forget to post your happy face, if you are one of the lucky 'finders'.
11. Off Road Consulting /BMJA
You know, in the three decades Quadratec has been around, we certainly get our fair share of Jeep questions. And, hands down, two of the biggest questions revolve around Jeep off-roading and Jeep clubs. We love these questions because we love the passion behind them, and helping someone understand their vehicle a bit more, as well as giving them a chance to share their Jeep love with others, isn't just something to do for us – it's a responsibility.
Well, if learning more about off-roading is on your Jeep 'to do' list, or if you are debating about joining a Jeep Club but have questions, we have a special treat for you at our Annual Tent Show.
The Blue Mountain Jeep Alliance and Off-Road Consulting will have tents set up where you can visit and find answers to all your club and off-road queries. Not sure what, exactly, a club does, or what the best items are to have on your first trail ride? Maybe you just bought your first Jeep and you are worried about taking it off-pavement. These experts will help you understand not only your vehicle and how to utilize it best, but also how you can enjoy it even more with a larger group.
So write those questions down and make sure to stop and say hi.
------
DIRECTIONS TO QUADRATEC:
Quadratec, Inc.
1028 Saunders Lane
West Chester, PA 19380
From points South of West Chester:
Get on Route 202 North
Take the US-322 West Paoli/Downingtown exit ramp
Make a right at the traffic light onto Phoenixville Pike
Continue 0.4 miles to Saunders Lane
Make right onto Saunders Lane
Quadratec is 500 feet ahead on right, just past the bus company
From points North of West Chester:
Get on Route 202 South
Take the Boot Road exit
At the top of the exit ramp, make a right
Continue to the traffic light
Make a left onto Phoenixville Pike
Continue 1 mile to Saunders Lane
Make left onto Saunders Lane
Quadratec is 500 feet ahead on right, just past the bus company