by Matt Konkle
Quadratec Channel Editor
It is that time of year again. Trees are beginning to change color, the days are getting a little shorter and there is a slight chill in the air. Signs of fall, you say?
Sure, if seasons are your thing.
But for those of you into everything Jeep, and you know who you are, we're actually talking Quadratec Tent Show time.
That's right, the calendar has turned and our event schedule has all been scratched off — with this little get together at our world headquarters in West Chester Pa., as the only thing remaining.
We admit, it is one of our favorites. Not to shortchange the awesomeness of Moab, Daytona Beach, Bantam, or all the other places we head during the year. But being able to stay home and host an event for all our great friends is just a special thing.
This year marks our 13th annual Tent Show, and like all the others, it is a combination of Jeep celebration, new product specials, vendor participation, music, raffle prizes, food and drink, kids activities and, uh, something else. Um, you know, the thing in the big tent with parts and tags.
Yeah, our scratch and dent spectacular.
Okay, it's not really called that, but it ought to be. And it happens to be one of 13 reasons you should consider heading out this Saturday, October 6, for a day really unlike any other during the year. The event runs (rain or shine) from 9 a.m. – 3 p.m.
"Definitely one of our top highlights on our event schedule," said Quadratec's Outside Events Coordinator Craig Jaros. "We've been doing this a long time now and it is really rewarding to see just how well it has been received. People are here early for the experience and we have a great vendor response."
"Once again, for the 13th year, we are really excited to present our signature event and give our customers a great chance to interact with Quadratec, our vendors and each other."
If you have not experienced our show before, it is somewhat hard to put into words and really needs to be experienced. So here are our top 13 reasons why you should spend Saturday with us at our 13th annual Tent Show.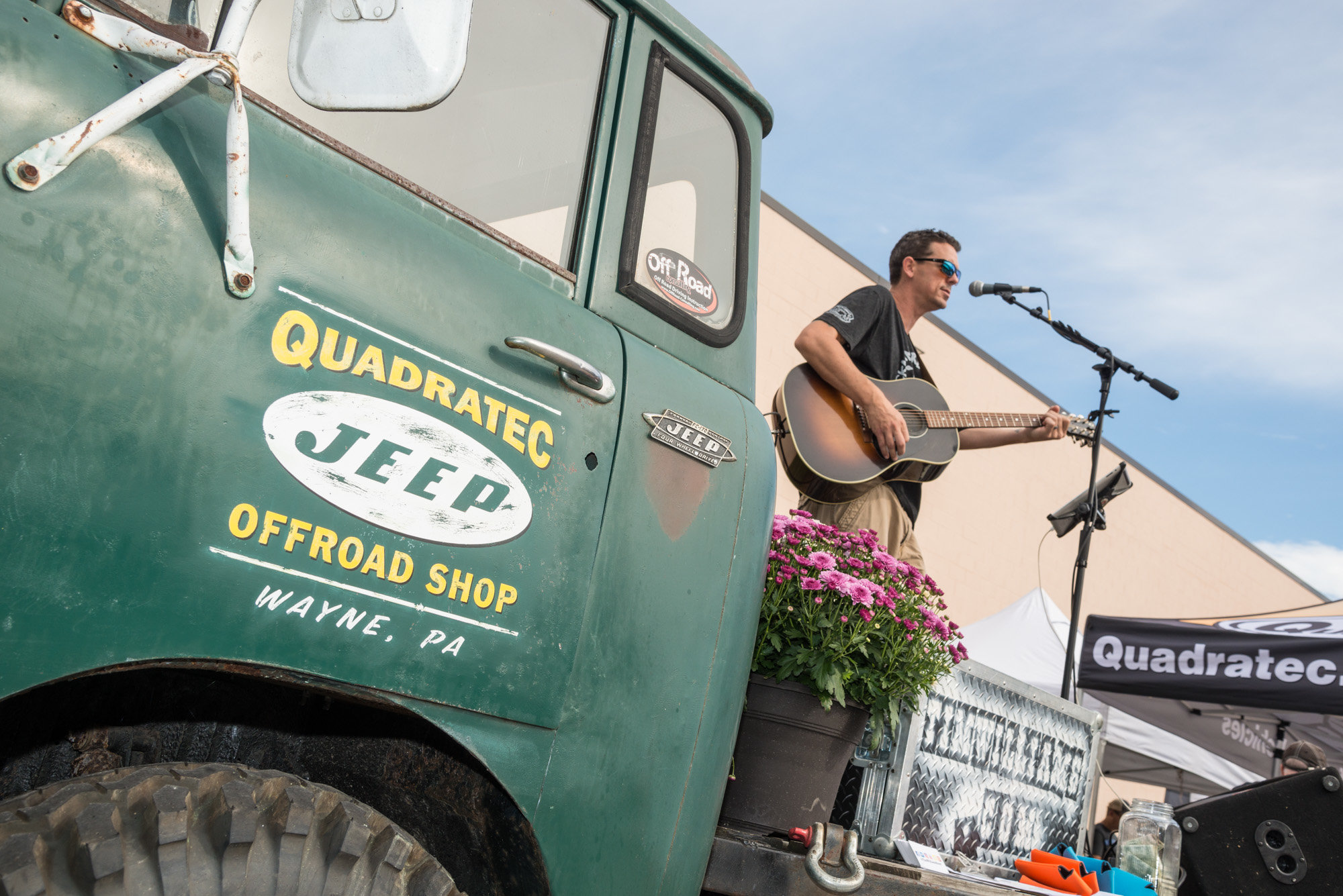 13. Musical Entertainment
Not only are there great product deals throughout the day during our tent sale, as well as all kinds of raffle prizes, but we also wanted to make sure you are entertained during those walks between tents. So we've brought back popular area musician Tim Williams who will belt out songs for all ages while you stroll our campus and make those all important buying decisions. Or eat some food. We know how it goes.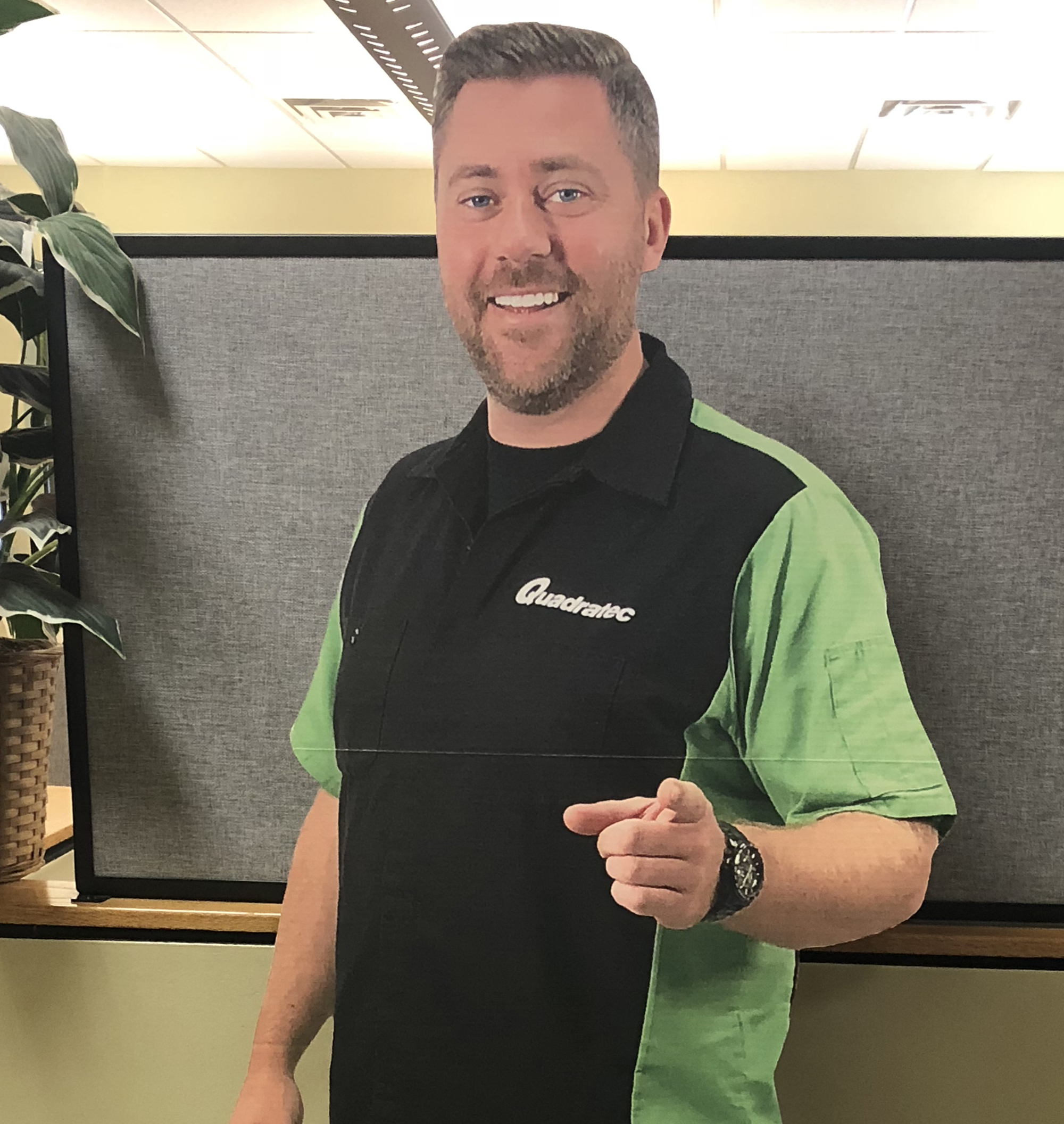 12. Fun Photo Opportunities
Remember those photo booths from down the shore, you know, the ones you and a friend — or close friend — went into, then came out with a strip of photos? Well we have one ready to go for our Tent Show, and even have a few items you can take in to wear for those photos. Or, if you really want, take a photo alongside our video host Rob. Well, at least, a life-size picture cut out of him. Then, when you are done, let's see those great photos.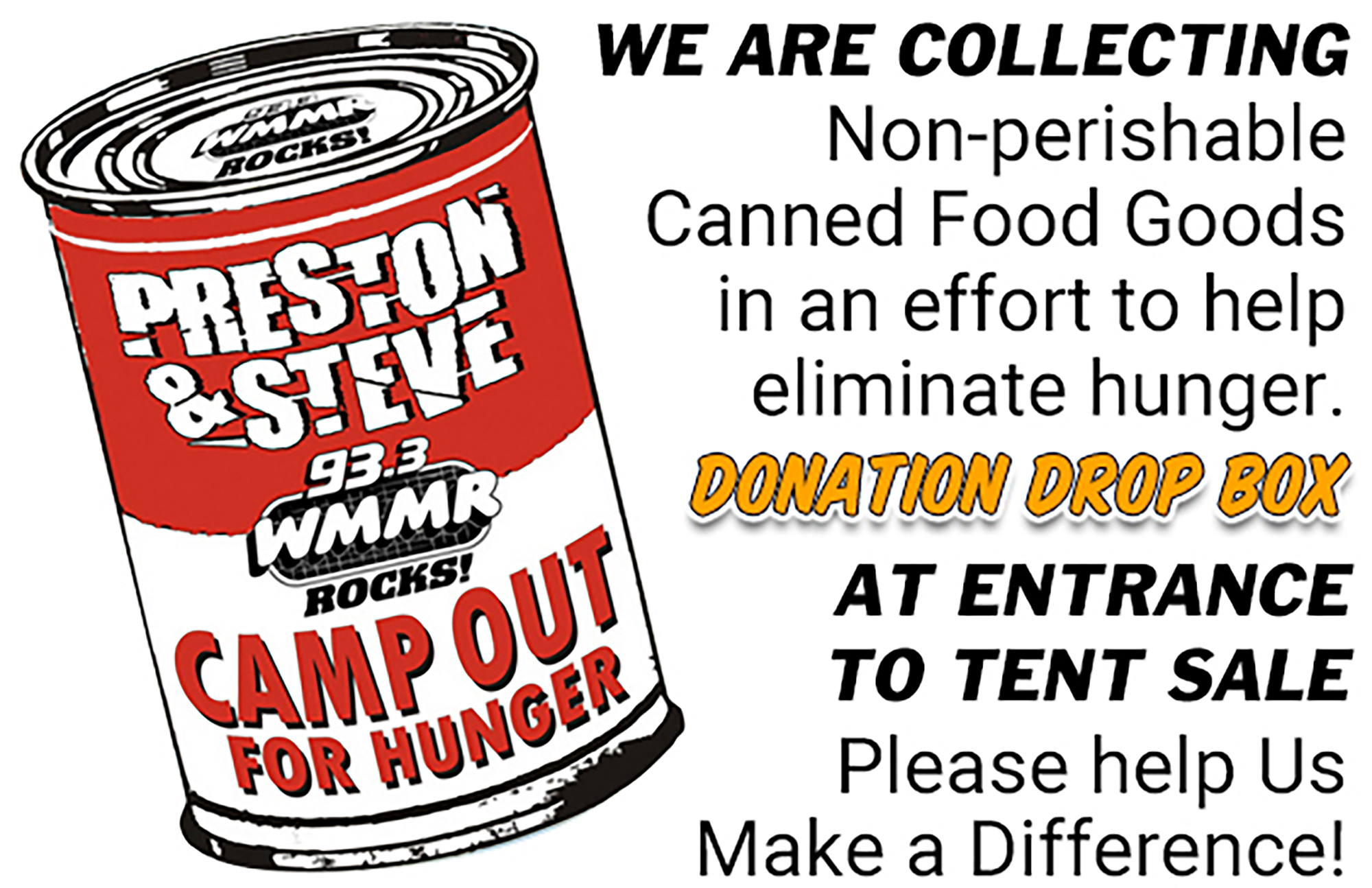 11. Canned Food Collection
More than 700,000 people in our area do not know where their next meal will come from — or if they will even have one at all, according to Philabundance, the Delaware Valley's largest hunger relief organization. That is one reason we have joined up with numerous area Jeep clubs to donate food during WMMR's Preston and Steve Camp Out For Hunger in late November. Two years ago, in part thanks to your donations, the group raised 14,355 pounds of food. Last year, the amount soared to 31,538 pounds. We want to shatter that amount again this year. So keep an eye out for canned food donation boxes right at the front of the tent show this year and drop in a can, or 10. It's a great cause.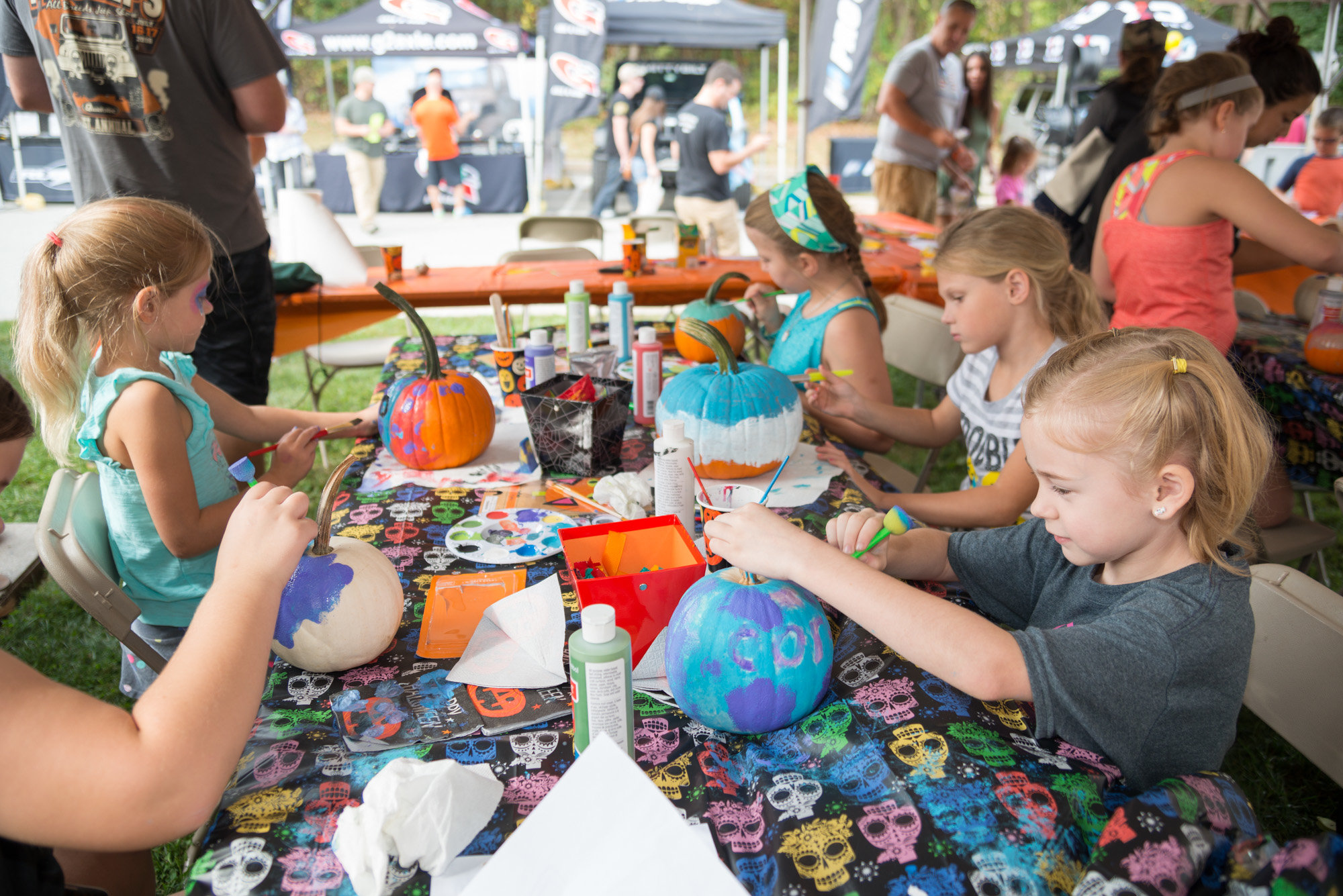 10. Kids Entertainment
Sure you can show all those Jeeps off to your kids, your friends' kids, or whoever's kids you bring to the event. But at some point, those kids are going to want to play and we have it all taken care of for you. With inflatable bounce houses, to corn 'sand' boxes, to face and pumpkin painting, those kids will also have plenty to do. And make sure you tag us in all those photos you are going to take of them having fun. We'd love to see.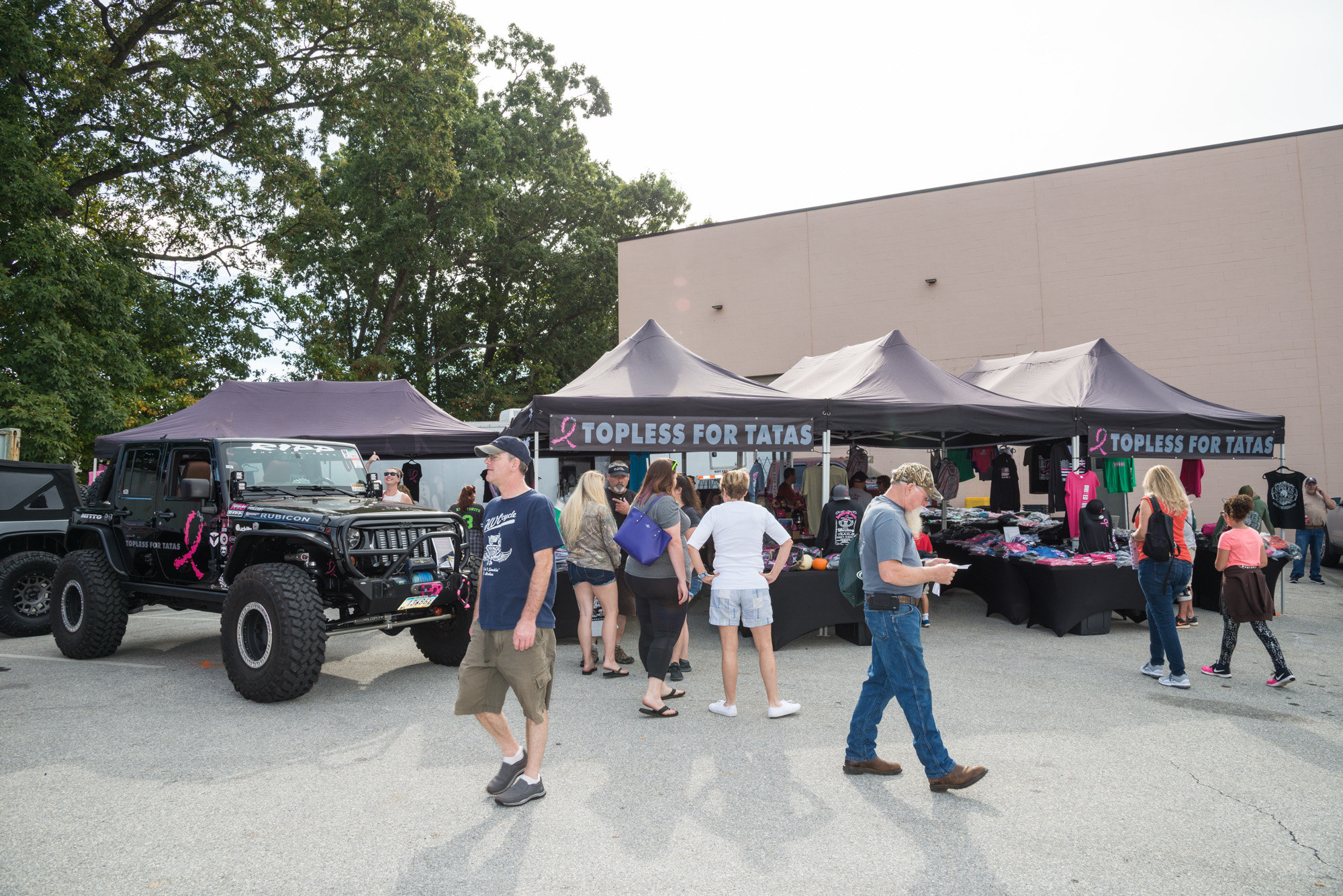 9. Topless for Tatas
While we picked October a long time ago as the signature month for our tent sale, this month is also meaningful for anyone battling, or who has a friend or family member who is fighting, or has fought, breast cancer. The American Cancer Society says more than 3.5 million women are currently living with breast cancer and women in the United States have about a 1-in-8 chance of developing some form of breast cancer in their lifetime.
That's why we partner with Topless for Tatas for their fantastic trail event in August at Rausch Creek Off-Road Park, as well as during select Jeeps and Java Sundays during the year. But it is also why we ask them to come out each October to our tent sale because we know many of you, like many of us, have been touched by breast cancer in some way and want to donate or purchase merchandise. Not to mention, TFT's check donation announcement for breast cancer research is a highlight for everything accomplished during the year.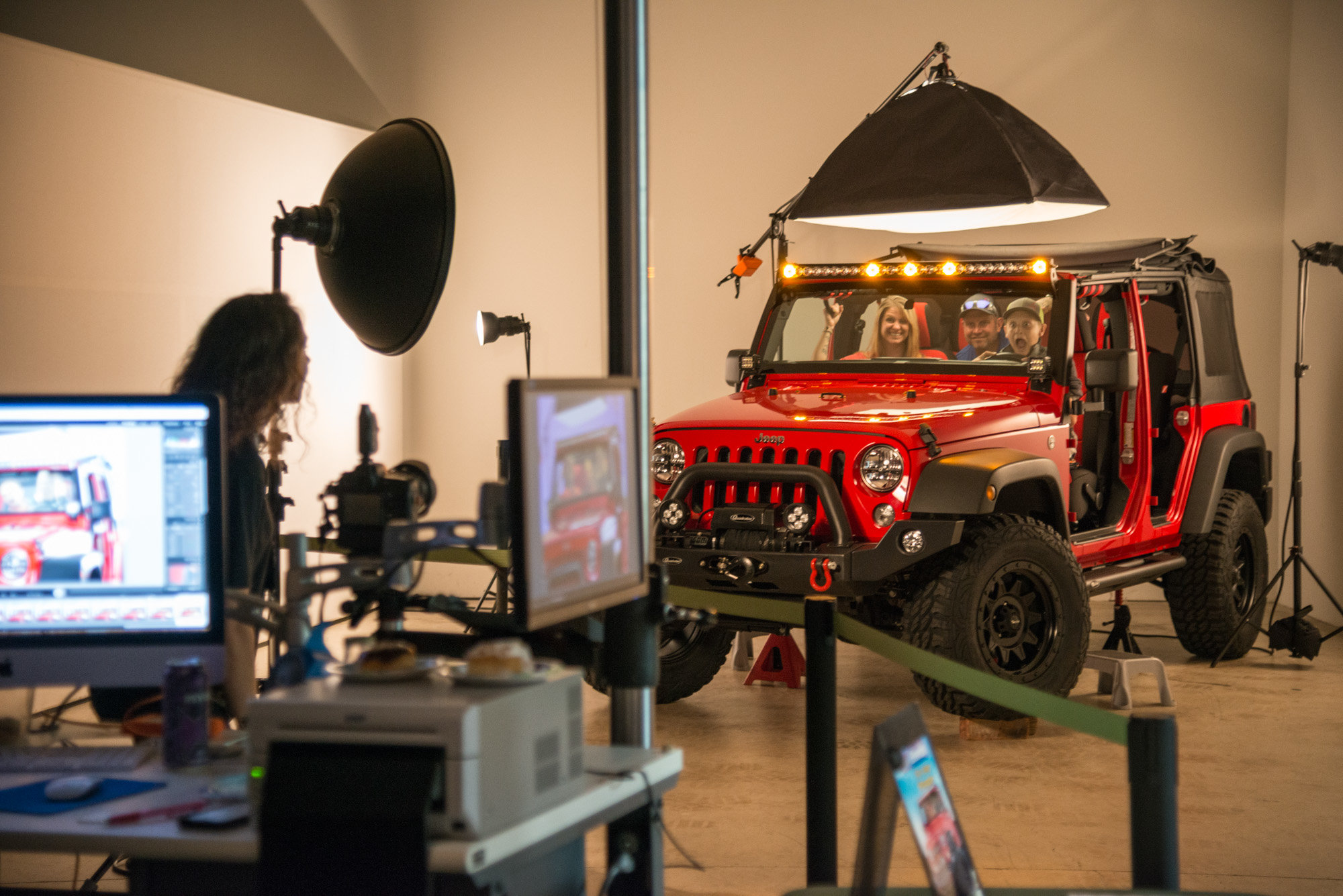 8. Catalog Cover
So, if you've ever received one of our catalogs and thought, hey, I'd like to pose alongside one of those Jeeps – well, here is your chance. We're fixing up one of our photo Jeeps just for you to climb into and take your best photo. We even have our professional photographers manning the camera Saturday just so you look your best. But remember, no blinking.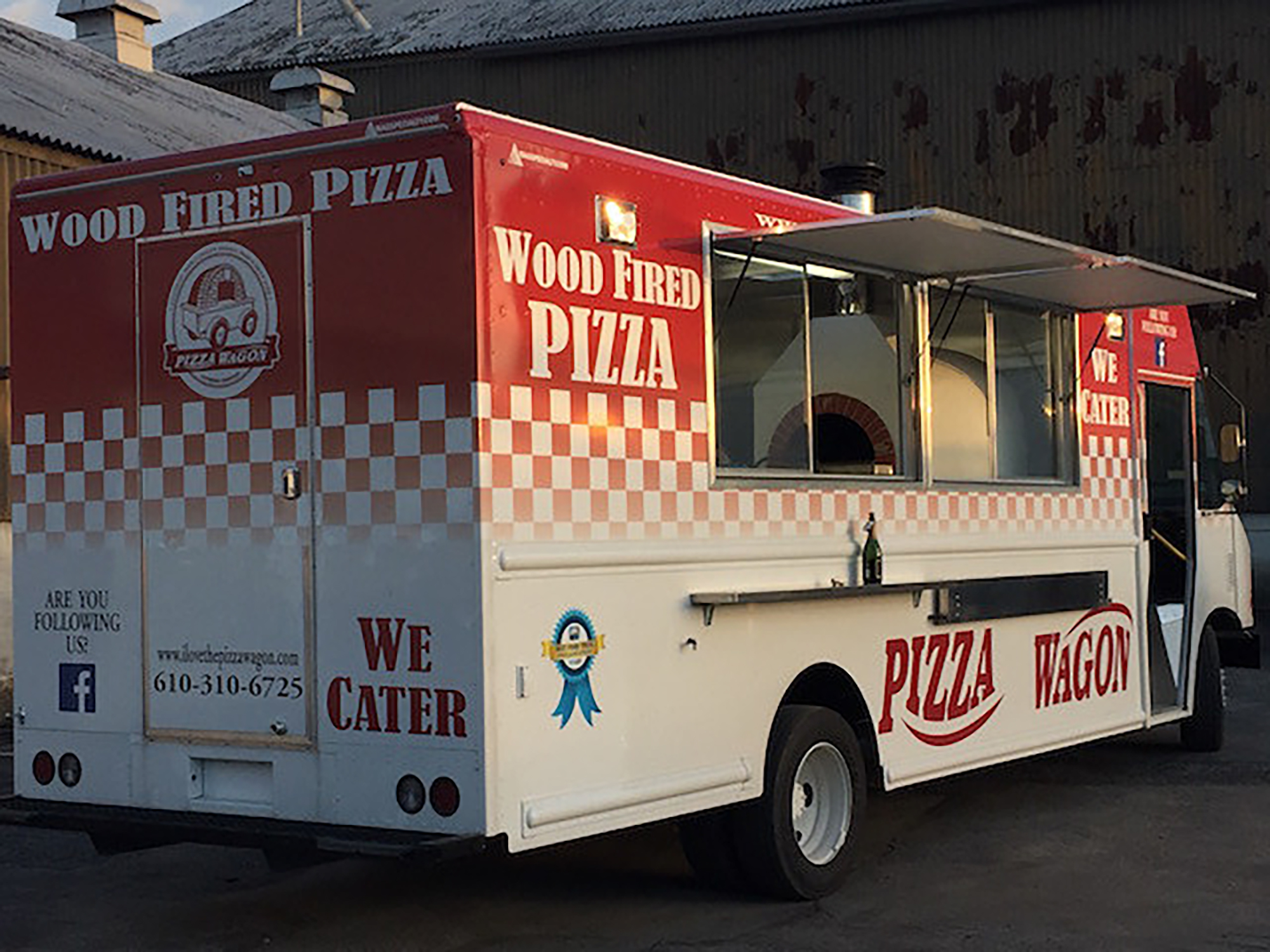 7. Food and Drink Options
When you spend a day somewhere, you are bound to get hungry. And just because our Saturday deals are the best around, doesn't mean we've forgotten about nourishment. After all, you're going to have to carry those parts home, right? So we are bringing in three food trucks to provide you three different options to satisfy that hunger craving. Setting up for the day will be Southbound BBQ for those who love fantastic Texas-style BBQ, Pizza Wagon, which offers mouth-watering wood-fired pizza creations and Alicat Café, for anyone who adores French-inspired Paninis and crepes.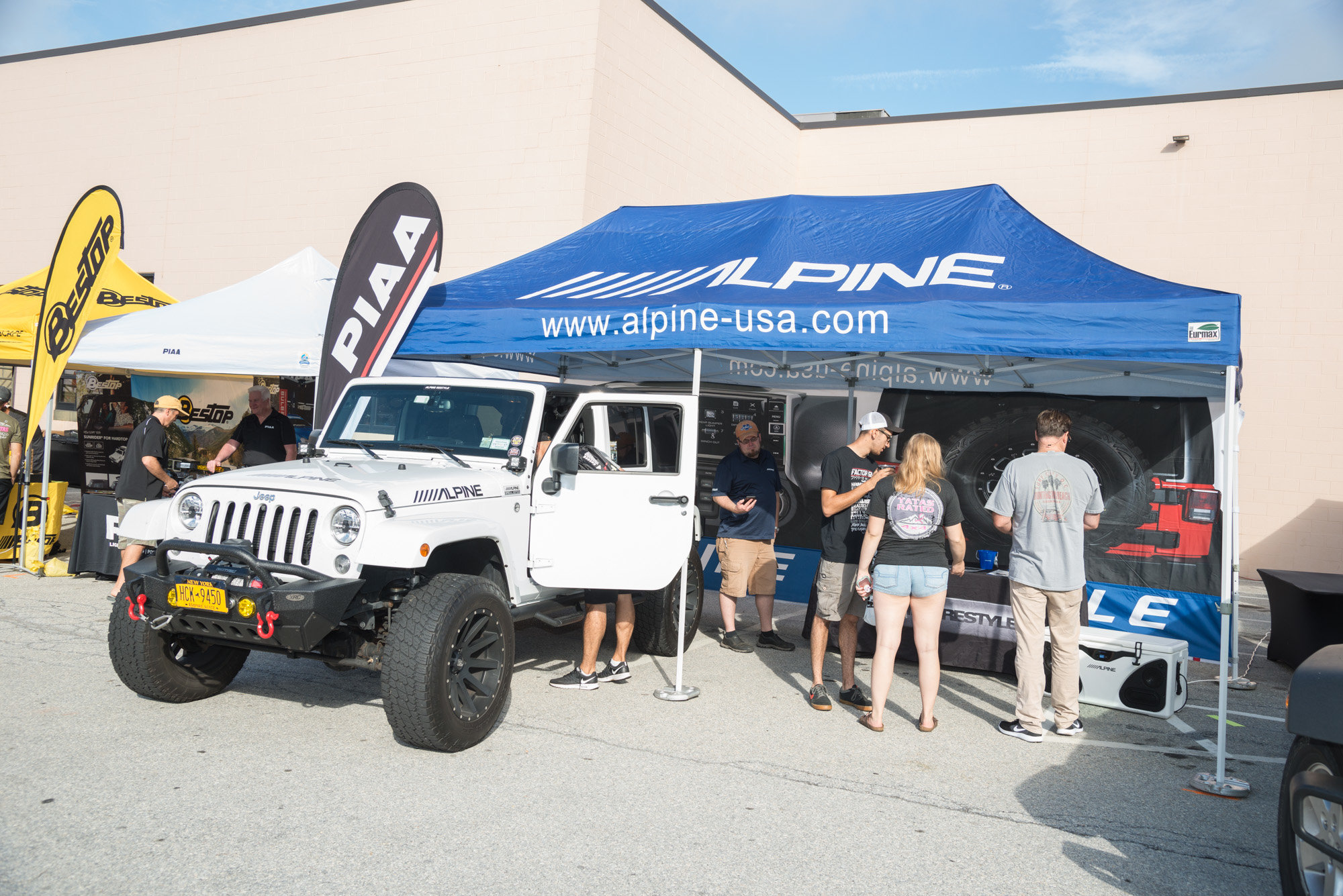 6. Vendors
Questions. What is it they say about questions? There is no such thing as a dumb one? Well, when you are buying a Jeep product and have a question, then it is always a good one because, lets face it, you want the part you purchase to work correctly. And what better way to get those questions answered than to have our great vendors right on site with reps who can answer what you need answered — all to make sure you get exactly what you need.
We have more than 30 top Jeep aftermarket vendors scheduled to attend the Tent Show this year, so don't be shy. Ask away. These vendors love those products just as much as you do. Then, you can take their recommendations right to our new parts counter and get what you need with our special show discount. Plus, we have a few other businesses joining us to provide their services and products.
For a full list, check out our Tent Show page here.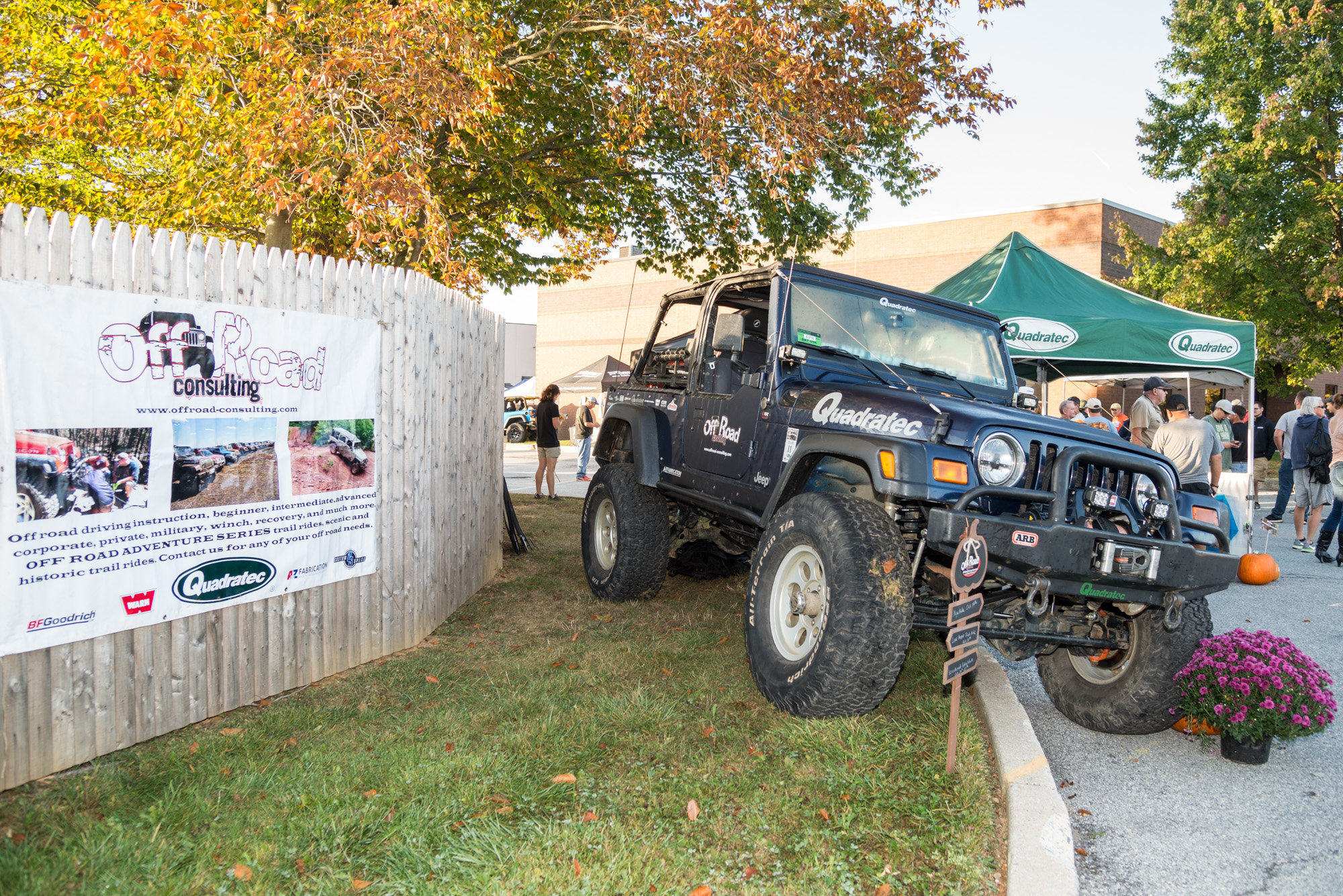 5. Off-Road/Overlanding Advice
We know, we know. Owning a Jeep is more than just, ehm, owning a Jeep. There is a whole lifestyle thing that goes along with driving around that seven-slot masterpiece. And that Jeep Lifestyle is much more fun in a vehicle set up exactly the way you want. It is also a big reason why the aftermarket Jeep industry exists. But whether off-roading, overlanding, or both, getting the right parts on the vehicle is only half the battle. Understanding how your vehicle is designed to perform in different situations, as well as honing your personal skills and learning how to interact with the outdoors, is what can transform an average day off pavement into a lifetime of memories.
This is why we partner with Off-Road Consulting owner Kyle Buchter and Wheelers LLC head Mike Kelly. They are masters at off-road technique from beginner to expert, and spend an enormous amount of time on the trail helping others learn how to be better off-road drivers or better appreciate what it means to overland. Make sure to check them out.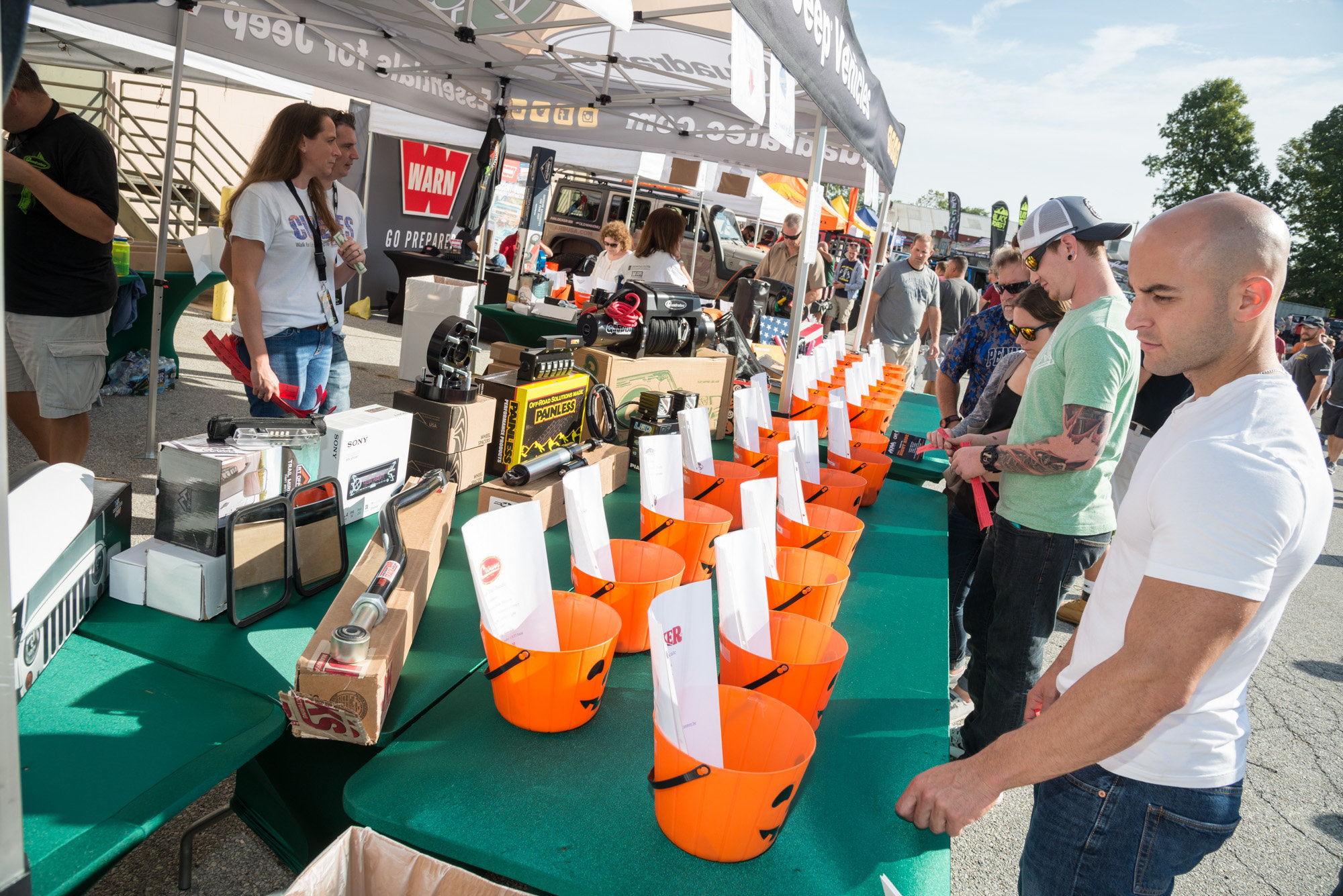 4. Raffle
Who doesn't like to give back when they have a chance. Especially when they can give back, and potentially take something home as well. Yup, we are talking about our show raffle and, once again, many of our great vendors have stepped up to donate dozens of prizes. Raffle drawing times are at 11, 12:30, and 2, while raffle tickets can be purchased in 5 for $10, or 12 for $20 amounts. And one of the best parts of this raffle is you know what you can win. All prizes will have a bucket associated and you can dump as many, or as little, tickets inside as you want. All raffle proceeds go towards the Crohn's & Colitis Foundation of America, and Quadratec will also accept donations for CCFA at the Tent Show.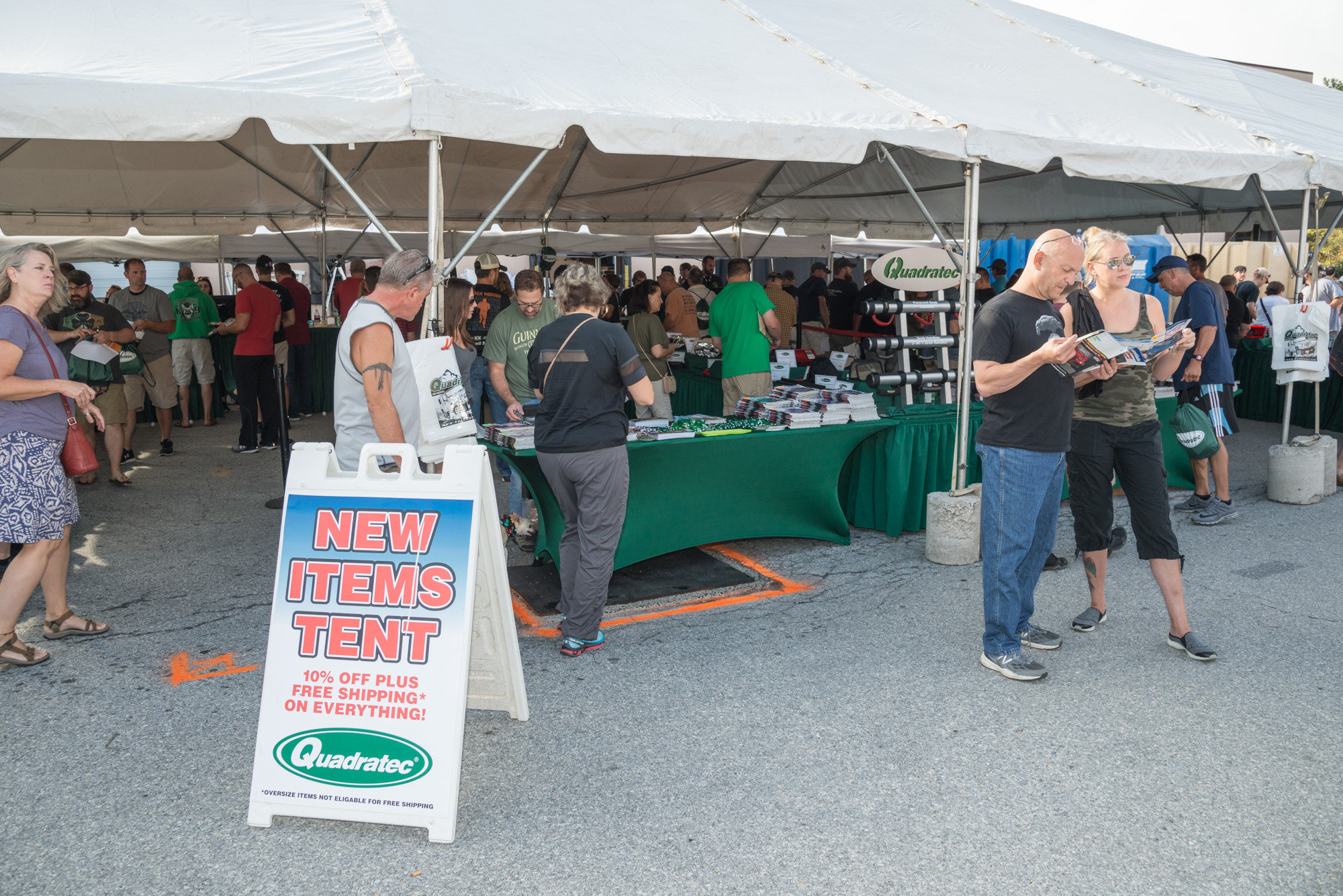 3. New Product Discount
So a big point of the tent show, besides getting together with thousands of your closest friends, is to show off all the products you can mount, bolt, Velcro, or otherwise attach on your Jeep. And what good would showing off those products be without some sort of sale. After all, we have all these tents up, right. Doesn't tents equal sale?
Anyway, that's why we're offering a show discount of 10 percent on any product we sell. Anything. Pick out exactly what you need and save money at the same time. Plus, if we have the part in stock here at West Chester, you can take it home with you. We'll even help carry your products right to your Jeep (or other vehicle) with one of our Quadratec shuttles. This way, you don't have to lug your new bumper, winch, or whatever, around with you the rest of the day like some massive stuffed animal carnival prize.
If you are not sure what you want, or need, we'll have plenty of catalogs right at the order desk, or check out one of the dozens of vendors who can answer whatever questions you may have on a product.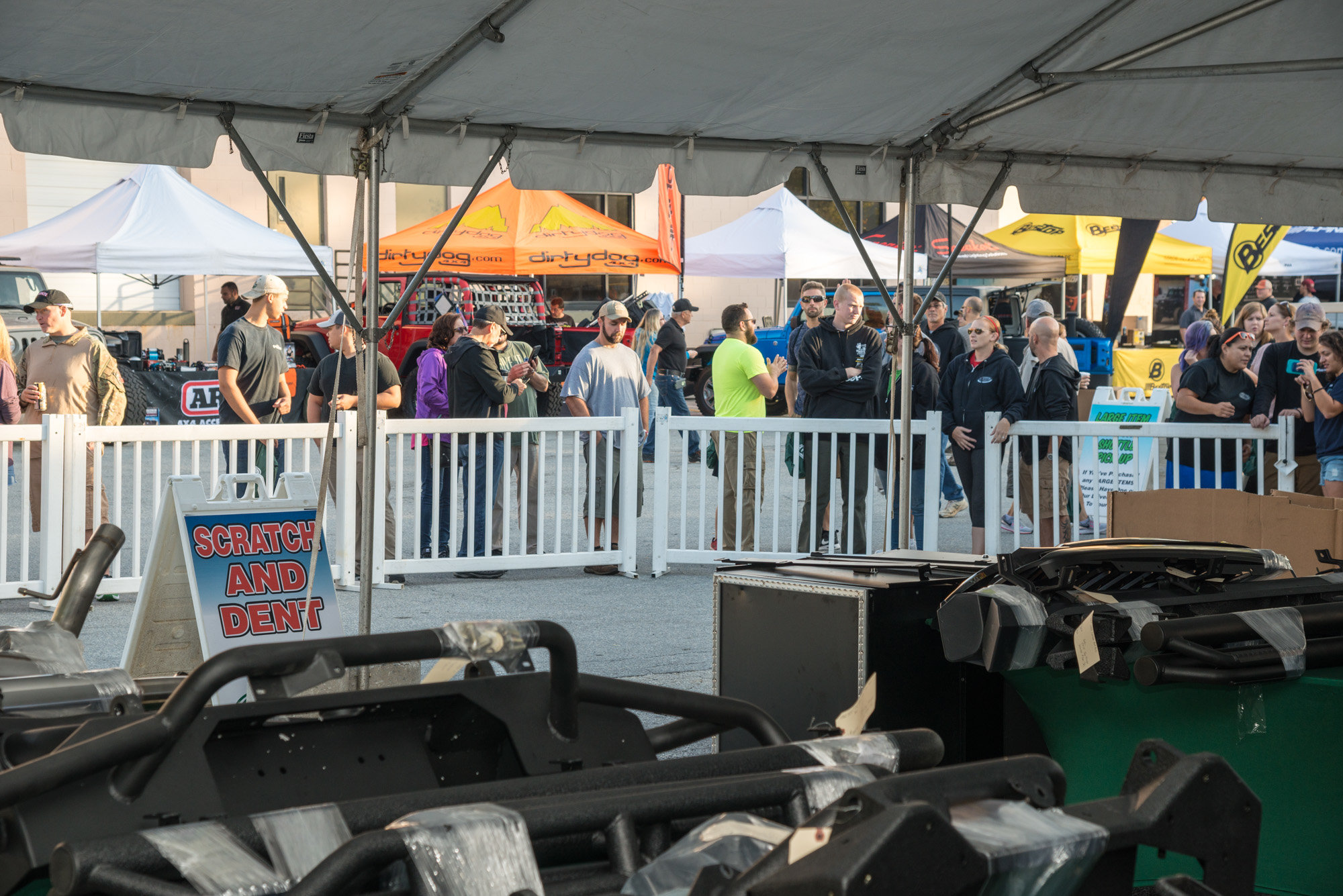 2. Scratch and Dent Merchandise
Our scratch and dent tent is perhaps the signature part of our annual tent sale. It's definitely the most crowded area, and something people talk with us about no matter where we are during the year. Moab, Daytona, Wildwood, even just a weekend fun trip to Anthracite Outdoor Adventure Area.
'Are you having the scratch and dent tent this year?'
'What's going to be there?'
Well, the answer is always yes to the first and we have no idea on the second. At least, no idea until we start moving those parts out to the tent. That's because these can be any type of products that have made their way back to our warehouse and, for whatever reason, we were unable to sell as new. It could be something just as the name implies — items that arrived back scratched or dented, possible from shipping. Or perhaps a part that came back missing hardware or slightly torn. We're talking things like bumpers, side bars, lights, light bars, fenders, seats, seat covers; the list goes on and on.
Now, imagine a price on these products that is not just 10 percent off, or 20, or even 30. Many are up to half off or more. These are prices so good that people line up outside the tent for a look inside right as the show opens. Then, when the gate falls, the deals begin. But, honestly, even if you can't get here right at the start of our Tent Show, we have numerous boxes of scratch and dent items in reserve that we will use to refill the tent throughout the day. So check out the tent when you arrive, but don't forget to return later to see what we have on the shelf. You never know.
1. Jeeps
Our annual tent show always attracts a cast of thousands to West Chester and, you know, all these people need a place to park, right? So if you are one of them, and haven't been here before, then imagine a 'Jeep only' parking lot stuffed full of just about every Jeep ever made. Old school Willys, CJs, Commanche, Wagoneers, FCs, as well as the traditional alphabet of XJ, ZJ, WJ, YJ, TJ, JK, KJ, WK, XK, MK, BU, and probably a few others that defy classification. Some stock, many modified, and all driven by owners who - if you catch them - will happily show off their ride and answer questions. If you are someone in between modification projects and need some inspiration, or have a few ideas in mind and want to see what they look like, then chances are you'll find what you need sprinkled among a sea of parked Jeeps.
Have fun.
------
DIRECTIONS TO QUADRATEC:
Quadratec, Inc.
1028 Saunders Lane
West Chester, PA 19380
From points South of West Chester:
Get on Route 202 North
Take the US-322 West Paoli/Downingtown exit ramp
Make a right at the traffic light onto Phoenixville Pike
Continue 0.4 miles to Saunders Lane
Make right onto Saunders Lane
Quadratec is 500 feet ahead on right, just past the bus company
From points North of West Chester:
Get on Route 202 South
Take the Boot Road exit
At the top of the exit ramp, make a right
Continue to the traffic light
Make a left onto Phoenixville Pike
Continue 1 mile to Saunders Lane
Make left onto Saunders Lane
Quadratec is 500 feet ahead on right, just past the bus company