by Matt Konkle
Quadratec Channel Editor
LOS ANGELES — The pivot seemingly came out of nowhere, but to anyone who knew former Fiat Chrysler Automobiles CEO Sergio Marchionne, it really shouldn't have been much of a surprise.
He was talking on a conference call, early in 2016, about the phenomenal sales year Jeep just experienced when he quickly shifted gears, and dropped some news that would shake the automotive industry.
"We have decided to de-focus, from the manufacturing standpoint, to de-focus on the passenger car market," Marchionne said at the time. "Without creating additional capacity, in the United States, we need to ... to try and deal with the development of (the) Jeep brand."
The pivot.
Over the next two-plus years, FCA would phase out several car offerings in North America, while investing heavily in a few key assembly plants to churn out more Wranglers, Grand Cherokees, Dodge Rams, and soon, its latest offering – the new Jeep truck.
That's right, Jeep is re-entering the midsize truck market after an absence stretching some 26 years. The automaker will unveil its new design today during a morning press conference at the Los Angeles Automotive show.
Reportedly called Gladiator, the wildly-anticipated truck will offer a 3.6-liter Pentastar V6 engine in both eight-speed automatic and six-speed manual to start – with a 3.0-liter EcoDiesel V6 to follow in 2020. It will tow up to 7650 lbs and carry up to 1600 lbs payload, both 'best in class,' and offer the same transfer cases, axles, optional electronic diff lockers and electronic front sway bar disconnect that are available on the JL Wrangler.
"I think it will be very competitive," Fiat Chrysler CEO Mike Manley said on a conference call Oct. 30. "It's a product that people have been waiting for, for a long time."
Sadly, Marchionne is no longer around to see this latest Jeep edition reach production, nor to follow the company's overall success following his pivot decision – passing away earlier this year following complications from shoulder surgery.
But Marchionne did make it clear he definitely would have been a Gladiator owner.
"I'm a natural buyer," Marchionne said during an interview back in January. "If I had a choice between the Wrangler and the pickup truck, I'd buy the pickup truck. I just think it's a better vehicle."
At the time, Marchionne said he felt FCA would sell "less than 100,000" units a year of the pickup, and that it would be intentionally priced more on the expensive side in order not to compete directly with the Chevrolet Colorado and upcoming Ford Ranger midsized pickups.
With new CEO Manley in place, it is unclear whether those are still target goals for the truck, or if the company will aspire to higher sales numbers. After all, the Jeep Wrangler JL that launched last November has helped set sales records for FCA month after month this year. In fact, the Jeep brand itself is up 19 percent for 2018 and has a chance to move more than a million vehicles this year. FCA itself is up seven percent overall for the year.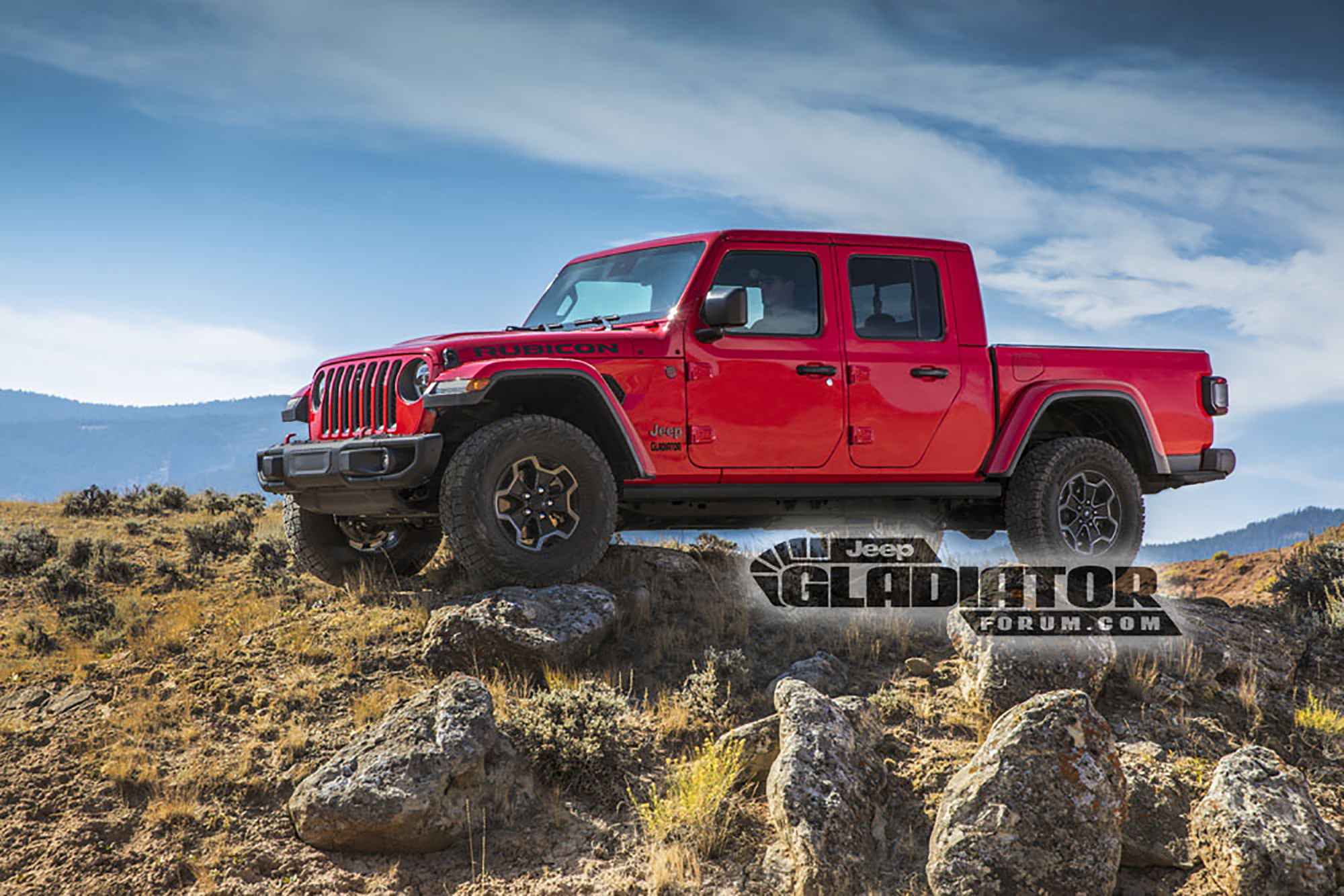 The Gladiator pickup is expected to have three trim levels at launch in Sport, Overland and Rubicon, with either a hard top or two soft top options. This would make the vehicle the only 'convertible' pickup on the market. The bed measures five feet and contains integrated power source and cargo tie-downs in order to provide versatility for flexible cargo options.
Additionally, the truck contains Command-Trac and Rock-Trac 4×4 systems, third generation Dana 44 axles, Tru-Lock electric front and rear axle lockers, Trac-Lok limited slip differential and an exclusive electronic sway bar disconnect (Rubicon edition) with 33-inch off road tires – all of which bolsters its off-road capability.
While the truck will only offer a four-door crew cab edition, all doors will be removable for those who love having an open-cab experience. The windshield also folds down and the vehicle's interior nearly resembles that of the JL Wrangler. In fact, nearly the entire front end is identical to the Wrangler; from the iconic seven-slot grille to fender flare lines, to matching round headlights that have marked the line nearly for its entire existence.
Something that will make Jeep enthusiasts breath a sigh of relief.
They really shouldn't worry though. FCA executives from Manley to Head of Design Mark Allen have long been on record saying each new Jeep design will help improve the vehicle, while striving remaining true to Jeep's 75-plus year heritage.
They understand the passion of the Jeep owner.
Which is no doubt one of the biggest reasons for the brand's continued success, along with Marchionne's foresight to pivot FCA specifically towards Jeep and truck.
For more information on the Jeep's first truck since 1992, check out our Jeep Gladiator Truck page.