by Matt Konkle
Quadratec Channel Editor
LAS VEGAS — Taylor Sprayberry's hemi-orange pearl J10 Jeep truck recently cruised into a parking spot just outside the Las Vegas Convention Center's South Hall, and took its position among a legion of vehicles.
All around the vehicle seemed like chaos. Or what could best be described as organized disorganization. People scattering here and there. Badges flying in the wind. Cars and trucks revving; brakes squealing. Vendor builds getting set into place.
Sound, noise, fury.
And yet, despite all that motion and action as the 52nd annual Specialty Equipment Market Association geared up to do business, Sprayberry said there there was no place else he's rather send his vehicle.
Because, well, SEMA.
"SEMA is that one time of year any car enthusiast looks forward to, not just because of the array of awesome builds, but to interact with the builders of those builds to collaborate on new ideas, and admire each others' work," Sprayberry said. "Countless hours of designing, engineering, and fabricating go into these builds, so being able to debut them at SEMA and interact with other builders is truly what its all about."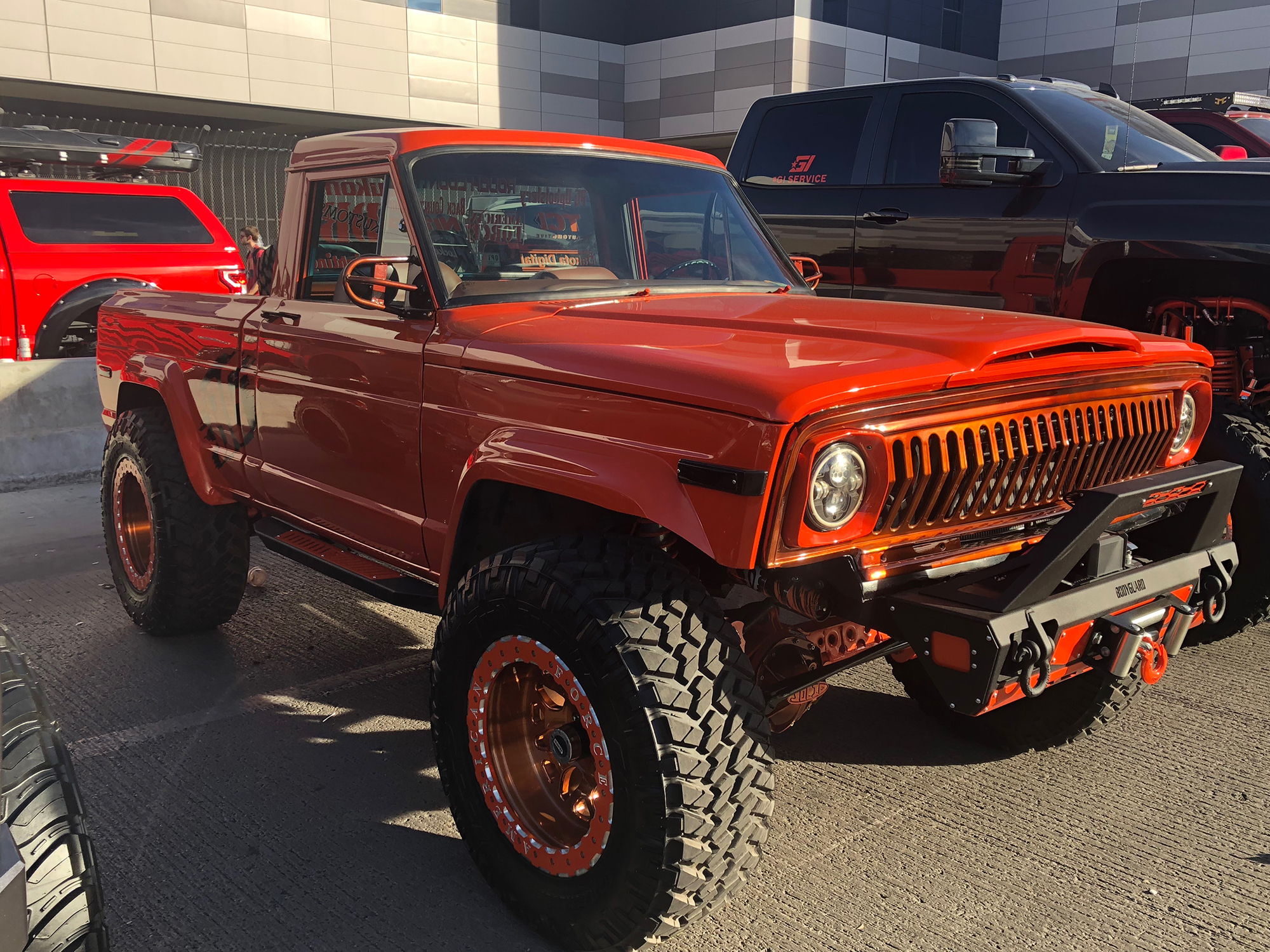 For those not in the know, the SEMA show is a little like Christmas, the Super Bowl, World Cup Soccer and, uh, whatever else large and flashy you want to quantify it with for automotive enthusiasts. Its attendees are like excited kids with a tooth or two sitting under a pillow in a plastic bag, waiting to see what the tooth fairy is going to bring come morning.
There are lights, engines roaring, tires squealing, large video monitors pumping out noise, new products to be found, and all the while a constant stream of people flowing everywhere like water cascading over a dinner plate.
All befitting a trade show held in Vegas. A very large trade show sporting over 1.2 million net square feet of exhibit space, and an additional million square feet of features and attractions — both indoor and outdoor.
And something where no two show years are the same.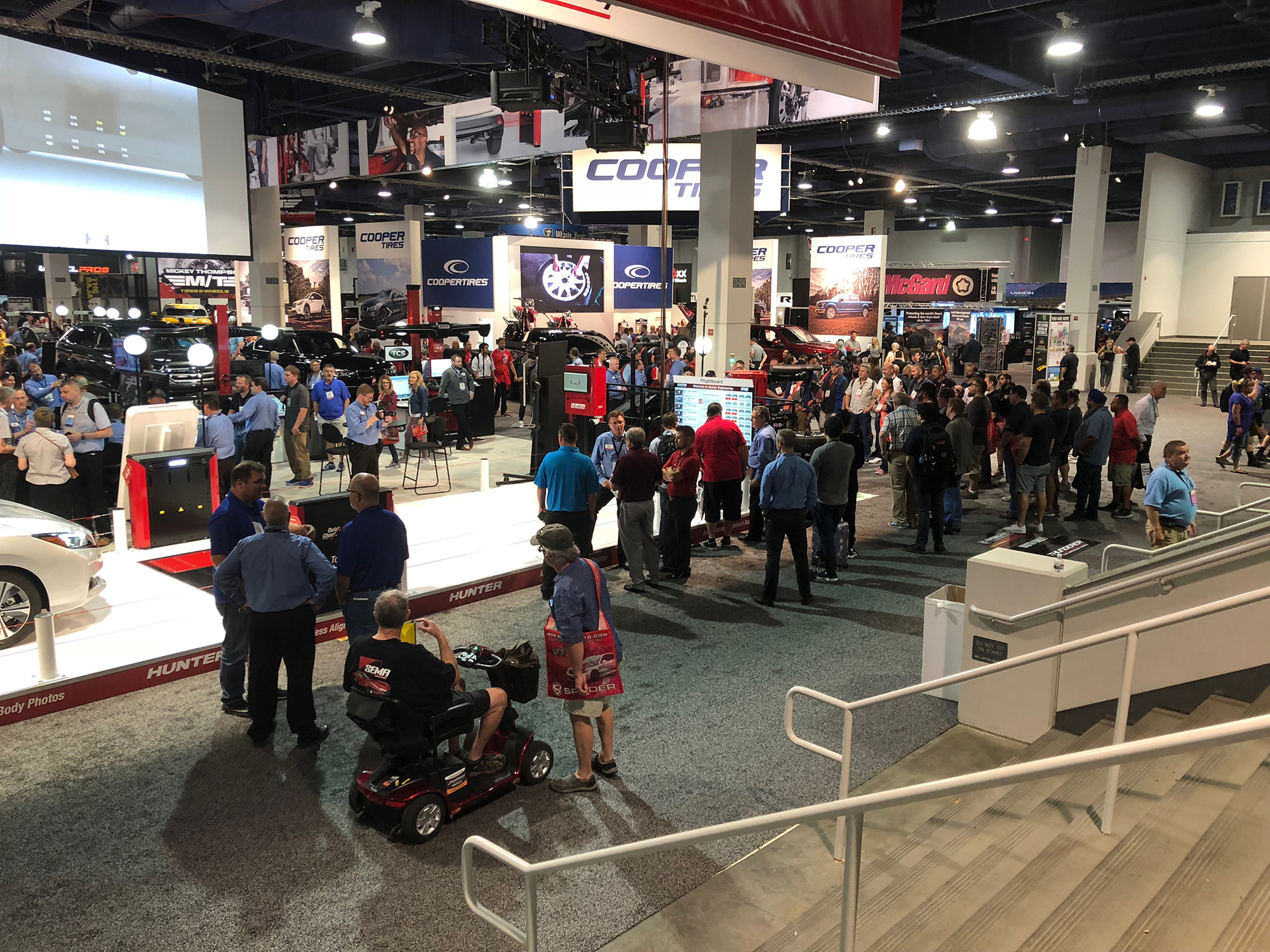 "The SEMA experience never gets old because there's always new and improved builds as well as new trends every year," Sprayberry said. "There is not another event in the world that you could attend and be able to see as much diversity like you do at SEMA. I'm partial to the Jeep world and SEMA is always filled with spectacular jeeps, with each being built to the needs of each individual - with none of them ever being alike."
"Being able to witness the creativity of the builder and companies who come up with these new products for these vehicles is what the SEMA experience is all about to me."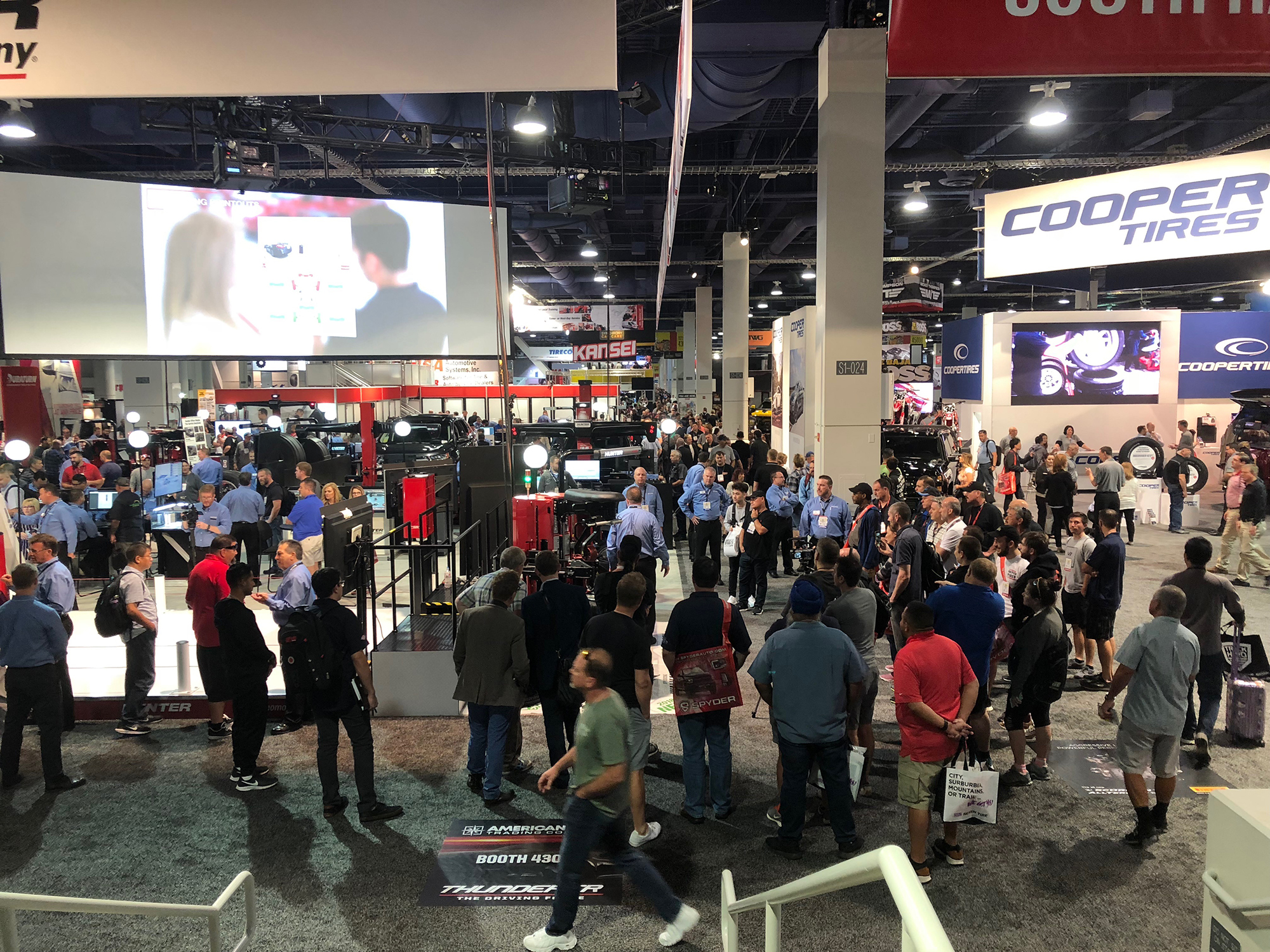 SEMA's four day show attracts over 162,000 people from more than 140 countries with one interesting caveat; you can't buy a ticket to SEMA, at least not one for the normal show days. For most of the time it is an industry-only event. Meaning just manufacturers, buyers, sellers and media from nearly every end of the automotive spectrum.
"Just look around, it is incredible," said SEMA CEO Christopher Kersting, taking a break from his hectic schedule outside the Central Hall and pointing around to the massive crowd. "We have incredible traffic here. I like to consider this as the epicenter of automotive innovation. People in the business have to be here."
According to a SEMA press release, this year's show was expected to attract 70,000 buyers, all looking for the newest and hottest products to sell in their shops, while 2,400 companies would be setting up display booths to exhibit those products. You're talking ones from the largest end like Jeep, Ford and Chevy, all the way down to small mom and pop shops hawking tire deflators, or maybe some type of automotive cleaning product.
Every end of the automotive world.
But SEMA is quite a bit more than just a show held in Sin City a few days each year. SEMA was first started back in 1963 by people who loved cars and trucks, and wanted to turn that passion into a career. And these days, the organization performs many services for its members and for the industry as a whole. More importantly, SEMA strives to protect consumers' rights to drive accessorized, customized and vintage vehicles, and keeps close tabs on legislators around the country. All so its members and anyone who loves cars and trucks can protest pending legislation that might harm those hobbies, or endorse legislation that is good for the industry.
SEMA has also helped numerous consumers interact with car dealers, who sometimes try to get away with charging for repairs on a modified vehicle by wrongly claiming that specialty accessories have voided its warranty.
"The SEMA show is five days; the other 360 days of the year we use the resources from our members to create a collective voice," Kersting said. "We do a lot of different things, but one thing we do is take care of legislative and regulatory issues that kind of encroach on the hobby. With the off road scene there is constant pressure."
"One thing that would be good (for Jeep enthusiasts) would be to go to the SEMA website and look for the SEMA Action Network. It is a grass roots way for you to be informed on what is going on out there, when we have problems, when we have threats, and to protect the opportunity to get out there on the trails."
The show, however, is certainly the shining jewel of the SEMA year and for those in the Jeep aftermarket, it can be the perfect time to discover new products, make new contacts and even show off your skill as a Jeep vehicle builder. Also, those new products revealed and displayed during the show tend to set the Jeep aftermarket product tone for the coming year and beyond.
"That Jeep (JL) has been so popular and our members have been working really hard to get their products finished in time for the show," Kersting said. "It is extraordinary what they have been able to do. And I think the retailers; the stuff that's going to be available in this next year for that Jeep is going to be awesome.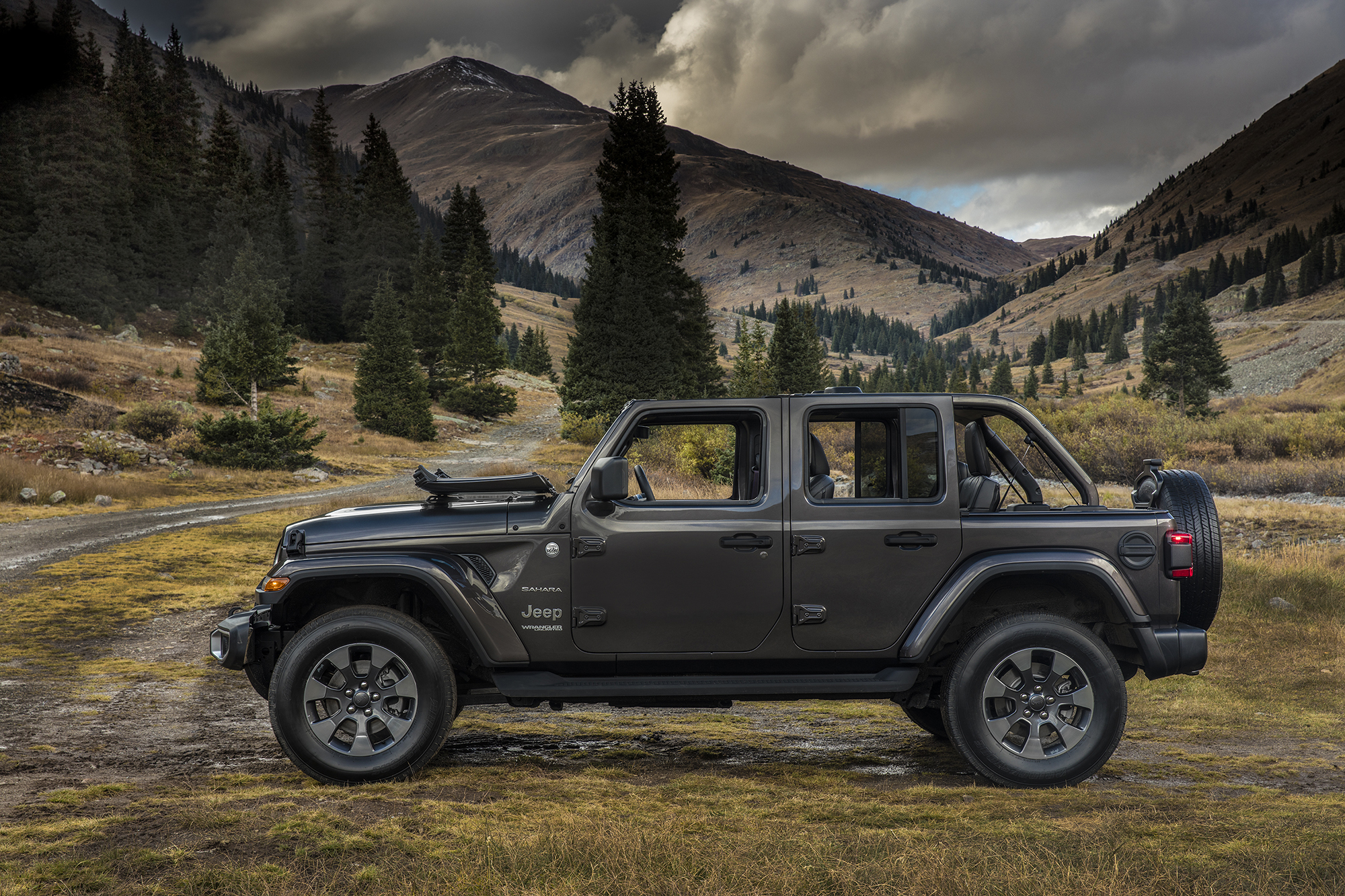 This time around the show, it seemed that everything Jeep inside the three Las Vegas Convention Center halls was certainly all focused on one thing.
That JL Wrangler.
Really, not much of a surprise as Jeep's newest vehicle set all kinds of sales records during 2018, so it was pretty much expected that JL products would dominate vendor booths this year.
Still, the vast amount of new items felt like a continuous wave crashing into the shore.
So much so that it was nearly impossible to check them all out during the show. However we found numerous ones we liked that should make an impact in the Jeep aftermarket world.
We'll start with some award winners: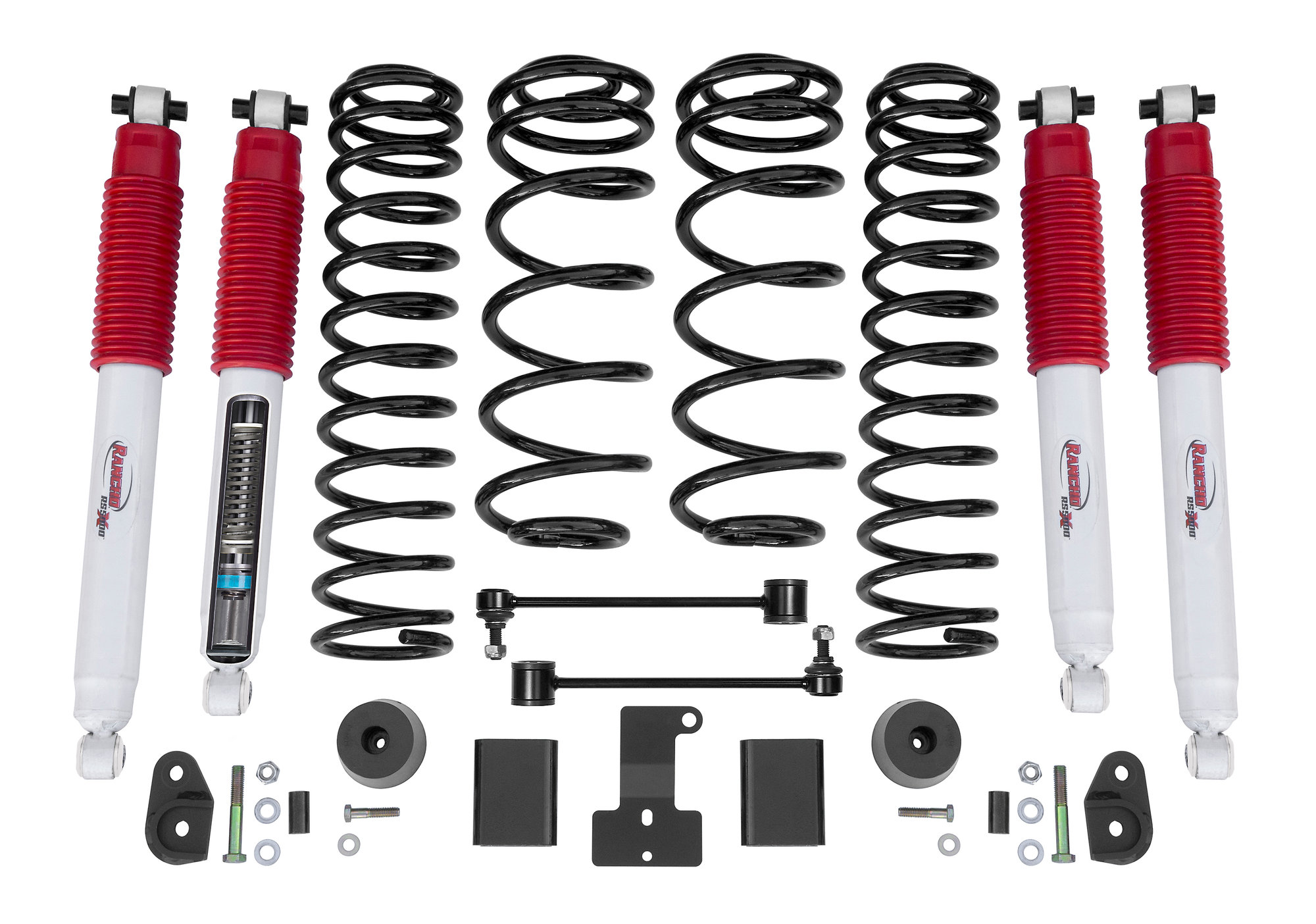 Rancho's JL Wrangler 2" Sport Suspension System caught a lot of attention and even claimed top prize in SEMA's Off-Road /4WD New Products category. This kit is designed to help fit up to 35-inch tires on your vehicle and is a 100 percent bolt-on system. What makes this thing work are the new RS5000 X shocks that have the company's Dynamic Rebound Spring Technology. Basically, Rancho says, this means the shocks have been precision tuned and have a fortified internal construction to reduce body roll, prevent rod overextension and provide better control.
Additionally, progressive rate coil springs are designed to give you superior on- and off-road comfort no matter where you are traveling. The kit even is 100-percent compatible with the factory Electronic Stability System. All in all a solid winner for those looking for a comfortable-riding suspension lift kit that has excellent off-road chops.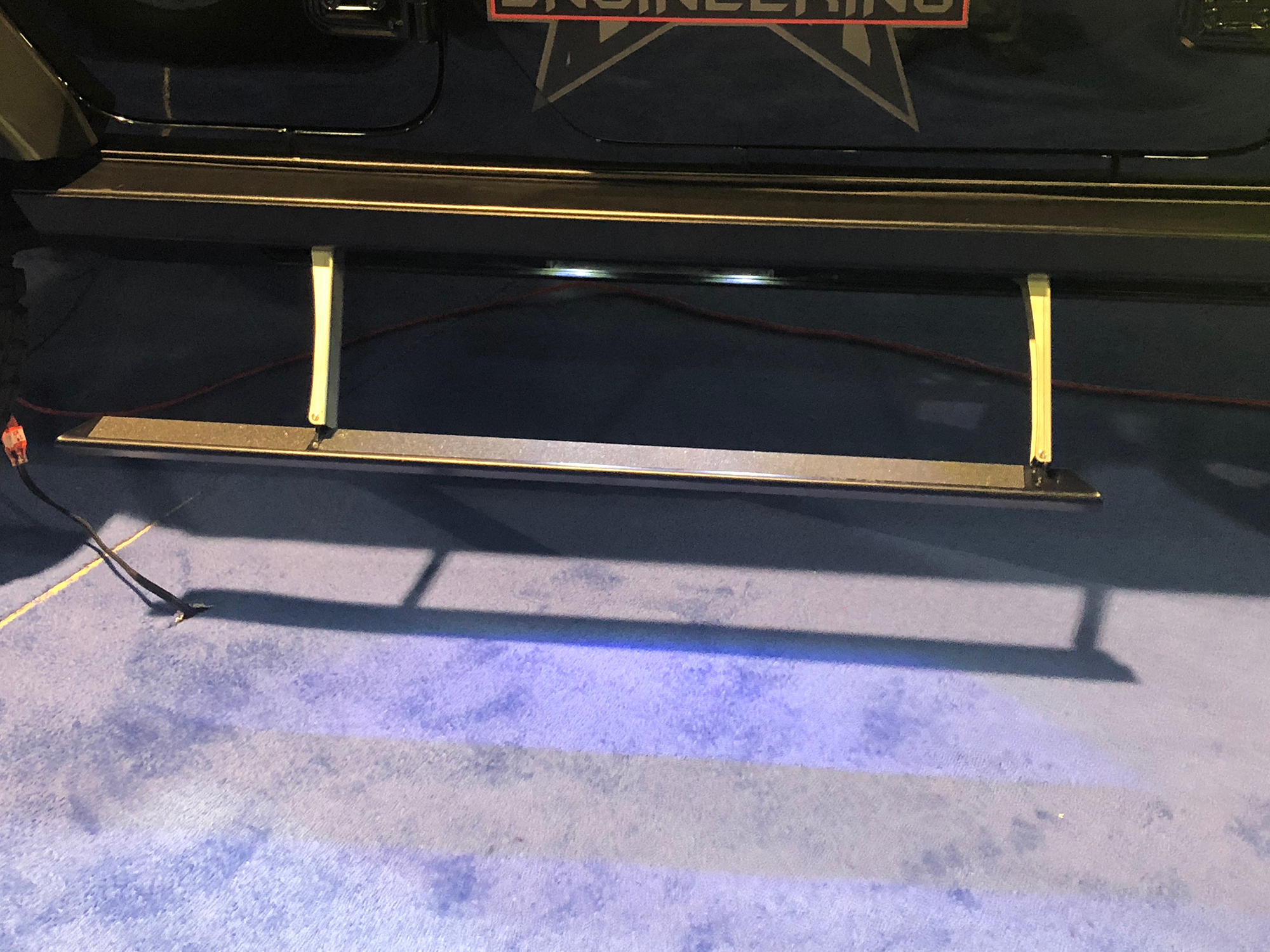 Meanwhile, runner up in the SEMA Off-Road/4WD category was Rock Slide Engineering and its next generation JL Wrangler Step Slider. This is a product we got to extensively test prior to SEMA during several days in Moab, Utah and found it to be a perfect combination of rock slider and side step. These things attach to the factory mounting locations without drilling and support up to 650 lbs. on the step.
During normal use, the Step Sliders function with the step fully encased inside the 11-gauge laser cut steel slider. That means it can take a hit and keep moving with no danger to the step. However, when you open the door, the step folds down 12" so you can easily access the vehicle. This is particularly helpful when you have a taller lift, or you are stopped at an off-camber angle on the trail. It is also definitely helpful when you have friends, smaller children, or other loved ones who have difficulty entering or exiting your Jeep.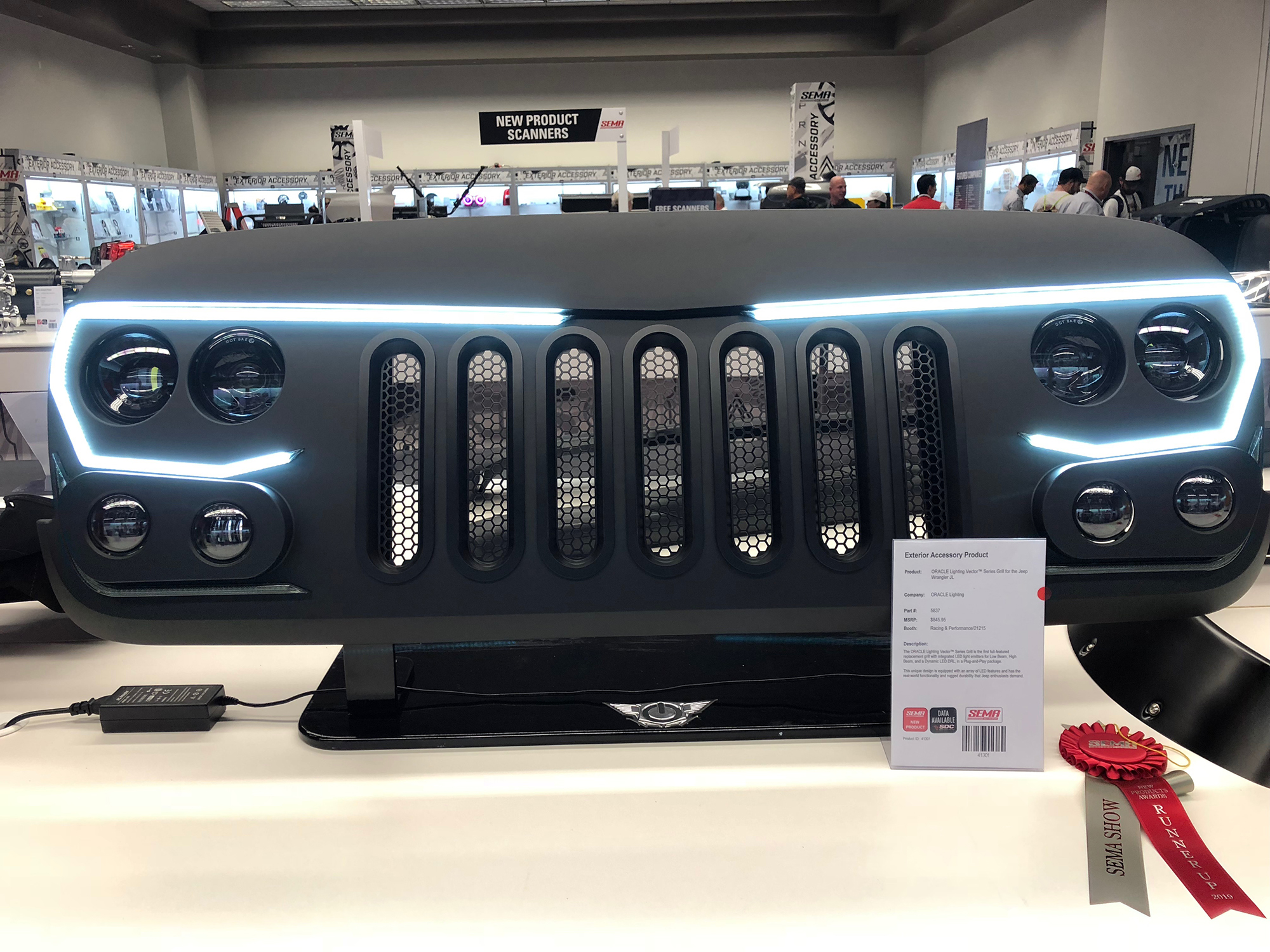 Taking Runner Up in the Best New Exterior Accessory Product category was Oracle for its JL Vector Series Grille. We know, we know, you weren't quite sure what to make of it when Oracle released their JK grille version last year. However, most people came around and decided they liked the unique look this grille provided. In fact, the JK grill sold so well that Oracle decided they wanted JL owners to have this same option.
The Vector Grille is a full front plug-and-play replacement for the factory version and features integrated LED light emitters that cover low and high beam, as well as dynamic LED Daytime Running Lights. This DRL feature also performs a unique 'start up' sequence, while the LED turn signal lights are four times brighter than factory turn signals.
Besides those award winners, there were numerous other products out for display that will certainly create ripples in 2019.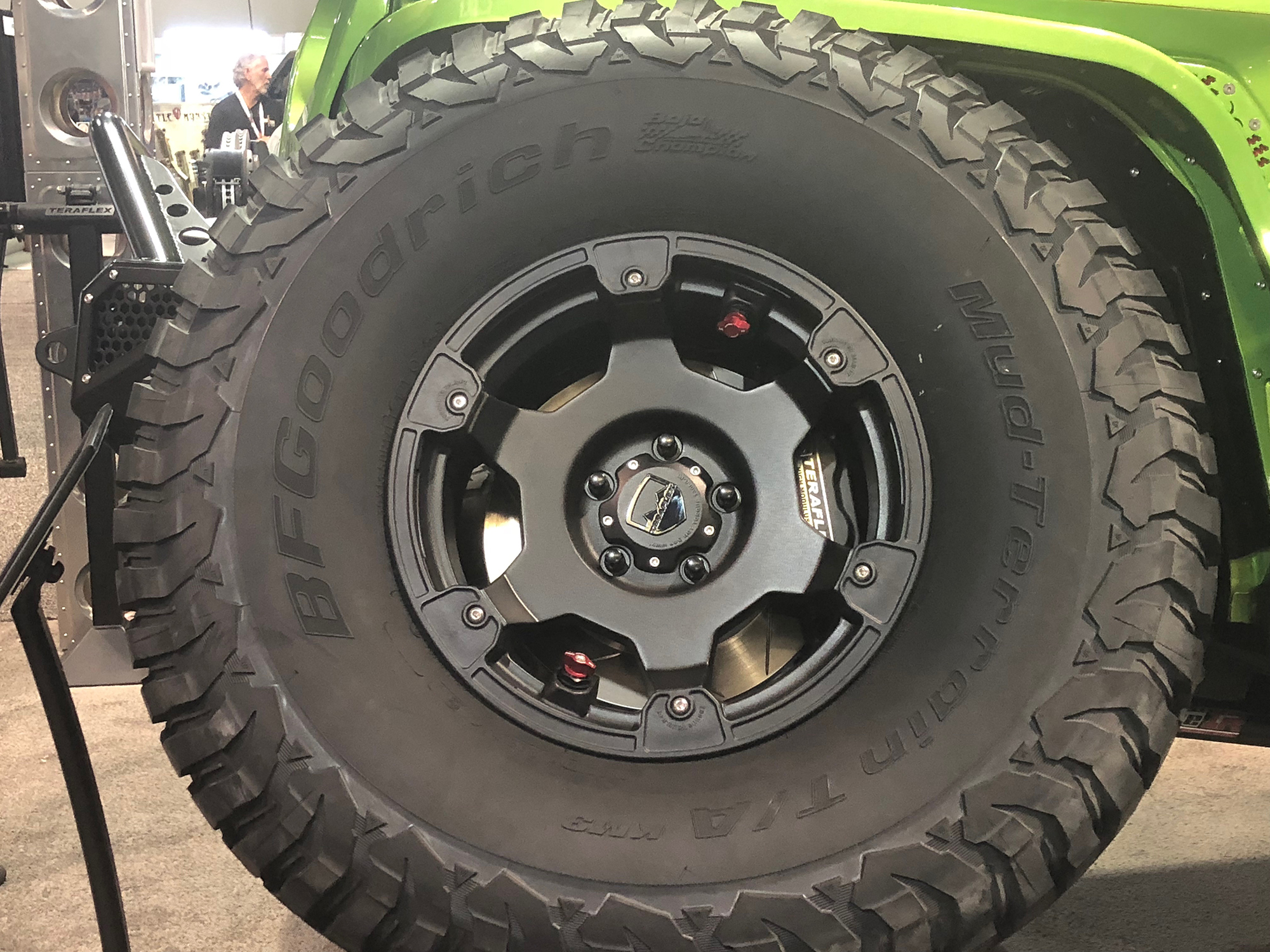 Teraflex Nomad Wheels
These deftly engineered cast alloy beauties come with a black or titanium finish and will be offered in a base design or deluxe. The base wheel has the Teraflex-logo center cap, fully-encapsulated Schrader valve stem housing and cap to keep out debris, and wheel plug.
However, the deluxe wheel is where it is at with this one. You get the cap, valve stem housing and logo cap, as well as a rapid air deflator build right into the wheel - allowing you to quickly air down tires to a preset pressure. Plus, a heavy duty plastic rock rash ring that is color-matched all the way through so you never see those scraps and other types of trail damage that can sometimes happen during wheeling adventures.
According to Teraflex, these wheels will be available in early 2019 and arrive with a 17x8.5 size with a 5x5 pattern - good for both JK and JL Wranglers.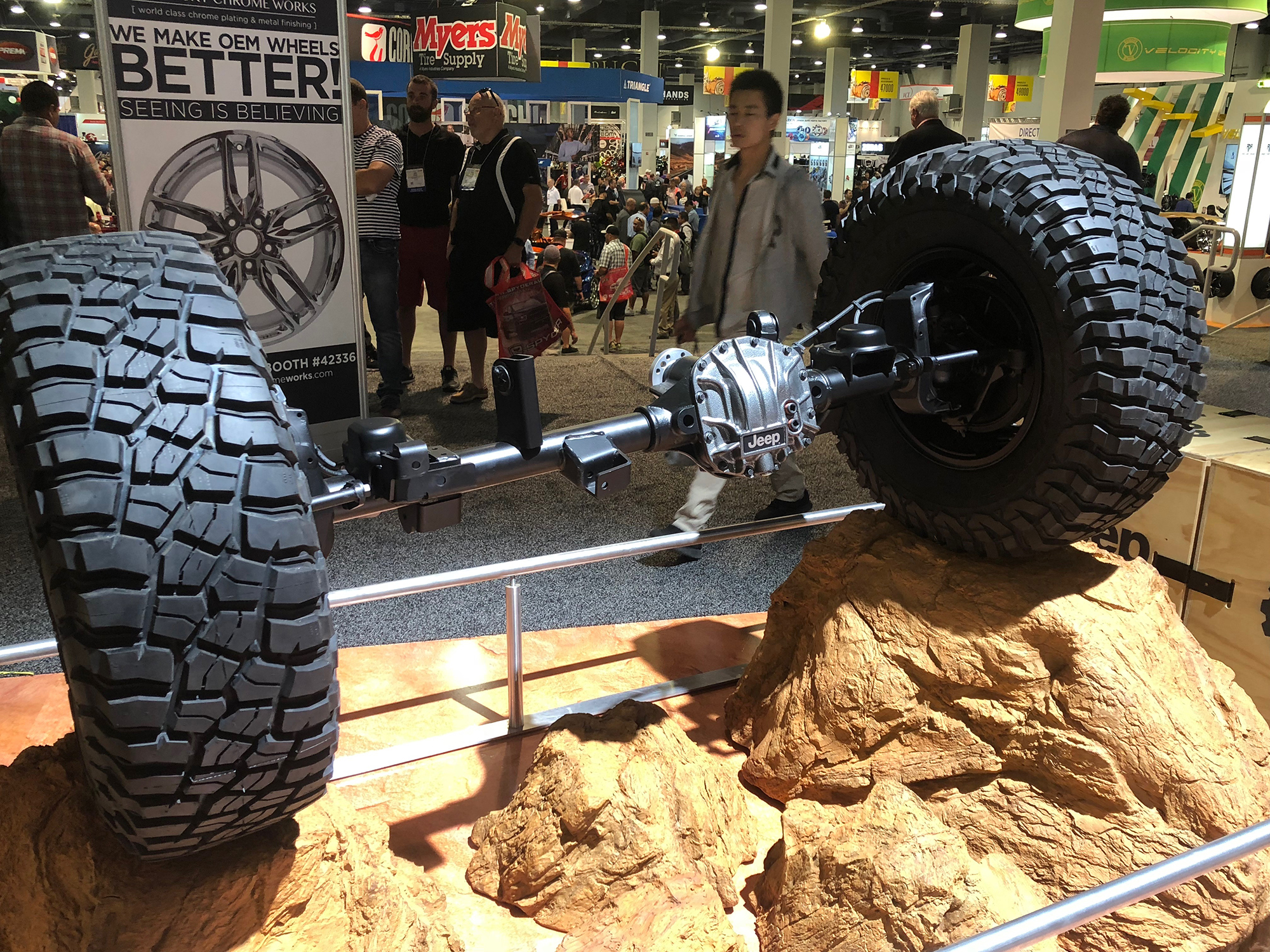 Mopar JPP Ultimate 44 Axles
The new Mopar D44 axles feature high-strength AdvanTEK gear technology, increased clearance, expanded range of gear ratios - all in a direct bolt-in axle assembly. AdvanTEK technology reduces gear set packaging with more strength and durability, allowing for a condensed carrier and improving ground clearance to overcome nearly any obstacle.
These guys also utilize thicker-tubed Chromoly 4340 axle shafts, a high-clearance carrier design that adds an additional half-inch of ground clearance, and features an expanded range of gear ratios (4.56, 4.88, 5.13 and 5.38) to help accommodate for a variety of tire sizes.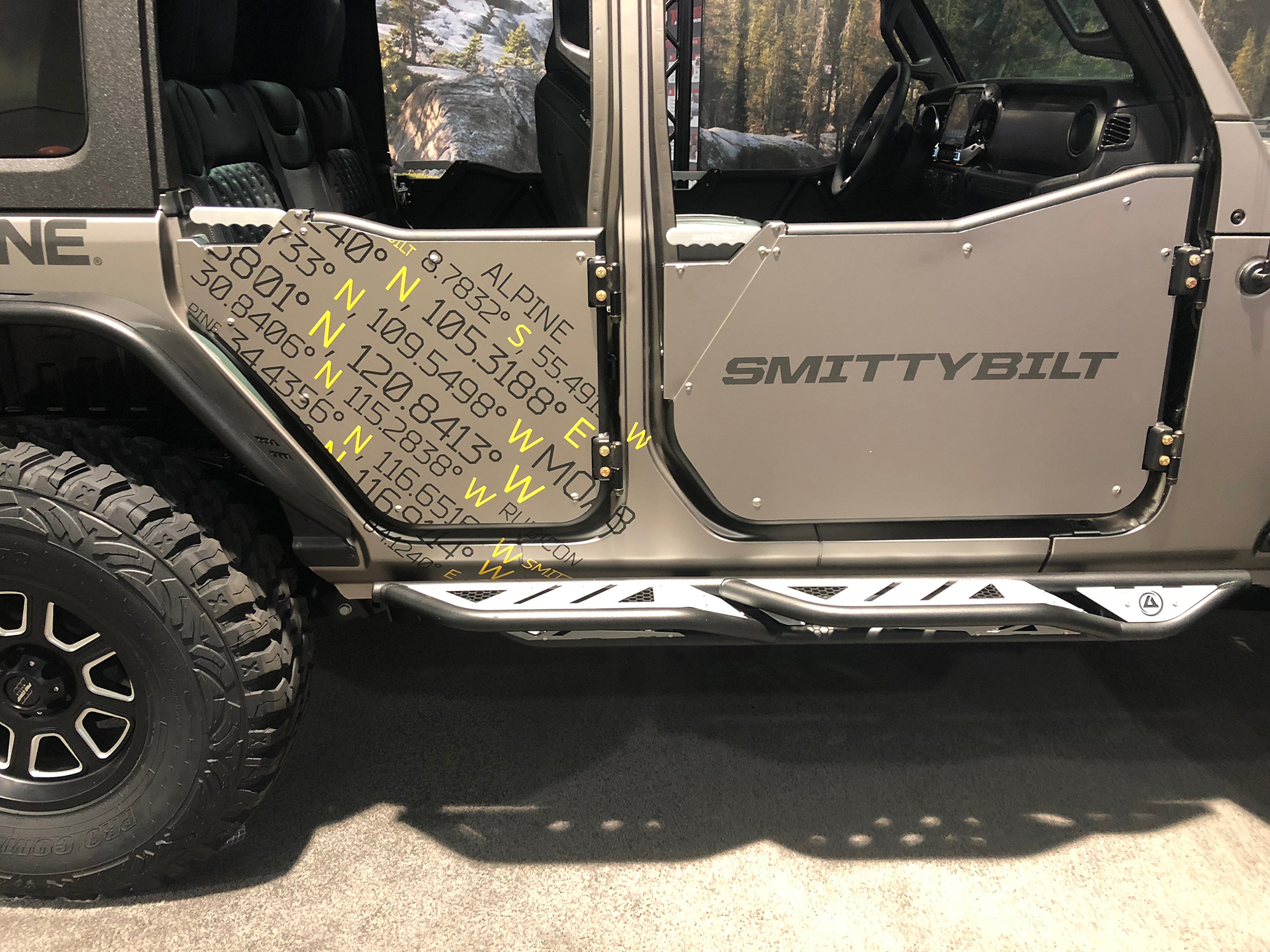 Smittybilt Apollo Side Steps
When strong tubular side bar protection meets versatile side steps, you get the new Smittybilt Apollo Side Steps. Smittybilt has taken their popular heavy-duty steel tubular side bars and added a removable section of sheet metal to help enhance the look, versatility and customization. Plus, the steps run wheel well to wheel well for maximum protection, while a dual girder system protects both the side and under section.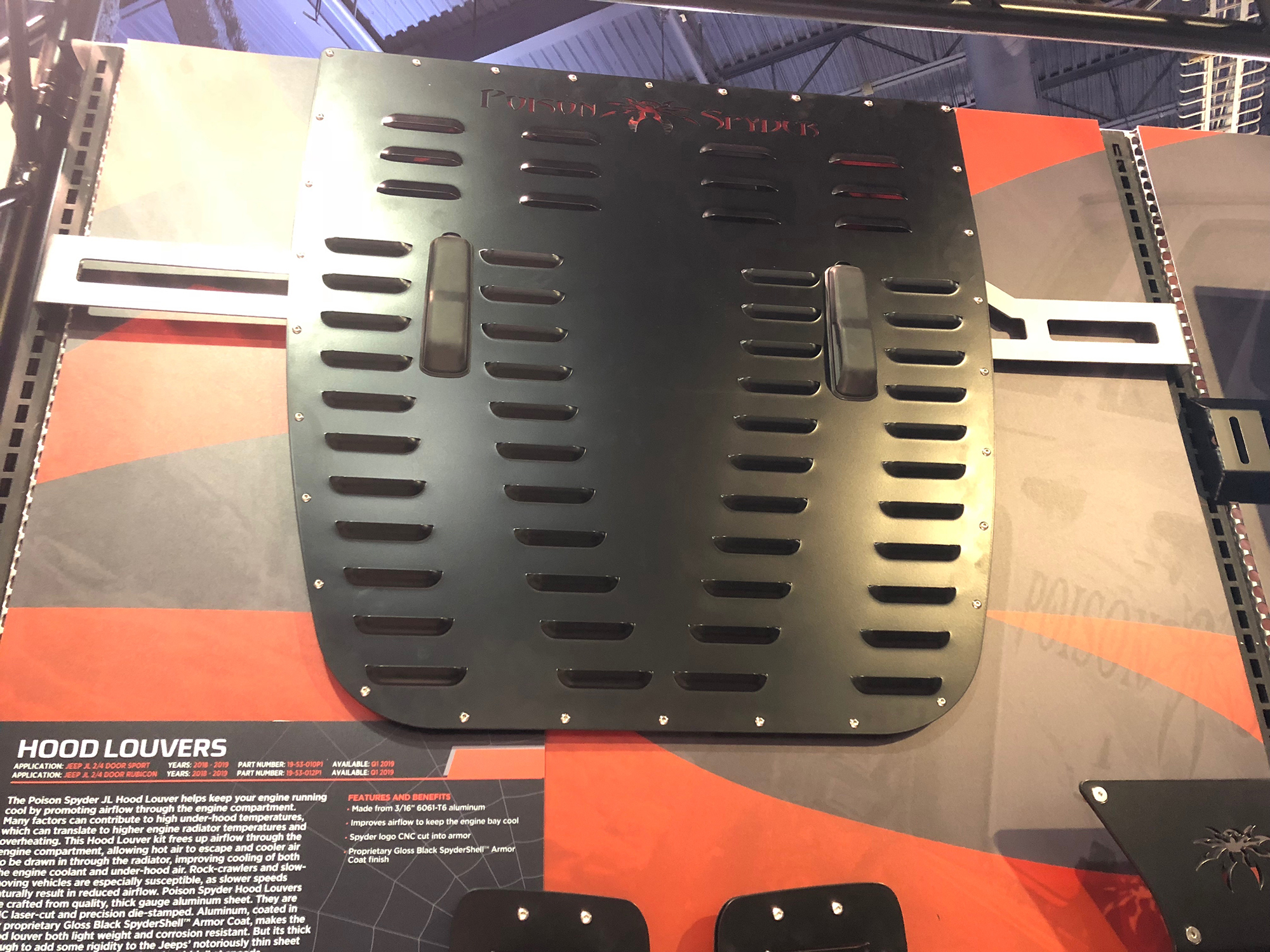 Poison Spyder Hood Louvers
It is not just looks that make these louvers stand out, although adding them into the hood of your JL Wrangler certainly does give the vehicle a rugged look. But it is the performance that stands out. Poison Spyder Hood Louvers are custom engineered to dramatically increase airflow through the engine compartment — helping those who off-road at slower speed maintain a cooler engine. These things are not just hunks of metal either. Poison Spyder utilizes 3/16" 6016-T6 high grade aluminum to make their louvers lightweight and corrosion resistant, while also helping add some rigidity to your vehicle's hood.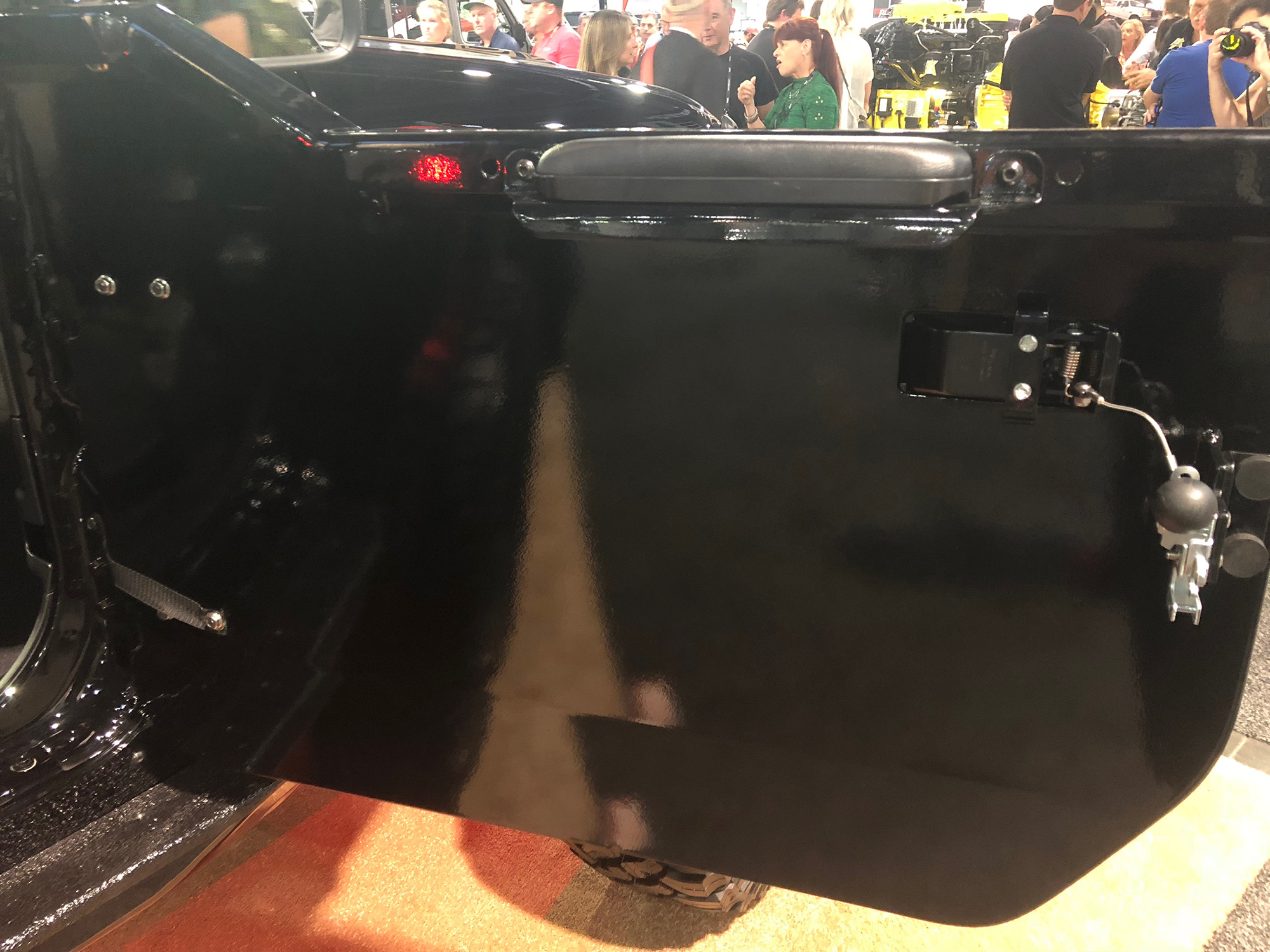 JCR JL Half Doors
Available in early 2019 for two and four door JLs, engineered to follow the contours of the vehicle and use a TJ-style door latch that makes a satisfying secure closing note, while offering rubber bumpers inside to preventing rattle while in motion. These doors also have different mirror options to connect after the factory ones are removed in order to stay legal. They even give you a nice rubber elbow pad so you can rest your arm on those longer journeys.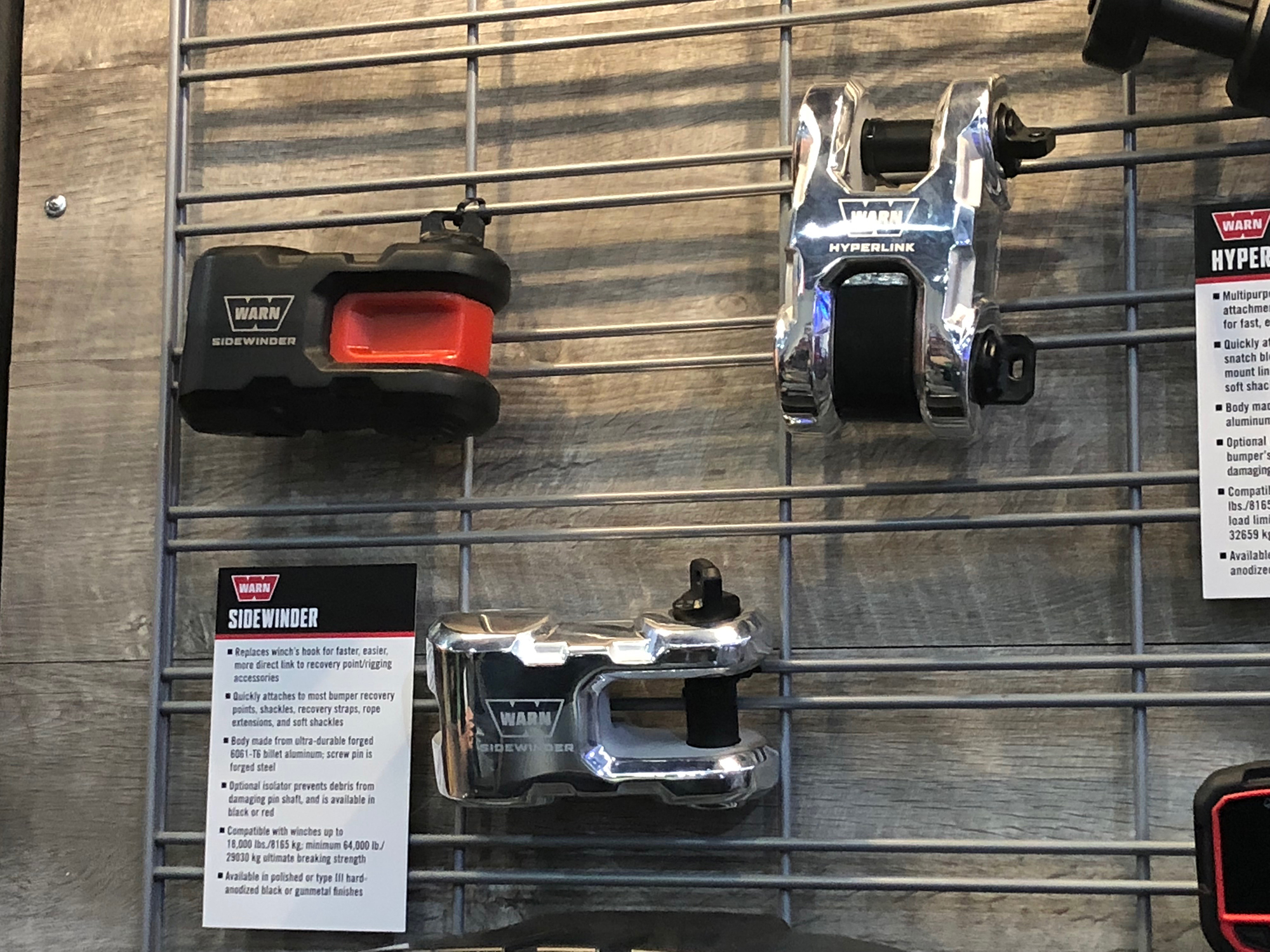 Warn Sidewinder and Hyperlink
The Hyperlink is a multi-purpose 6061-T6 billet aluminum dual-pin shackle that allows for direct attachment to other recovery accessories, making for faster and easier rigging. It is compatible with winches up to 18,000 lbs, and has a minimum 72,000 lb breaking strength. This guy can work with nearly anything such as hooks, straps, snatch blocks, rope extensions, shackle mount links and thimbles, as well as soft and standard shackles. It will be available in polished, anodized black or gunmetal finishes.
Meanwhile, Warn's Sidewinder is also engineered with 6061-T6 billet aluminum and constructed to replace your winch hook and shackle. It provides a faster, easier and more direct link to recovery points and rigging accessories. This piece will attach to most bumper recovery points, D-ring shackles, straps, extensions and soft shackles, and is compatible for winches up to 18,000 lbs while having a 64,000 lb breaking strength. You can even get an optional polyurethane isolator which will prevent debris from damaging the pin shaft.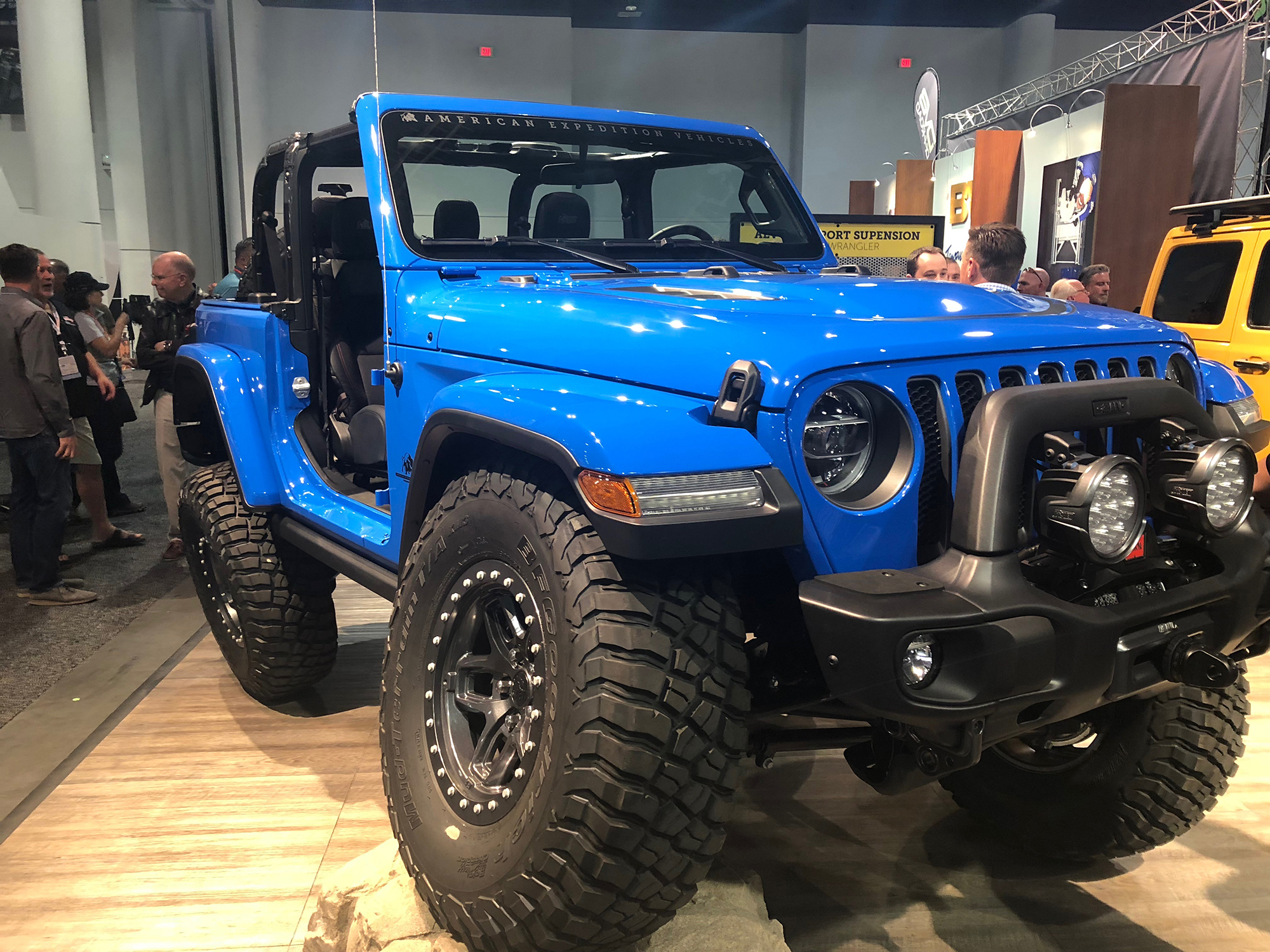 AEV JL Bumper
The guys over at AEV have always been known for their innovation and creativity. Heck, with their Jeep Brute Truck package, they were Jeep Truck before there was a Jeep truck. And their new JL bumper is no exception to that innovation. Constructed from high strength Boron steel, AEV was able to thin out the bumper's walls and actually reduce weight by 20 pounds. They've also included interchangeable end caps to allow customization from stubby to full size, and these caps can also compliment which flares you have - from regular to highline rubicon. Its stamped aluminum hoop is hollow on the backside to allow wiring to more easily attach, and auxiliary lighting can be hung from the hoop instead of the bottom, to give you improved visibility. AEV has also engineered its bumper also accommodates all versions of the factory fog lights to make mounting simple and easy. Finally, the bumper sits about 2" higher than previous versions in order to help those off-road drivers who like a better approach angle.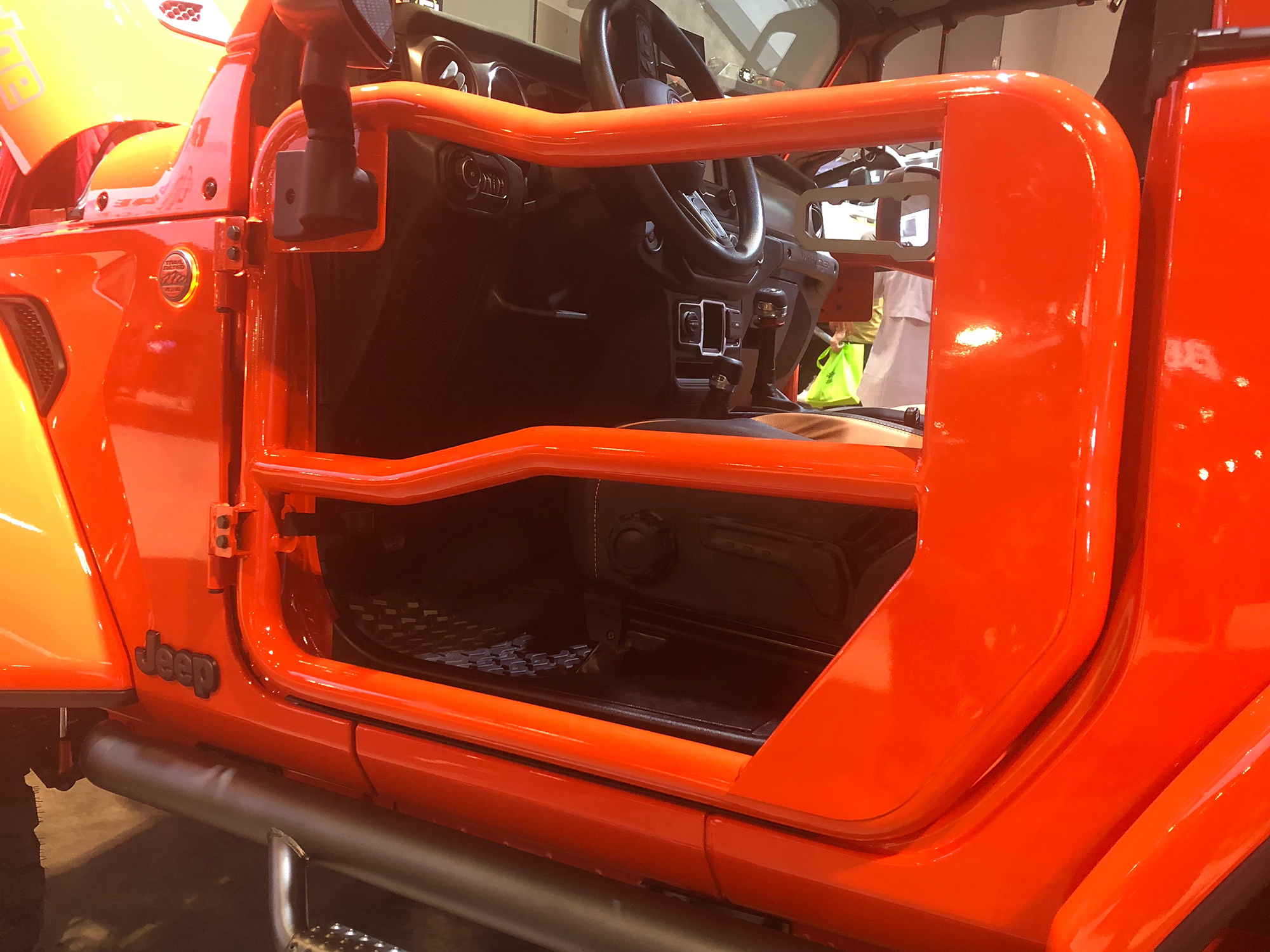 Rugged Ridge JL Tubular Doors
When nice weather hits, it seems like everyone is pulling stuff off their Jeep in order to open up the cabin. Right? Well, while taking off your Jeep's hard doors may seem like a good idea, many people get a bit uncomfortable without anything there to protect. That's why tubular doors have been an extremely popular product over the years, and Rugged Ridge definitely is among the best. And for the JL, they have made their doors even better. Rugged Ridge utilizes 50mm OD steel tubing which means these doors will stand up to anything the trails throw at you, while still allowing you to see better out the door when rock crawling. Plus, those thick bars give you a sense of security when driving and the well-engineered door pull handles are simple to operate, and can open or shut with one finger. Also included are door mirrors to make sure you stay road legal when swapping to these doors.
While nearly everything new on display was set up for the JL, we did manage to find some high-profile products for the JK, as well as some universal vehicle items.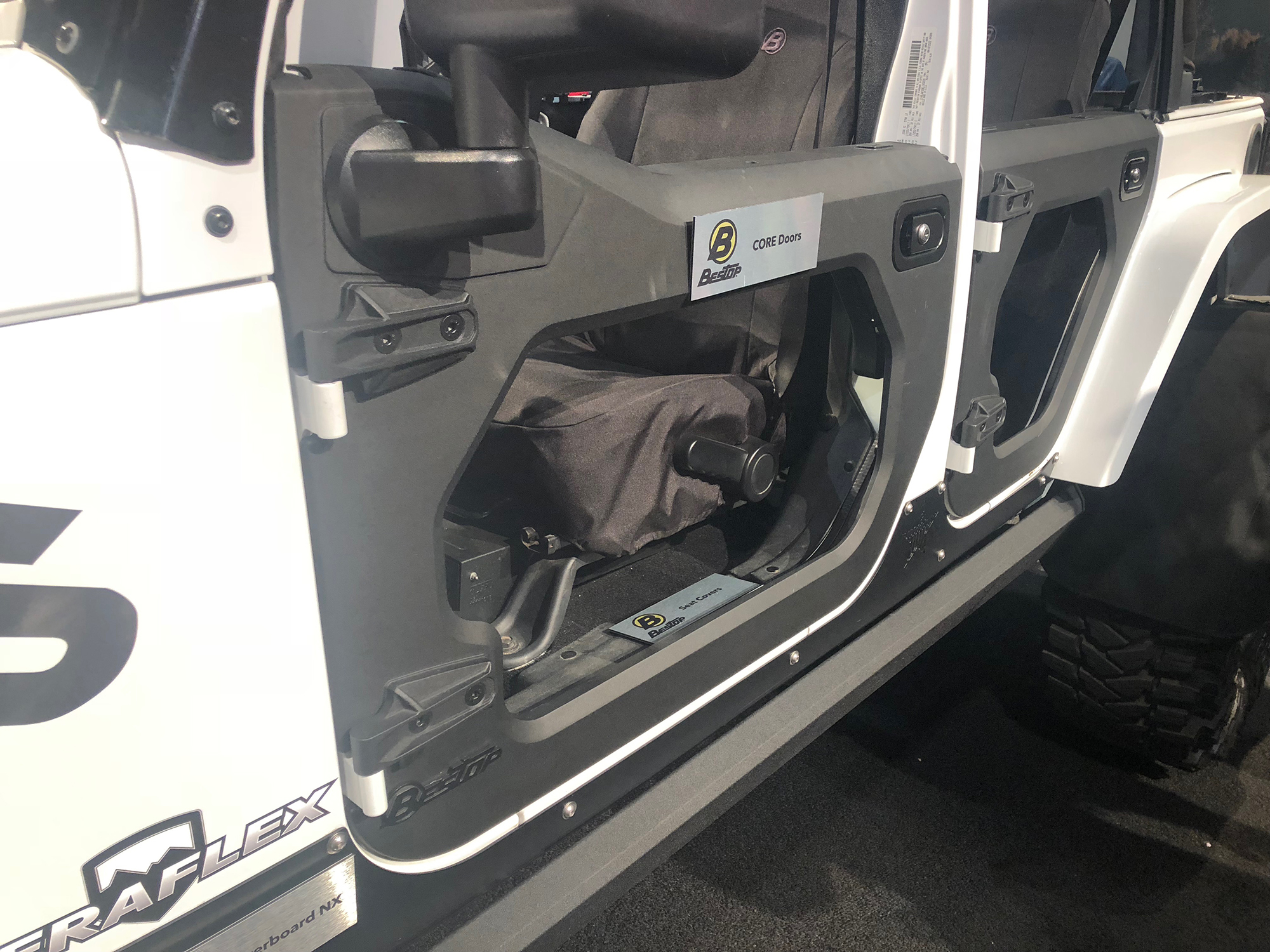 Bestop JK CORE Doors and Ultimate Top
You may remember those Mopar 'donut' half doors during last November's JL Wrangler release and there was a lot of interest in those doors. But Mopar decided not to roll those out. However, Bestop will have some half doors with that type of opening sometime later this coming spring. Their plan is to bring them out for the JK first, then possibly for the JL later in the year. Constructed with cast aluminum, Bestop engineered these doors strictly with an eye for OEM fit and finish, and they come complete with mounting holes to securely attach upper doors. They also include removable, fully-gasketed center panels that can pop in and twist lock to stay in place, are are completely waterproof. As far as opening and closing, Bestop has designed two different ways – either with a pull handle or interior forward release. Doors are also set up to accept JK, TJ or YJ mirrors.
Bestop also showed off their 'Ultimate' Soft Top for JK, which essentially is as close to a JL top as JK owners can currently get. This top still offers the front Sunrider foldable feature, but thanks to lift assist and gas-assist struts, it gives you a larger opening that the factory version. Plus, the windows no longer have a full zipper set up and instead use a similar track system as the JL to slide off and on. The side windows still zipper to the rear window, but it is a smaller connection and can be quickly detached for simple operation. Plus, once those windows are off, you can operate the top deck in 'bikini' mode if you want – just like the JL. Or, you can undo the release mechanism and let guide rails fully recline the top without having to tug it down into position. Simple and easy. Then, when you are ready to put the top back up, just push a bit on the hardware and those guide rails help slide the top back up into bikini position.
Bestop said it expects to have the CORE doors on the market in late Spring 2019, while a release date for the Ultimate top is still being determined.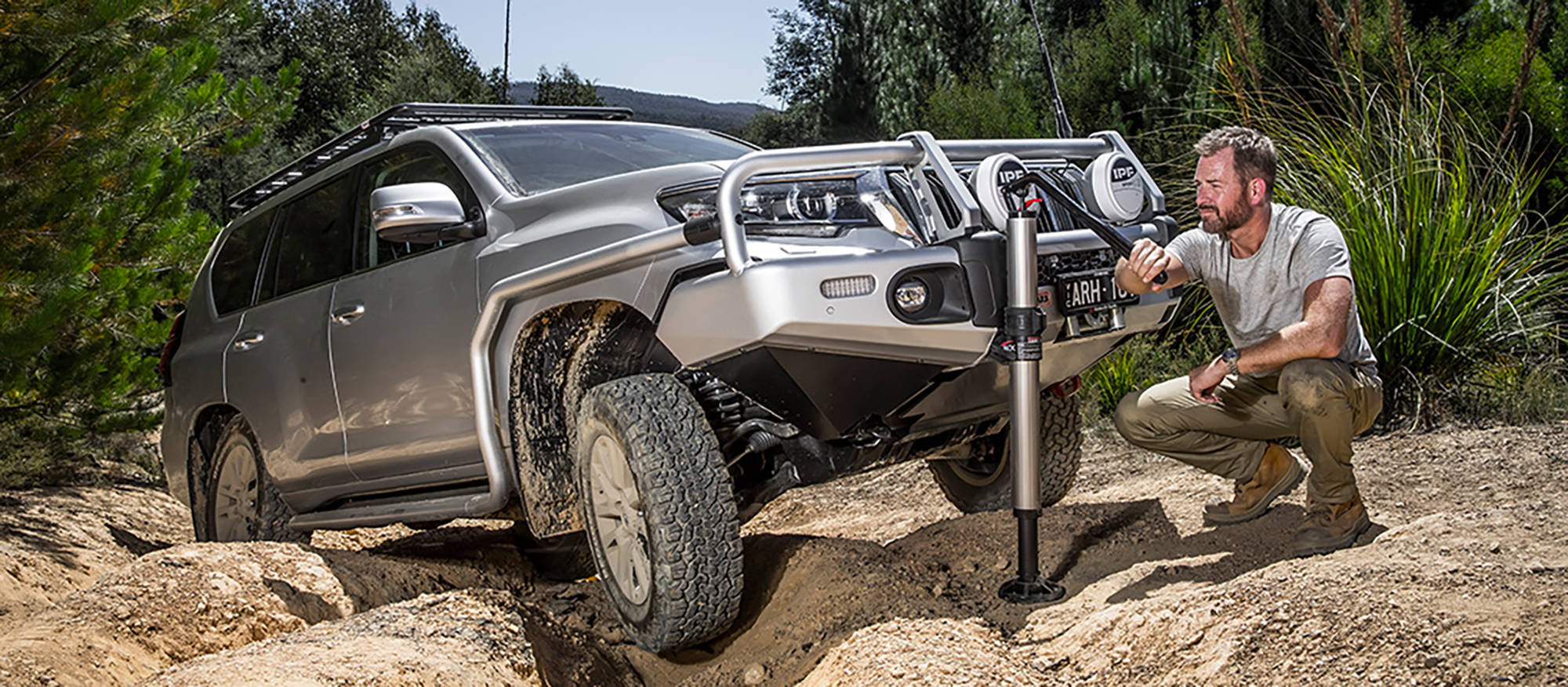 ARB Jack
This easy-to-use application takes the old school farm style jack to a whole new level, with something super lightweight and easy to carry. It also offers an extra wide base designed to keep the Jack stable in most situations. Plus it is adjustable up to a full 48" of length. ARB 's Jack is hydraulically operated and is simple to lift up or release down with the push of a lever as there is no mechanical stopping point. In fact, you can even operate the thing with one finger, meaning you can save all that energy for the actual repair job. You definitely pay more for this ease of operation, but if you are an overlander, or someone who spends a lot of time off-pavement where things can go wrong in a second, then it will quickly pay for itself.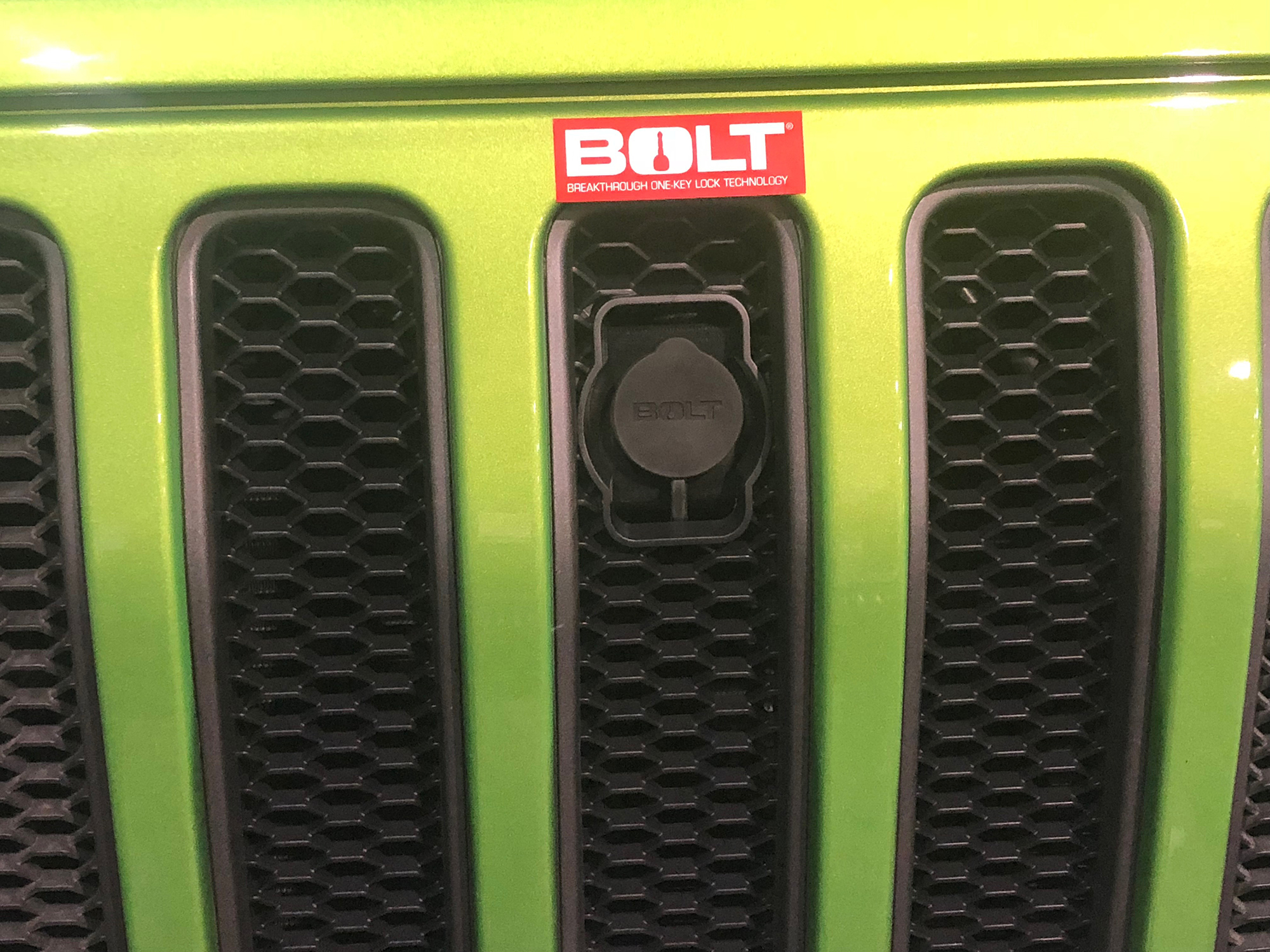 Bolt JL Hood Lock
We've long recommended Bolt Hood Locks to anyone as a great way to secure your hood, and protect whatever valuable modifications you have under that metal. It is no secret that Jeep hood catches are a quick release and someone who wants your Jeep battery, or perhaps that new intake you've installed, can have the hood up and parts out in seconds. Well, an easy to install and use hood lock is one of the best theft deterrents around. Bolt's JL Hood Lock even includes a matching mesh design to fully integrate with your front JL grille. And like all Bolt locking products, it is designed to exclusively work with your ignition key, so no fumbling around to find that hood lock key. Simply insert your factory key into the lock after installation, and it will automatically sync up to your key.
For other top products we saw during our days at SEMA, check out our Top Products video on our official YouTube channel.
Besides convention centers full of Jeep products, there were also the builds - some from vendors, some from others - which were everywhere. While we weren't able to see everything that was out there, here are some that really caught our eye: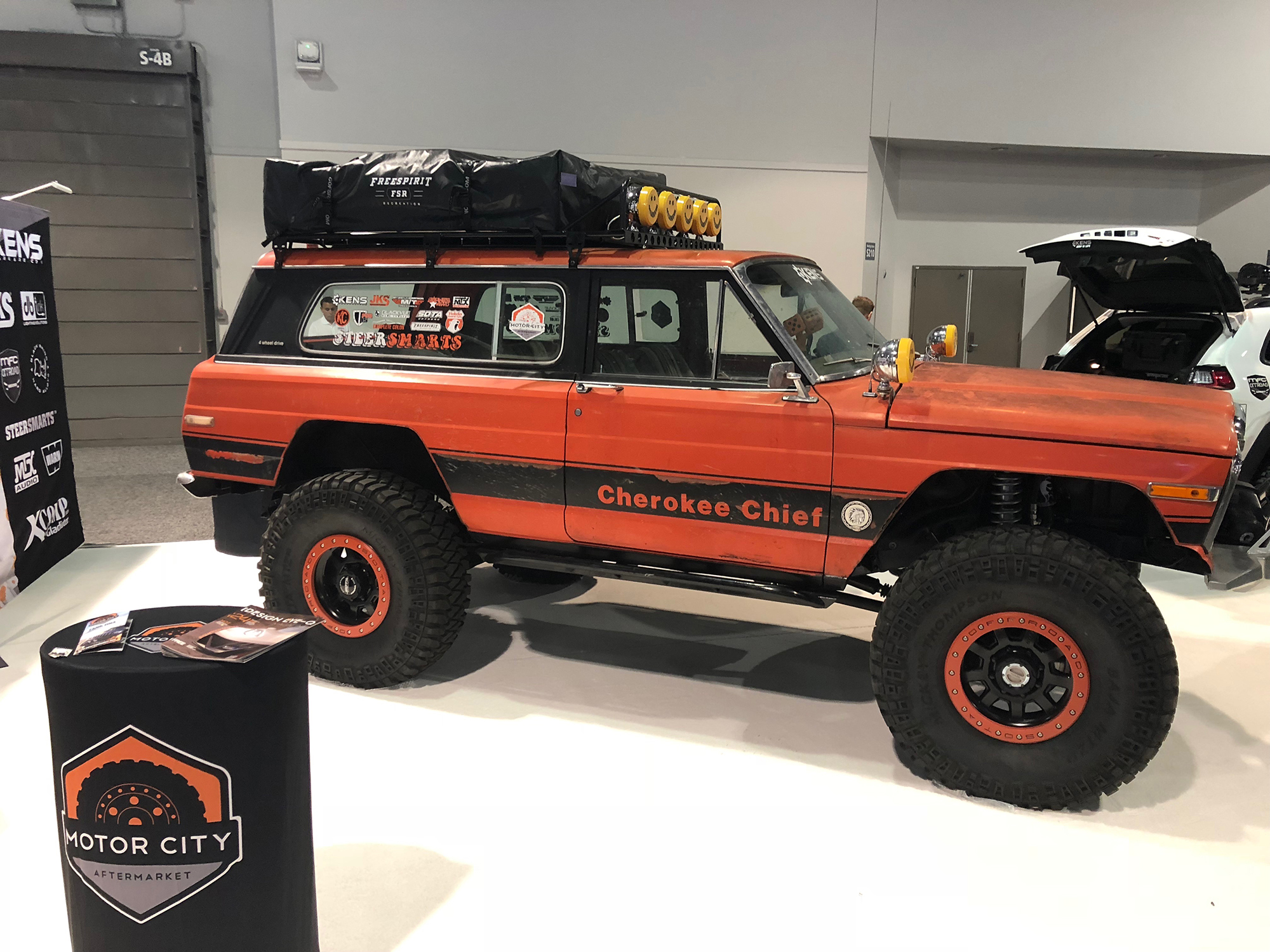 Ken's Cherokee Chief
Not every vehicle build inside the Las Vegas Convention Center's halls was one of the new JLs. It may seem that way from all the pictures, but here is one that instantly demanded attention. Camped out in the Motor City Aftermarket booth, this guy was all beauty and all class. Call it a 1979 Cherokee Chief, it had been sitting around silently for around 15 years before Ken Farley Jr., owner of Kens Kar Kare in Fowler, Michigan, gave it a new home. What followed was some body work, a 6.0 LS under the hood, Dodge Dana 60 front and 14 bolt rear axles, 5.13 gearing with lockers, 40" Mickey Thompson MTZ tires and a few other parts — including a Steer Smarts steering system, JCR Mauler front bumper and ARB air compressor. But despite all those new components, this Chief saw its exterior badging remain original, as well as much of its interior. The thing even has the factory CB still connected inside the glove box. It originally debuted earlier this year on the trails of Moab, Utah, and Farley Jr. said it will remain a daily driver and family camper. Oh, and he has no plans to wash the thing either.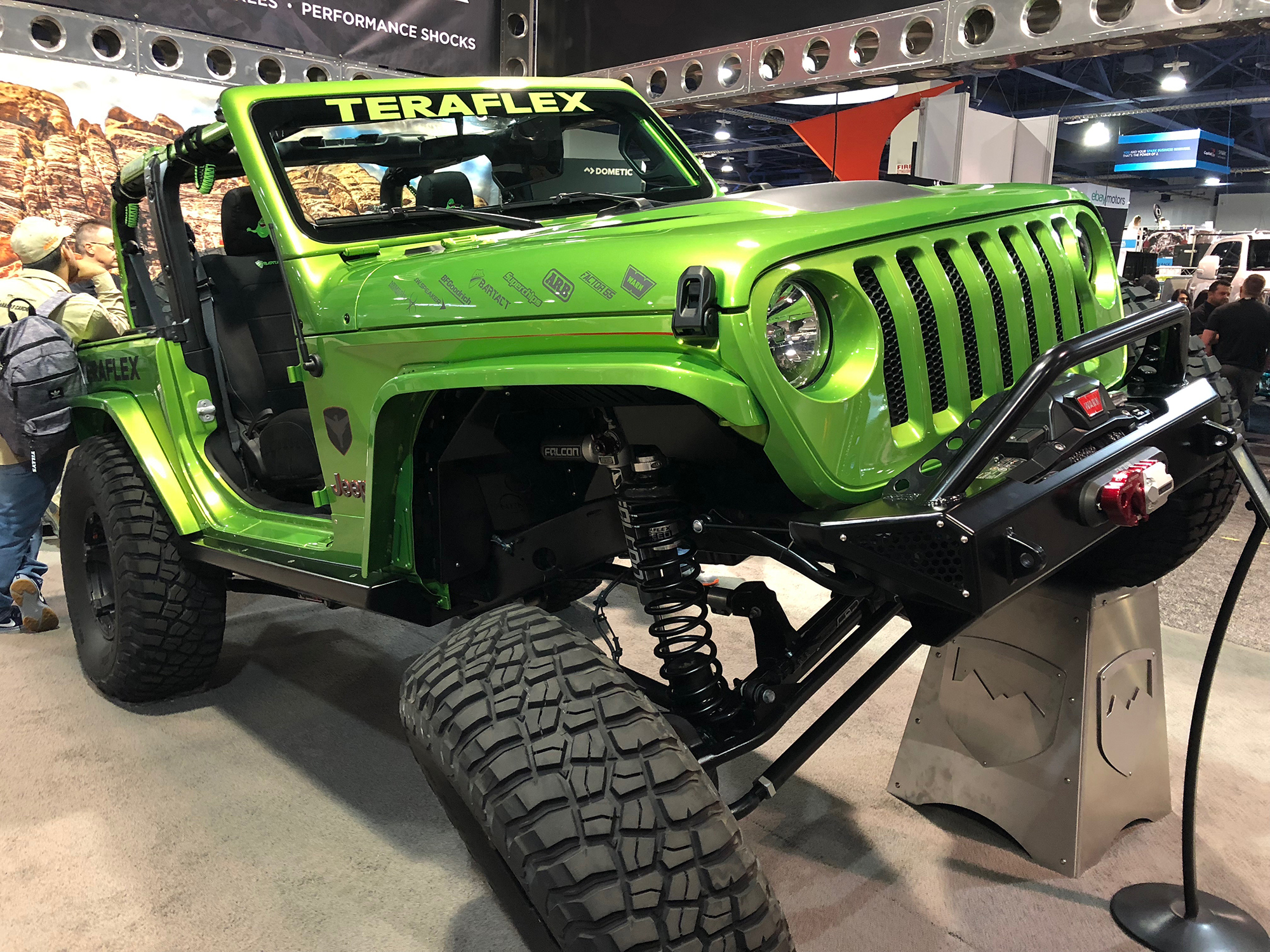 Teraflex Slimer
This Mojito-green two door stunner with a 2.0L turbo isn't really that understated, but then again neither are all the components Teraflex has installed on the ride. First off, their new black Nomad wheels perfectly compliment the JLs body color, while newly released Tera60 axles (front and rear) ensure it can take on the toughest of trails. Then, there is Teraflex's 3.5" Alpine CT3 long arm suspension system — complete with their new IR (independent rotation) control arms and super popular Falcon Shocks — to provide exceptional ground clearance and ride quality. Add in a Warn Zenon winch, Factor 55 fairlead and UltraHook, plus color-matched Bartact seat covers, and you have a beautiful, highly-capable, rig. It just can't, you know, go through walls or anything like that film ghost.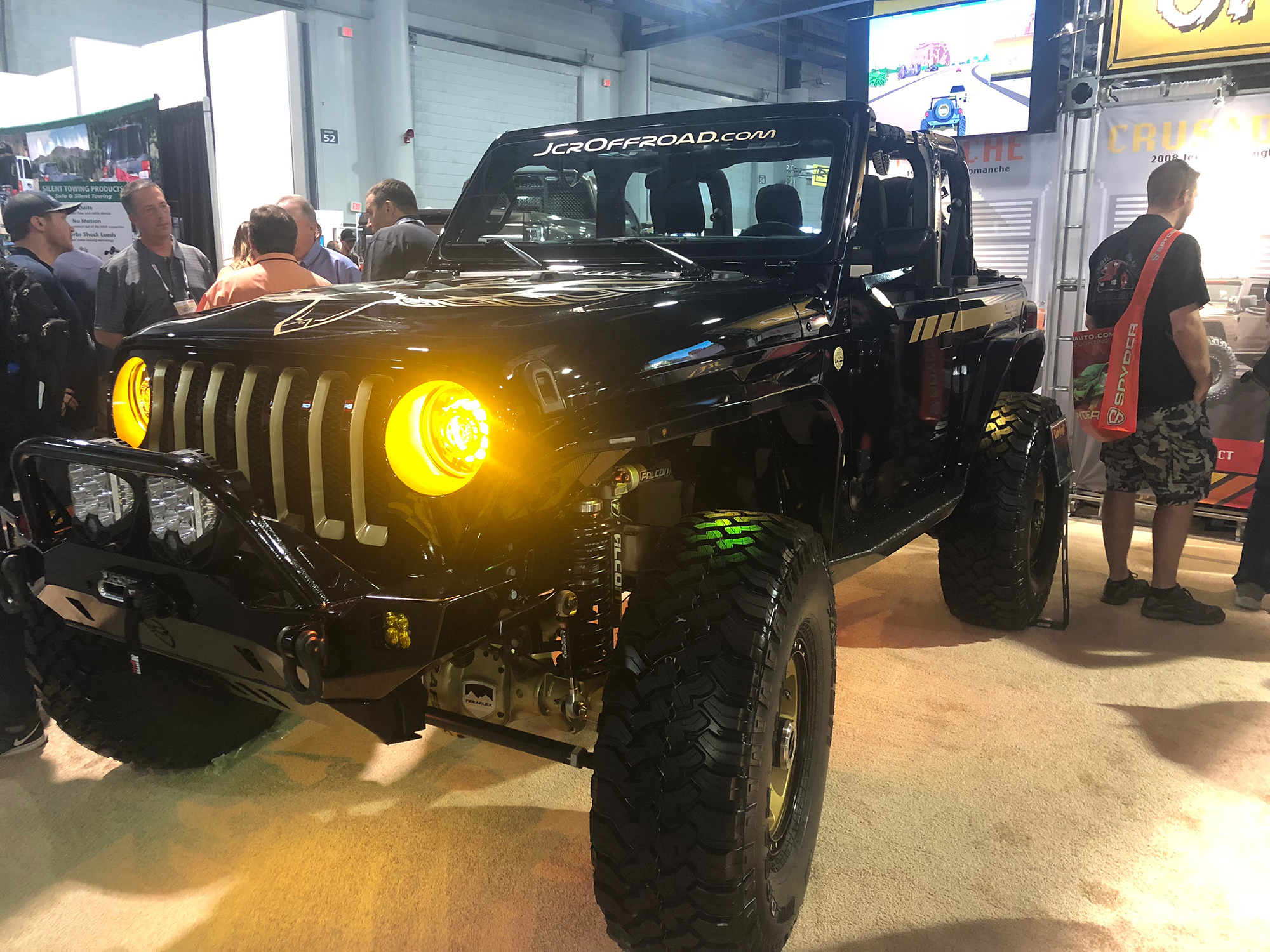 JCR Bandit
One of two 'tribute' vehicles we came across this year and this one is a two-door show stopper. Admittedly, we knew all about it before the SEMA show started and followed its build progress across JCR's social media, and we couldn't wait to see the finished product in person. Cloaked in black and gold, it has the perfect cues to honor Burt Reynolds from 'Smokey and the Bandit', while also showing off JCR's latest JL products like its front and rear Crusader bumpers, Crusader sliders, steel fenders and even a set of JL half doors that should be along sometime in 2019. We know Burt was partial to that Pontiac Firebird, but we'd like to think he would eagerly pilot this guy as well.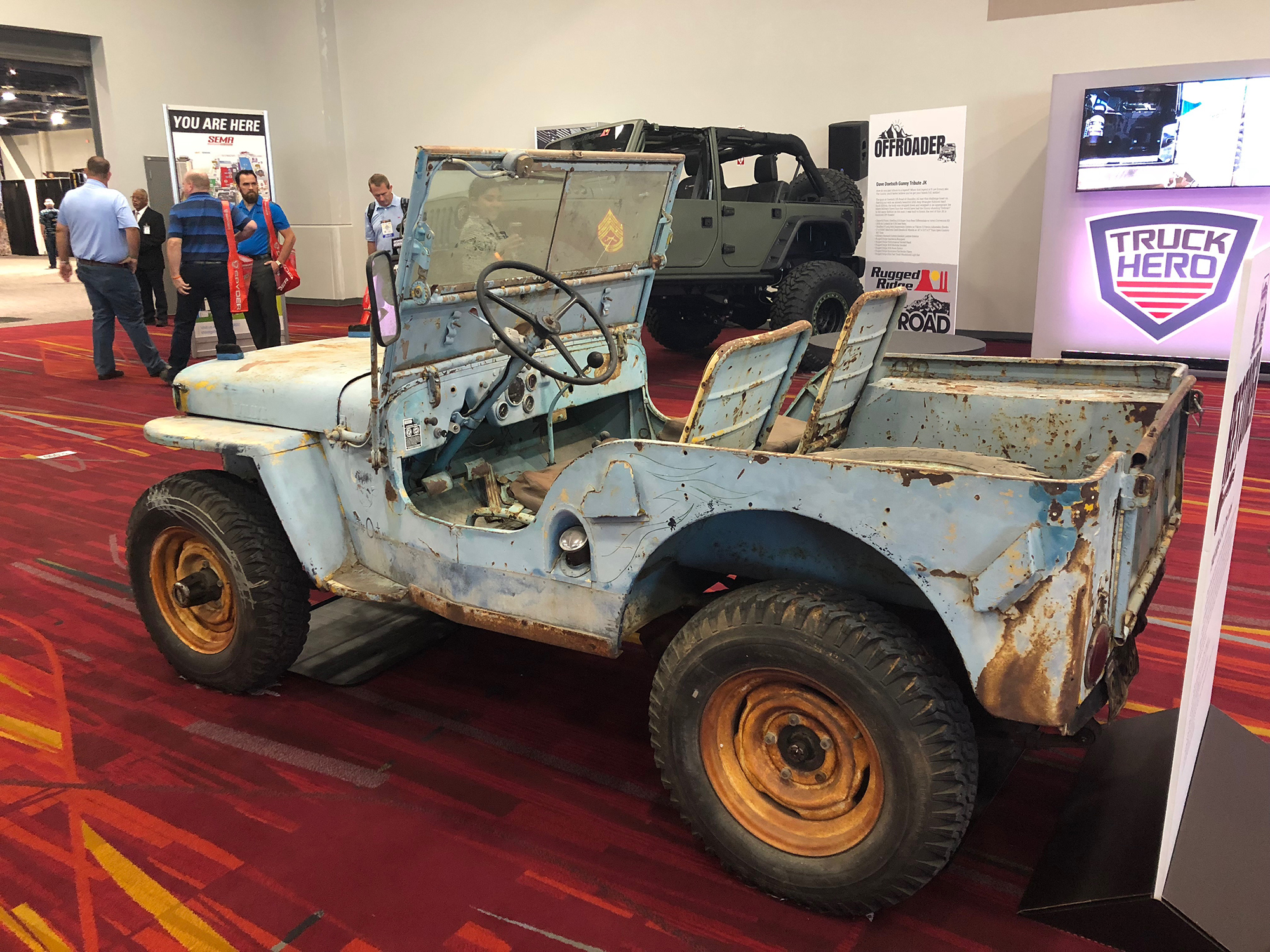 Omix-ADA 'The Outlaw'
This 1946 Willys CJ-2A is part of Omix's 'Restorer' series, and even though it was surrounded by far nicer-outfitted Jeeps in the Omix Off-Road Success Center, it certainly seemed to catch the most eyes. Jeep Jamboree USA founder Mark A. Smith sold it to Omix-ADA years ago, and the original hand-painted Outlaw logo and winking bull still exist on its front side panel. The Outlaw also still contains its original Go Devil straight-4 engine, T-90 manual transmission and Spicer transfer case. According to Omix, the vehicle was last driven in 1963 but did recently start. Omix plans to restore half of the vehicle with replacement parts, and leave the other half in its current condition.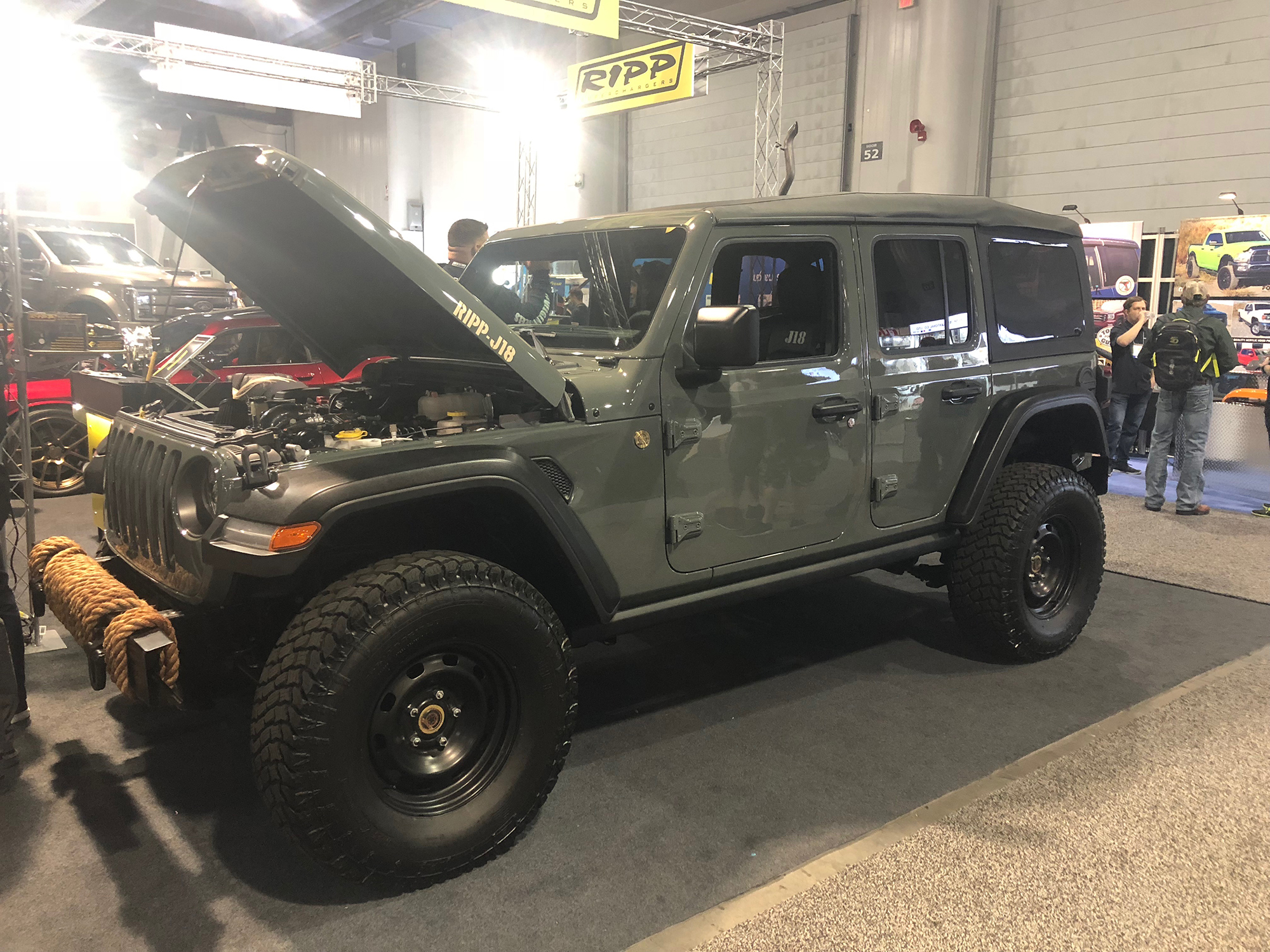 Greg Henderson's RIPP-J18
You could say, after a quick glance at this vehicle, that it is a neat-looking, but unremarkable JL. And you'd be wrong. Way wrong. Look a bit closer and you'll notice design cues, fabrication work and other accessories that make this Jeep Wrangler into something quite a bit more functional and powerful. In fact, they don't even call it a JL, but a J18 thanks to all the nods and features to the original Jeep J-8. In fact, this J18 even has rear leaf springs. One of the country's premier Jeep project builders Greg Henderson, founder and owner of Unofficial Use Only, put this beauty together in just about a month and included a heavy duty Dana 44 front axle, Dana 60 rear axle, 3/16 stamped steel military wheels, those rear leaf springs, integrated stamped steel hood snorkel, military bumpers — even helicopter lift hooks and D-rings. Plus, under the hood, it shows off RIPP's newest JL supercharger.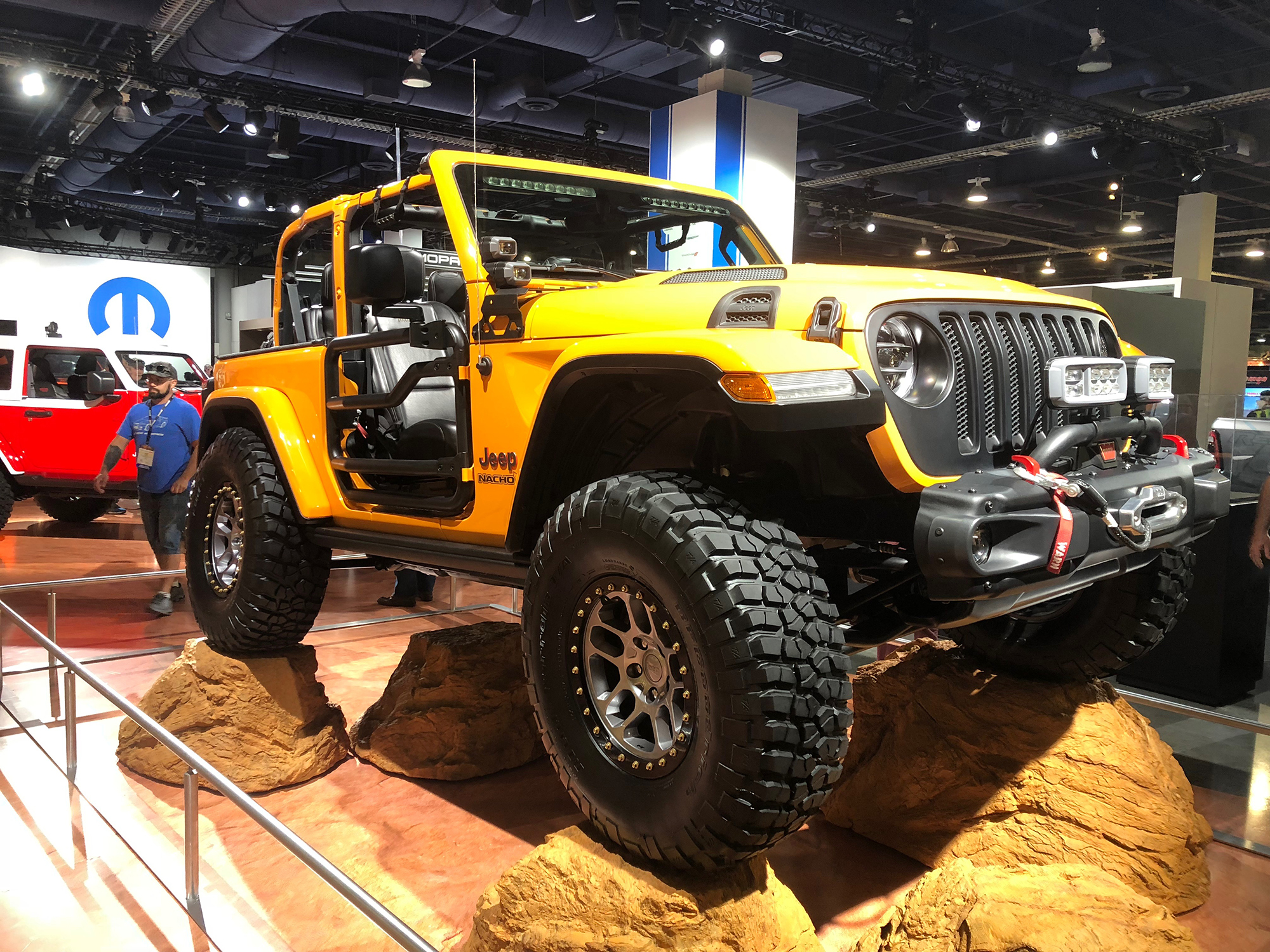 Mopar/Jeep Nacho
First unveiled earlier this year for the Moab Easter Jeep Safari, this Jeep concept vehicle is chock full of Mopar Jeep Performance Products — including their Ultimate Dana 44 AdvanTEK axles that add an extra half-inch of clearance, as well as different gear ratios and superior strength for those who love taking their vehicle off-pavement. Topping it all off is that eye-catching muted orange Nacho color, offset by black in the grill and wheels, which makes this a standout vehicle.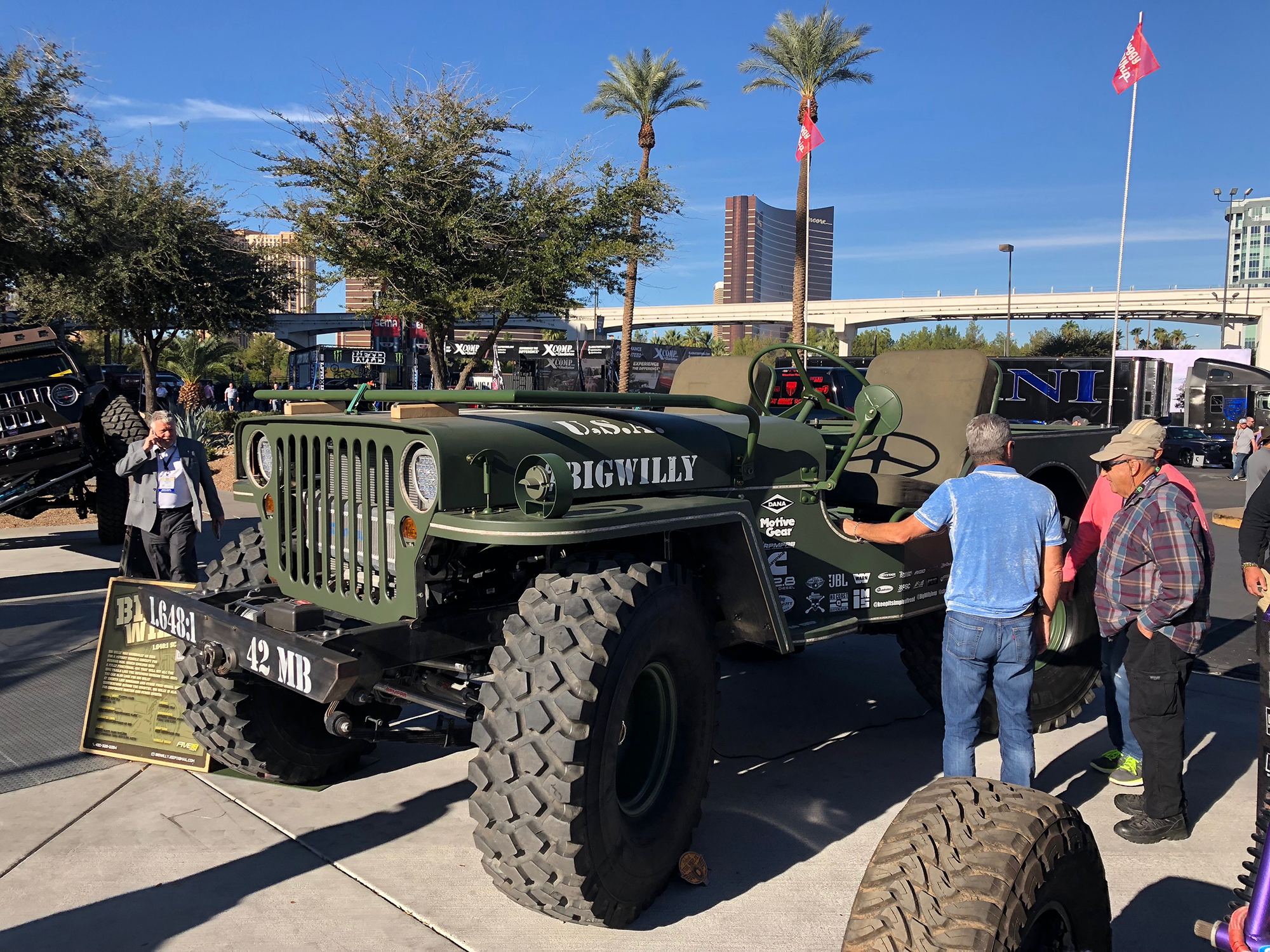 Big Willy
Ian Liljeblad's monster vehicle concept was originally an idea for Burning Man, but has transformed into a fully functional 4x4 vehicle. And, yes, you can drive it. Liljeblad has plans to attend Moab for the Easter Jeep Safari, as well as shows around the country to put this thing through its paces. Big Willy is a 1.648:1 scale 1942 MB Willys that is powered by a Cummins R2.8 engine mated to a 4L60E Zero Gravity transmission. Add in custom-built Dana 60 axles, four wheel steering, 52-inch tires and an NP205 transfer case and you have a gigantic labor of love that won't be afraid of anything.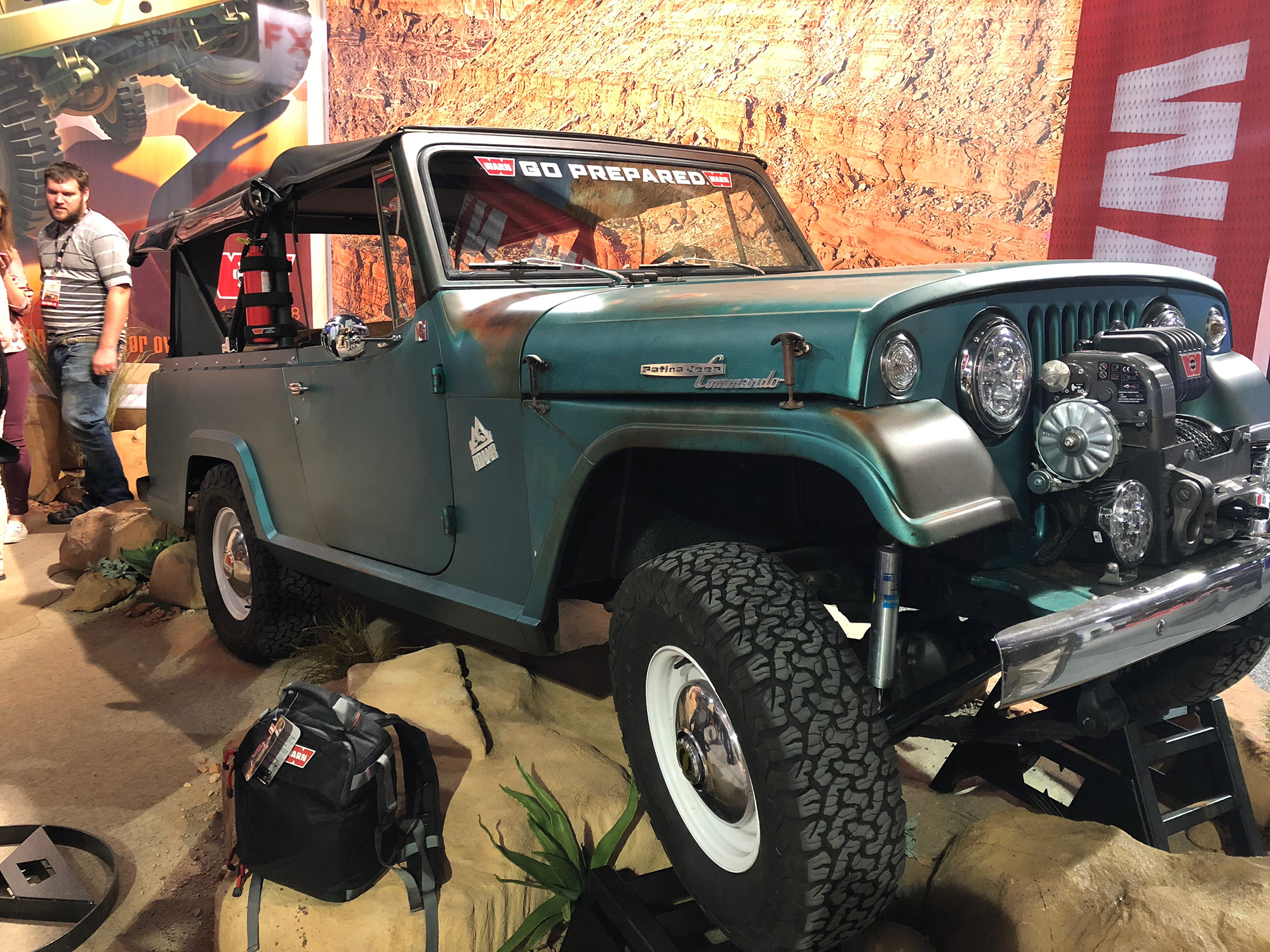 Warn's '69 RoamR Commando
Like we said before, not everything inside vendor booths at the 2018 SEMA show was a heavily modified JL Wrangler. And inside Warn's location we found a classic – RoamR's 1969 Jeep Commando outfitted with numerous Warn products including their limited edition M8274-70 anniversary winch. This wasn't some one-off mod project either. It is entirely an original vehicle with upgrades like Warn's premium hubs, Bilstein shocks, BF Goodrich tires, LED lights and the company's new Sidewinder shackle.
For more top Jeep builds we encountered in our SEMA travels, make sure to check out our YouTube channel.