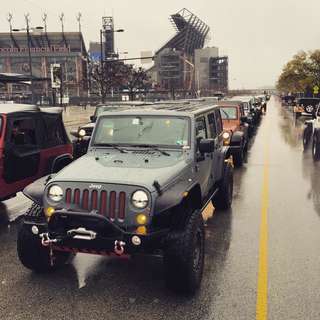 It seemed fitting, really, that rain would sweep down from cloud drenched skies Wednesday afternoon as dozens and dozens of Jeeps made their way up Broad Street in South Philadelphia toward the Xfinity Live Complex.
Good weather is for other vehicles. Not Jeeps.
And there was a mission that needed completion. People who needed help.
So they came, Jeep after Jeep - 129 total - each one carrying all types of canned food destined for donation to Philadelphia radio station 93.3 WMMRs 'Preston&Steve Camp Out For Hunger'.
JKs, YJs, TJs, XJs, WJs, ZJs - all told, the convoy brought over 12,000 pounds of food which all went straight to Philabundance, the region's largest hunger relief organization.
"It was an awesome time and a great turnout despite the rain," said Quadratec Representative Alex Monteith, who brought down over 300 pounds of Quad employee donations. "I thought the response was great for the afternoon drop off and I was certainly proud to be a part of it."
The Camp Out For Hunger, now in its 18th year, has become the nation's largest single-sponsored food drive and brings in hundreds of thousands of tons of food each year for Philabundance.
Last year the event brought in approximately 840,000 pounds.
This year's Jeep Convoy was a fantastic collaboration of several awesome area Jeep Clubs, including WMMRs own on-air personality Paul Jaxon and the Jaxon Jeep Club, as well as 215 Jeep Crew, Wicked Jeeps Philadelphia, the Delaware Jeep Association, and Jeeps for Joy.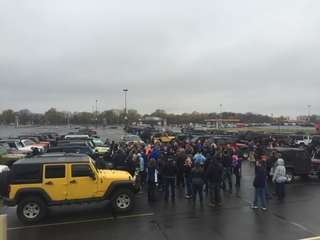 The idea was to challenge a local Porsche club which donated 7,400 pounds of food in a 108-car convoy last year. This year, with an evening drop off time, that same club rounded up 180 cars which carried a total donation of about 17,000 pounds.
"The competition was strong between both the Jeep club and Porsche club," Monteith said. "But it is all for one great cause. Together we had nearly 30,000 pounds of food!"
WMMRs Jaxon agreed in a post on his Facebook page: "The good news is that in our first year we out gunned the Porsche clubs first year by 5k pounds," he posted. "The bad news is, this year, they got us by 5K pounds. Really though...there is no bad news. Together we raised over 14 tons of food!! No losers. Just awesome people helping out the less fortunate."
He continued "I can't begin to tell you how impressed I am with our Jeep community! The fact that most of you had to take the day off of work to come out in the rain makes it even more impressive! Next year we'll work on scheduling an evening drop so everyone can attend. I have no doubt that next year we will absolutely crush these numbers! Huge thanks to 215 JEEP CREW, Wicked Jeeps Philadelphia, Delaware Jeep Association & Jeeps For Joy!! You guys rock!!!"
Following the convoy, Wicked Jeeps put together a raffle featuring several prizes, including grab bars, LED Headlights and a Q9000 winch donated by Quadratec. All convoy drivers received 2 free raffle tickets, while other tickets were sold with proceeds going directly to Philabundance.
Preston&Steve's Camp Out for Hunger continues through 10am EST Friday, December 4th. For anyone who can't drop off canned donations at their site in person (here), you can still visit this page to make a monetary donation.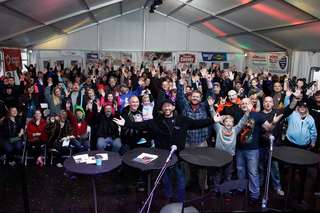 Since 1990, Quadratec's mission has been to deliver Expert Advice and Unbeatable Prices to enthusiasts of the legendary Jeep® CJ, Wrangler, Cherokee and Grand Cherokee vehicles. For more information, or to see our vast selection of Jeep inventory, please visit our website.