Short cold days, long dark nights. Yeah, that's right. Old Man Winter is coming for yet another visit which means, for most, sealing up that Jeep from the elements, perhaps swapping over to a hardtop and stashing all that fun summer stuff into hibernation.
It is a right of passage, really, doing this kind of stuff as the calendar flips over. But just because the temperature is falling doesn't mean your enthusiasm and excitement from ownership should as well. Because there are several products out there to help enhance your winter driving pleasure, while keeping you safe, warm and protected during these tough winter months.
Based off years of recommendations and customer feedback, here are eight top Jeep parts you should check out for the winter season.
-----
FLOOR LINERS: Everyone knows the carpet in your Jeep is helpful for providing some floor insulation and sound deadening. But after a week's worth of tracking winter snow or mud into the vehicle, well, lets just say it can add up to a mess on that carpet.
A set of quality floor liners will help eliminate that problem – especially ones that are rubberized or molded plastic. These types of liners normally have deep grooves to contain mud, slush or water, and tall sides to prevent those things from overflowing into your carpet. Plus, you can easily pull the liners out and clean off when needed.
A simple, yet efficient winter accessory that actually will be good all year long for your vehicle.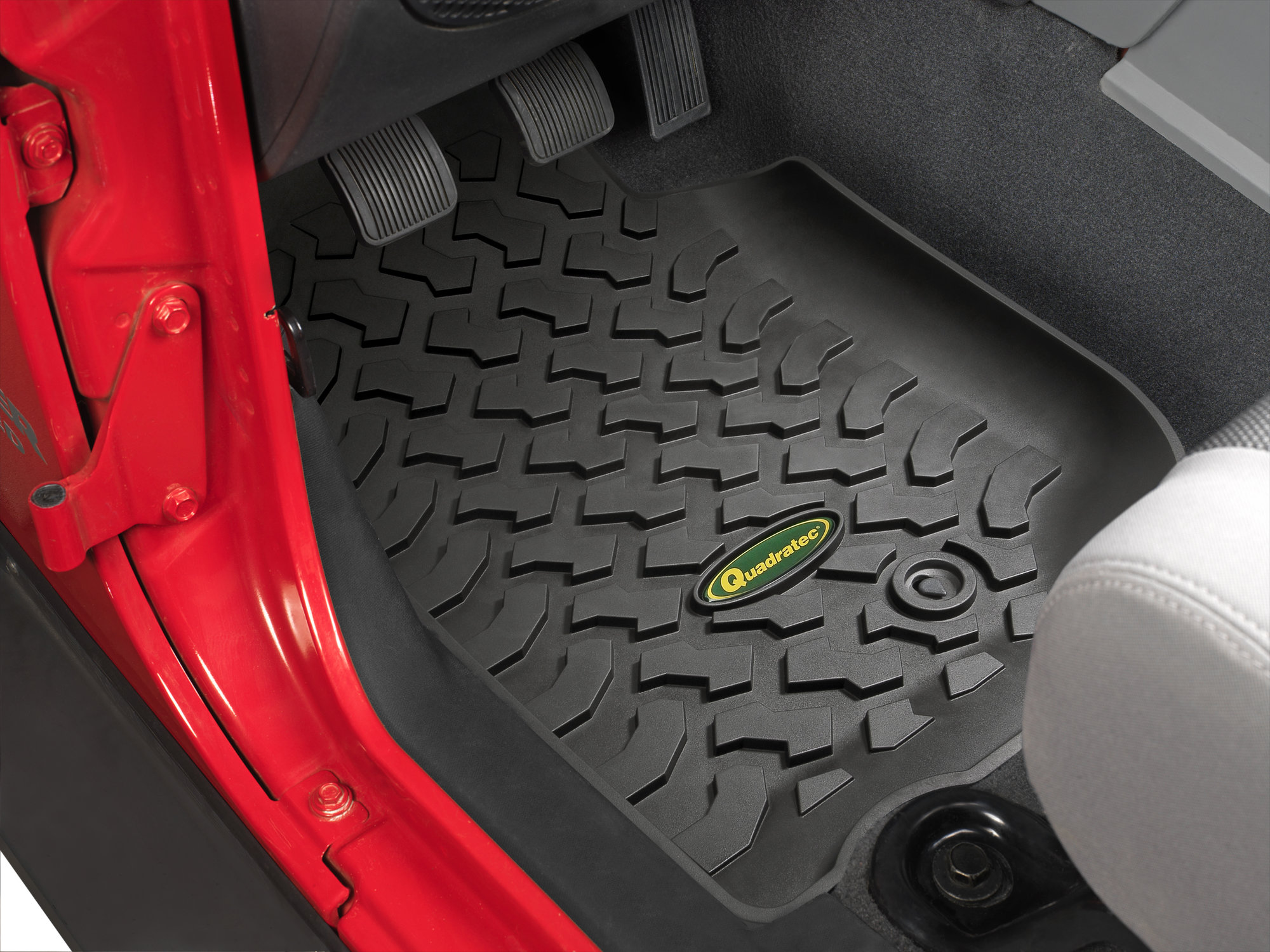 INTERIOR HEATERS: Nothing really beats stepping into a nice, warm vehicle during the freezing cold winter months. And yet, for some, their factory Jeep heater just doesn't cut through the winter chill like it once did. So, to keep that interior just the way you desire, an auxiliary set up such as Rampage's Electric Back Seat Heater/Fan which works alongside your existing system, or Flex-a-lite's Mojave heater which pairs with your engine's current heating architecture, are great products to accomplish that task.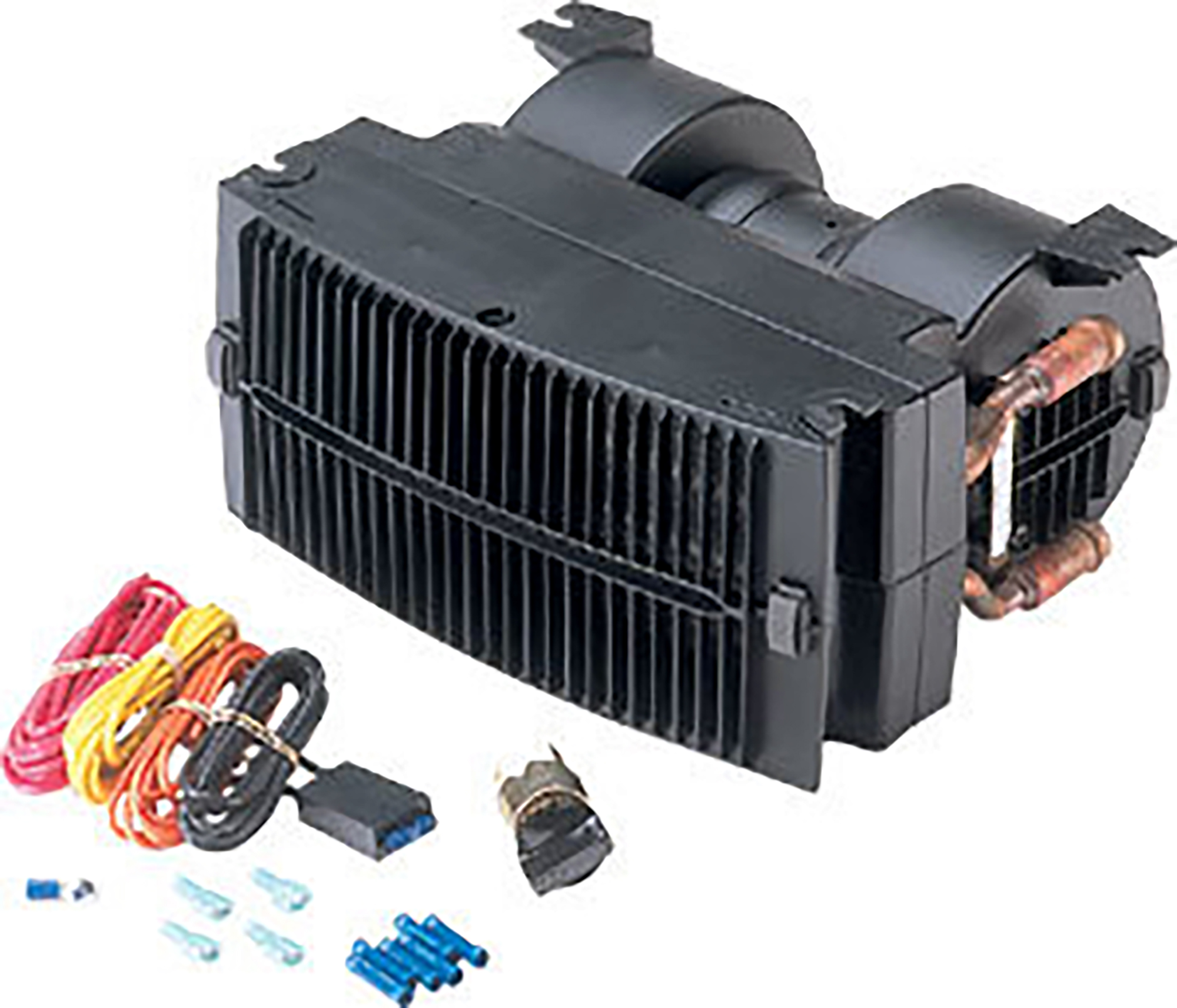 RECOVERY KIT: When you think of winter, thoughts of snow in the air may first come to mind. And where there is snow in the air, there will most likely be snow on the roads as well. But it is not only falling snow that can be dangerous, but ice, too. Even water or slush pooled up from whatever is left behind after snow plows and melting chemicals do their thing, can be dangerous. Not just to you as a driver, but for everyone else on the road.
So packing an inclusive recovery kit can definitely make a difference should the situation arise. Not just for winter, either. This kit can be good all year long – off road as well as on pavement.
These kits usually include D-rings to provide mounting support on a front or rear bumper, heavy duty recovery strap, gloves, winch line dampener should you have a winch and a snatch block to improve winch pulling strength. Pretty much everything you need should a recovery situation arise. You can even add a few extras, like a utility shovel or Element traction ramps to augment your recovery gear.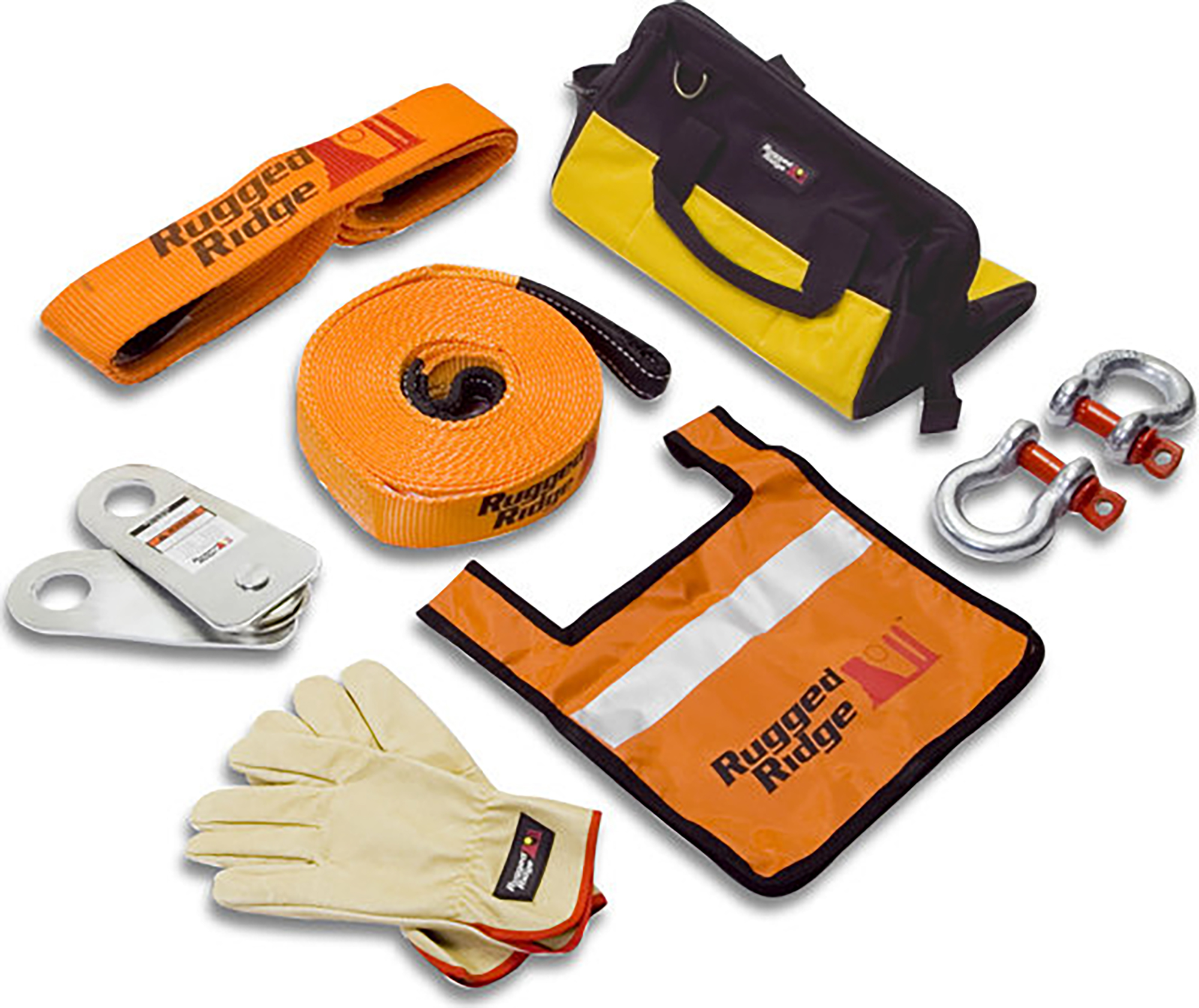 HEATED MIRRORS: During chilly winter months, just about everyone jumps into their Jeep to crank up the heat and defrost a bit before heading out. If anything, it certainly makes scraping the windshield easier. But how many start driving and quickly realize their mirrors are still covered in ice?
A nice set of heated mirrors can eliminate this annoying issue. In fact, most newer JK Wranglers have heated mirrors as an option, along with a power feature, so you know it was a concern at some point that engineers addressed.
If your 2011 or newer Wrangler did not come with a heated mirror, there are factory and aftermarket options available that have the switches and wiring needed for easy installation. Should your Jeep be a bit older, Rugged Ridge makes heated mirror options for 1987-02 YJ and TJ Wranglers that have either an LED lighting option or a traditional look.
So if you are tired of opening up your window and trying to scrape off that ice, these are a perfect addition for this time of year.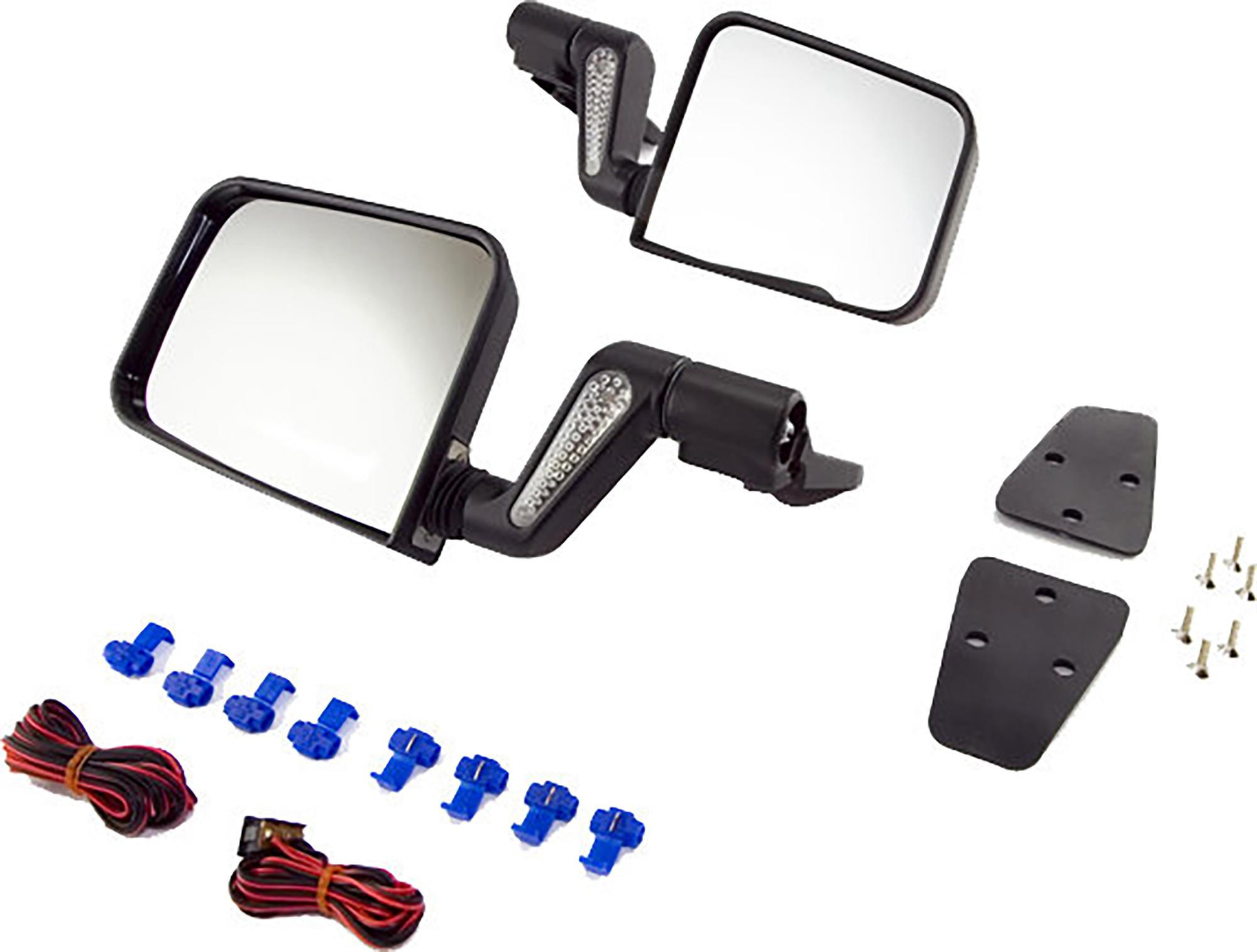 SEAT HEATERS: Let's face it, heating a Jeep with its factory heater can be a slow process that gets the air warm in a hurry, but not much else. However, making the factory seats warm through heating elements are a much faster way to warm you up on freezing days.
Heating elements from Check Corporation fit inside both the driver and passenger seat and feature a peel and stick backing allowing it to firmly lock into place. Plus, the product's plug-and-play wiring connects to existing factory wiring behind the cigarette lighter without any splicing.
.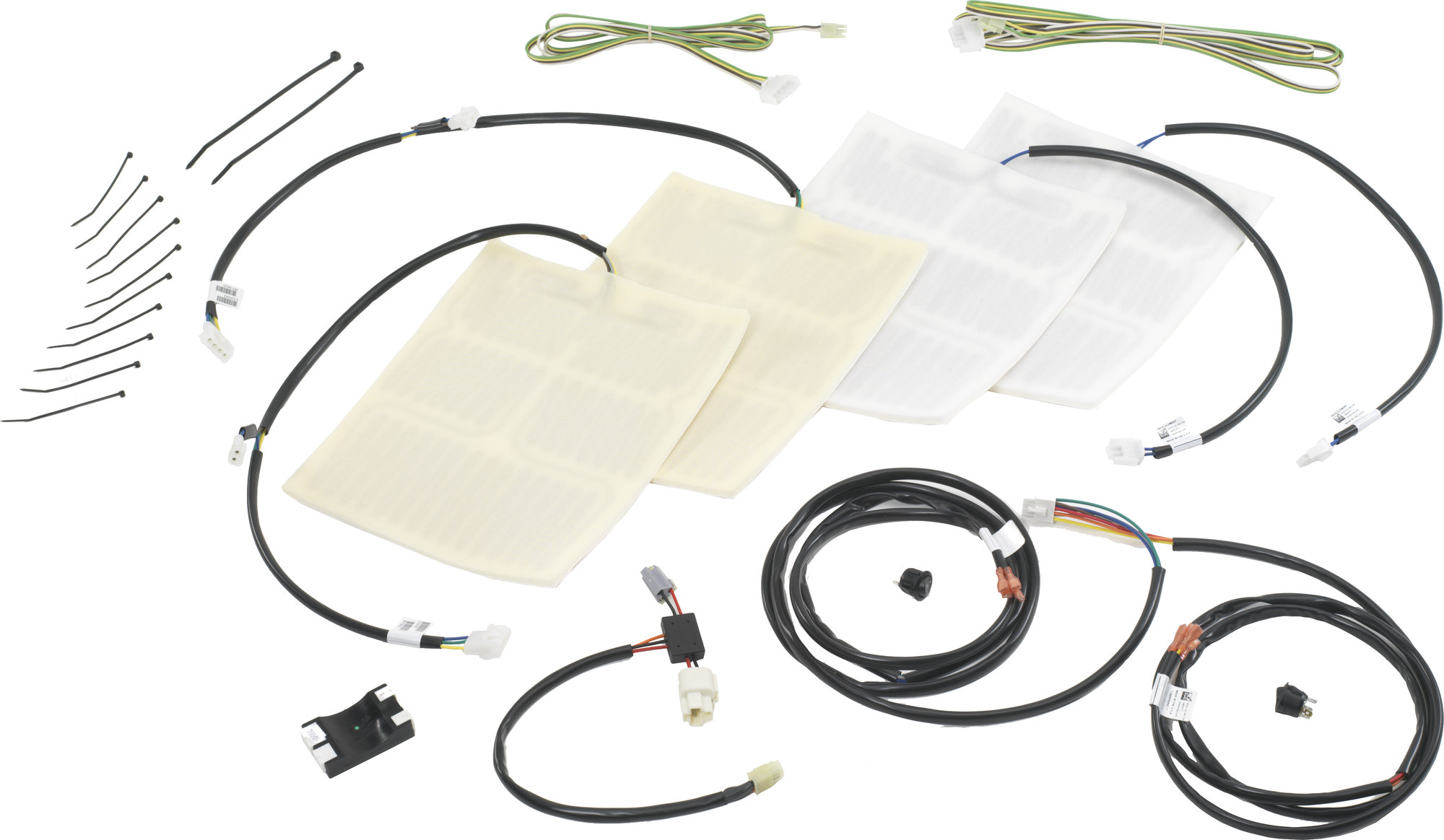 WINTER WIPER BLADES: Traditionally, a Jeep's wiper blades are one product that always tends to get overlooked until there is a wild screeching noise across the windshield when the wipers are activated.
Winter can only make things worse, with heavy snow or slush against the glass that needs to be pushed away. Trico's Winter Wiper Blades are built with a protective rubber boot that helps keep snow and ice off the blade, while using a high grade rubber for superior performance in wet, winter weather.
If you can't remember the last time you've changed over those wiper blades, or want to ensure you have something strong enough for the winter, these things are definitely worth the investment.

REMOTE STARTER: Press a button, turn the engine on. That is the elegant simplicity of having a Remote Starter System on your 2013 or newer Jeep Wrangler. Just press the button on your key fob, turn on that engine and get all that snow and ice defrosted without having to go outside until you are ready to drive off.
This system is factory original and comes with everything needed for installation, including spare key blanks and a wireless control module so you can set the starter to work within 300 feet. The only thing you need to do is visit your local dealership after installation, so they can activate the system.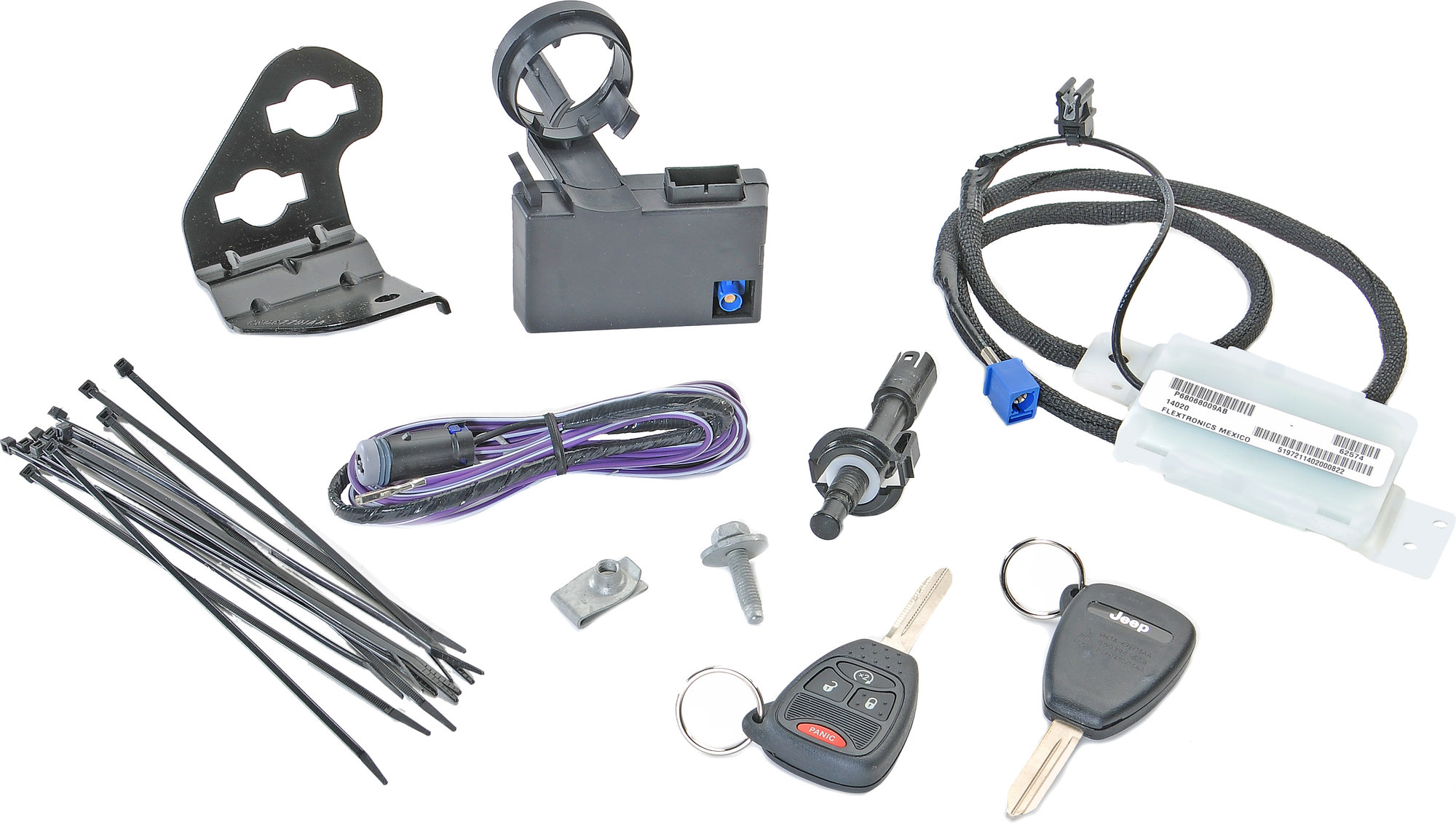 HARDTOP INSULATION KIT: Think of it as a sweater for your Jeep Wrangler's hardtop. Something designed to retain heat inside the cabin (or stay cooler in the summer) all while reducing road noise and providing better audio quality. That's what these Hardtop Insulation kits provide.
Kits are available for the TJ Wranglers, as well as the 2- and 4-door JKs and consist of thick, insulated fabric pieces that attach either with hook and loop fasteners or peel and stick adhesive which makes for easy installation. No wiring, no messy additives. Just a perfect quiet from road noise and insulation from those chilly outdoor temperatures.