With less than a month remaining until the 50th annual Moab Easter Jeep Safari, Fiat Chrysler Automotive today released concept pictures of two vehicles it plans to show off.
The Wrangler Trailcat (pictured above) and Jeep Crew Chief will be two of seven concept vehicles FCA will have at Moab, in what has become an annual showcase for concept vehicles from the Jeep brand.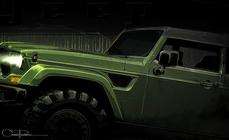 Not much is known yet about these concept offerings, but expect more info as we get closer to Safari week.
One concept vehicle we do know about, though, is the Wrangler Red Rock that FCA announced during the 2015 SEMA show. And unlike the other concepts, FCA produced 50 of these for retail.
The Red Rock is built atop the four-door Wrangler Unlimited frame and is essentially a special edition of the toughest-spec Wrangler (Rubicon). It has, among other features, next-generation Dana 44 solid front and rear axles, new premium off-road rock rails, front and rear differential covers, LED headlamps and fog lights, a power dome vented hood, front and rear red tow hooks, and a reinforced swing gate and wheel mount.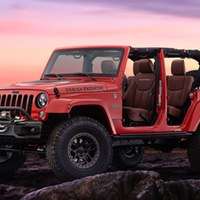 "We're extremely grateful to the Red Rock 4-Wheelers for continuing this iconic Jeep event, and we present our Wrangler Red Rock Concept as a tribute to them and the enthusiasts who attend the annual Jeep Safari and support our brand," said Jeep chief Mike Manley, during the SEMA event.
The Moab Easter Jeep Safari, hosted by Red Rock 4-Wheelers Inc., runs from March 19-27 and is widely considered one of the top Jeep destination events each year.