by Matt Konkle
Torque Editor-in-Chief
The spirit of a Mustang, the toughness of an F-150 and the guile of an assassin. As Ford finally unveiled its new Bronco series to the world during a video release event earlier this week, it made sure to hit those first two marketing points directly when describing its new vehicle. As for the third, well, the automaker didn't expressly mention it, but did make sure everyone knows Bronco is breathing again as a brand to steal away Jeep Wrangler's longtime off-road marketplace dominance.
The question remains though; will the new Ford offering have enough strength to sway customers, especially off-road loving ones, who have long been raised under the established concept of Wrangler as the king of the domain.
Because after all, when you take a shot at the king, you'd better not miss, right?
Well, Ford is taking its shot with an entirely revamped brand that spent years, and all kinds of money, in development following a nearly 25-year absence from showrooms.
"We created the Bronco family to elevate every aspect of off-road adventure and equipped them with class-leading chassis hardware and exclusive technologies to raise the bar in the rugged 4x4 segment and take people further into the wild," said Jim Farley, Ford chief operating officer. "They're built with the toughness of an F-Series truck and performance spirit of Mustang – and come wrapped in one of the most stunning and functional off-road designs that's true to the original Bronco design DNA."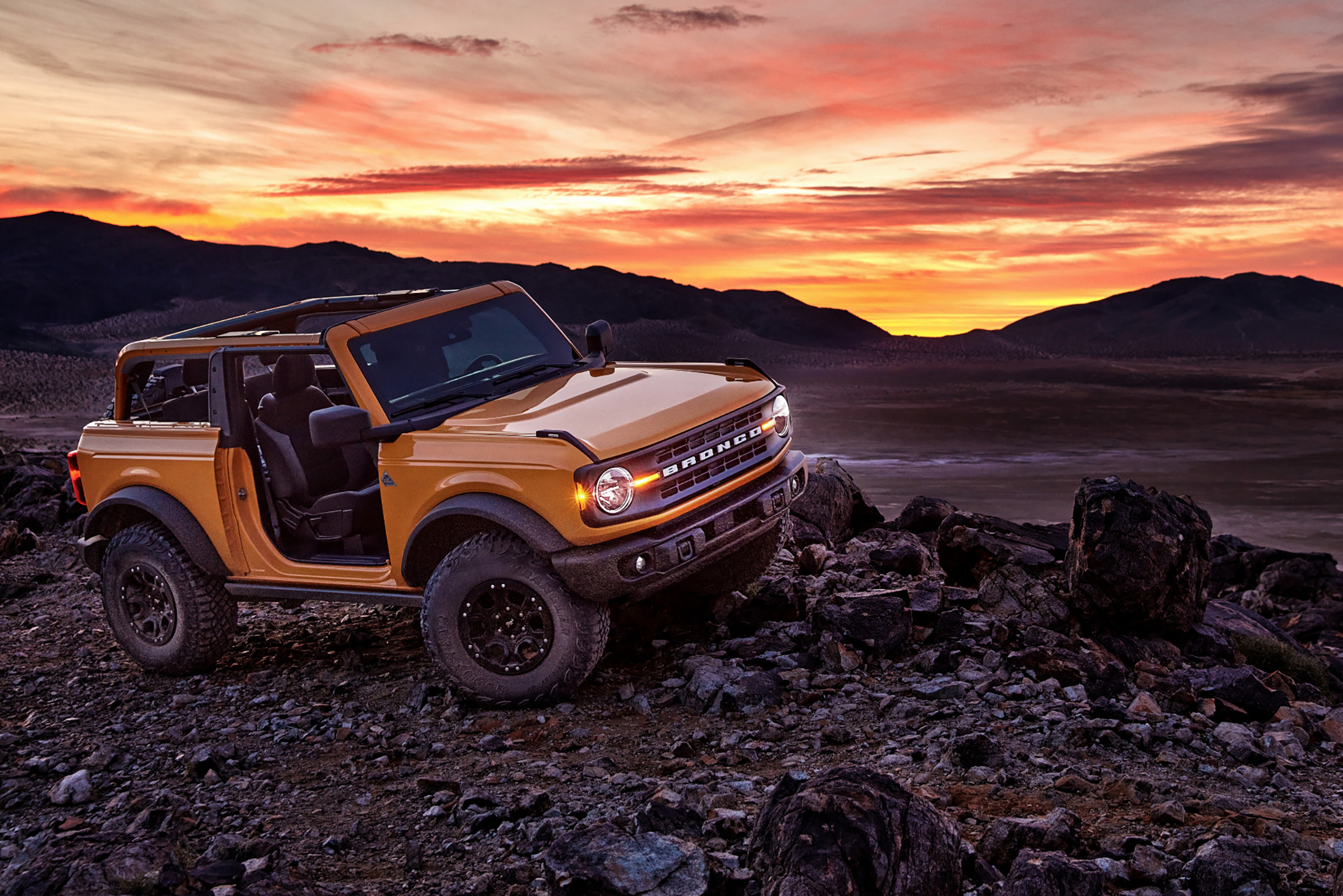 So what do we know about Bronco?
Like Wrangler, the Bronco will be available in two- or four-door options with removable doors, a removable soft or hardtop, powerful engines and manual or automatic transmission options. Also, it appears to be fully customizable with pull off bumpers and flares, infotainment systems, as well as host of other factory-backed aftermarket accessories to add capability and personalization. In fact, from certain angles the vehicles even appear a bit similar. But move a little closer and the differences begin to take shape.
And Ford really wants potential buyers to see those differences.
The company says designers studied how consumers interacted with their vehicles, began to see certain 'pain points' after awhile and then worked to eliminate them on the Bronco. Stuff like including body mounted mirrors that stay in place when the doors come off, as well as refining the door removal process to make it easier, while adding a rear cargo area storage place for those doors so they can come along for the ride and reinstall as needed. Or eliminating the center bar so rear passengers have unobstructed open air views and adding integrated grab handles. Designers even worked with camping focus groups to learn how equipment was loaded inside and above the vehicle in order to better generate storage solutions.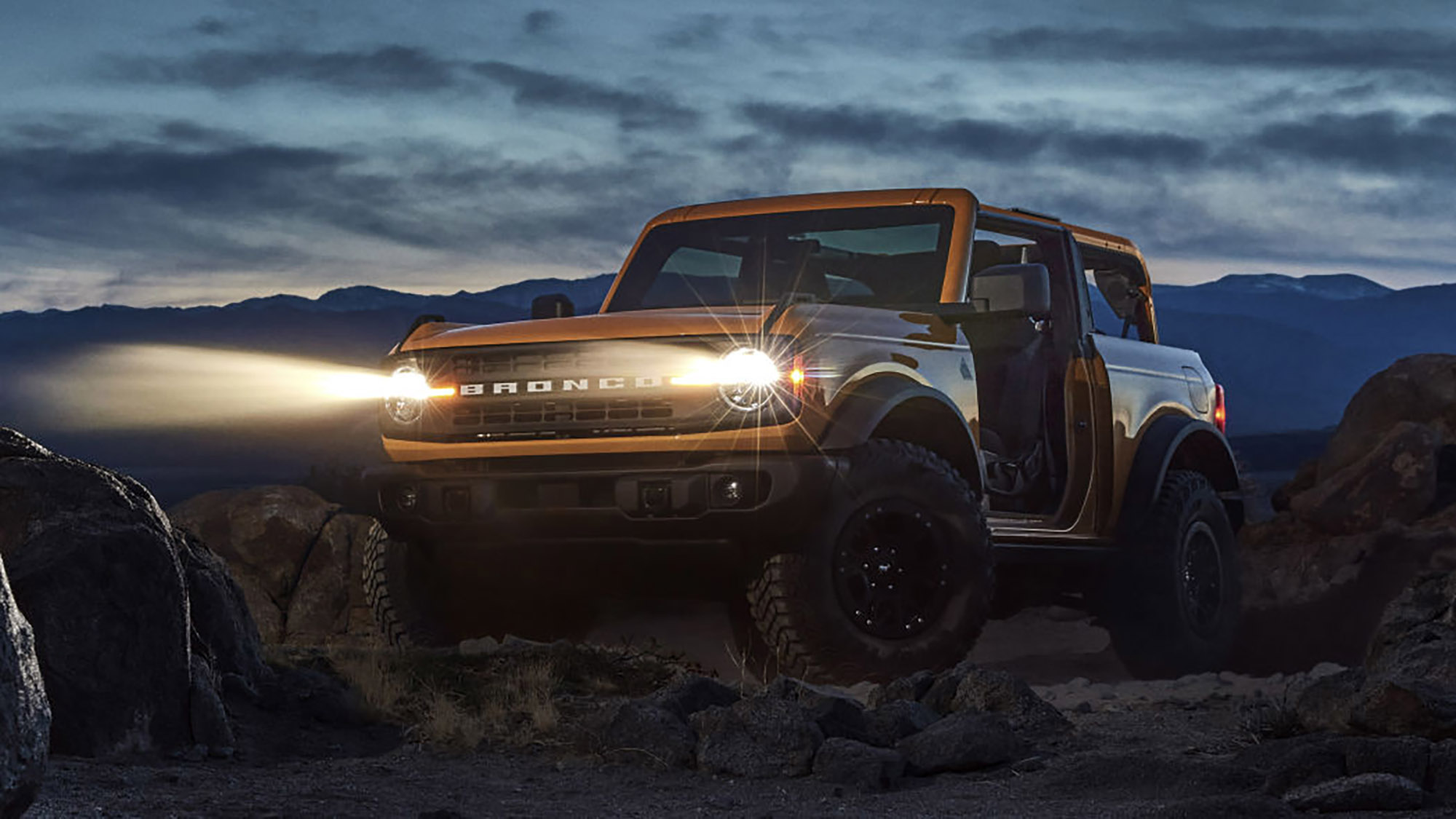 "We started this project several years ago," said Winston Landin, Global Director of Consumer Insights for Ford. "The foundational principle in the beginning was really the fact that the Bronco had already been a brand and there's a strong heritage around the Bronco. That's important because the vehicle would need to deliver what's true for the Bronco — capability, durability and of course the design. There's a lot of emotional connection that people had with this specific brand.
"We have done a lot of observation, For example, we spent time with customers during a whole weekend. We would start on a Friday and go snowboarding, go on off-road adventures, hiking and bike trails and camping. Those (vehicle enhancements) we all got from following and spending time with people."
Besides hard parts and quality of life improvements that Ford hopes sets the Bronco apart, there are performance differences as well. Like what Ford says is a class-leading 11.6-inches of ground clearance with factory optional 35" tires, better departure and breakover angles on some editions, increased water fording clearance and a slightly wider width than Wrangler for what Ford says will be better stability. Additionally, Bronco's optional 2.7L turbocharged V6 offers 310 horsepower and 400 lb-ft of torque, putting it at a level higher than either of Jeep's two gas engine offerings.
Ford has even developed an all-new terrain management system for the Bronco that it grandiosely calls G.O.A.T, although the automaker does refrain from referring to it by the normal acronym 'Greatest of All Time'—instead saying it is short for 'Go Over All Terrain'.
"Bronco's advanced four-wheel-drive technology is at the core of its off-road capabilities, and at the heart of it all is Bronco's exclusive Terrain Management System™ with G.O.A.T. Modes that is designed to help drivers better navigate any type of terrain," said Mark Grueber, Bronco consumer marketing manager.
Up to seven driver-selectable modes are offered on this management system, including Normal, Eco, Sport, Slippery and Sand, with Baja, Mud/Ruts and Rock Crawl for off-road driving.
The vehicle itself will arrive in seven different trim levels, with four packages available on each trim (more on those later). And while it will be some time before we can see many of these described features in action, here is how Ford's new Bronco and Wrangler stack up on paper across many different categories.
Powertrains
Wrangler and Bronco see very similar engine performance specs with their base editions, as Wrangler comes standard with its V6 Pentastar engine that pushes out 285 horsepower and 260 lb-ft of torque. For the Bronco, Ford includes a turbocharged 2.3-liter inline-four projected to make 270 hp and 310 lb-ft of torque.
Ford shines, though, with its optional twin-turbo 2.7-liter V-6 that is projected to make 310 horsepower and 410 lb-ft of torque. This engine also comes standard in Bronco's three highest trim levels. For Jeep, its optional turbo 2.0-liter four slides back a bit in horsepower vs. the Pentastar, at 270, but does generates more torque at 295 lb-ft. However, that amount still falls well short of Ford's upgrade.
Wrangler, though, does have a third engine for those who really want more low end power: a turbocharged 3.0-liter diesel churning out just 260 horsepower but 442 lb-ft of torque. Additionally, Jeep recently displayed a concept Wrangler housing a 6.4-liter Hemi V-8 that would dominate all other engine entries in power should Jeep bring that vehicle to production.
Transmissions
As we said before, both Bronco and Wrangler still offer a manual transmission for those who love to control their own shift points. However, there is a catch for Bronco as Ford deploys a seven-speed manual only in its base engine. Anyone upgrading to the 2.7L V-6 will receive the automaker's 10-speed automatic.
Jeep owners, regardless of trim level, see its six-speed manual mated with the Pentastar V-6 right from the factory, but do lose that manual ability when swapping to the 2.0L or 3.0L EcoDiesel. Those who choose one of those engine upgrades receive the standard 850RE eight-speed automatic with that 2.0L engine, or a more robust 8HP75 eight-speed automatic in the 3.0L diesel.
Ford's seven-speed manual is also interesting as it is essentially a six-speed with a 'crawl' gear that can, when four-wheel-drive is employed with an optional transfer case, achieve a stunning 94.75:1 crawl ratio. Wrangler, with the manual, comes in slightly behind at 84.2:1.
Unlike Jeep Wrangler editions over the years, every Bronco does come equipped with four-wheel drive. Essentially Jeep does as well, because while there were some Wranglers offered in 4x2, there aren't too many of them around any longer and the latest JL versions all arrive into showrooms with four-wheel-drive.
Ford also offers two versions of that four-wheel-drive system, with a standard edition that features a two-speed, electronic, shift-on-the-fly transfer case with a 2.71:1 low ratio, and an optional system offering a 3:06:1 low ratio as well as a 4A mode that automatically toggles between 2H and 4H when needed.
Drivetrain
Both Wrangler and Bronco arrive with Dana-supplied axles in the front and rear, and dependent on trim level, both are available with electronic locking differentials at both ends. The Bronco will also feature four available final-drive ratios, with the manual receiving a 4.46:1 ratio across most trim levels, except the Badlands model which uses 4.70:1 gearing.
Those with the automatic get an additional two ratios: a 3:73.1 in the Base, Big Bend, and Outer Banks models, with an optional 4.27:1 gears for Big Bend and Outer Banks owners. The Black Diamond and Badlands equipped with the 10-speed use 4:46:1 ratios, while all Sasquatch package–equipped Broncos get shorter 4:70:1 gears.
The Wrangler comes standard with 3.45:1 gears in nearly all editions, except for the Rubicon which bumps up to a 4:10.1 ratio. The diesel-backed Jeeps utilize 3.73:1 gearing.
Meanwhile, the Bronco will arrive with two transfer cases while the Wrangler offers three. The Bronco's standard unit is shift-on-the-fly with a 2.72:1 low-range gear, while the optional version is an electromechanical transfer case that enables 4-Auto, or has the ability to leave it in four-wheel drive no matter the driving surface. This optional transfer case has a 3.06:1 low-range gear, and gives the vehicle that 94.75:1 crawl ration when paired with a manual transmission.
Wrangler utilizes a similar transfer case; with part-time units in the Sport and Sahara that carry a 2:72.1 low-range gear, while the stronger Rubicon unit receives a 4.00:1 gear for better rock crawling. Like the Bronco's optional unit, the Wrangler Sahara is available with full-time all-wheel drive and the same low range as the Rubicon.
However, for the Wrangler, word is this full-time transfer case will be available on more models coming in 2021.
Suspension
Here is where things get interesting for Wrangler and Bronco.
Both vehicles locate solid axles in the rear, with Bronco featuring coil-over dampers to the Jeep's separate coil spring and damper configuration. However, in the front, Ford didn't give the Bronco a solid axle. Instead, it counters with a tough independent front suspension. Ford believes this will make for better, and more comfortable, on-road drivability.
How that plays for the off-road enthusiasts should be interesting to follow, but Ford does claim Bronco has a 17 percent improvement in front wheel travel over the Wrangler, and a 10 percent rear wheel travel improvement.
Bronco and Jeep also come with disconnecting front sway bars. Wrangler owners with a Sport or Sahara can manually disconnect those bars, while Jeep Rubicon owners have an electronic actuator for its Rubicon version. On the other hand, Bronco has a hydraulically controlled disconnecting swaybar that can be engaged or disengaged even under load.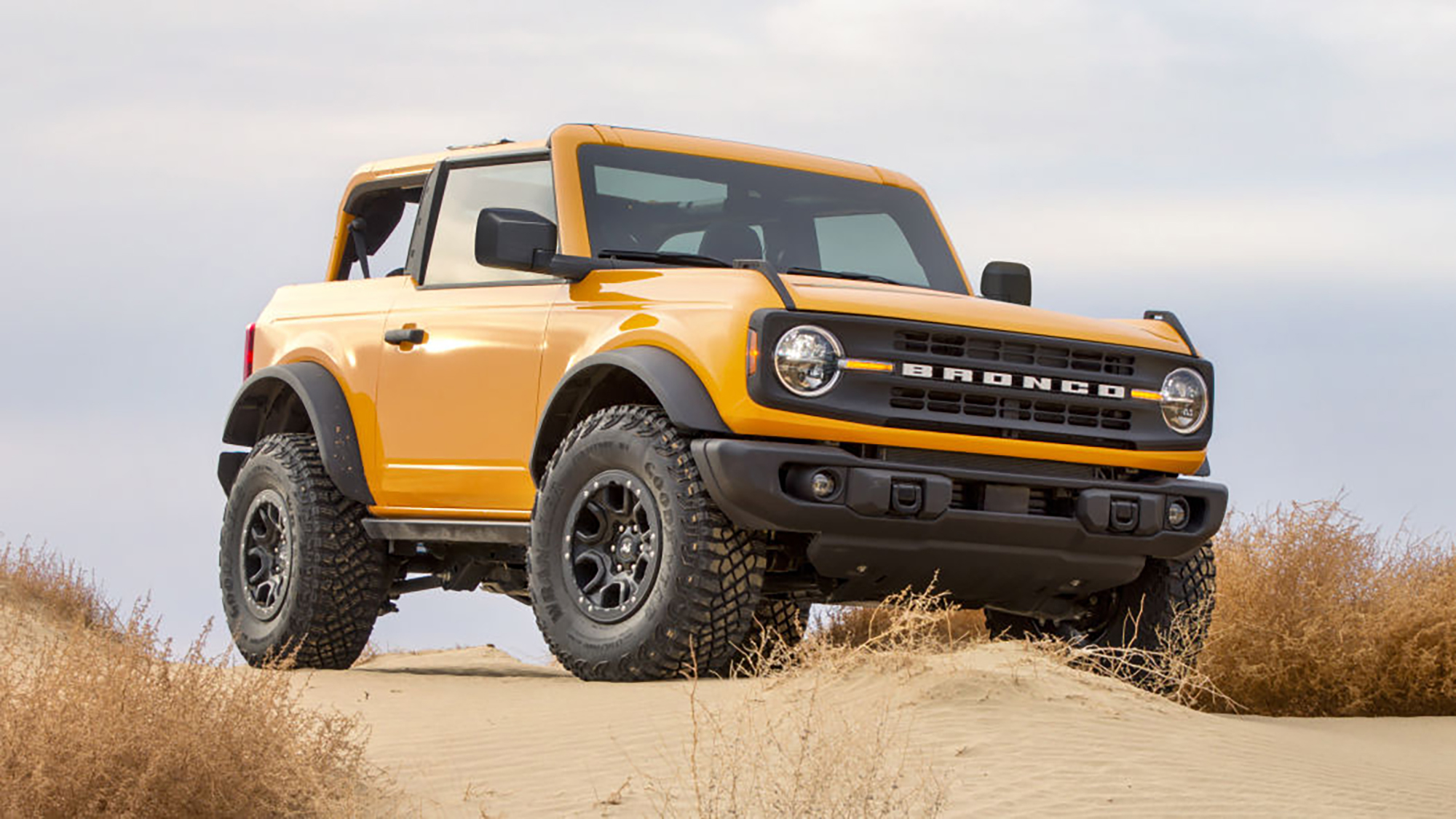 Wheels and Tires
Depending on the package, Bronco offers three wheel sizes, three tire size diameters and five tire models from four different manufacturers.
The vehicle's base trim level will arrive with Bridgestone Dueler H/T 685 tires available in a 255/70R-16 size. Moving up, the Big Bend comes with Bridgestone Dueler A/T RH-S at 255/75R-17; the Outer Banks edition with Bridgestone Dueler A/T RH-S at 255/70R-18; the Black Diamond version with General Grabber A/Tx at 265/70R-17; the Badlands with BFGoodrich All-Terrain TA KO2 at 285/70R-17, or an optional Goodyear Wrangler Territory MT at 285/70R-17.
Additionally, the upgraded Sasquatch package will give owners Goodyear Wrangler Territory MT at LT315/70R-17. That's right, a 35-inch tire straight from the factory.
Jeep offers a similar range of tires from BFGoodrich, Falken and others that stretch up to around 33", including an optional mud-terrain on the Rubicon, but none match the factory 35-inch rubber supplied in Bronco's Sasquatch package.
Exterior Dimensions
The two-door Bronco's wheelbase at 100.4 inches is slightly longer than the Wrangler's 96.8 inches, but the Wrangler Unlimited's wheelbase jumps to 118.4 inches compared to the Bronco's 116.1. The Bronco, in Wildtrak and Badlands trim levels, measures an eye-catching 79.3 inches wide, which is 5.5 inches more than the Wrangler and something Ford believes makes the Bronco even more stable as an off-road performer. With the Sasquatch package addition, the Bronco is also taller and longer than the Wrangler as well.
For off-road enthusiasts, both Bronco and Wrangler offer significant benefits depending on the chosen trim level and package. Bronco does fall a bit short of the Wrangler in approach angle as the base two-door's maximum angle is 35.5 degrees to the Wrangler's 41.4 degrees. Even in the most extreme trims, the Bronco's two-door Sasquatch package at 43.2 degrees can't match the Rubicon's 44 degree approach angle.
In breakover angle, the Bronco's base edition's 21.1 degrees is easily overshadowed by Wrangler's 25 degrees. For the base four-door, though, the Wrangler's 20.3 degrees barely beats out Bronco's 20 degrees. At their highest packages, the two-door Bronco gets the best of the Wrangler at 29 to 27.8 degrees. That carries on to the four-door models, with Bronco displaying 26.3 degrees to the Wrangler's 22.6.
As far as departure angle, Wrangler again takes a win in its base form, measuring 35.9 degrees (two-door) and 36.1 degrees (four-door) to the Bronco's 29.8 and 29.7 degrees. One caveat though, Bronco's Sasquatch package offers up a slightly better performance at 37.2 degrees (two-door) and 37 (four-door) to the Rubicon's 37 degrees on both door models.
Besides angles, those who love taking their vehicle off-road know that stuff like rocks, tree stumps, water crossings and other belly-scraping debris are inevitable, so having ground clearance is essential.
The Sport Wrangler easily has the two-door Bronco beat, with an extra 1.3 inches of ground clearance at total of 9.7 inches. But again, those who upgrade into the top-end Sasquatch package do see a benefit—this time with 11.6 inches of ground clearance to the top-end Rubicon's 10.8 inches. Four-door Broncos lose 0.1 inches of ground clearance to the two-door models, while the Wrangler stays the same.
When crossing streams during off-pavement adventures, Ford says its Bronco will stay drier thanks to 33.5 inches of maximum water fording as compared to Jeep's 30 inches.
Towing
Not much to see here as both Wrangler and Bronco are rated to tow up to 3500 pounds.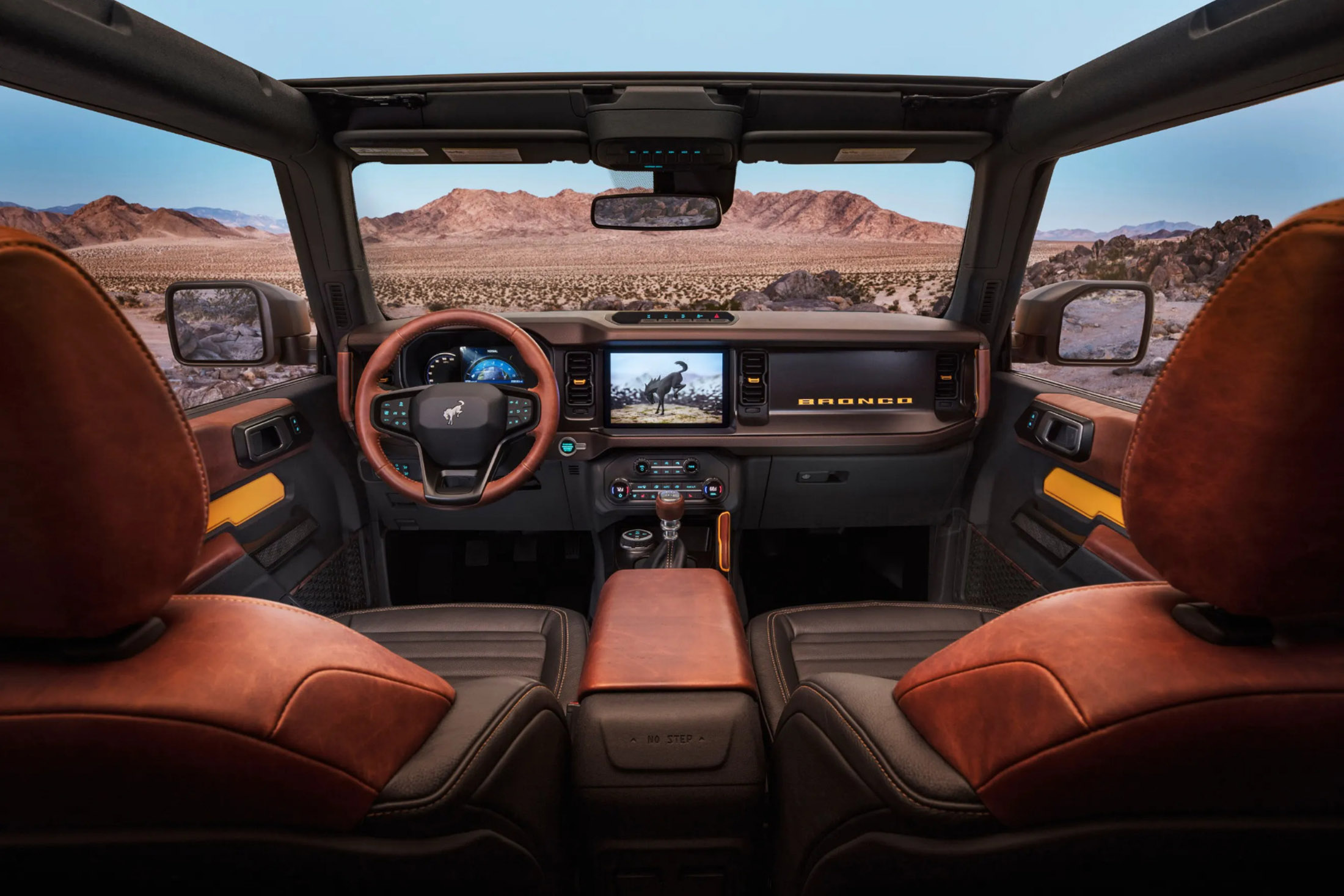 Off-Road Technology
According to Ford, this is where its Bronco should really shine when it comes to market later next year thanks to several features that Wrangler just does not offer.
The first is incorporation of several terrain-specific drive modes—something we said before that is not-so-humbly termed G.O.A.T. modes. These adjust the Bronco's driveline behavior to perform at its peak in various conditions like Baja, Slippery and Sand, Mud/Ruts and Rock Crawling. Ford says these modes will vary depending on trim level, and can be upgraded with specific packages.
Second, Bronco will arrive with Trail Control which is basically a feature that activates from 0-20 mph and computer controls the brakes and throttle to allow drivers to focus on putting their wheels where they need to be when attempting obstacles. Most likely this will be a something drivers can activate if they want, and not something that is full-time at lower rock-crawling speeds.
Next, like we mentioned before, Ford's all-new Bronco will utilize an available quick-disconnecting stabilizer bar for improved suspension articulation. Unlike Wrangler, though, Bronco's sway bar can disconnect during articulation and reconnect under all conditions. Ford says this feature was inspired by high-speed, Baja style off-roading.
Another interesting piece of off-road tech that Wrangler does not have is Trail Turn Assist, which tightens the Bronco's turning radius by braking the inside rear wheel, applying power to the others and helping it pivot in minimal-space conditions. This could certainly be a helpful feature on some trails that simply do not provide much turning space.
Finally, Bronco's new SYNC4 infotainment system offers more than connectivity to a smartphone. It can pull up and display views from the vehicle's 360-degree camera system so drivers can accurately view things like tire placement, fender flare clearance and breakover/departure angles. It also contains thousands of off-road maps and trail guides to help drivers understand where they are at all times on the trail. This feature also regularly updates as more and more trails are added.
Price
The two-door Bronco opens at $29,995 for its entry-level edition, which is just a few hundred more than a Wrangler Sport. As far as the four-door version, Ford set its base model at $34,695, which is $1405 more than the Wrangler Unlimited. Like Jeep, Ford also offers different trims and packages, as well as other options that will increase the overall final price. The company said during its video launch event that it plans to have around 200 product options available so customers can personalize their new Bronco. At a price, of course.
---
Speaking of those trim levels, Bronco will arrive back into showrooms sometime next year offering seven different versions. That is in contrast to Wrangler, which has three specific trim levels in a 'good, better, best' strategy, along with a few special editions like Willys and Altitude, several product groups and individual part upgrades covering different aspects of each respective vehicle.
Additionally, all Bronco trim levels can upgrade into four available packages called Mid, High, Lux and Sasquatch—with some trim levels even coming that way from the factory.
Ford says its Mid package includes two-door Intelligent Access with lock and unlock functionality, 110V/150W AC power outlet, ambient footwell lighting, auto-dimming rearview mirror, dual-zone electronic automatic temperature control, heated front seats, illuminated visor mirrors, remote start system (automatic transmission only), reverse sensing system, subscription navigation with three month trial, SYNC 4 with enhanced voice recognition, Ford Co-Pilot360 including Pre-Collision Assist with Automatic Emergency Braking, BLIS with CrossTraffic Alert, Lane-Keeping System, Auto High-Beam Headlamps and rear view camera with backup assist grid lines.
Bronco's high package, Ford says, includes all of the Mid-package items, as well a 12-inch touchscreen display, 360-degree camera, additional sound deadening, Forward Sensing System and sideview mirror LED approach lamps.
In the Lux package, Bronco approaches Jeep's Sahara edition options by including everything in the two previous packages, plus Adaptive Cruise Control, 10-speaker premium sound system, Evasive Steering Assist, heated steering wheel, universal garage door opener, two extra front row USB smart-charging ports, voice-activated Touchscreen Navigation System and wireless smartphone charging pad.
Finally, the top end Sasquatch package—as noted before in many other vehicle features—provides the ultimate in performance and off-road gains, Ford says.
Sasquatch includes many features in the lower packages, as well as upgraded 17-inch black-painted aluminum beadlock-capable wheels, 35-inch LT315/ 70R17 mud terrain tires, electronic-locking front and rear axles, 4.70:1 gearing, high-clearance suspension, position-sensitive Bilstein shocks and high-clearance fender flares.
While Jeep has long used Sport, Sahara and Rubicon to differentiate between trim levels, Bronco expands the idea and will have seven different versions available at launch. These levels are called Base, Big Bend, Black Diamond, Outer Banks, Wildtrak, Badlands and First Edition.
However, in reality, those first six trims will be the real offerings as Ford only plans to make 3,500 First Edition Broncos between two- and four-door models, and every single one has already been claimed. Oh, and those First Editions went for $60,800 apiece for two door, and $64,995 each on the four door.
In case you were wondering, the First Edition Broncos include pretty much everything that is available for the vehicle—harkening back to what Jeep did with the Gladiator Launch Edition. For Bronco, that means First Edition owners get features from the Badlands editions, factory-included Lux and Sasquatch packages, unique hood and body graphics, safari bar, black modular hard top, carpeted interior, heated leather-trimmed seats and 35-inch Goodyear Territory mud terrain tires.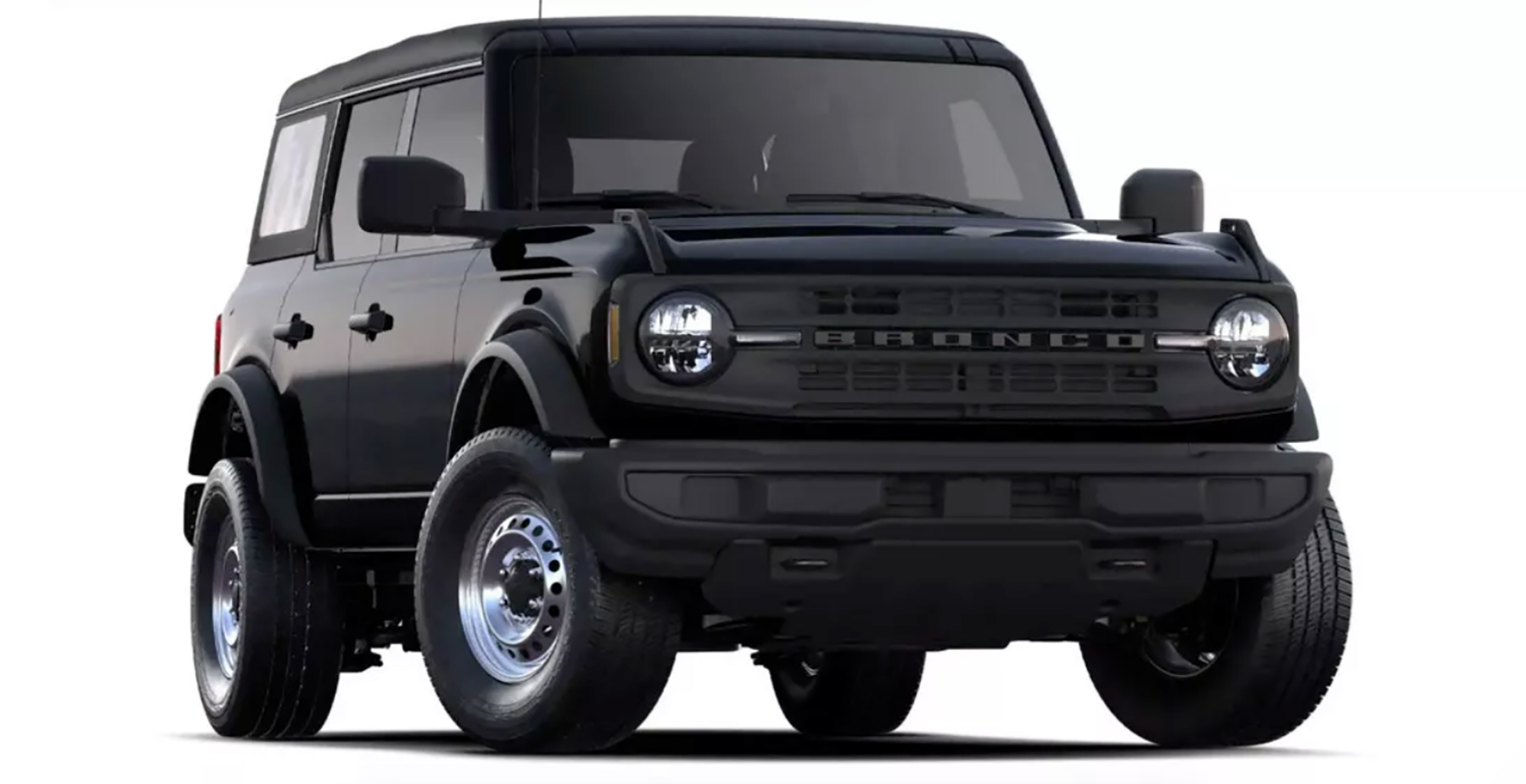 Base
The Base edition Bronco enters the market at $29,995 (two-door) and $34,695 (four-door), and Ford calls it "Designed for customers who want a no-frills 4x4 SUV, or for those looking to customize their very own vehicle for rugged off-road adventure."
From the factory, this level offers 16-inch wheels, 255/70 all-season tires, removable doors and roof, and cloth seats. Inside, the cockpit houses an eight-inch touchscreen with that SYNC4 infotainment system, including wireless Apple CarPlay and Android Auto. The entry-level Bronco also adds five G.O.A.T. Terrain Management System choices, while Ford's 2.3-liter turbo-four engine is standard, as is a seven-speed manual transmission. A spicier turbocharged 2.7-liter V6 is optional, but drivers do sacrifice the manual for a 10-speed automatic transmission with the upgrade. But, at 310 hp and 400 lb-ft of torque, many will probably prefer this choice.
Base edition colors include Rapid Red Metallic Tinted Clearcoat, Velocity Blue, Shadow Black, Antimatter Blue, Iconic Silver, Carbonized Grey and Oxford White.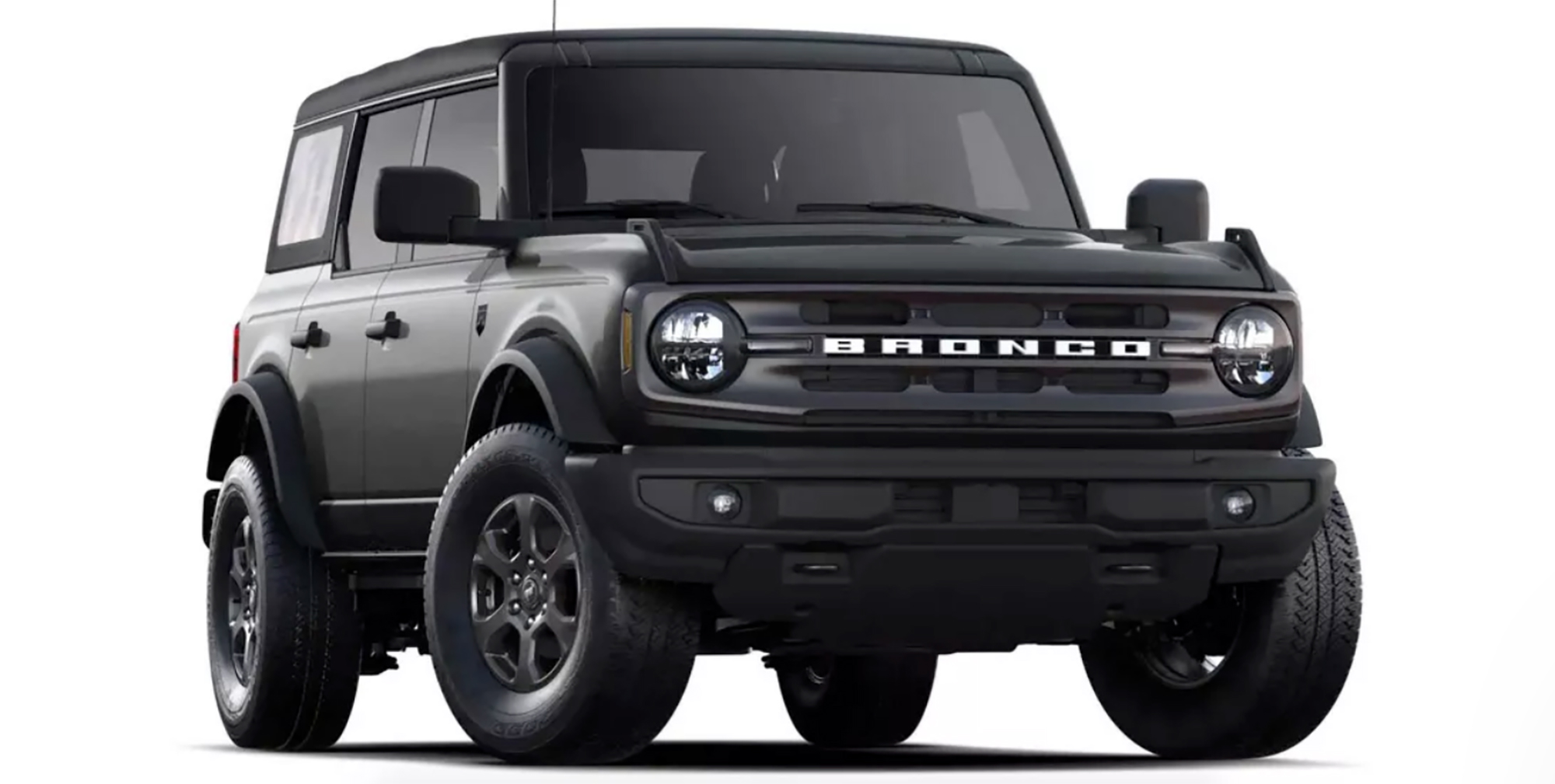 Big Bend
Bronco's next step up is Big Bend trim, which includes all Base edition features, and available upgrades, and is basically equivalent to Wrangler's Sport S. This trim level also tacks on another G.O.A.T. mode—for a total of six—as well as LED fog lamps, leather wrapped steering wheel, tinted glass, carbonized gray grille. and 17-inch wheels housing 32" tires. The Big Bend adds Race Red, Cactus Gray, and Area 51, which is basically a dark teal, to the base models seven colors. Pricing for this level starts at $34,880 for two-door and $37,375 for the four-door.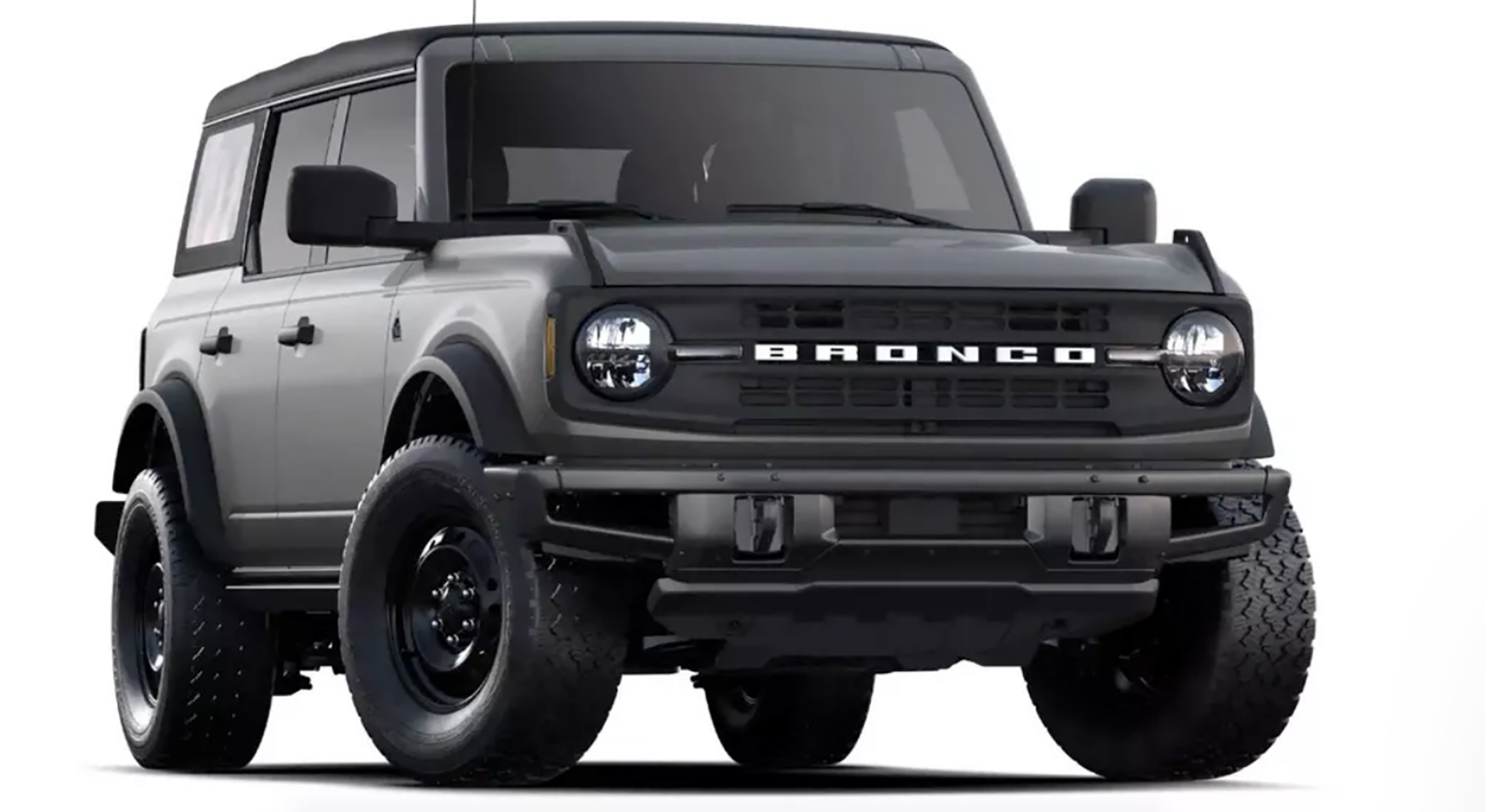 Black Diamond
For those looking at something with more off-road-type features, without a full-fledged off-road price tag, Ford provides the Black Diamond trim. Think of this as either a Wrangler Sport on steroids, or a weaker Rubicon.
This edition offers heavy-duty protective hardware including a stronger front bumper and powder-coated steel rear bumper, along with rock rails and underbody 'bash plates'. It also features 17-inch wheels on slightly larger 265/70 tires and a hose-out marine grade vinyl interior.
Rounding out this trim level is an additional G.O.A.T. driving mode which gives the Black Diamond edition seven total choices, as well as overhead auxiliary switches for those adding accessories like extra lighting or a winch. Pricing for this level falls at $37,545 (two door) and $40,040 (four door), while one additional color choice of Cyber Orange Metallic is now available for a total of 11 color options.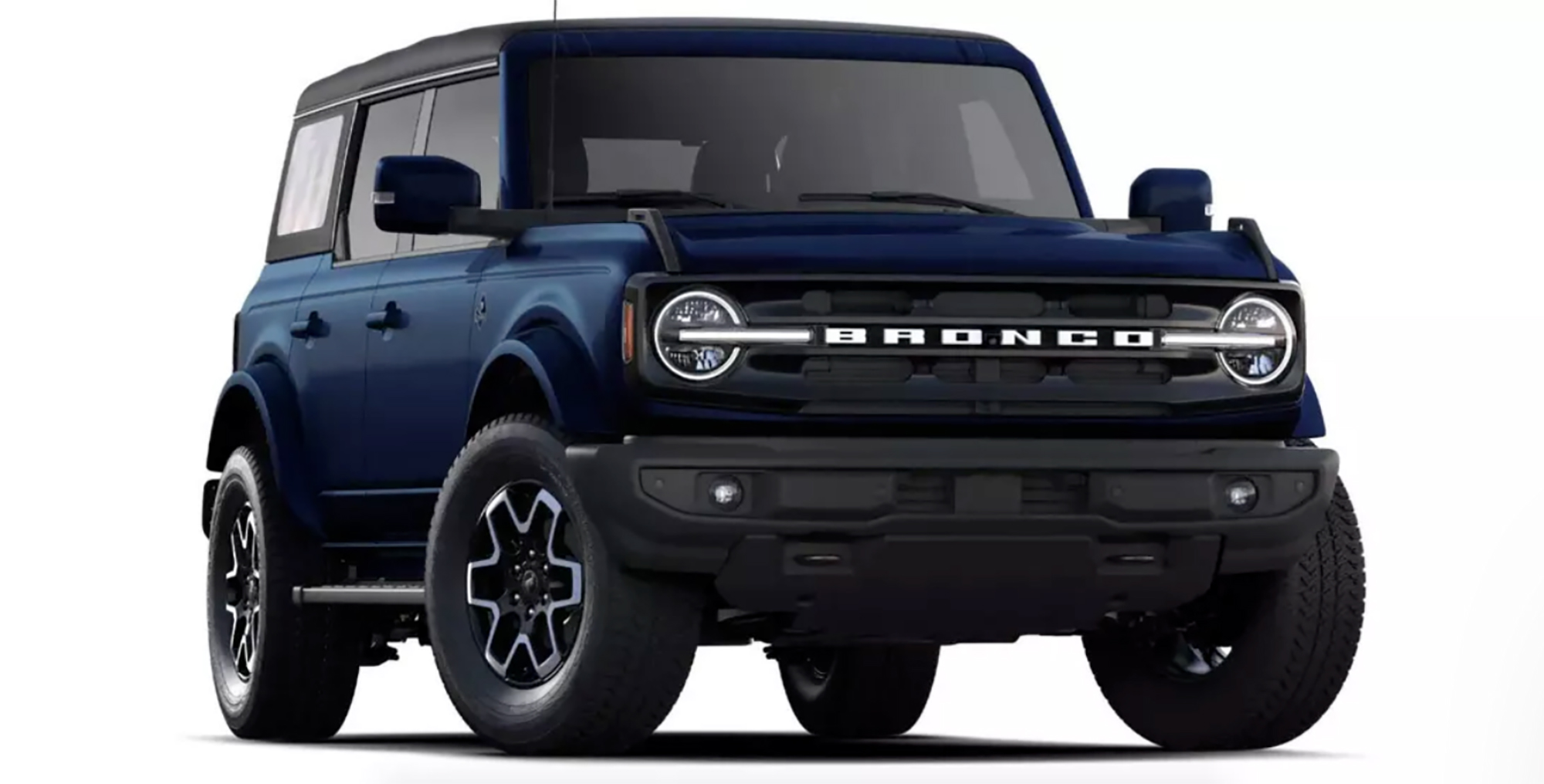 Outer Banks
Ford's Outer Banks Bronco trim appears to be a Wrangler Sahara level clone, and is essentially the Big Bend trim with more comforts since the Mid Package comes standard on this level. Ford says this is a vehicle for anyone who "prefer style and technology both on- and off-road."
The Outer Banks only gets six G.O.A.T. modes, but it does feature LED lighting, heated front-row bucket seats, dual-zone climate control, remote start and Ford's Co-Pilot360 active-safety features. The Outer Banks will also be easily recognizable thanks to body-color door handles, mirrors, fender flares, and powder-coated tube steps, while it sits on 18-inch wheels wrapped in 255/70 all-terrain tires.
Pricing for the Outer Banks sits at $40,450 for the two-door and $42,945 for the four-door.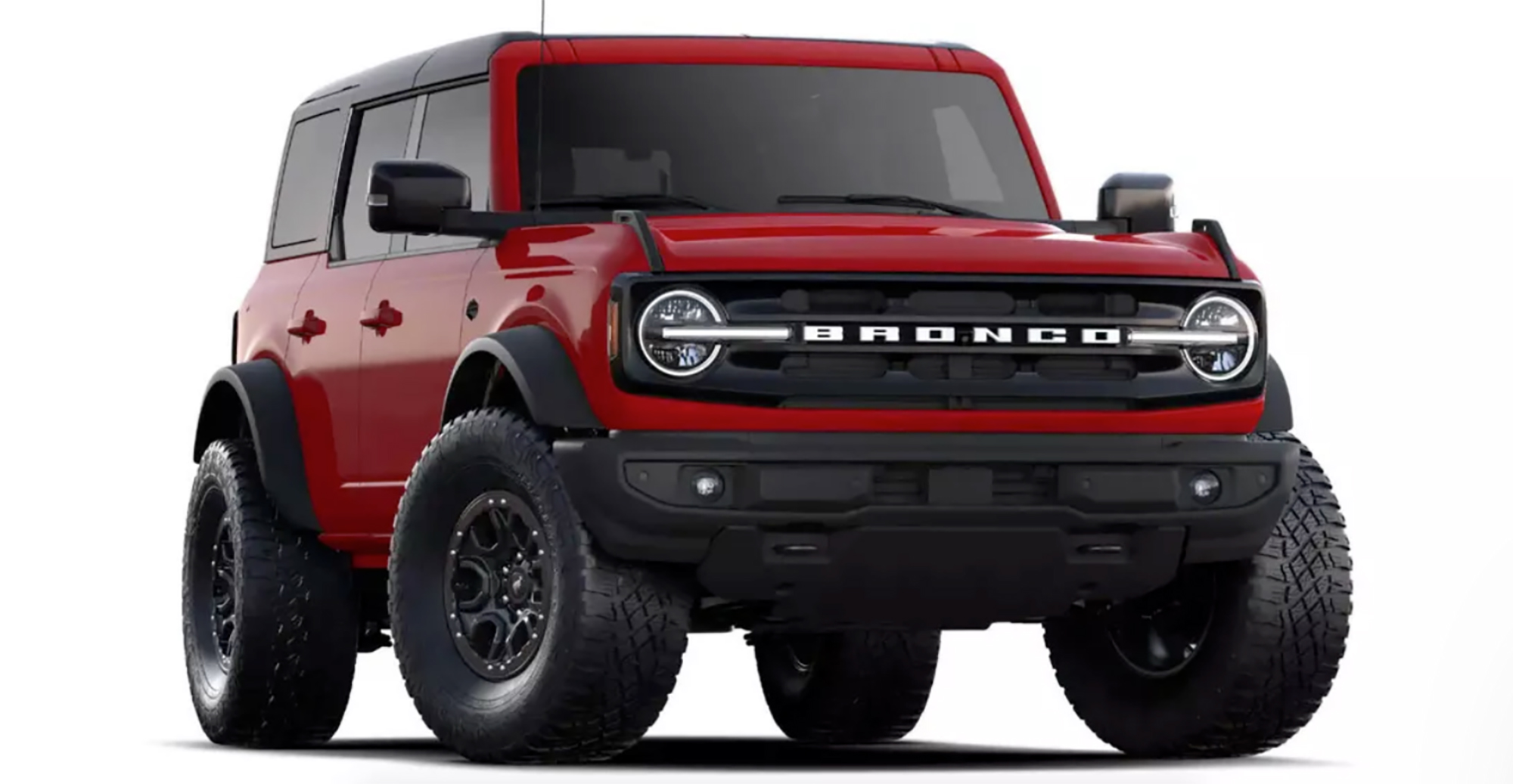 Wildtrak
The Wildtrak Bronco seems to be what Jeep is looking to do with its Mojave edition Gladiator and Wrangler—a desert racing performance vehicle that can also handle itself well on most rock crawling terrain.
Wildtrak gets all the Outer Banks level features, plus Ford's upgraded 2.7-liter turbocharged V6 as its standard powerplant, along with seven G.O.A.T. modes and the advanced four-wheel-drive system with on-demand 4-high engagement and 3.06:1 low ratio.
This does mean it loses the manual transmission, but Ford adds its Mid package right from the factory, and even includes the highly-anticipated Sasquatch package as well. So, the vehicle will sport 35-inch mud-terrain tires, locking front and rear axles, high-clearance suspension and fender flares and Bilstein dampers.
Additionally, Wildtrak will feature a special Shadow-black painted modular hardtop, special hood graphics, carpeted flooring and heated cloth seats. This trim level falls into place at $50,370 for the two-door and $52,865 on the four-door.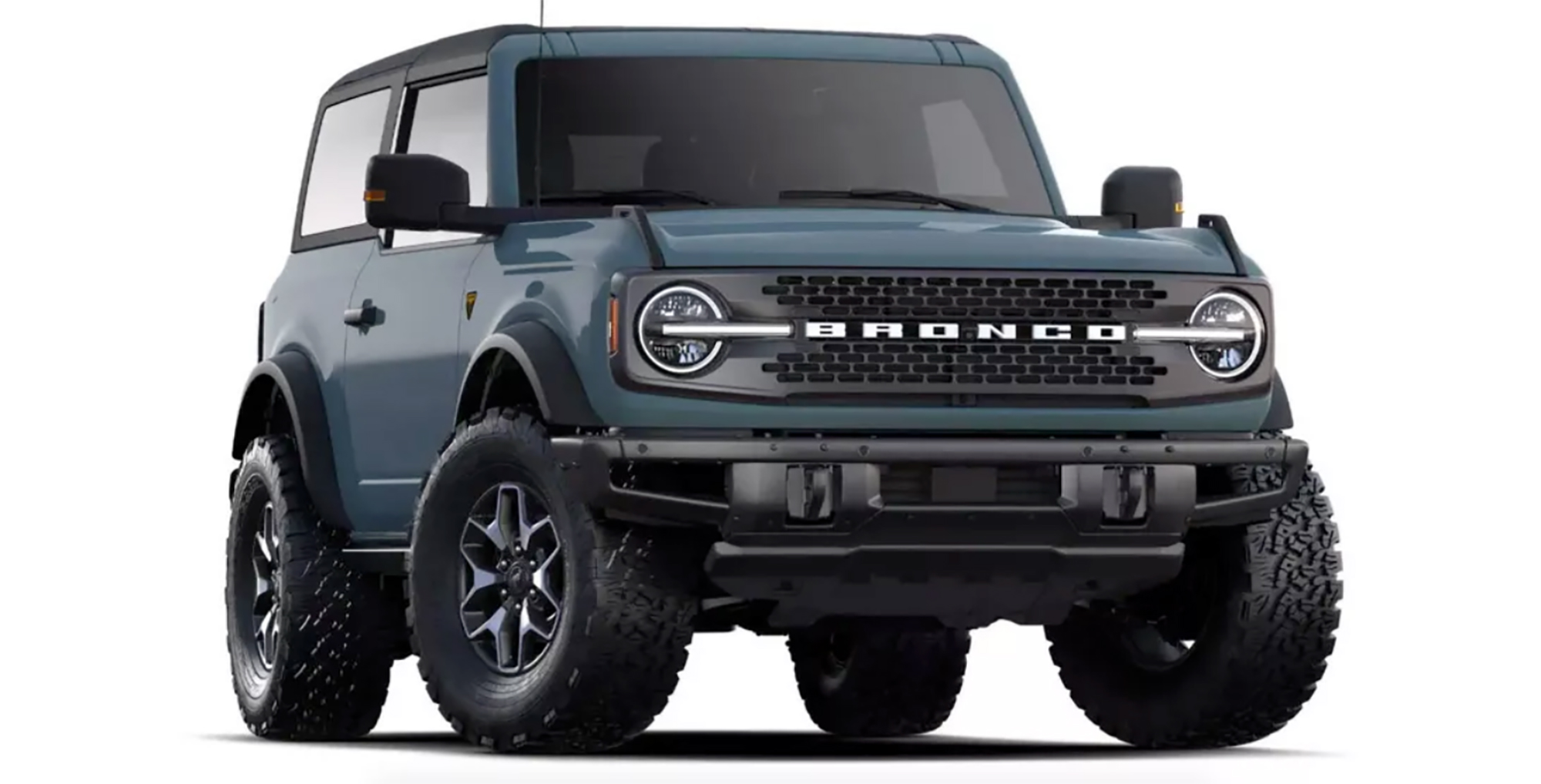 Badlands
While the Wildtrak is mostly about higher-speed, desert type riding, with additional off-road performance, the Badlands is Bronco's straight-up off-road rock crawling trim level. Think of it as Wrangler Rubicon's Ford twin.
This top-level Bronco bundles all the Big Bend stuff, but also adds a Badlands-specific suspension with front swaybar disconnects, and it sits on 17-inch gray-painted machine-face aluminum wheels mounted with solid 33-inch all-terrain tires. It also adds Rock Crawl to the Wildtrak's existing G.O.A.T. modes, and includes auxiliary switches and vinyl seats with washable vinyl floors. Adding to its off-road prowess are a heavy-duty front bumper and steel rear bumper.
However, while the Bronco Badlands is supposed to be the most capable off-road Bronco in the showroom, Ford does not include its Sasquatch package as standard for some reason, so those interested in this level Bronco must add it separately if they want those 35" tires from the factory on beadlock wheels, as well as those electronically locking front and rear axles, Bilstein shocks, high-clearance flares and 4.7:1 drive ratio.
All in all though, Bronco does make for a tough and worthy competitor to Wrangler across all levels. And that's a good thing because with competition comes innovation. Of course, everyone will have to see the Bronco in action before fully embracing the vehicle, but for Jeep, well, hopefully this new competition spurs even more creativity throughout the brand.