by Matt Konkle
Quadratec Channel Editor
Pentastar or Eco-Diesel.
If you have one of Jeep's new Gladiator trucks in mind for your driving needs, well, then you have those two engine choices to power your new ride. The first one is the brand's tried-and-true power plant for over eight years, and is available right now. The second will take a bit more time and perhaps you'll see it sometime next year.
However, if you really want to make a splash with a new Gladiator, and have, say, about $200,000 sitting around looking for something to do, then you just might be able to snag a third engine option.
A 6.2-liter supercharged V8 Hellcat with HPE1000 performance upgrade.
That's because Hennessey Performance, the company that's been morphing regular vehicles into high-performance masterpieces since 1991, has turned its focus towards Jeep's newest truck release. Essentially putting that standard Gladiator into a phone booth, and turning it into the, ahm, Superman of trucks.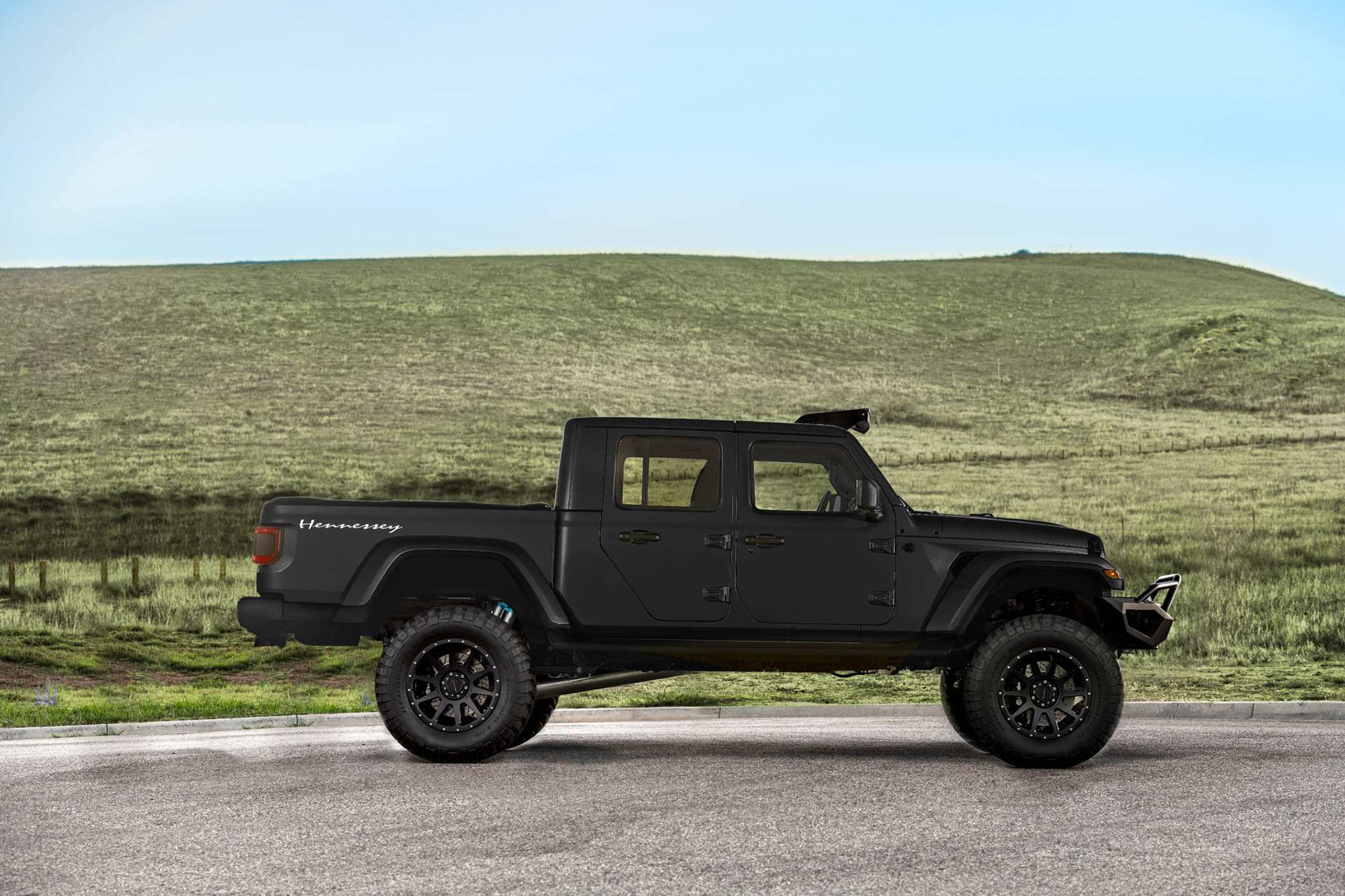 They call it the Maximus 1000. A midnight black 2020 Gladiator that offers a blistering 1000 horsepower and 933 lb-ft of torque thanks to the 6.2-liter Hellcat engine, as well as a bunch of other performance and body upgrades.
"Our clients want exclusive, extreme vehicles that deliver a fun and exciting driving experience both on and off-road," said company founder John Hennessey in a statement. "Win the crowd and you'll win your freedom was the advice that the elder gladiator gave to Russell Crow in the Gladiator movie. We could not agree more."
"We wanted to create the ultimate Jeep Gladiator…Maximus 1000 – the name says exactly what it is: Badassery on 4-wheels."
Besides the swapped out engine upgrade mated to an 8-speed automatic transmission, Hennessey upgraded the Gladiator's suspension with a 6-inch lift kit, replaced the ECU, wiring harness, radiator and fuel system, and put on unique Maximus front and rear bumpers as well as upgraded LED lighting.
From there, the company wrapped 20-inch BFG KD off-road tires around its own Maximus-branded wheels, added a stainless steel exhaust system, and custom leather interior.
Oh, and Hennessey topped it all off with a three-year/36,000 mile warranty.
Like we said before, though, it is not for everyone. Indeed, it is almost not for anyone as there will only be 24 built overall—making this one of the most limited, of limited editions.
Hennessey said it expects to begin production of the Maximus 1000 in July, with the first models rolling out four months later. The company said it expects to offer two units per month.
Now, if you do find yourself a few dollars short of a Maximus 1000, but love the idea of that extra power, there will certainly be others who will slap a Hellcat engine inside a Gladiator. However, just do not expect one to ever appear as a factory option, according to Jeep Head of Brand Tim Kuniskis.
"Everybody always asks me that question: [the V-8] fits. You know that. It fits like a glove," Kuniskis said earlier this year. "But the problem is that it fits like a glove, and there is no air space around the engine and the whole external space of the vehicle, so you have no crush space; you have nothing that can be used to absorb energy in a crash."
"It is not a problem to put it in — other than emissions and fuel economy — except it would never pass any crash tests, and that's a problem."