THE DARK GREEN Willys Truck emerged quietly from Phoenixville Pike early Saturday morning, making the turn effortlessly on to Saunders Lane where it puttered halfway up the hill past Krafts Bus Company before anyone noticed.
It was still about 45 minutes before the gates opened to Quadratec's Annual Tent Show and those in the ever-growing queue line were talking with friends, thumbing through catalogs, or simply clutching steaming cups of coffee.
But then they noticed, turning their heads with appreciation almost in unison as the older vehicle approached. Some in the line pointed. Some nodded. Some, no doubt, probably even enjoyed seeing something different other than the constant stream of well built JKs or TJs that had been passing most of the morning.
Ted Tuerk, who just bought that dark green 1950 Willys Truck one month ago, swung the vehicle into the Jeep-only parking lot and stepped out into the morning air with a smile.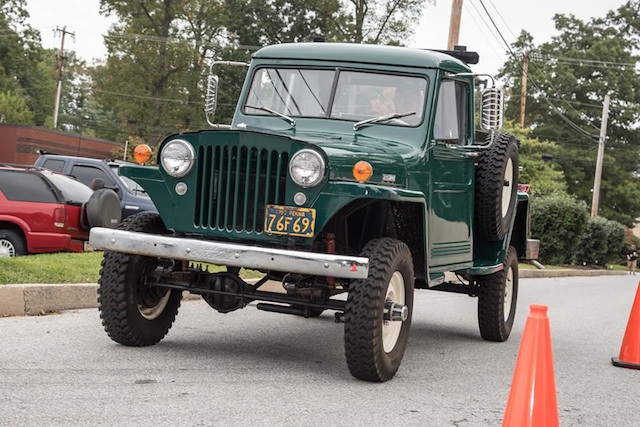 "It's my first time here, so I wasn't sure what to really expect," he says, eying the queue line which now stretches from the gate, down to Saunders Lane, and then around the corner where it disappears behind a grove of trees. Probably a good half-mile.
And they keep coming, a steady wave of all types of Jeeps. Filling the parking lot to where all the vibrant vehicle colors provide a warming feeling; pushing back against the cloudy gray Saturday morning.
Someone says it's neat to see his older Willys vehicle set against the backdrop of all the newer JKs around the parking lot and Tuerk nods, diplomatically.
"But they're all nice too," he says, pointing to a few of the surrounding JKs. "I wanted to come out and see what this was all about. It's definitely interesting."
Interesting indeed. And this year's show did not disappoint. Between all the styles of great Jeeps to check out, the wonderful people, and all the deals to be had, Quadratec's 2016 Tent Show was another amazing success.
Now in its 11th year, Quadratec's Annual Tent Sale attracts all makes of Jeeps as well as thousands of owners, friends and family members to the company's West Chester, Pa. facility for discounted new products, scratch and dent deals, interaction with dozens of vendors, a chance at impressive raffle prizes, music, food, and plenty of family activities.
You could even get yourself, or the kids, photographed on a Quadratec replica catalog cover and watch the video team live as they installed an AEV lift kit on a 2016 Wrangler Rubicon.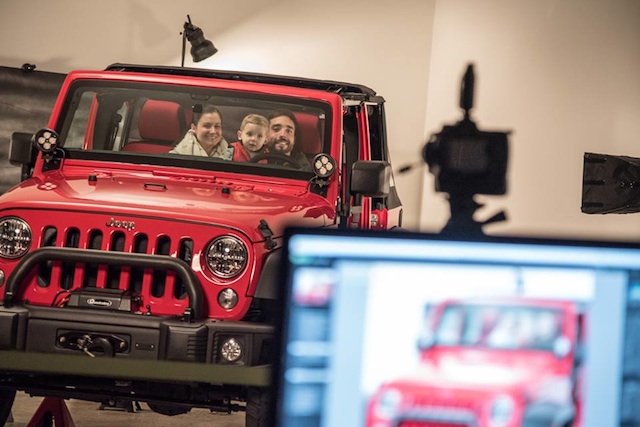 "We try to give something for everyone," says Quadratec Outside Events Coordinator Craig Jaros. "We are out supporting other shows pretty much all year and interacting with people, but we really look forward to October and hosting our own Tent Sale event so our great customers can come out and spend the day with us."
While the deals and discounts are dramatic, it is the sheer amount of Jeeps and those who drive them that help make the show what it is each year. Take one spin around the Jeep parking lot and you'll see what we mean. Rows and rows of Jeeps – some lifted, some stock. New and old, and many owned by various Jeep club members. And several with great names like 'The Pig', 'The Punisher', 'Pennyless', and 'Cinderfreakinrella.'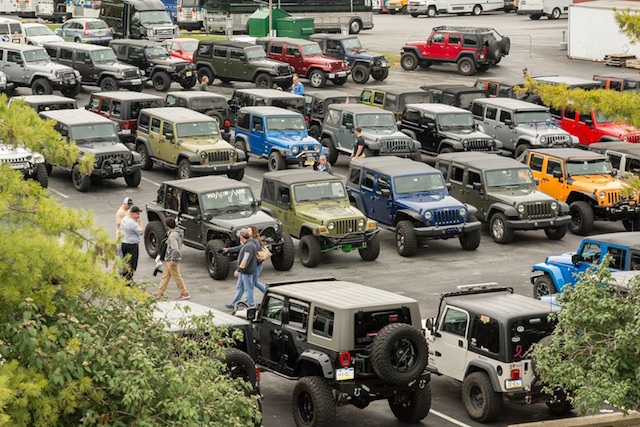 You may see Tuerk's Willys Truck in one row, then a flat fender MB or Off-Road Consulting's FC-170 in another – then a lifted 2016 Rubicon Wrangler, or a 1984 Scrambler, and even a well-built 2000 XJ Cherokee sharing spots in a third. Really, the whole lot is crammed full of JKs, TJs, YJs, CJs, XJs, WJs, ZJs, KJs all sharing space and inviting everyone to come take a look. In fact, more than a handful of owners stood around 'talking shop' with those who had questions about certain builds or products.
For Tuerk, even though his Willys truck looked in really good shape, he was excited to see what might be available for his vehicle.
"It spent most of its life out in Oregon as a brush fire truck," he says. "And it still has some of its original parts. So when I picked it up a month ago, one of the things I really started looking forward to was working on it as best I can."
One vehicle over, Clayton Mullins clutched a leash in one hand that held a brown Cocker Spaniel in place at the other end, and carefully looked over 'The Pig' - which was a mud-splattered and nicely lifted Wrangler with a Stinger bumper and red D-rings.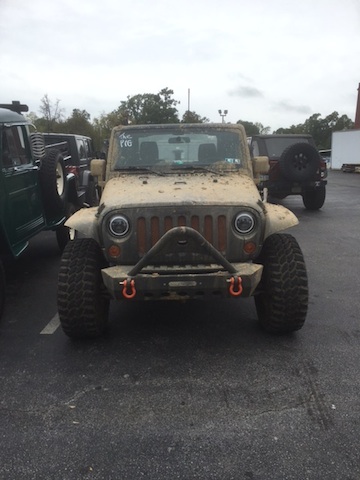 "Some of these parts, you know, it's hard to get a good feel for them in a catalog," he says, pointing at the Stinger. "I've been thinking about one of these for awhile, so it's cool someone here had one I could see."
Of course many do come specifically for the great Quadratec Tent Show deals, which this year included 10 percent off all new products, as well as scratch and dent items that were priced 50 to 80 percent off normal retail.
This was the reason so many were lined up early and sprinted for the scratch and dent tent as soon as the clock hit 9 AM.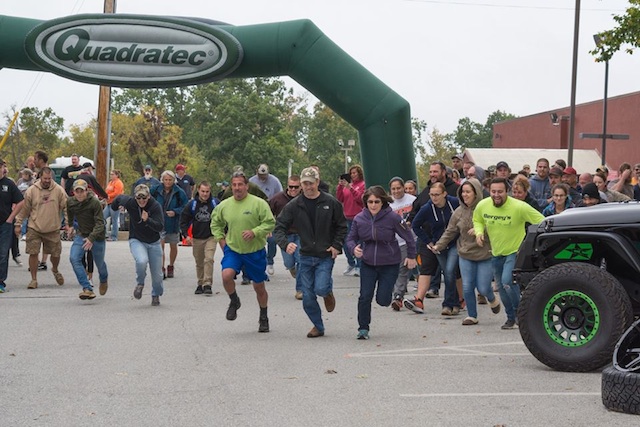 "This is my third time at the show and each year (scratch and dent) gets more and more like a Black Friday thing" says John Sanders, who added that he didn't find what he wanted during the first go around of scratch and dent parts, but still was hopeful a good bumper deal would come his way. "Yeah, it's kind of fun making that run for the tent, but I think most of us would probably trade it for a great deal."
Quadratec's Merchandising Manager Howard Fullerton spent most of Saturday helping his staff organize and haul as much product as possible to the scratch and dent tent. Every time the tent products seemed picked over, he would close off the area and the group would reload for another round.
"You know, I love seeing the smiles on customers faces as they sprint to the scratch and dent tent to get the best deals around," Fullerton says. "Also, every time we reload the tent with more items, the buzz of excitement as customers see that bumper or accessory they were looking for get put down on the table is exciting for us."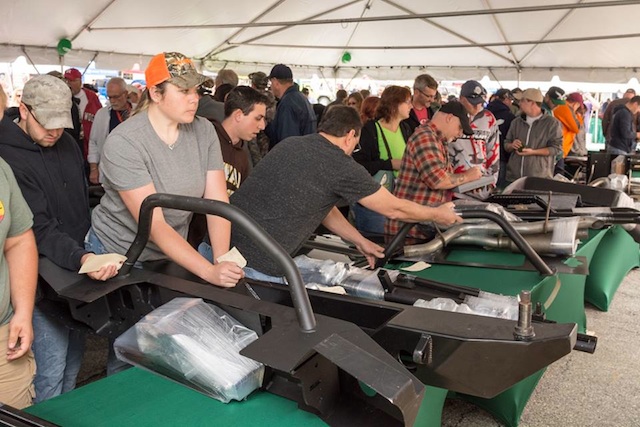 While that tent was certainly one of the most popular locations Saturday, so were the several ATV shuttles that helped customers take larger products back to their vehicles. Quadratec's Operations Specialist Charlie Lodge noted this was one of the ways the company was trying to make it easier for guests.
"It's kind of chaotic here at this tent, but we're keeping things going and people are being really great," Lodge says as he helps load a Sunrider top and some LED lights into one of the ATVs for a customer. "I think people are getting some great deals, so it's nice we can help get them get everything back to their Jeeps. No one really wants to carry this stuff around all day."
In addition to the scratch and dent area, dozens and dozens of vendors (38 in all) threw up their tents and offered advice and product recommendations to anyone who had questions. Then, armed with those recommendations, customers could head over to the new products counter and receive 10 percent off their order.
Besides those great scratch and dent deals, or the new products sale, many of Quadratec's vendors also stepped up and donated dozens of raffle prizes that helped raise money for The Crohn's and Colitis Foundation of America.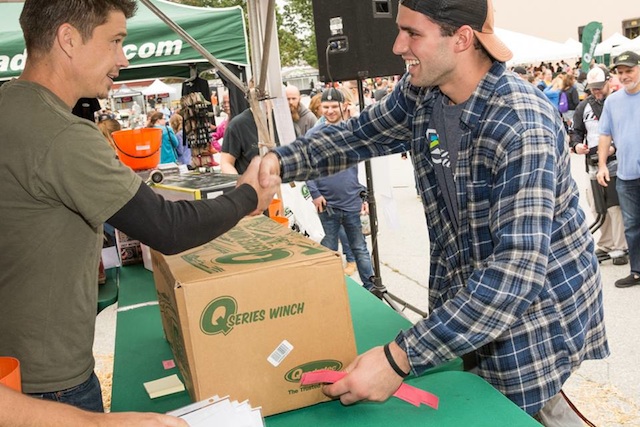 "We're thankful for everyone who bought tickets for the raffle, and congratulations to all the winners" says Quadratec's Tim McAveney. "We're also thankful to all the vendors who helped out by donating great prizes."
Even despite some mid-afternoon rain, the Tent Show remained active until the end as people ducked inside to check out the live Quadratec Channel lift kit install or take last minute catalog pictures, as well as grabbing some food from Jimmy's BBQ.
So thanks to everyone, whether you brought a beautiful Jeep to display or just came for the deals, for taking time out of your day to attend Saturday's 11th Annual Quadratec Tent Show. Also thank you to all the great Quadratec employees and vendors who pitched in to make this event the biggest and most successful one, ever.
Until next year, that is.