In 2013, Jeep introduced the Rubicon 10th Anniversary trim level for the JK Wrangler and Wrangler Unlimited. The Anniversary Edition sported a new hood, front and rear steel bumpers, rock rails, red tow hooks, and red leather seats. It was so successful, Jeep continued it into the 2014 model year as the Rubicon X (sans red leather seating) and into 2015 as the Rubicon Hard Rock Edition.
Dan McKeag and the crew at Dakota Customs, known best for their Jeep Hemi swaps, decided to take a new 2015 Wrangler Unlimited Rubicon Hard Rock Edition and build it -- retaining the stock 3.6 VVT V6 and using top tier parts sourced mostly from Quadratec -- into a competent dual sport Jeep. Dan said that acquiring parts was easy by using Quadratec as the source for most. Quadratec shipped fast, allowing the Wrangler project to be completed quickly. As part of Liberty Superstores in Rapid City, South Dakota, Dakota Customs is a one stop shop able to order the Jeep, and then build it as soon as it arrives from the factory.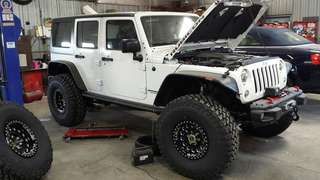 Hard Rock's front and rearends were the first items to be addressed. Currie Enterprises Rock Jock 60 front and rearends are beefy, reliable, and carry the Currie reputation for quality. Dan specified Yukon 5.38 gears and an Eaton Detroit Locker up front and an Eaton ELocker in the rear. Next, Synergy Mfg. was contacted for a Stage 4 3" long arm JK suspension system. The Synergy arms are adjustable on the Jeep, making dialing them in easy. VERY easy.
As mentioned, the Hard Rock comes from the factory with Mopar Rock Rail rocker guards and Anniversary/X/Hard Rock front and rear steel bumpers. The front bumper has removable wings that were immediately removed. To mount the Warn 9.0Rc winch, a Mopar winch mounting kit was required. While it was designed for the Warn 9.5cti winch, the lightweight 9.0Rc fit perfectly. Teraflex supplied their spare tire kit, which reinforces the tailgate hinges and can carry up to a 40" spare. Project Hard Rock's spare tires fit great with the good looking OE rear bumper.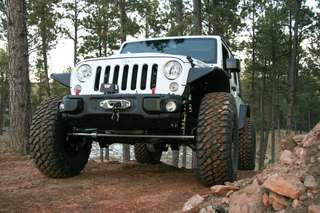 Falken introduced the WildPeak M/T a year ago at SEMA but availability has been spotty. The tires are tough and work well on the rocks and in the dirt. KOH participants have great luck with them. Some drivers have dropped their spares because the WildPeak Duraspec sidewalls are so tough. Dakota Customs mounted a set of prototype 38" WildPeak M/T tires on Weld Racing Rekon beadlock wheels for Hard Rock's rock runs. The forged aluminum Weld beadlocks are among the best and strongest wheels available today for the off-road enthusiast.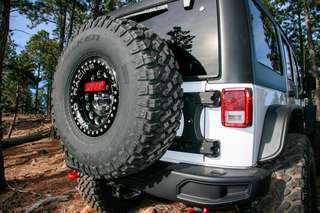 As Rapid City is no stranger to snow and Interco IROKs are the best deep snow tire on the planet (except for Icelandic AT405 radials that we can't get here), Dan also mounted a set of 39.5" IROK radial tires on Interco Birddog wheels so Hard Rock would work in any conditions. Bushwacker flat panel fender flares cover the rolling stock and provide clearance for up to 40" tires on JK Wranglers with 3" of lift (with some judicious trimming required).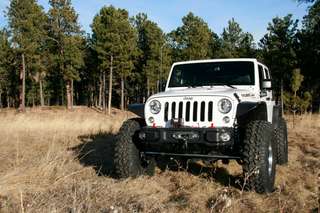 Project Hard Rock is a hard core trail rig that also works as an everyday driver. Highway performance is excellent, so a tow rig isn't required to get the Jeep to the trail. Once to the trail, the Wrangler delivers balanced performance, no matter how tough the obstacles. Street, dirt, rocks, sand, snow – Project Hard Rock is just all-around cool!
Check out the rest of the photos for more details . . .
SPECIFICATIONS
Vehicle: 2015 Jeep Wrangler Unlimited Rubicon
Engine: Jeep 3.6 VVT V6
Induction: MPFI
Transmission: Jeep/Mercedes W5A580 5-speed automatic
Transfer case/low range ratio: 241OR Rock Trac/4.0:1
Front end: Currie Enterprises Rock Jock 60
Rear end: Currie Enterprises Rock Jock 60
Ring and Pinion: 5.38 Yukon
Front Differential: Eaton Detroit Locker
Rear Differential: Eaton ELocker
Suspension: Synergy 3" Stage 4 Long Arm
Tires: 38x12.50R17LT Falken WildPeak M/T or 39.5x13.50R17LT Interco IRO
Wheels/Backspacing: 17x8.5" Weld Racing Rekon beadlocks or 17x9" Interco Birddog