CHARLES STRANGE is perched on the edge of his conference room chair, pointing at a laptop computer monitor.
He is a man of motion, Strange is, softly tapping away on a black smartphone in his right hand while gesturing with his left. A man who dominates the conversation with 'can do' action words just as his six-foot-two, 270 pound frame dominates the room.
At the moment a video is playing on the computer screen. A woman is speaking. Strange sits back in his chair and regards her with respect.
"That's Teresita (Fawcett)," Strange says. "She's the head counselor who we bring in to help the families. She is unbelievable."
Strange continues watching the video with a passing fascination, as this is something he has already seen many times. Already lived. And yet, maybe he knows this and maybe he doesn't, he softly mouths the words people say as they speak on screen.
Gently. With a proud, but resigned, look.
The video is a well done piece about the Michael Strange Foundation – an organization dedicated to helping families of fallen service members. And Charles is the founder. The Father. His son, Michael, a brilliant Navy Cryptologist, was killed August 6, 2011, when the helicopter he was inside took fire during a mission in Afghanistan and crashed.
"It hit me right here," Strange is saying, pointing to his heart. Always in motion. "I couldn't move. Couldn't do anything. People would come by and I couldn't get up. Crazy."
****
QUADRATEC'S JEEPS AND JAVA is no longer just a small get together for Jeep owners, which is both surprising and exciting to its lead organizer Tony Innaurato.
Innaurato is the kind of employee who defines Quadratec – who should define any business, really. Outgoing, fun, inspirational. The guy who would give the shirt off his back to help you, and never ask for it back.
He, along with Quadratec employees Eric Ammerman, Cory Cole, Steve Fisher, Jeff Kreutzer, Charlie Lodge, Alex Monteith, Rick Rotondo, and Megan Snyder – selfless people who represent just about every facet of the business - plan and execute the Jeeps and Java event each month. They have turned what started as a low-key get together for area Jeepers, into a once a month celebration which attracts Jeep lovers from all over the mid-Atlantic area.
"The idea was, we wanted to do something nice for local people who own or love Jeeps," Innaurato is saying on an unusually cold April morning about a week before the next event. "There are so many cool Jeep events all over the place, so we thought why not do something here. Give people a chance to get together and talk Jeep and make some new friends – all over some coffee and doughnuts."
"The surprising thing is that it has gone from simply a Jeep gathering to now more of a family outing. Hundreds of Jeeps and people. The response has been nothing short of awesome."
As the event has evolved, it also has worked to provide donations to several great area organizations such as the Main Line Animal Rescue, Shriners Hospital, Toys for Tots, and WMMRs Camp out for Hunger.
This year, Quadratec has partnered with the Michael Strange Foundation and will raffle prizes as well as Quadratec Gift Certificates during each event – with all proceeds benefiting the Foundation. For the April 10th Jeeps and Java, Dirty Dog 4x4 is providing one of their Pet Barriers for raffle, while Jammock will display and raffle one of their Jeep Hammocks.
At March's Jeeps and Java season opener, the Jeep community's response was overwhelming. Something not lost on Innaurato.
"Jeep owners are hardcore, not only about their vehicles but about the things they believe in," he says. "Jeep is a vehicle born in military history and the generosity of Jeep customers is mind blowing."
"We're proud to be associated with the Michael Strange Foundation through our Jeeps and Java and we're thankful to all who donate to this organization."
****
"NO ONE UNDERSTANDS our loss, you cannot begin to understand what it is like unless you have been through it," Charles Strange writes in a Michael Strange Foundation letter. "This is our mission, to give comfort and grief counseling to families of our fallen service members."
They are called Gold Star families, those who have lost a loved one in service to our country in a time of war. There are too many of them. And Strange, as well as others at the Foundation, do their best to provide some sort of comfort in the most difficult of times.
For Strange, it works both ways. Providing and receiving whatever comfort he can.
"Those first few months, man, I couldn't even get out of bed. Couldn't do anything," he says.
Then he met a father of another soldier. Someone in a similar situation.
"I realized that I wasn't alone in this, that I wasn't the only one who felt like this," Strange says. "It won't ever change what I feel here."
He is tapping at his heart.
"But at least I realized that I wasn't alone."
And so plans were made and the Foundation in Michael Strange's name took shape.
"I did this because there was such a great need and our sons, I mean, they went to war," Strange says in the Foundation's video. "(Michael) gave it all and I'm going to give it all to reach out to these other parents, these other brothers and sisters."
"I said, we need to start something here and do some healing for us. And that's how I came up with the Michael Strange Foundation."
The Foundation uses its donations and fund raising proceeds to provide unconditional support and services to families of recently fallen service members, bringing in counselors for 'Healing the Family' retreats on certain weekends throughout the year to help start the healing process. Gold Star families attend with all expenses paid, says Michael Strange Foundation Board Chairman Michael Quinn.
"Gold Star families don't pay a nickel to participate in our workshops, we feel they have already paid enough," Quinn says. "We receive no federal support, no grants and have no large sponsors. We do this through grass roots fundraising like we are doing with you all."
"Once the funerals are over, the government is gone and the families are left to pick up the pieces on their own. Often they do not move on and instead mask their pain and/or retreat. Our work is critical and necessary."
This past year, the organization held events in Pennsylvania, New Jersey and Colorado. Strange says plans are to grow the Foundation's reach as much as possible while staying true to its goals.
"It is our experience that there is an overwhelming outpouring of support initially to Gold Star families," the Foundation writes on its website. "But it is the following months that are the most difficult when the ceremonies fade away, and it is then that families need the support of our organization."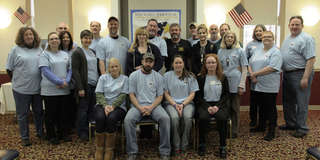 ****
MICHAEL STRANGE grew up with a great sense of humor and a kind and generous heart, reads his biography on the Foundation's website. He enjoyed the life of a typical Philadelphia kid, surrounded by a loving family and great friends who he stayed close to all of his life.
After graduating from North Catholic High School in June of 2004, Michael joined the United States Navy. Following basic training, he was sent to the Navy's Training Center in Pensacola, Florida to train for five months as a cryptologist, so he could learn how to decode encrypted messages between terrorist cells. He graduated second in his class.
During his service, Strange worked in several high profile signals intelligence gathering offices and became a first line supervisor in charge of multiple analysts. He completed a nine month deployment to Iraq with SEAL Team TWO in 2006, supporting the SEALs in battle by picking up enemy signals and locating snipers. He also served in Afghanistan.
Cryptologic Technician (Collection) First Class Michael Strange was a highly decorated combat veteran with numerous awards, including the Bronze Star Medal with Valor, Purple Heart Medal, Defense Meritorious Service Medal, Joint Service Commendation Medal with Valor, Joint Service Achievement Medal, Combat Action Ribbon, Presidential Unit Citation, and other campaign and unit decorations.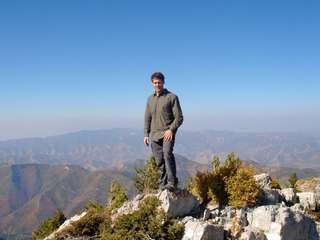 ****
CHARLES STRANGE is speaking near the end of the Foundation's video. His presence is again dominating, but this time he is very still in his chair. His words, though, now provide the motion – the 'can do' call for action to hopefully spur others to help.
"We're just asking for some support for mothers and fathers, brothers and sisters that lost a son or a daughter to give them some healing," he says quietly. "To give them a little piece of their heart back, is what we need."
"We appreciate anything anybody can do for us."
For more information, or to make a donation, contact the foundation at: [email protected] or call 215-983-4470.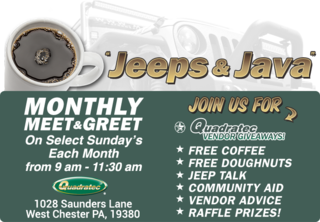 About Quadratec:
Since 1990, Quadratec's mission is always to deliver Expert Advice and Unbeatable Prices to enthusiasts of the legendary Jeep® CJ & Wrangler, Cherokee and Grand Cherokee. Quadratec's courteous factory-trained sales & customer service staff has the knowledge to make sure you, and your vehicle, get exactly what you need. Contact us at 800-745-2348 or www.quadratec.com.