The bespeckled, chain-smoking, sweater-wearing CEO of Fiat Chrysler Automobiles often employed an unorthodox management style many described as akin to a firefighter. Deftly moving from issue to issue hosing down problems and, often, leaving things better off in his wake.
At once engaging and entertaining in a press room while demanding and driven in the board room, he defied expectations time and again, rescued a sick Chrysler from collapse during the Great Recession – then turned it back to profitability, before boldly proclaiming a few years ago that sedans are a thing of the past and the way forward in North America was through SUVs and trucks. An aggressive move which, by the way, has proved highly successful so far, and one many are only now starting to copy.
Now, sadly and suddenly, Fiat Chrysler Automobiles will somehow have to find its way forward without this workaholic firefighting mastermind, following the announcement early Wednesday that Sergio Marchionne died in a Switzerland hospital. He was 66.
"It is with the deepest sadness that EXOR has learned of the passing of Sergio Marchionne," FCA Chairman John Elkann, from the Agnelli family, said in a statement.
"Unfortunately, what we feared has come to pass. Sergio Marchionne, man and friend, is gone. I believe that the best way to honor his memory is to build on the legacy he left us, continuing to develop the human values of responsibility and openness of which he was the most ardent champion."
FCA stunned many in the industry Saturday by announcing Marchionne's immediate resignation due to illness following complications from shoulder surgery, and handing the reins to longtime Jeep and Ram head Mike Manley. Marchionne had been set to retire in April 2019 and though many successors were possible, most believed either Manley, FCA European Head of Operations Alfredo Altavilla or FCA CFO Richard Palmer were the main frontrunners.
Until Saturday jump-started the succession process.
Speaking from FCA's headquarters in Turin, Italy, Manley opened a Wednesday conference call about the company's second quarter results with a minute of silence, before addressing the media for the first time as CEO.
"This is a very sad and difficult time." Manley said. "Now personally having spent the last nine years of my life seeing or talking to Sergio, almost on a daily basis, this morning's news is heartbreaking. There is no doubt that Sergio was a very special unique man, and there is no doubt that he is going to be missed."
Palmer, also on the call, said Marchionne was unique and that he was grateful to have worked alongside him for the last 12 years. "I know his style was to get on with the job. I would like to move forward with the presentation."
Altavilla, meanwhile, announced Monday he will leave the company after being passed over for the CEO role.
Mike Jackson, chief executive of dealership chain AutoNation, hailed Marchionne as someone who had an unusually sharp, analytical mind. "He could take a fire hose of complexity and reduce it to its fundamentals in minutes. He had the courage to make very aggressive decisions and if it went badly, he'd be totally accountable for it."
Bill Ford, executive chairman of the FCA rival Ford Motor Company, said Marchionne was an admired industry leader.
"Sergio Marchionne was one of the most respected leaders in the industry whose creativity and bold determination helped to restore Chrysler to financial health and grow Fiat Chrysler into a profitable global automaker," Ford said in a statement. "His extraordinary leadership, candor and passion for the industry will be missed by everyone who knew him. Our thoughts and prayers go out to his family at this difficult time."
Likewise, industry experts have high praise for Manley, who inherits the CEO title during an ambitious expansion time for FCA. The automaker recently launched a new Wrangler and Cherokee, and has numerous other vehicles in the release pipeline – including the highly anticipated Jeep Truck, Wagoneer and Grand Wagoneer.
"We're thrilled with his selection," said Wes Lutz, chairman of the National Automobile Dealers Association. "He's passionate about product. He's worked on the retail side, so he understands dealers. Any time you have a CEO who understands dealers, you usually have good market share, so I'm excited about Mike Manley."
Philadelphia-area Jeep, Ram and Chrysler dealer David Kelleher, who also worked with Manley on FCA's U.S. dealer council, agreed.
"He's candid, true to his word, and a good listener, but he also does not suffer fools," Kelleher said. "When he sits in a room, if you're not a guy that works 80 hours a week, you're going to have a tough time keeping up with him. He doesn't know what a weekend is; he's very much a protégé of Mr. Marchionne."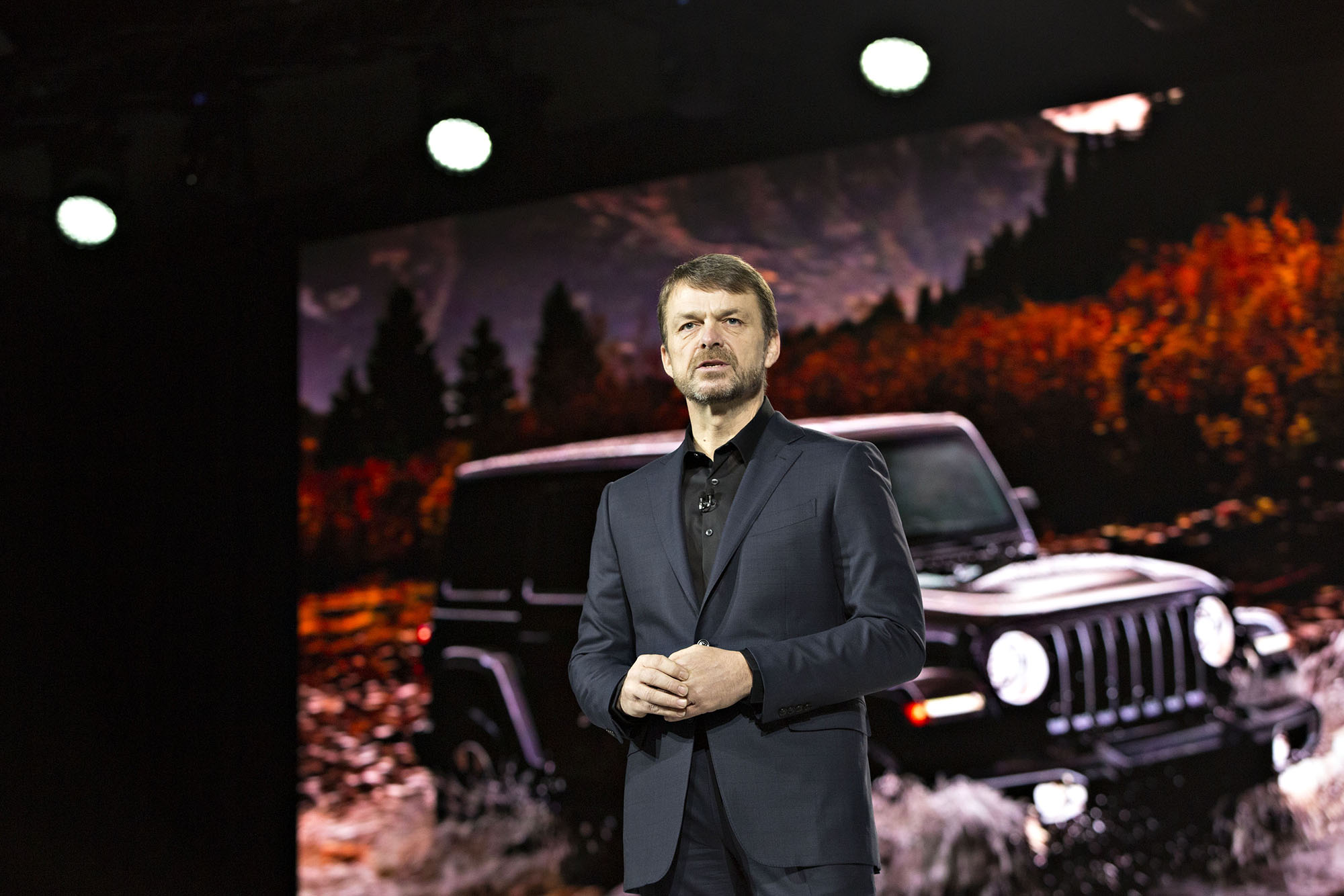 Manley, formally the head of Jeep and Ram for FCA, joined the company in 2008 and under his leadership, the Jeep brand has gone through a profound transformation and an unprecedented period of development, from a few hundred thousand units a year to several years of record sales, passing the million-vehicle mark in each of the past four years, becoming not only one of the fastest growing brands in the world but also the most profitable in the company.
He has also lately been the face of the company on stage whenever new products – such as the redesigned Wrangler, Compass and Grand Cherokee – are unveiled to the world.
"Mike has been one of the major contributors to F.C.A.'s success and he has a remarkable track record of accomplishments," Elkann said in an email to Fiat Chrysler employees. "The succession plans we have just announced, even if not without pain from a personal point of view, mean we can guarantee the maximum possible continuity, preserving our companies' unique cultures."
Along with Marchionne, Manley had a hand in developing FCA's newest five-year plan, unveiled back in June. The plan relies on the continued growth of Jeep and Ram, as well as addressing things like further electrifying the entire vehicle lineup, boosting luxury brands Alfa Romeo and Maserati and finding new inroads into China.
That continued growth of Jeep and Ram are possibly the biggest reasons Manley was put in control. Jeep's sales surged tremendously under Manley, and his ascension to CEO sent a clear message that FCA was staying on course and would keep the Jeep brand at the heart of its growth plan.
"Manley knows that his primary focus is on execution and that, already, he has a strategy into which his team has bought," said George Galliers, an analyst at Evercore ISI. "There is no reason the 2022 plan cannot be executed."
"The Dodge, Chrysler and Fiat brands may go through a lot of change and there's a question as to if they might still exist," said Michelle Krebs, executive analyst for Autotrader. "But Mike was center stage at the presentation of the five-year-plan and they have a good blueprint in place. They have allowed for some wiggle room in case of the economy. They've been preparing because they knew all he planned to retire."
However, Max Warburton, an analyst for research firm Bernstein, said things could be tough for the new CEO as it was always expected Marchionne would still have input even after departing.
"The market knew Sergio was retiring as CEO in early 2019, but some of us assumed he'd remain as chairman and be there to phone in his instructions," Warburton said in a note. "Marchionne ran FCA in a command-and-control style, with constant firefighting measures. There is no operating manual (for Manley) to follow."
Marchionne's last public appearance was June 26 in Rome, when he donated a Jeep to the Carabinieri - Italy's military police. Taking deep breaths between words, Mr. Marchionne said that his father had been a Carabiniere and added, "I find the values that were at the basis of my education: seriousness, honesty, sense of duty, discipline and the spirit of service."
Marchionne was hospitalized in late June for shoulder surgery and what was expected to be a short stay. Following his surgery, he took a sudden turn for the worse July 21. That prompted the boards of FCA, Ferrari and tractor maker CNH Industrial - affiliated companies all led by Marchionne - to replace him and announce he would be unable to return to work.
After joining Fiat in 2003, Marchionne was appointed CEO in 2004 – becoming the company's fifth CEO in just two years during a difficult time for the foundering automaker which lost over $7 billion the previous year.
However, behind Marchionne, the company rallied and in just two years found profitability, primarily after he played a game of high stakes 'chicken' with GM to unwind their partnership and earning $2 billion in the process.
The highly driven Marchionne, well known now for his chain-smoking, anti-suit, always-on personality, then turned his attention to North America. He reintroduced Fiat, Alfa Romeo and Maserati brands to the U.S. market and turned Ferrari into one of the fastest-growing sports car brands.
When the Great Recession threatened to destroy Chrysler, Marchionne stepped in and negotiated a no cash down buyout to save the company - then merged it with Fiat. Within two years, it had excited Chapter 11 and paid the government back, and in 2013 became known as Fiat Chrysler Automobiles.
"Without Sergio, Chrysler would not have survived," Jackson said. "His negotiation with the Treasury was just masterful at a time of extreme stress. He's a remarkable creator of value for companies, not just in the auto industry but any industry."
Fiat went from $7.5 billion in 2003, to $71.5 billion currently under the umbrella of Fiat Chrysler and its spinoff Ferrari division, but not everything went as planned.
The company's 2014 five year plan met with mixed success, Fiat has performed abysmally in North America, overall vehicle quality is rated low year after year and Marchionne famously urged customers in 2014 not to buy the Fiat 500e electric car.
"I hope you don't buy it because every time I sell one it costs me $14,000," he said at a Washington DC conference.
Plus, there were always those merger rumors floating around, not to mention Marchionne's failed attempt to partner with General Motors in 2015.
And yet, throughout the whole era, things kept moving forward. Jeep and Ram moved into primary drivers and entered record sales territory, while the company's debt shrunk to nearly nothing.
"He'll be remembered as one of the early 21st-century's great auto leaders along with Alan Mulally and Elon Musk," said Edmunds Manager of Industry Analysis Jeremy Acevedo.
Now it is all in the hands of Manley.
"Look, (Manley) has an incredible record leading Jeep and Ram, so he is obviously an excellent, natural choice for this job," said The Rev Institue's Paul Ingrassia. "That said, he is filling some very tough shoes…history suggests really great leaders are hard to follow."