by Matt Konkle
Quadratec Channel Editor
So the war is over. You've battled through negotiations, claimed victory, and now the spoil of your combat rests comfortably in your driveway looking as perfect as you pictured. It is certainly exciting - yet whether your prize is new or used; 2-door Sport Wrangler, or a 4-door Rubicon, that excitement may soon turn into confusion for many of you first-time owners, as one question quickly becomes reality.
Now what?
Do you head straight for the Internet and follow forum post after forum post about how your first mods should be a hardcore 4" suspension lift, massive steel wheels, 35" off-road tires, and a 9,500lb winch? Parts that will get you out on the trail as soon as possible whether you are ready or not? Or do you shun any modifications, instead choosing to be content with the vehicle 'as is'; enjoying as much daily driving Jeep life as you can handle, but little else. Then again, what about finding some moderation and choosing something in between those two options?
Definitely confusing.
And as a first-time owner, probably frustrating and intimidating too.
Well, in reality, you should know your Jeep road never has to be preset and more often than not, that third option works really well for nearly every first-time Jeep owner. By all means, though, if you have the knowledge, desire, and resources, to get your hands dirty immediately and build that next great trail-crushing Wrangler, then go for it. Have a blast! But if you don't – if you are unsure what kind of steps to take in this larger new Jeep world – then a bit of caution should definitely rule as you get to know your new vehicle.
"It's easy to fall into the trap of some off-road shops where they say they have to put $20,000 into your vehicle before taking it (out)," says Kyle Buchter, President of Off-Road Consulting.
Buchter advises any first-time Jeep owner to take a basic off-road training class to learn what the vehicle can do and then decide what do you want to do with the vehicle.
"Are you planning to off-road once a month or once a year? " he says. "Is this going to be your daily driver or toy? That determines where you need to go with modifications and upgrades. Always build the vehicle to fit your lifestyle."
Here, then, is our list of top-10 affordable and 'Essential' modifications first-time Jeep owners, in our experience, can easily and safely use to answer that 'now what' question. There certainly are plenty of other great mods out there – just like there are opinions. And, like we said before, your Jeep road never has to be preset. But over the past 25-plus years, we've found this list as a great springboard into the Jeep Life.
Also keep in mind, if the vehicle you purchased is used but 'new to you', it may already have one (or more) of these modifications in place. If so, definitely make sure the part(s) are in good working shape or are something you like and want. If not, then remove and replace with something more in like with your taste.
BUMPERS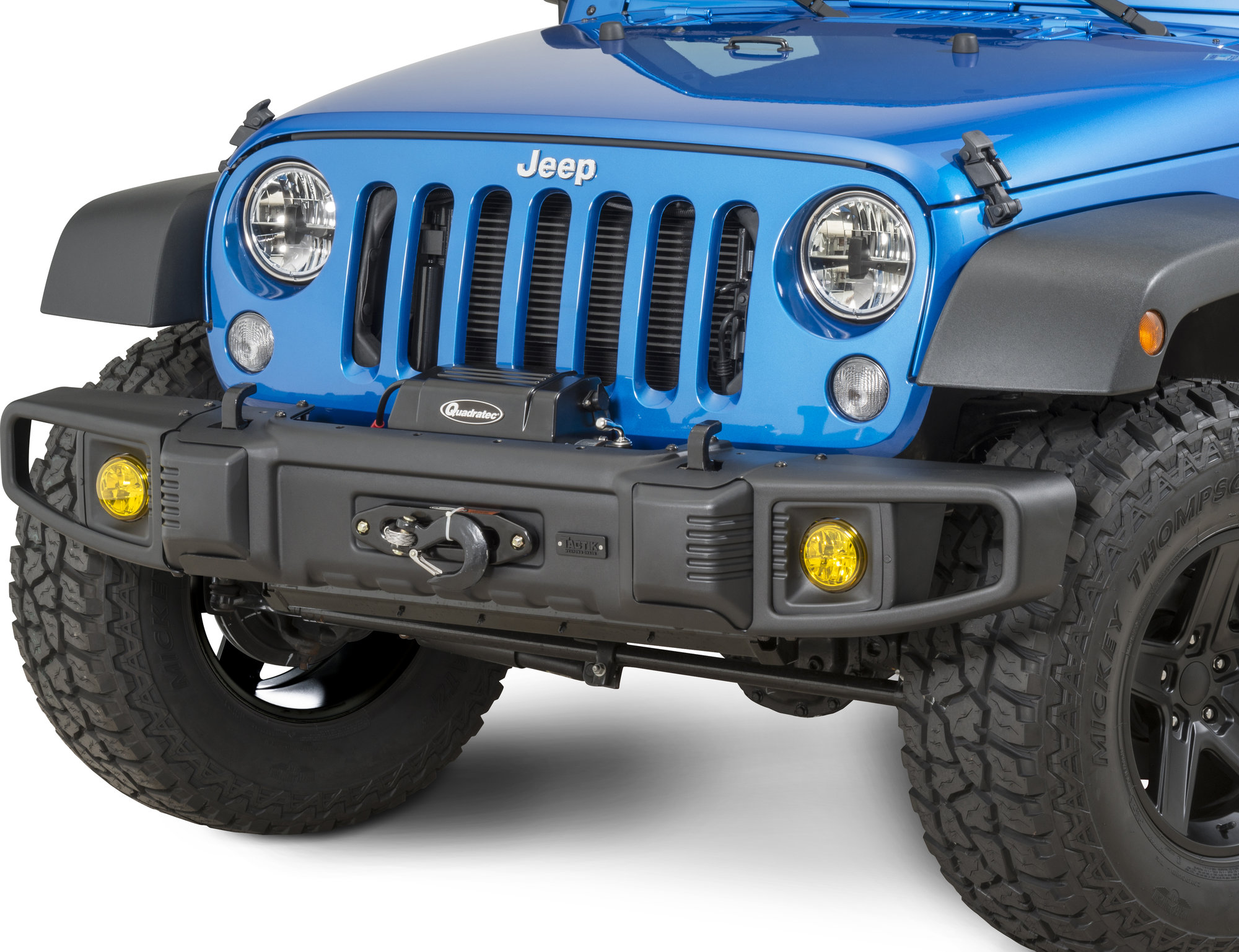 Why bumpers, you may ask. Doesn't my Jeep already have front and rear bumpers? Well, yes it does. But those plastic factory bumpers are about as useful during a collision as a jug of gasoline in a fire. So, for just about anyone, heavier duty front and rear bumpers are one of the first modifications made. Not only for off-road use, but for every day protection.
"Whether preparing your vehicle for ultimate off-road adventures, expanding your Jeep's capabilities, or protecting your assets, at Smittybilt we know customers want the highest quality, most innovative and affordable parts around," says Smittybilt's Glen Kukula. "That's why we offer a wide range of bumpers that are high quality, feature-rich, and designed to meet the function and budget of our customers."
"All our YJ and TJ bumpers require no drilling and all our bumpers are manufactured of the highest quality cold rolled steel to take extreme off-road abuse. They also use a two-stage power coating that offers the thickest and most rust and corrosion resistance."
Smittybilt, as well as other aftermarket brands, can utilize several different front designs like:
Stubby – a shorter bumper about grille-width in length
Tubular – a simple two-tube design that runs across the front, with some involving a hoop around the center for added protection
Modular – a stubby-type bumper that has various optional components which can customize its look to your needs.
Aftermarket rear bumpers also are available in several different styles, and for most first-time Jeep owners ones having a strong tubular design, or full-length solid 'rock' or 'super duty' style, and even a modular type can certainly do the trick without crushing the pocketbook. For those who plan on adding larger tires down the road, some rear bumpers even will add a tire carrier component.
You can check out all your Jeep Bumper options here
ENTRY GUARDS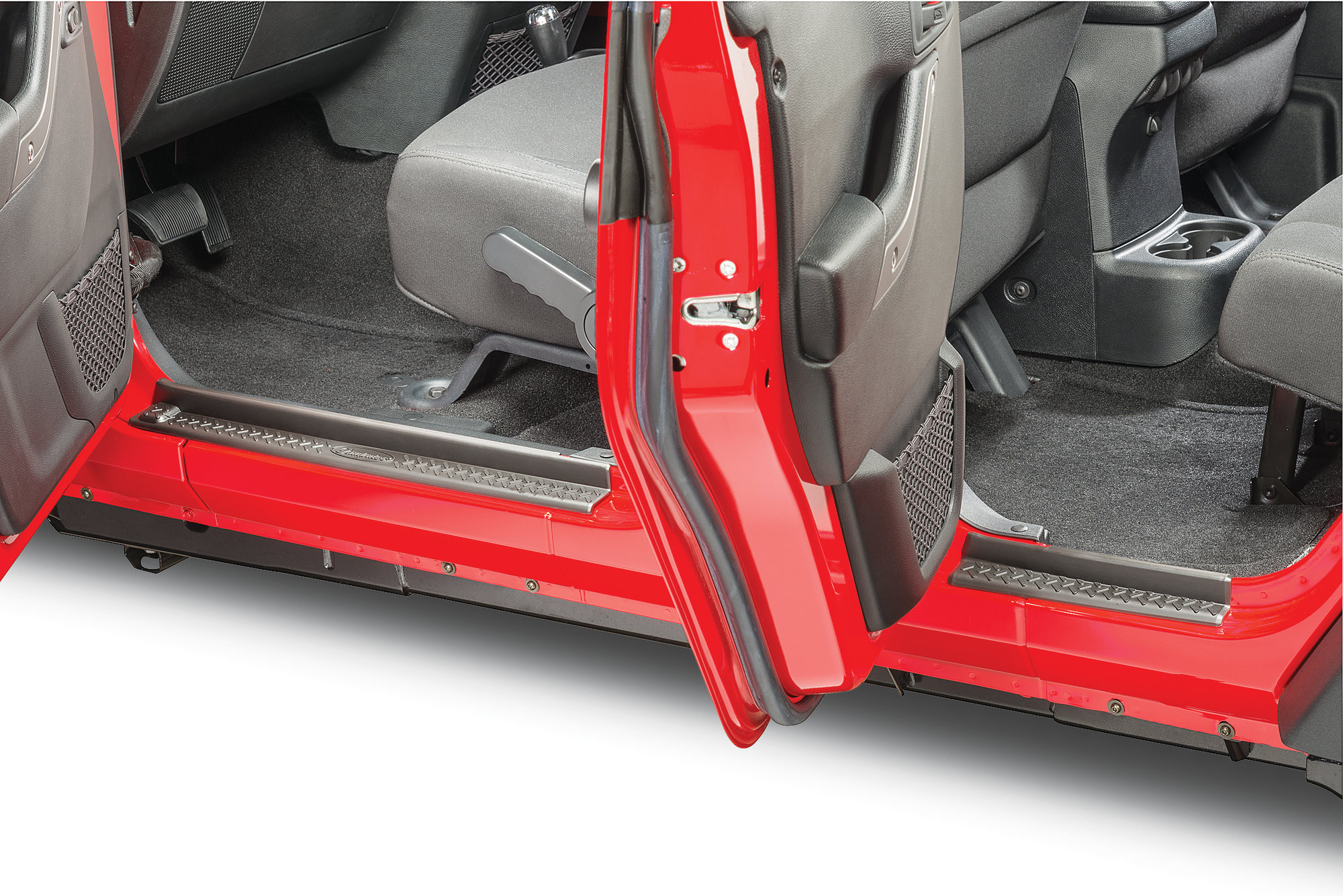 Seems a little silly, doesn't it? One of the most highly trafficked areas on your Jeep has nothing in place to protect paint against scuffs and scratches. Your gas tank and transfer case have skid plates to protect them, right, but the door frame? Nothing.
Well, you don't need a skid plate for your lower door area, just some low-tech and affordable door entry guards. Entry guards install easily with most brands using 3M adhesive to attach, while utilizing thermoplastic, aluminum, or stainless steel material to protect the frame. Whether you plan on just daily driving, or venturing off-pavement, Jeep entry guards should definitely find their way on your punch list for an easy and affordable modification.
You can check out all your Jeep Entry Guard options here
FLOOR LINERS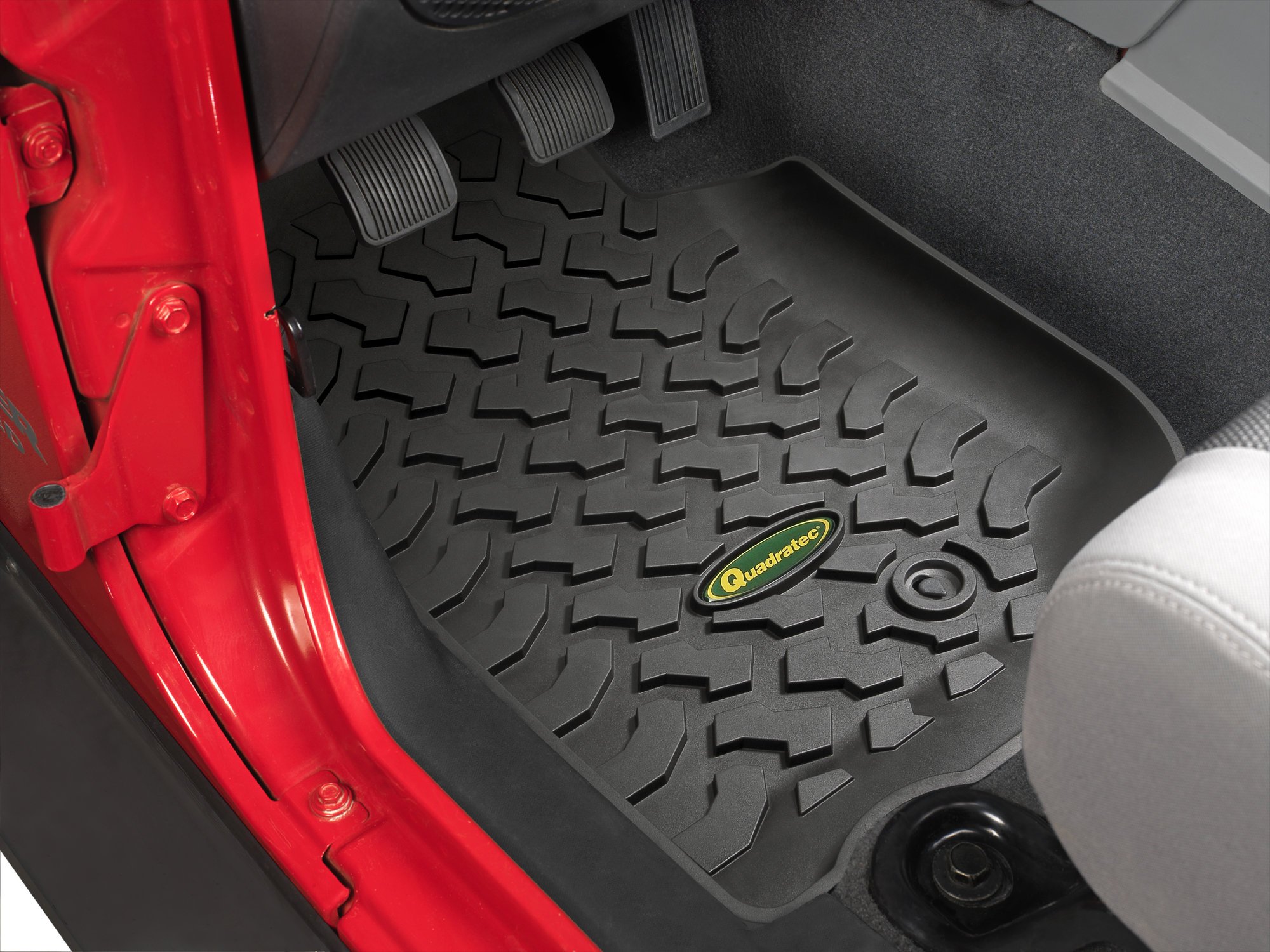 As you are probably learning, most people consider their Jeep's interior as a second home. And a great way to easily keep that second home 'mess free', especially in this on-the-go age, is a set of floor liners. Designed to fit over the factory or aftermarket carpet, floor liners are that glove which protects your interior from just about anything you drag into the Jeep - water, mud, snow, gum, grease, whatever.
Now, there are a few different types of liners out there such as:
Carpeted mats that are stain-resistant and help guard against the everyday wear and tear your Jeep interior will see.
Rubberized slush mats that have a grooved body to help trap moisture like mud or snow.
All-weather heavy-duty liners that utilize a lipped outer edge and either a molded thermoplastic, or stain-resistant carpeted base to form a protective barrier - all while remaining easy to clean.
Trail tough molded polyethylene liners which have a deep 'tire type' tread pattern and raised edge to totally protect from everything like mud to grease, while also remaining simple to clean.
Most liners also come in front, rear, and cargo styles so can get the protection you need throughout your Jeep.
You can check out all your Floor Liner options here
GRAB HANDLES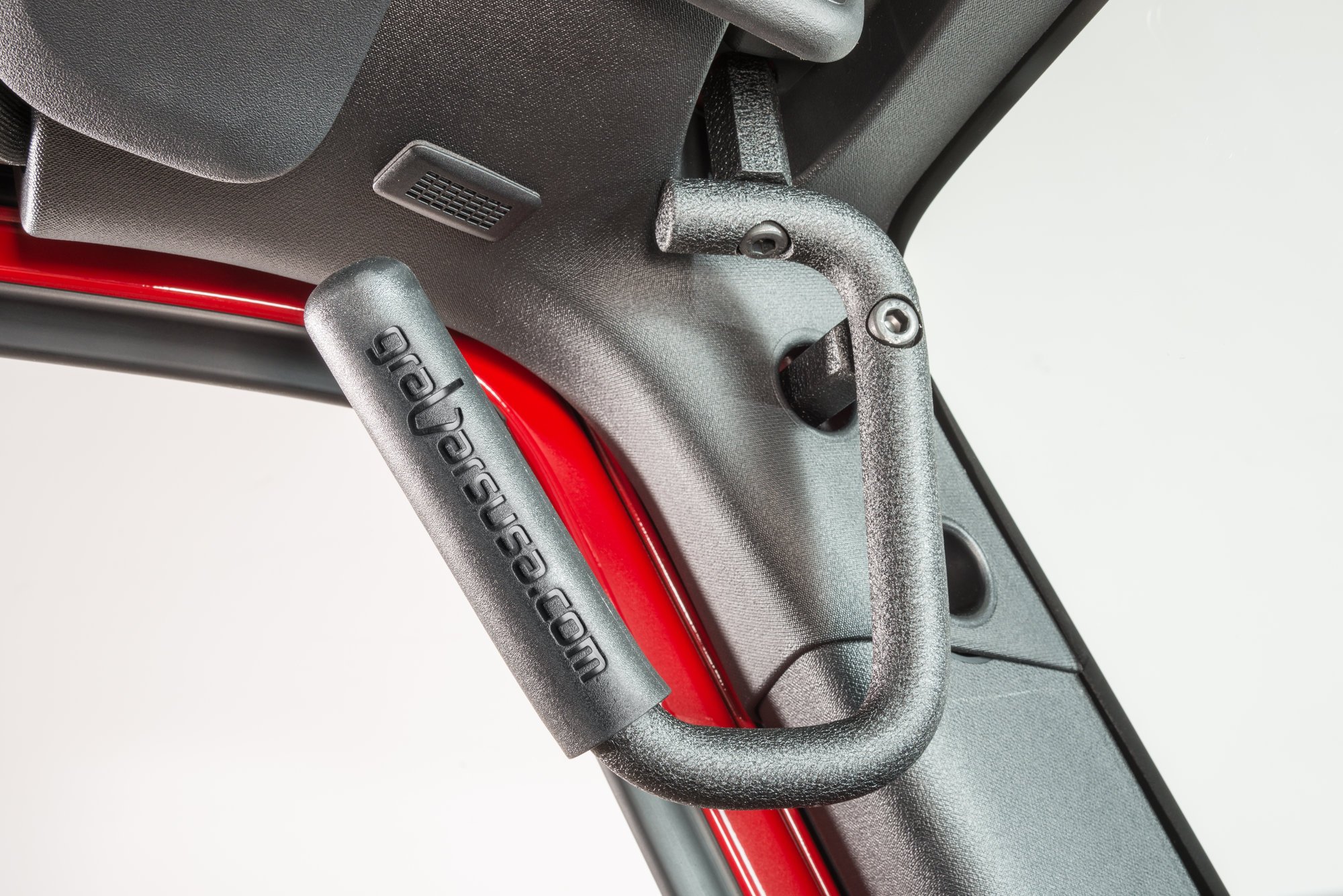 Chances are you've previously owned a vehicle that had some type of handle above the passenger side and rear doors. You know the ones. The thing you clutched with a passion when the turn got a little too sharp or ride a bit bumpy. Yet in a Jeep, with its roll cage between you and the top, well, that kind of top-mounted handle really isn't very feasible.
However, a Jeep's roll cage actually offers a better-type handle solution – and so can the vehicle's front A-pillars. With a Jeep, who needs a top-mounted grab handle when you can securely attach what you need to the roll cage or on the pillar. This way, not only can you grab the handle when needed, you can even use it for getting in and out of the vehicle.
From simply nylon handles, to deluxe nylon versions with a foam grip, to heavy-duty Paracord, there are many affordable versions out there that all Velcro around the roll bar and provide smooth, um, 'grab-a-bility' when the need arises. Or you can look at a front-mounted piece called GraBar, which is a strong ¾" solid steel handle manufactured by Welcome Distributing that bolts to your Jeep's A-pillar.
"Most of us need a little help jumping in to a stock Jeep Wrangler, let alone a lifted one," said Welcome Distributing President Ken Welke. "You don't need to tear up your seat and steering wheel when you climb in. Instead, use GraBars which are incredibly convenient and compliment your Jeep so well that (new Jeepers) will wonder why these grab handles weren't included from the factory."
"We feel they are not only useful for getting in and out of your rig, but you'll really enjoy them as an off-roader when you need to lean out and spot the trail or even for mounting your GoPro camera."
You can check out all your Grab Handle options here
REPLACEMENT HOOD LATCHES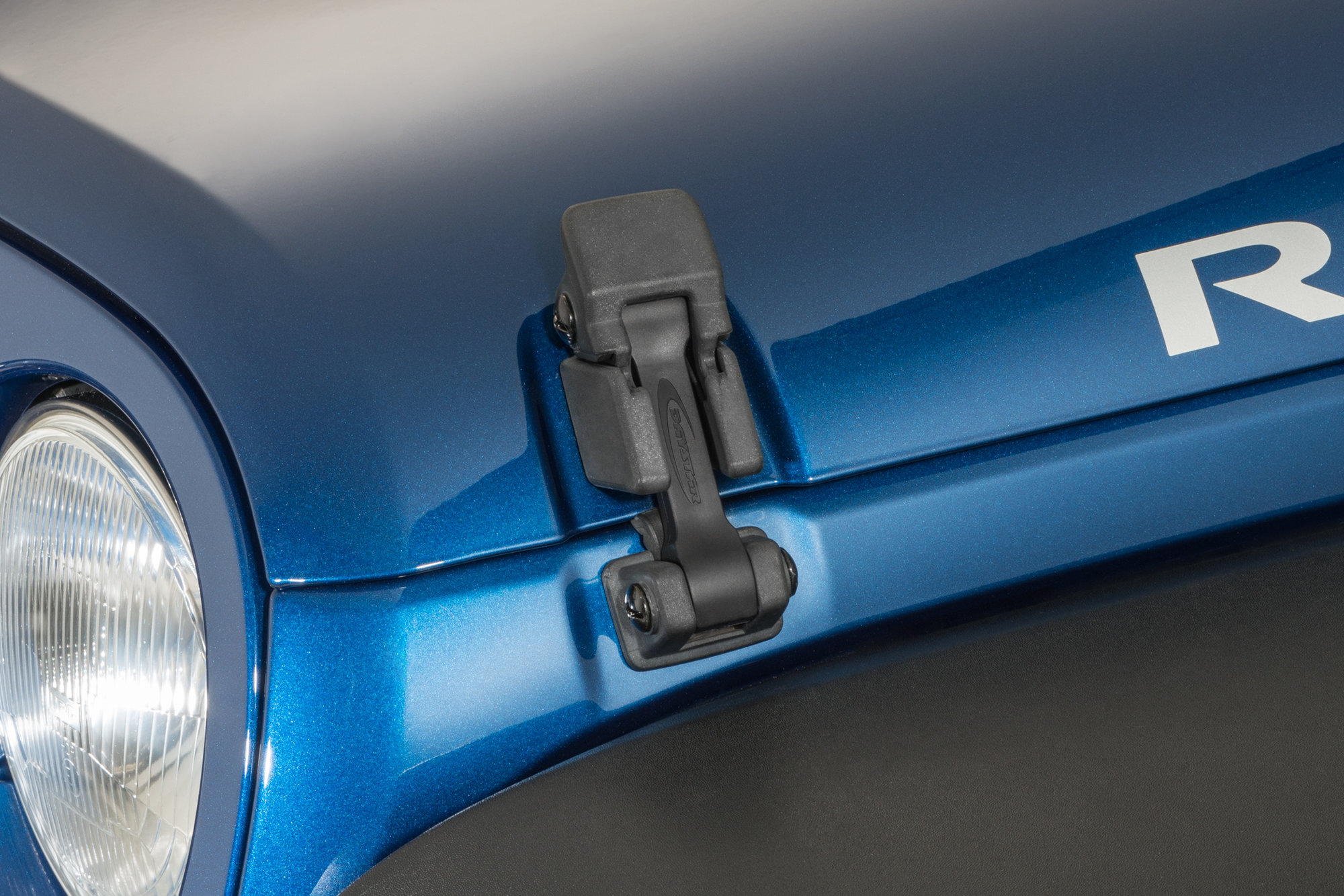 Let's face it – if you have driven your new JK Wrangler at anything faster than walking speed, you've probably noticed an alarming amount of hood movement. Translate that to highway driving, and you may feel like your hood will tear off at any second. The reason behind this is simply that the factory latches use a soft, stretchy rubber that isn't able to keep the hood securely in place at higher speeds.
While the odds of your hood actually flying off because of latch failure is pretty remote, it certainly can be an unsettling and annoying distraction while driving. This is where aftermarket latches, like the popular Daystar Hood Wranglers, shine. Besides offering a few different 'beefier' ways to customize how your hood connects, these latch options utilize stronger materials to ensure that your hood stays in place during all driving conditions.
"Daystar's Hood Wranglers provide a more positive lock that keeps the hood securely shut for peace of mind," says Daystar's Don McMillan. "They're constructed of heavy-duty polyurethane and will stop the (hood) flutter on your 2007 and newer Jeep JK Wrangler."
Some latch options even offer locking security, providing you additional peace of mind if you ever add other aftermarket items inside your hood (such as aftermarket batteries or air induction systems). And these lockable latches are available for older TJ (97-06) Wranglers should you have one that is 'new to you'.
Check out all your Replacement Hood Latch options here
LED LIGHTS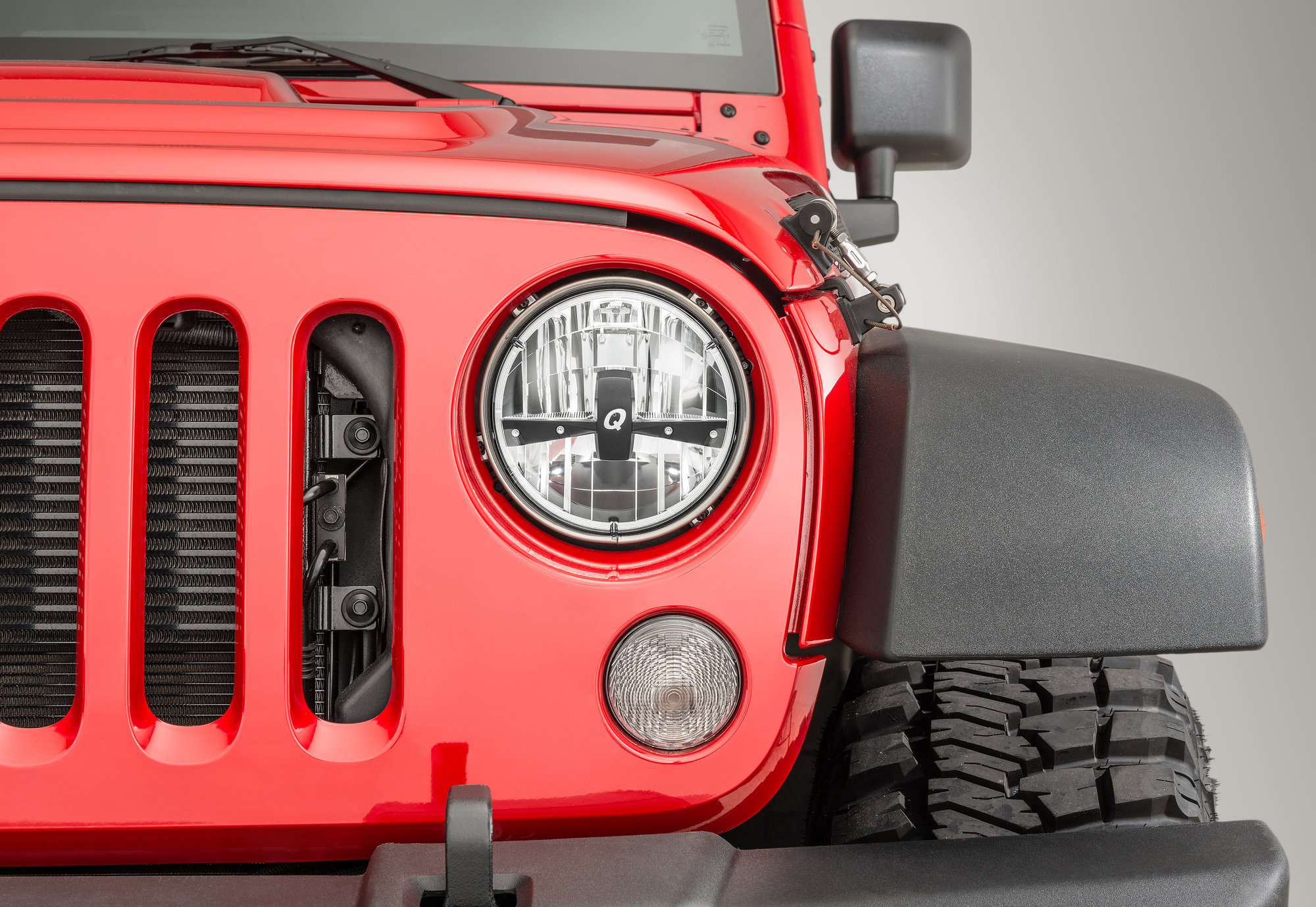 When it comes to comparing factory headlights to aftermarket LEDs, the '80s hair band Cinderella once sang "Don't know what you got till it's gone". For the first-time Jeep owner, it means you probably don't know how underpowered those dim, weak factory lights are until you check out aftermarket LED lighting.
LEDs, or Light Emitting Diodes, are currently one of the hottest modifications around simply because their light output at both low and high beam is nearly double the factory headlight output. Yet, despite this powerful light, the amp draw is less than half what factory lights require.
More power, less amp draw. And thanks to all kinds of technology improvements over the past few years, more affordability as well. So it's no wonder LED lights have jumped to the front of the line over other great options like HID and Xenon.
Now, within the spectrum of LED upgrades, there are essentially two types of headlights - reflector style and projector style housings. Both are great options and the difference between both styles is how they go about projecting the light down the road and the output pattern of light you see on the road surface.
Reflector Style LED Headlights look similar to the factory light, with a clear lens and fluted reflector at the back of the housing. The LED's are positioned in the center of the housing and bounce light off the reflector. These lights are usually divided into an upper and lower half, for low and high beam respectively.
Projector Style LED Headlights have a very distinct appearance. By positioning the LED behind a lens and cut-off shield, the light is more focused and the cut-off pattern of the light is much sharper than reflector style LEDs. This creates a more even pattern of light on the road. Projector style headlights also utilize separate LED and projector lenses for high and low beams, with some even featuring additional lenses for peripheral lighting to really light the road ahead.
Of course, with the additional lenses, the cost of projector style lights is usually slightly more than a reflector style LED. However both offer great advantages over the stock factory Jeep lights, so really it just comes down to personal preference in style, look, and how much cash you're willing to shell out.
Check out all your LED Lighting options here
RECOVERY GEAR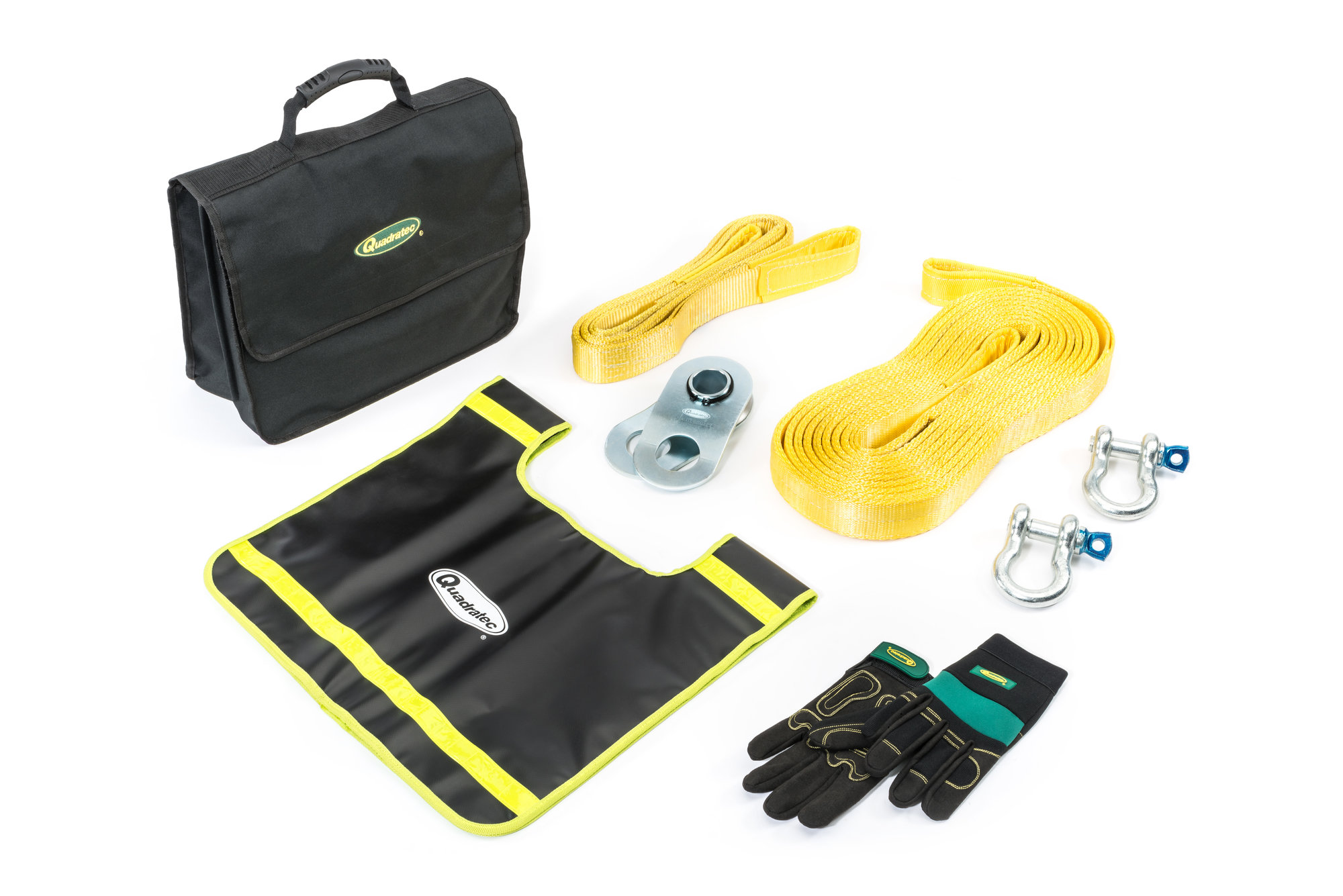 Whether your future plans include off-roading, or simply pavement driving, it is always a good idea as a new Jeep owner to upgrade the recovery capability of your vehicle. And this doesn't mean springing for the newest massive hydraulic winch with hi-tech Synthetic line.
According to Off-Road Consulting's Buchter, simple recovery items - as well as learning how your vehicle responds when using them - can be every day lifesavers should the occasion arise.
"Things like tow or recovery straps, gloves; a couple of D-rings," he says. "Then getting to know the vehicle, learning how the systems work and how the Jeep responds. Knowledge, understanding and the ability to make smart decisions is one of the best things you can do."
Most of the 'Essential' recovery products good for new Jeepers are included in many winch accessory kits – things like gloves, d-rings, or recovery straps which are designed to stretch out when used, providing kinetic energy to pull a vehicle from obstructions like sand, mud, or snow.
Other good items to have would be bumper tow hooks (most new Jeeps should have, but yours may not), a First Aid kit, fire extinguisher, and a heavy-duty jack like Hi-Lift.
Check out all Jeep Recovery Gear options here
SEAT COVERS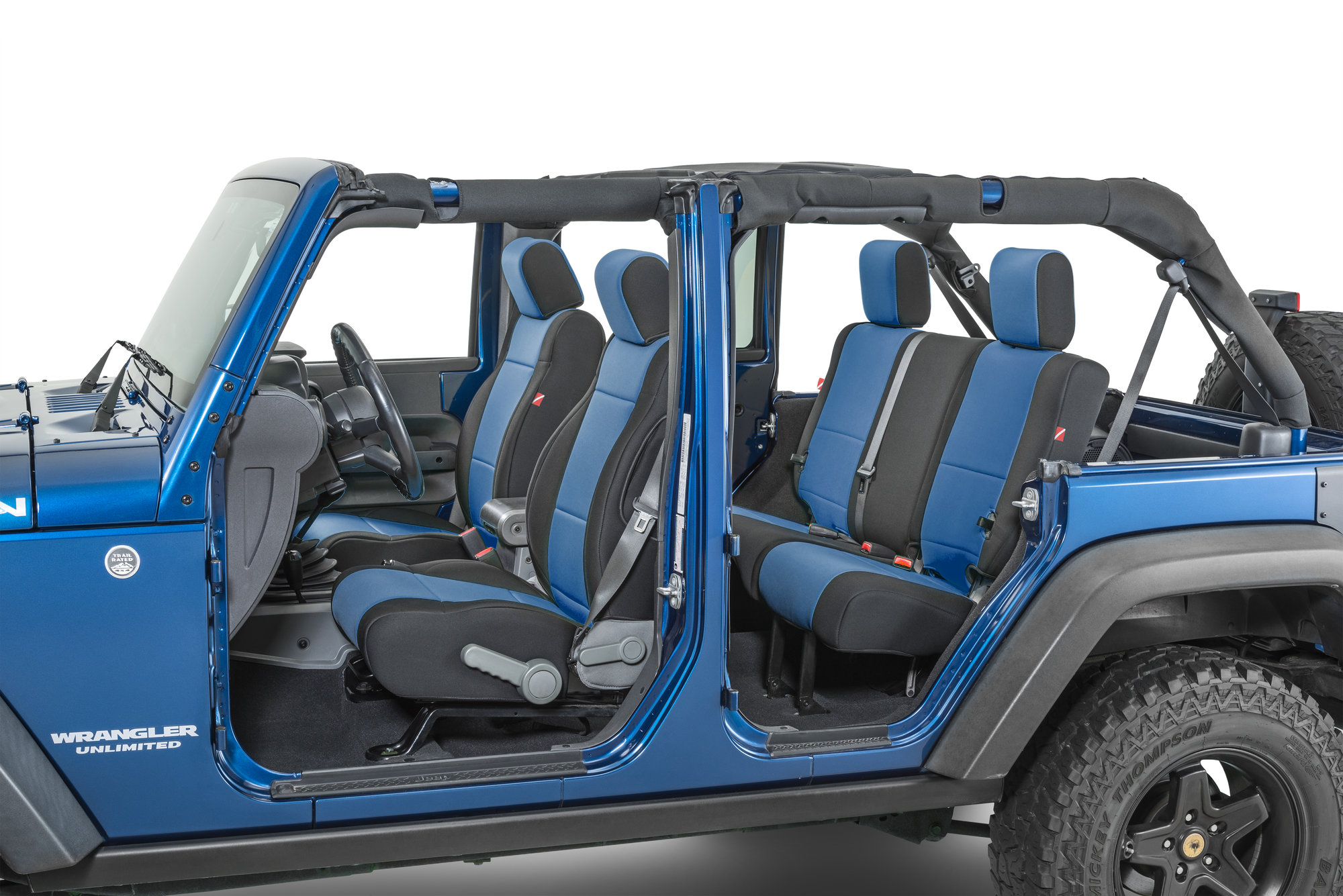 New Jeep seats are great. Used seats, maybe not so much. But there is one thing they each have in common - the need to be protected. See, your Jeep isn't like a normal car. There won't always be a roof over your head to protect those seats because you know you'll take that top off on a nice day. That's just what you do with a Jeep. And when you do, it will expose those seats to the elements like sun, wind and (potentially) rain. All stuff that does not play well with seat material.
So getting protective seat covers made of things like neoprene, polyester, or nylon can go a long way to enhancing the lifespan of your Jeep's seats, while also giving you a chance to customize the vehicle's look. Many covers have several different color options so you can match up to your Jeep's color, an interior theme, or whatever else you have going on with the vehicle. Additionally, some even have pouches integrated into the cover or the ability to add MOLLE bags, which provide extra storage space. And that can be important as you learn more and more how limited storage space can be inside a Jeep.
Check out all the Jeep Seat Cover options here.
INTERIOR SECURITY/STORAGE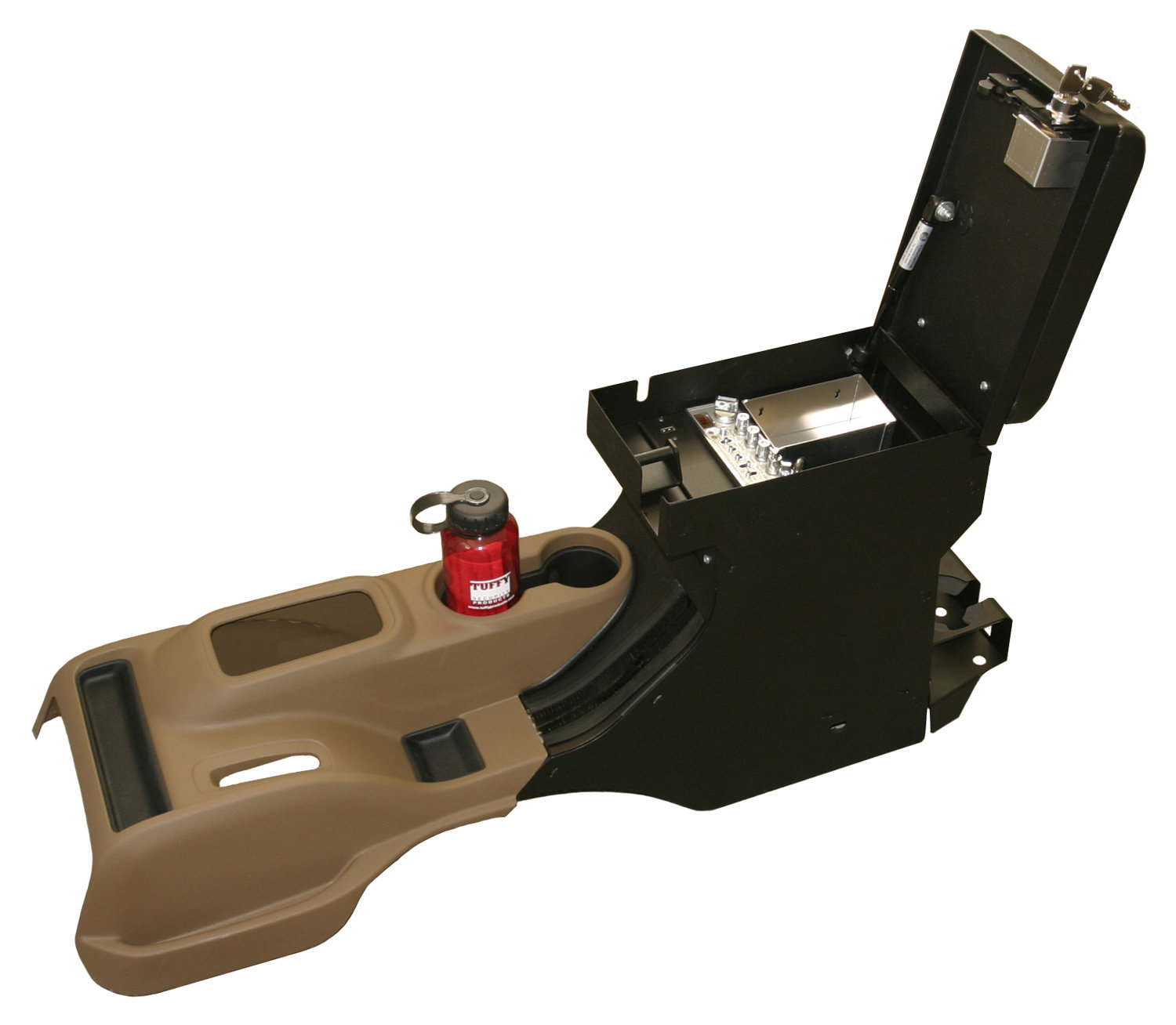 It's no secret that cargo space and security inside a Jeep is pretty limited – as you've probably found out. And, while the newer 4-door JK Wranglers have a bit more room, you may still struggle to find the space you need. Also, if you sport a soft top, or even just plan to take the hardtop off for a few months, safely securing that cargo can get worrisome. Sure the factory console has a lock, but so does your screen door and you wouldn't feel safe just using that to protect your house when you go on vacation. Would you?
So, for interior cargo options, many first-time Jeep owners who need that security can look to solid 16-gauge steel lockable consoles either between the front seats, under seat, overhead, or even at the rear cargo area.
Other cargo storage options do a great job augmenting your Jeep's available space by adding storage bags or packs to places such as the tailgate, roll cage, seats, or soundbar.
If you are on the go pretty much all the time, dash organizers can help sort through the clutter.
Check out all the Jeep Interior Storage and Security solutions here
SOFT TOPS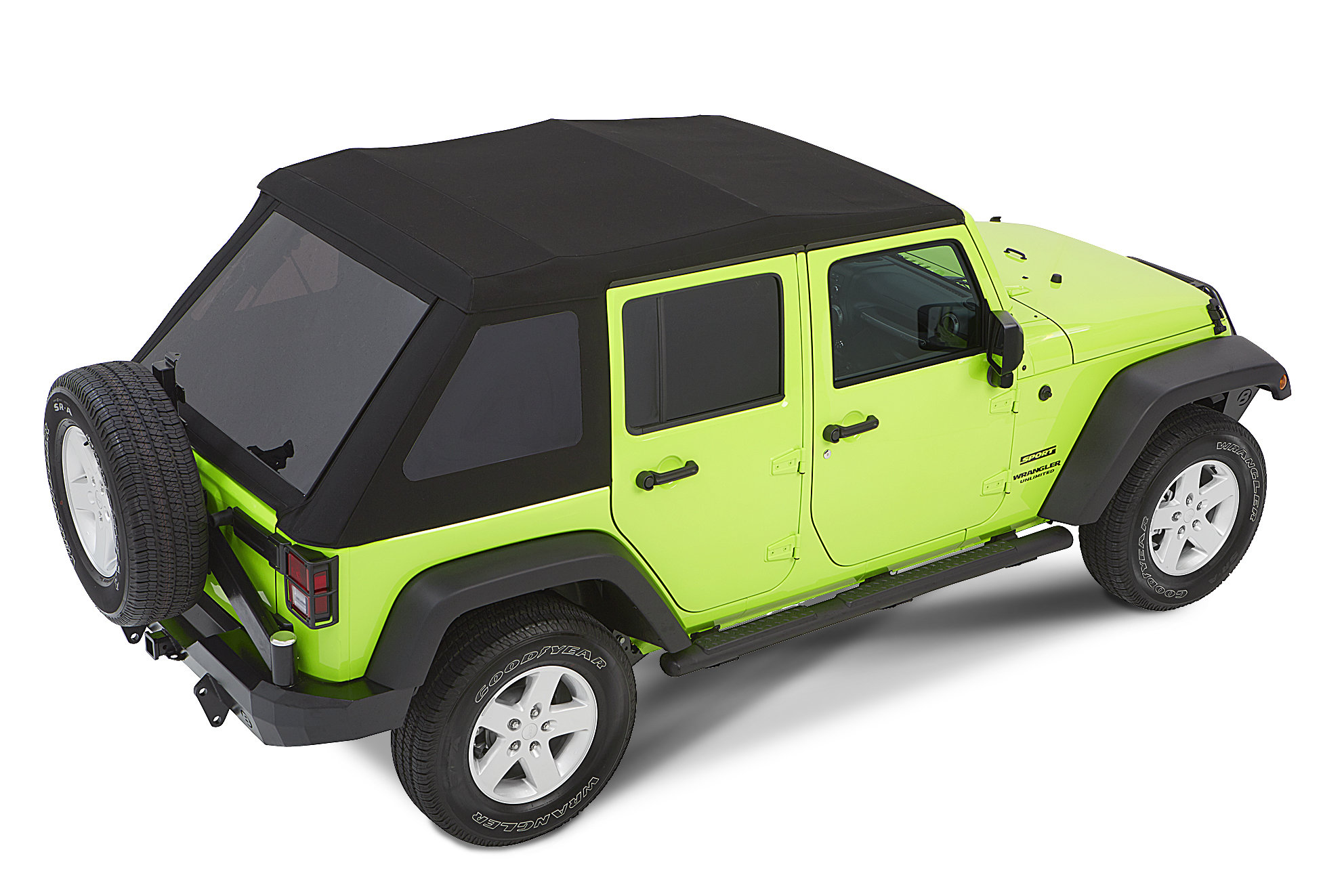 To soft top, or not to soft top – that is the question. And it is one that's probably as old as Mr. William Shakespeare himself.
On one hand, soft tops have an integral part in Jeep history. Part of its DNA, if you will. The ability to pull that top down on nice days, or zip out windows makes for a ride unlike just about anything else on the market.
On the other hand, hardtops came along and certainly provide more durability, security, and an efficiently quieter ride than soft tops - but all at the expense of that 'Jeep open air' feel.
Well, in many cases, modifying that Jeep to include a soft top is must for nearly every new Jeep owner simply for the ability to enjoy your Jeep to its full potential. You are never just 'stuck' with the top you have when you own a Jeep.
For many first-time Jeep owners, a hard top Jeep is all they know. Whether it was the salesperson who talked up that hardtop until you said 'yes', or the Jeep you really wanted just came that way, it really is not difficult to enhance your vehicle's look by adding a soft top.
These days, soft tops come in all shapes and sizes from full-blown replacement tops with all mounting hardware included, to popular new frameless soft tops, to simple – yet efficient – bikini tops that you can install after (carefully) removing your hardtop.
You may just want to try a 'summer type' soft top solution such as a bikini, windbreaker, and tonneau rear cover when you remove the hard top. This will mostly open up your Jeep's interior without leaving you totally exposed in the open air all the time.
Or, perhaps, you decide a total soft top replacement – hardware and all – is the way to go because you really love the idea of pulling the entire top up or down at your leisure.
But even if your Jeep did not come with a hard top, you still may need to upgrade the top on your 'new to you' Jeep.
Soft tops generally have about a 3-5 year lifespan and, while factory soft tops have gotten better and better over the years, they can eventually stretch out and no longer fit into the Jeep's grooves, or begin to have stitching issues. Sometimes the windows can encounter zipper problems and need replacement. Luckily, all of these things are affordably replaceable; whether through a full canvas-only top, or simply going the piece by piece road.
Whether just for practicality, or the desire to experience exhilarating open air driving, upgrading and modifying your vehicle with a soft top is a perfect solution for the first-time Jeep owner looking to enjoy their vehicle the way its founders intended.
Check out available Jeep Soft Tops and Quadratec's Exclusive Soft Top Advisor here