For now, it is just airbrushed art on a screen – some green and black pixilated colors splashed together.
And yet, the image it forms sits there before us. Taunting. Asking us, what am I? What do you want me to be?
When Fiat Chrysler Automotive (FCA) unveiled two of its seven Moab Easter Jeep Safari (MEJS) concept vehicles last week, it (perhaps) purposely left one shrouded in mystery. A concept machine hidden behind artwork that just may indicate where FCA is going with its recently-announced Jeep Pickup vehicle.
And they call it the Jeep Crew Chief.
Now, admittedly, this is all speculation until FCA rolls out its 2016 MEJS concept vehicles for display sometime around March 21st, but wouldn't it be interesting if the Crew Chief turned out to be a four-door pickup with retro J-style facing?
FCA isn't saying, but it certainly wouldn't be the first Jeep pickup they took to Moab.
The 2005 Gladiator, 2010 Nukizer, 2011 JK8, and 2012 J-12 were all concept 'traditional' pickup designs that were well-received by Jeep lovers. However, all were two-door truck concepts and all were out well before FCA announced a production Jeep pickup.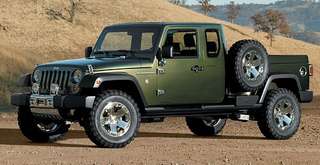 Now the game has changed and legions of Jeepers are anxiously awaiting a peek at what FCA is proposing for its pickup. Will it turn back the clock and churn out a Comanche-type design, or will it follow statistics and construct a four-door 'crew' kind of pickup as current JK sales skew about 70-30 on the four-door side.
It is certainly hard to tell from the Crew Chief artwork what FCA has in mind, but it does seem to have that 'throwback' front look made popular with the early '70s Cherokee Chief series. And since FCA already brought a 'Jeep Chief' concept to last year's MEJS, why would the company turn around and bring something similar this year?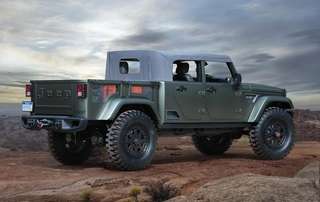 With the MEJS as arguably the biggest destination Jeep event of the year, it would only make sense for FCA to satiate the ravenous appetites of Jeep lovers with a 'first-look' pickup design.
Then again, perhaps it's just some wild concept that will never see the light of day.
We'll know soon enough, when the red rocks of Moab bring that art concept vehicle to life.
About Quadratec:
Since 1990, Quadratec's mission is to deliver Expert Advice and Unbeatable Prices to enthusiasts of the legendary Jeep® CJ & Wrangler. From classic Jeep vehicles to the current day Wrangler, Quadratec's courteous factory-trained sales & customer service staff has the knowledge to make sure you, and your vehicle, get exactly what you need. Contact us at 800-745-2348 or www.quadratec.com.