by Devyn Schulte
Quadratec Staff Writer
When it comes to modification options for your Jeep, many people love to start on the outside. After all, the exterior is the first thing people see so why not customize it and make it great. Plus, if you are an off-road driver, it makes some sense to replace things like bumpers, side bars, lights – and the like – for a better experience.
But if your budget isn't as lofty and doesn't include room for those larger type additions, then heading inside the Jeep and making some changes absolutely makes sense. And will save you some cents, too.
You may not realize it, but your seats are really one of the more important products on your vehicle; maybe not for its overall performance, but certainly for yours. In fact, it is one of the few parts you come in contact with every time you are in the Jeep, and can directly affect how you drive.
So if your seats are worn down, perhaps torn up, or just not performing the way you want - especially if the vehicle is a little older - it may be time to look at seat replacements. These type replacements can be in vinyl, cloth, leather or suede, and many bolt right up to the factory seat mounts. Some are even designed exclusively for the off-road driver and include provisions for five-point racing harnesses.
If your current seat mounts are not quite functioning properly, or the seats you like require new mounts, we do have plenty of mounting options that are direct bolt-in replacements. Some even can raise or lower your seating position, as well as providing a front/back sliding option you may not have had before.
Besides mounts, other great interior seat accessories include covers, replacement harness belts and seat storage options.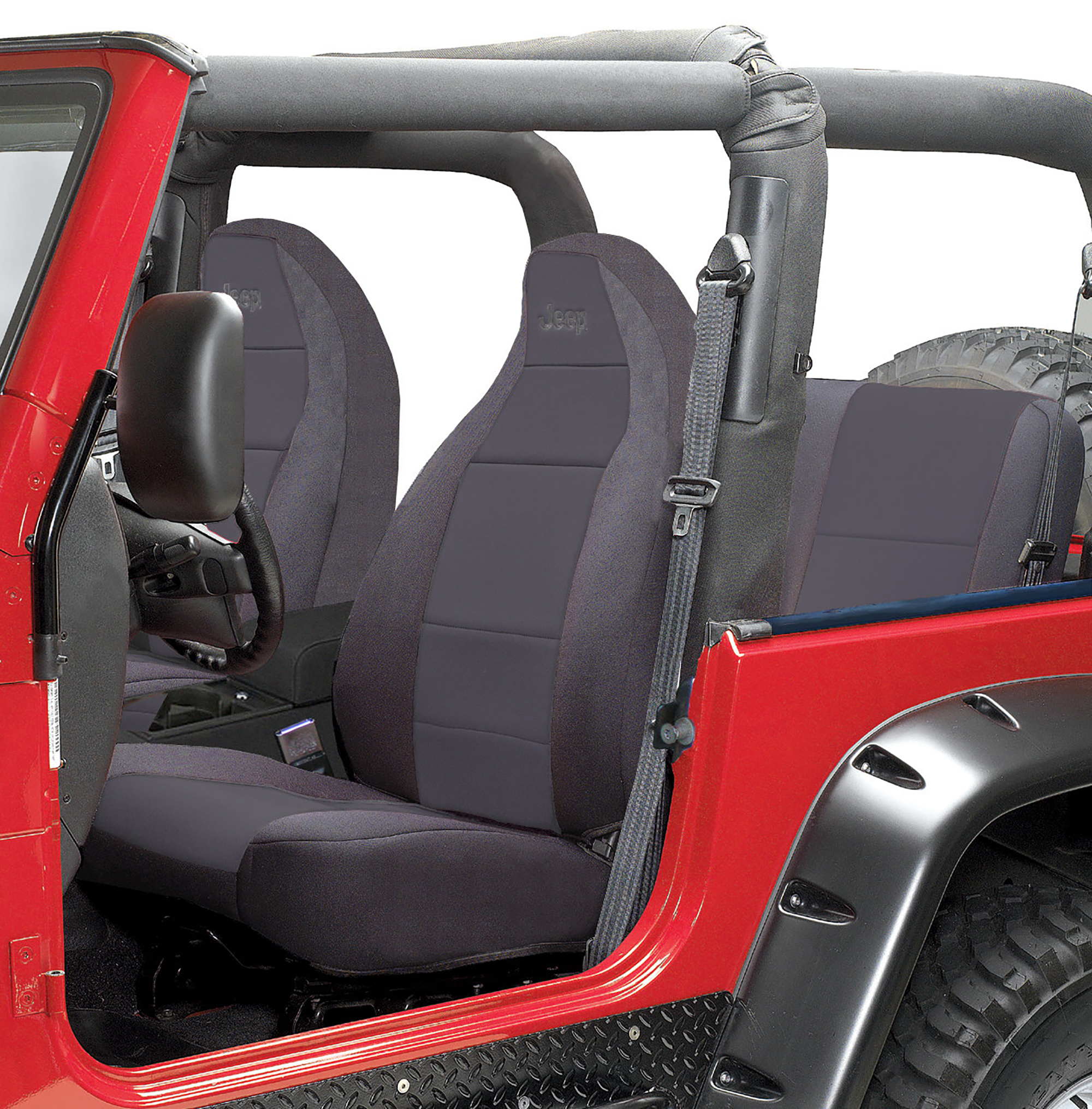 First let's look at seat covers. Not only can the designs and colors of these items change and personalize the look of your seats, they can provide protection from the elements too thanks to materials such as neoprene, ballistic nylon, canvas, polycotton and several others.
The covers themselves can be universal or custom fit, which ensures you'll be able to find a style that works with the seats you currently have in the vehicle. And the best part, no matter which cover you choose, they can nicely hide away whatever tears or damage you have on the seats, while adding years to their lifespan.
You can even give those seats or covers a comfort boost by adding heating elements, depending on the vehicle's year. TJ owners who have a 1999 or newer model, as well as all JK owners, can add these elements that are applied to the interior of the seat back and lower pad, and provide adjustable low or high heat settings.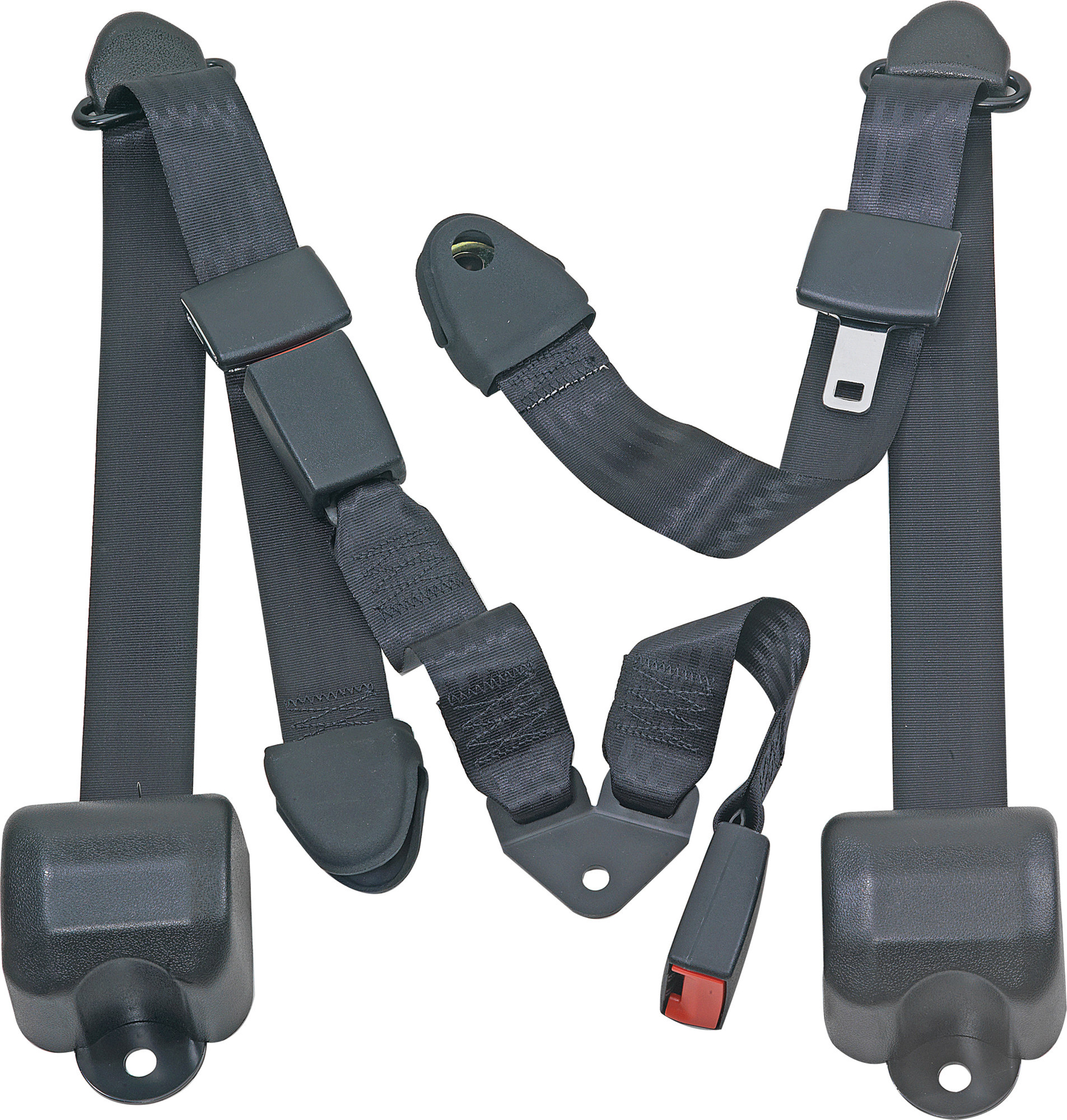 Next, seat harness belts are something that – like seats – can fray away or become damaged over time. Not only is this a safety issue, but it can be a legal issue as well. So when you are looking at interior accessory replacements, then shoulder and lap belts, as well as buckles, could make for an important swap out or addition.
Additionally, for those who venture off-road more than staying on road, replacing standard three-point seat belts for stronger four-, or five-point harnesses can provide even more safety and security.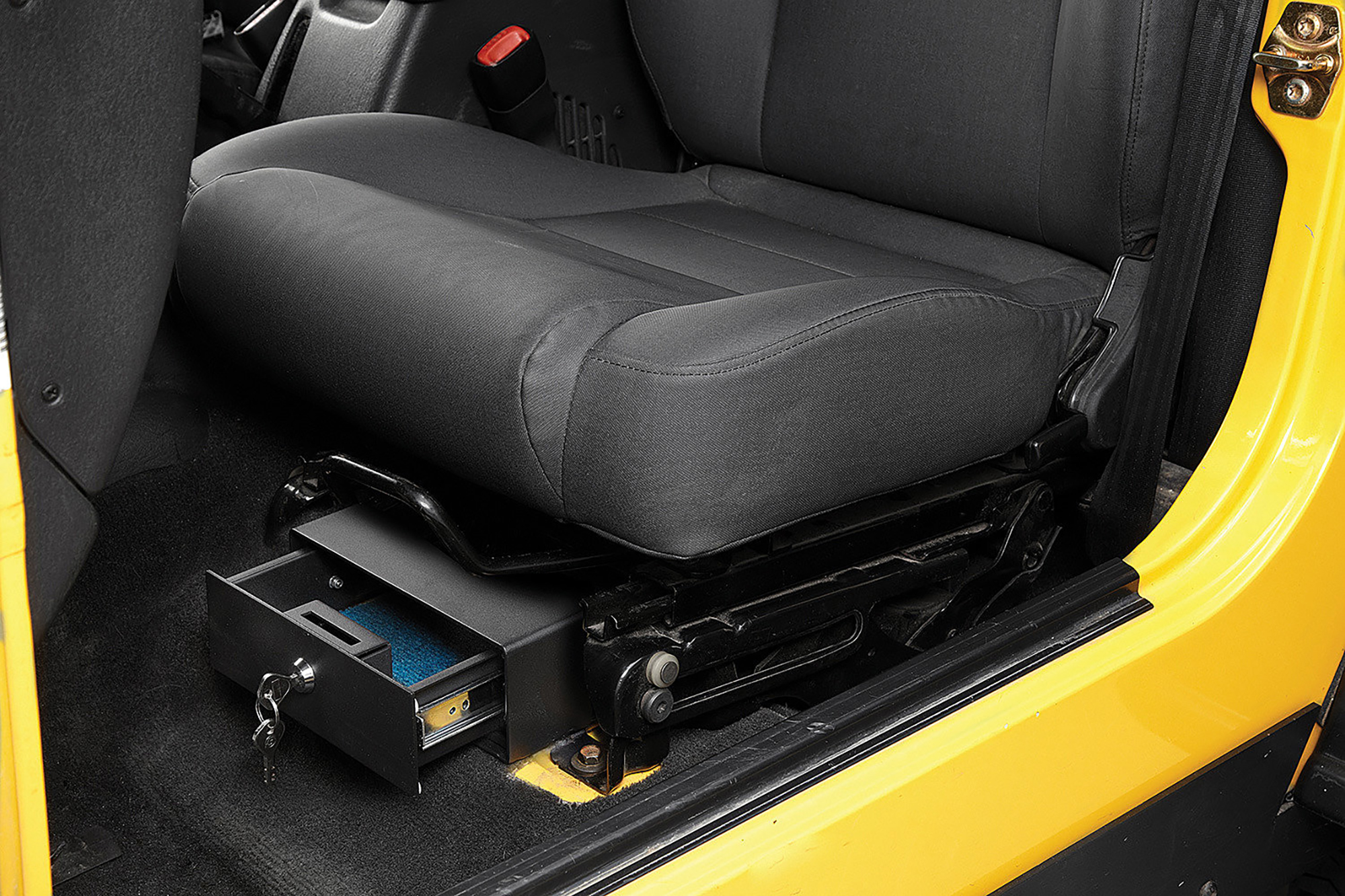 Lastly, seats (or seat covers) do not have to be static products that just give you one benefit. Thanks to replacement covers, like the Smittybilt GEAR series, you can get additional storage space for many of your essential items. Others offer seat back pockets for smaller things such as phones or notebooks. Or, you can opt for heavier duty metal underseat storage boxes that are lockable and allow you to securely store your valuable items.