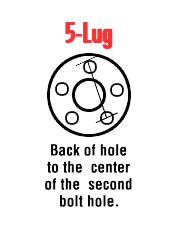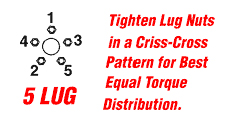 Bolt Pattern

Vehicle Description

5x5"
07-Current Wrangler & Wrangler Unlimited JK

5x4.5"
'97-'06 Wrangler TJ & TJ Unlimited
5x4.5"
'87-'95 Wrangler YJ
5x5.5"
'41-'86 MB & CJ Series
5x4.5"
'84-'01 Cherokee XJ & Comanche MJ
5x4.5"
'93-'98 Grand Cherokee ZJ
5x5"
'99-'04 Grand Cherokee WJ
5x5"
'05-Current Grand Cherokee WK
5x5"
'06-'10 Commander XK
5x4.5"
'02-Current Liberty KJ
5x5.5"
'62-'73 J Series & Full Size Wagoneer
6x5.5"
'74-'91 J Series & Full Size Wagoneer

Lug Size

Ft/Lbs Torque

7/16"

55-65

1/2"

75-85

9/16"

95-115

5/8"

135-145

12mm

72-80

14mm

85-95
IMPORTANT NOTICE: After install new wheels and lug nuts, check the torque of the lug nuts after 20-30 miles. Recheck the torque after an additional 100 miles.
Reference the Owner's Manual for factory specifications of proper wheel torque
For all our wheel options, please check out our Wheel and Wheel Accessory page.

How to Properly Torque Lug Nuts
Properly tightening your lug nuts is crucial to ensure proper safety when operating your Jeep vehicle. Start by tightening any lug nut to it's proper torque of about 100 ft pounds (The exact torque for your vehicle can be found in your owners manual). Then, move to the lug nut adjacent to the one you tightened. Next, move back across the wheel again. Follow the pattern shown in the diagram, working back and forth across the wheel until all lug nuts have been properly tightened.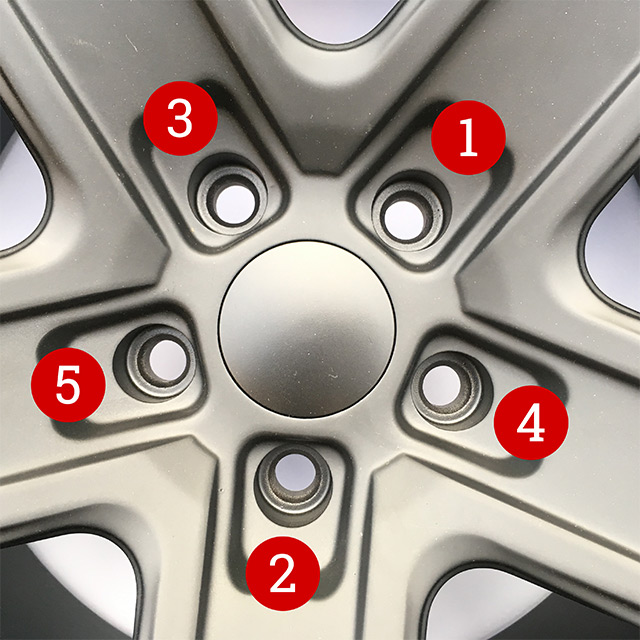 How to Measure Your Bolt Pattern
If you're unsure what bolt pattern your Jeep wheels have, it's easy to measure. First, count the lugs. On a Jeep, you probably have five lugs. Next, you need to measure the bolt circle (the yellow circle on the diagram). To do that, start with your ruler at the center of a lug. Officially, on a five lug wheel you would measure fom th