by Matt Konkle
Quadratec Channel Editor
Spring is the time of year that can really get Jeep owners' blood churning. That time where the days become longer, the temperatures warmer and tops of all shapes and sizes can be unlatched, unhooked, untethered, or somehow otherwise removed.
Yup, spring marks the rebirth of topless season. And for many who have endured the darkness and wintery nastiness of the past few months, it couldn't have come around soon enough.
Now, surely there are those of you out there in warmer climates probably laughing; driving down the road in your constant topless weather. Doors off. Music churning. But for everyone else, the change of season marks a great time to take stock and see just how ready your Jeep is for topless season.
Most likely winter didn't do it any favors, right? What with all the road gunk, dirty snow, grime, mud, or whatever else came in contact with the Jeep during all its winter travels.
So if you haven't yet, you should probably take the thing to the nearest car wash stall and give it a good bath—both up top and underneath—to truly get rid of as many winter reminders as possible. Facts are, though, there are a lot of things you should really do to get that Jeep looking, and performing, its best besides just a decent bath.
Take, for example, fender flares. Unless you've really focused on them in the past, chances are they've faded quite a bit from their nice, original black finish. And how about those soft top windows? Where are they going to go when you unzip them from your top?
That's not all either.
When your Jeep hardtop or soft top comes off, it opens up the cab to the full fury of nature so things like carpeting, seats—even the dash—can use some attention. Not to mention making sure you have some kind of good lockable storage to safely stow away any valuables while you are away from the vehicle.
So as the calendar pages melt away, and spring really arrives, here are eight things you can do to help your Jeep adjust to topless season.
You Need Storage For Your Hardtop, Soft Top And Doors
That's right. Top off, open cabin driving is one of the best perks you get from owning a Jeep. However, when these tops and doors come off your vehicle, they really do need a decent spot to call home. Somewhere safe and protective, and not just tossed into the garage or backyard where who knows what could happen. By doing this, you'll be able to seriously enjoy all those topless drives without worrying if your Jeep top or doors are still in one piece.
Now you may think this advice only applies those with hardtops as nearly anyone with a soft top just reclines the thing down. But think about this—where do those windows go? You know, the ones on the side and back. Yeah, you can toss them into the backseat, or into the garage somewhere and hope they do not get all scratched up. Or you can invest in a solid storage bag that will protect soft window plastic as well as keeping those zipper tracks from losing teeth.
For the hardtop crowd, storage options are a bit more plentiful. If you do not have anyone who can help remove the thing, you can hook up a hoist (power or regular) in your garage that will easily lift the top off your vehicle, and even store it, until you are ready to mount it back on the Jeep.
Of course, having a buddy or two help lift the hardtop off your vehicle makes things easier. But again, if you are planning on just setting it in the garage or backyard, then you may want to think again. Hardtop carts have become extremely popular over the past few years as they can securely hold both the top and panels, and include a base with wheels so the whole ensemble is simple to move around wherever you need.
For further protection, wall storage pegs are a great way to keep doors out of danger when off the vehicle, while canvas cover bags are a helpful product to keep your top's Freedom panels safe and scratch free.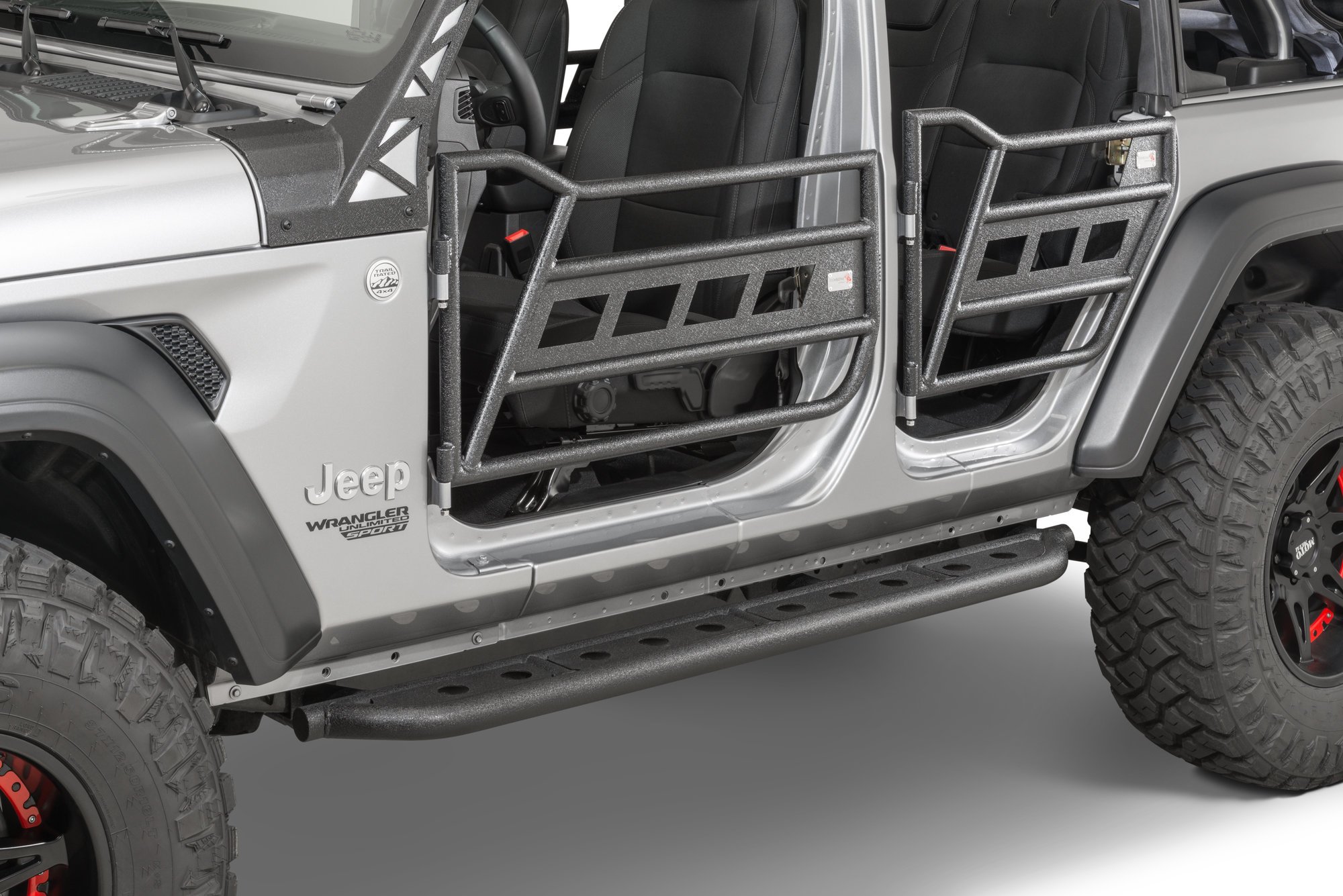 You Need Some Something To Fill In Those Open Door Areas
When the top comes off for many Jeeps owners out there, so do the doors. After all, what does an open cab really mean if it is not truly an open cab? Pulling off those doors, whether just driver and passenger or all four for Unlimited owners, can really make for a more exciting driving experience, and put you more in touch with what Jeep driving was really like when the vehicle first arrived all those years ago.
We get it though. Having a totally open door enclosure while driving can be a bit intimidating for some. It may also be against the law in your area. Which is why tubular doors have really come on as a fantastic alternative for anyone who wants to pull off their Jeep doors, but need something there.
Tubular doors provide just the right amount of air to material coverage, and many can latch right on to existing door hardware. Some can even be outfitted with canvas bags to help with cargo storage.
Keep in mind, though, when you do remove the factory doors, so go the mirrors. Some tubular doors accept the factory mirrors which makes things easy, but if not, it is a good idea to invest in either some relocation brackets or other type of workable mirrors.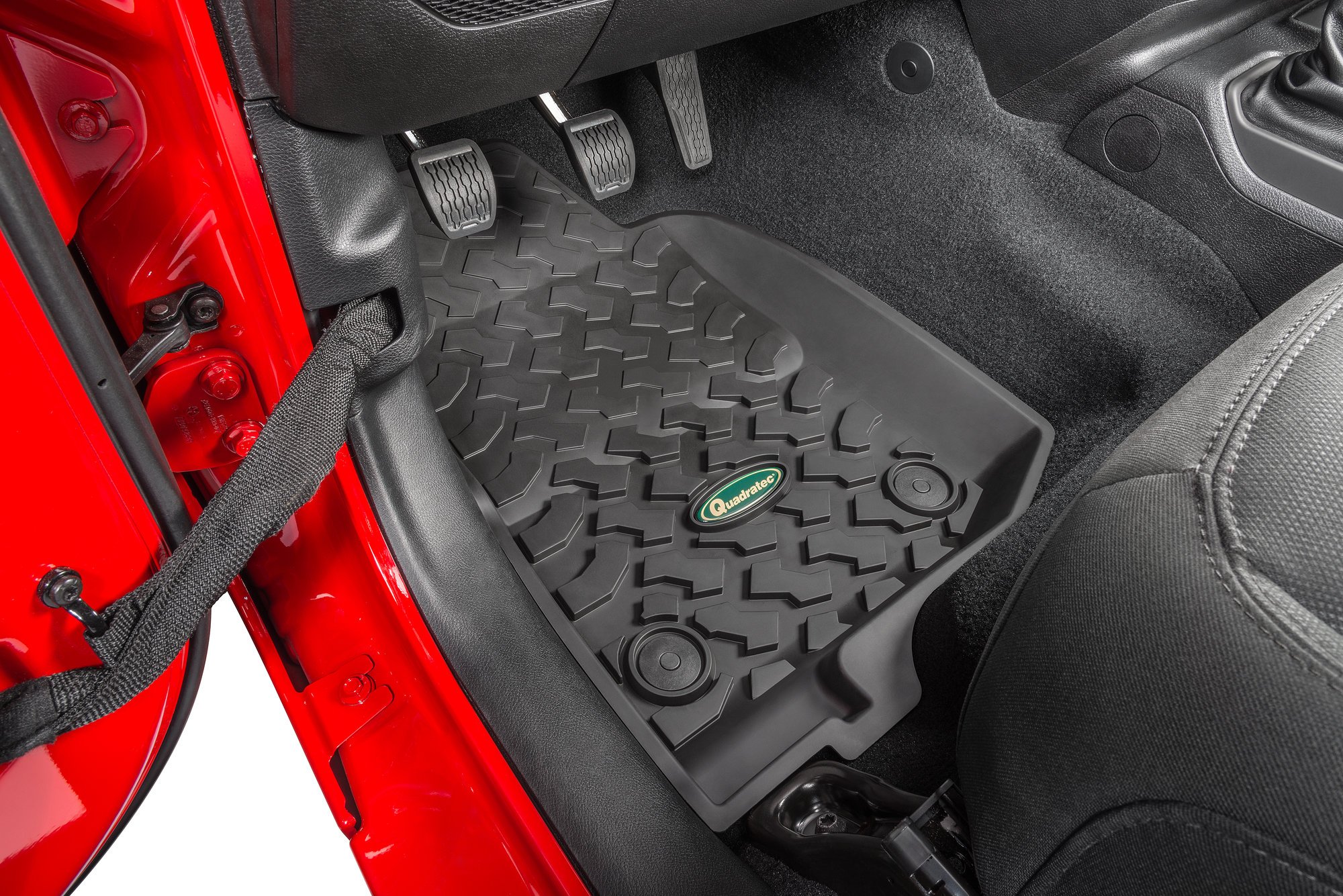 You Need Viable Carpet Protection
Your Jeep's factory carpeting is pretty competent at handling water should you 'forget' to cover the vehicle during a shower. That is, it can absorb water and dry out, and is mildew resistant. But just because your carpeting can do that, doesn't mean it should during topless season. So to give that carpeting its best chance at long term survival—especially for all of you continually on the go—floor liners are an ideal solution.
Floor liners simply fit over the existing carpet in the driver and passenger foot area, and are also available for back passenger footwell coverage as well as cargo area protection. What that means is most exposed carpeting areas now will have a 'shield' designed to really keep just about anything off it; rain, snow, mud, dirt. Not to mention liners will also keep your feet from rubbing against the carpeting and prematurely wearing out the material.
Also, these days liners aren't just some generic carpeted overlay that sits there and covers the factory carpeting. Most liners now are custom designed to exactly fit your specific vehicle, and are available in a multitude of materials like rubber, thermoplastic and high density tri-extruded—as well as carpeting—that all are able to trap and hold water or debris in place. Plus, they are simple to remove and clean when needed, which makes things so much easier than continually removing drain plugs to get water out of the vehicle. Or breaking out that scrub brush to attach muddy carpet stains.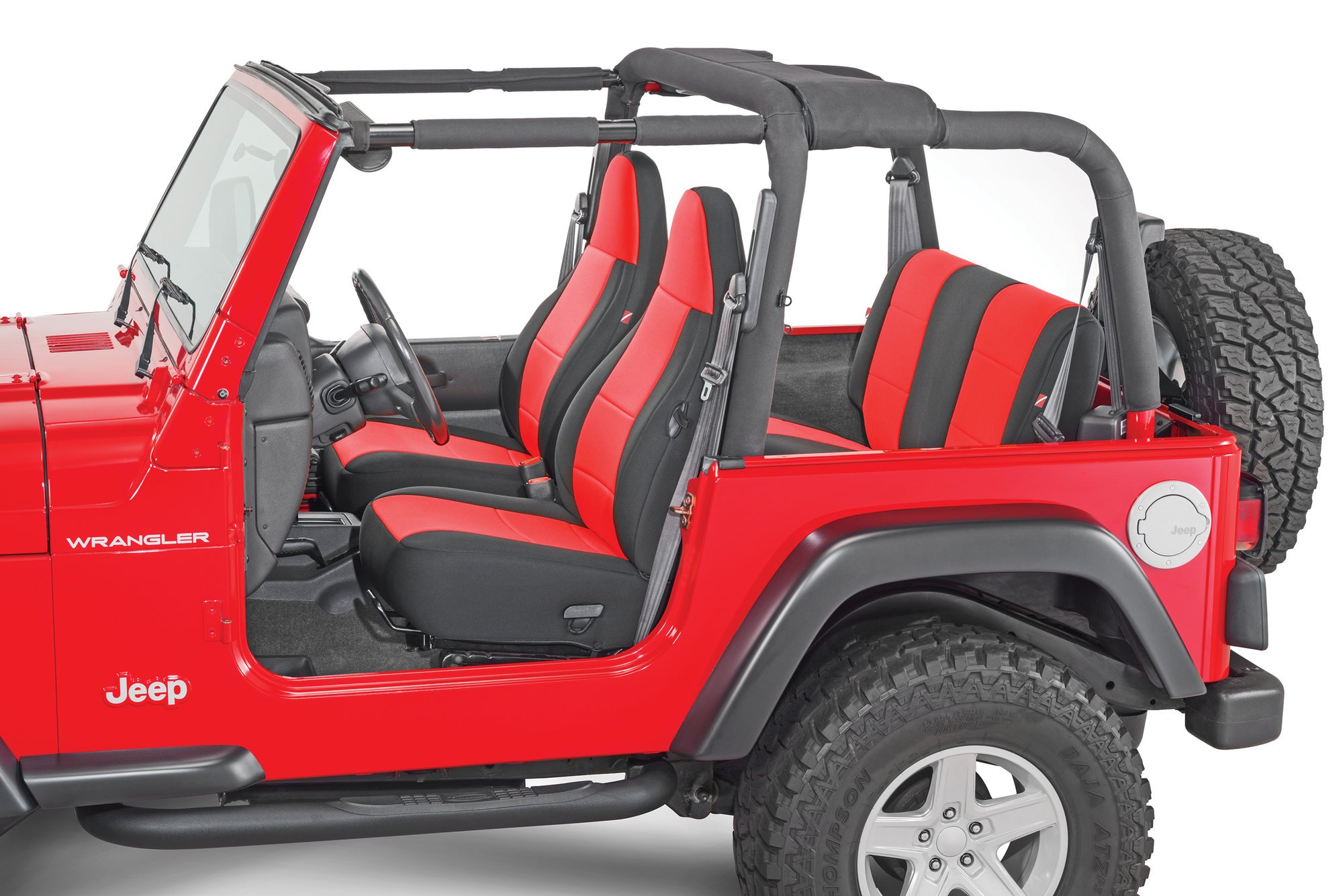 You Need Comfortable And Durable Seat Protection
We know some of you out there love the rain, but how many of you really go out in it without a jacket. Or umbrella. Same thing goes with the sun. Common sense says slather on some sunscreen and protect yourself before venturing out. Well, put that same common sense towards your Jeep seats during topless season. Really, during any season, but especially when the top is off. After all, you don't want rain, mud, or the hot sun attacking those nice Jeep seats, right?
So when the top comes off, think about infusing your seats with some highly protective seat covers. Whether your choice is weather absorbing and comfortable neoprene, highly breathable polycotton, easy to clean ballistic nylon, vinyl or great looking and soft leatherette, these covers will allow your Jeep seats to last longer and give you a little more insulation for the ride. Not only that, but covers are also easy to remove and clean when needed. Perfect for your on-the-go topless Jeep lifestyle.
A final benefit to adding seat covers inside your Jeep's cab is the ability to customize to nearly any look you want. Most covers have numerous color schemes that can match, for example, a new dash set up or paint job you've done. Or, perhaps, even the colors of your Jeep club. It's all up to you. And the best part, it will look just the way you want when the top comes off.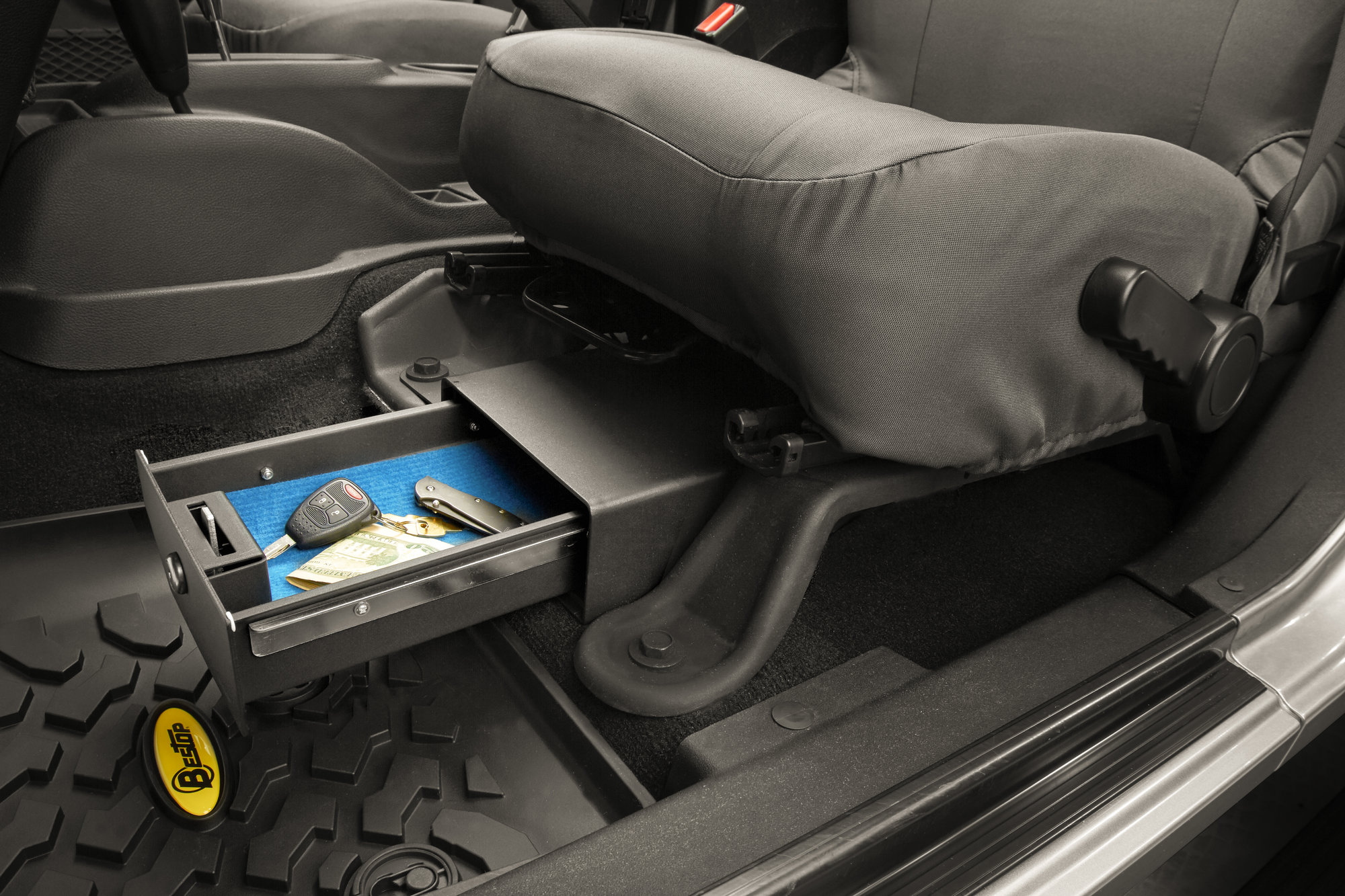 You Need Somewhere Safe To Store Valuables
Top off, doors off. Sounds great, right? But nothing can make that great day disappear faster than when you park your Jeep at, say, the beach or park, then come back in a few hours and stuff is missing.
A topless Jeep can make for a tempting target for would-be thieves. Especially ones who know there are not a ton of spots to store things inside the cab. So, that is why investing in high-quality lockable storage units simply makes sense for just about anyone planning on spending warmer months with the top off. We're talking under seat metal locking units, replacement lockable center consoles, locking metal glove boxes, cargo security enclosures and even tailgate locking boxes. All things that can deter a potential thief from poking around too long.
Many of these applications are no drill installs that, once in place, can't be removed without a key, while others (like center storage consoles) may require drilling. Plus, the heavy gauge steel can stand up to potential 'visitors' meaning you'll have peace of mind after storing any valuables inside your topless Jeep.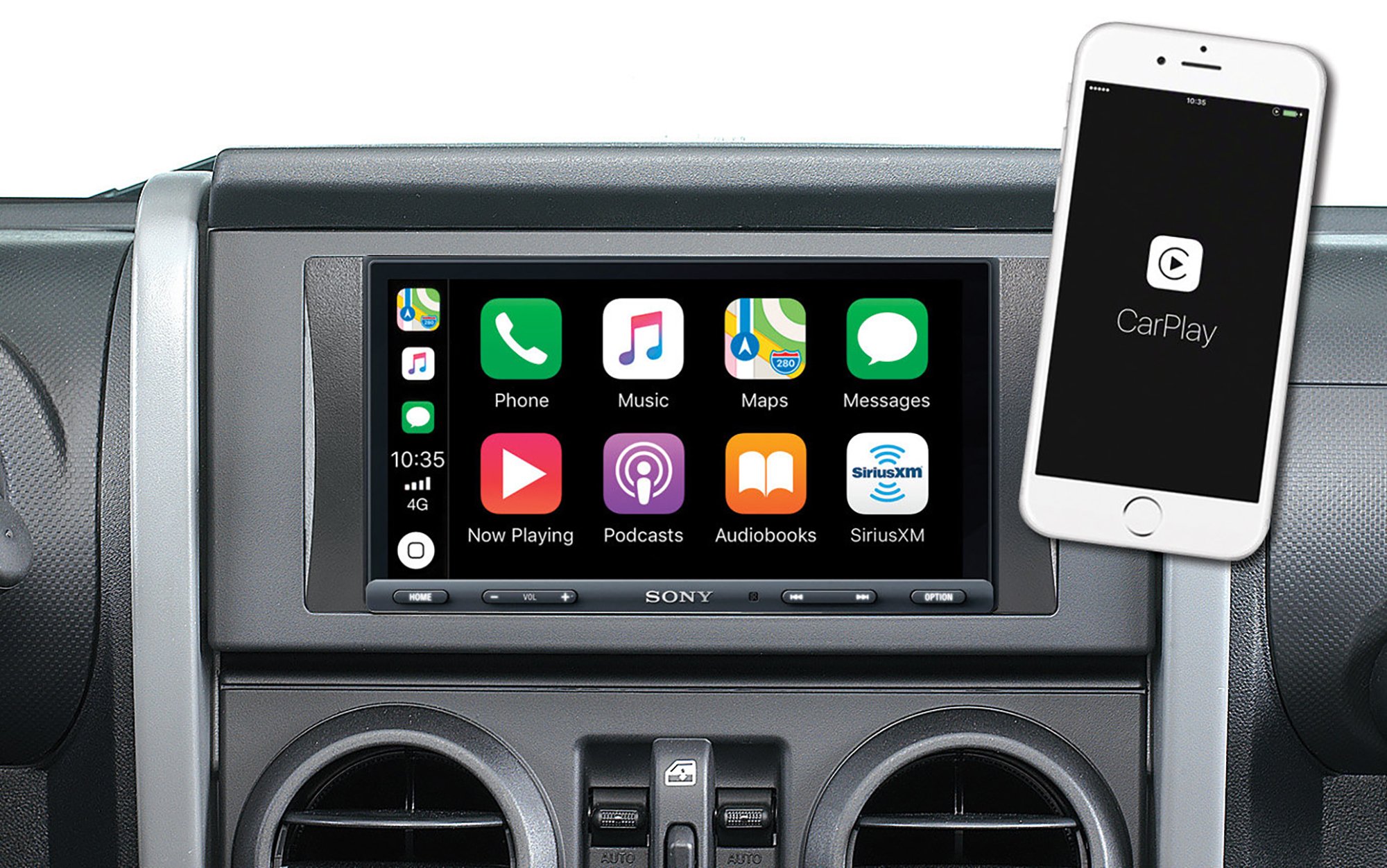 You Need A New Stereo System To Enjoy Topless Driving
No matter what your musical tastes are these days, listening to your favorite songs on a nice topless Jeep driving day can put anyone in a great mood. Sure the factory set up is okay, but if you really want that music to pop out and turn your Jeep cabin into a concert hall, well, then an aftermarket head unit can definitely help.
Aftermarket systems, especially when combined with new speakers, generally are more powerful than stock OEM units (especially in older Wranglers) and provide clearer, toned, and detailed audio. That's because these kits offer more tuning options to customize the sound, as well as better wattage and signal quality. Besides the improved sound, many new systems also come with a touchscreen with smartphone compatibility which opens the door for access to things like traffic applications, satellite radio, Apple Carplay or Android Auto, and touch-free phone calls. Those in older vehicles without the room for larger touchscreens, can still get receivers with phone compatibility and access to satellite radio, as well as Bluetooth and powerful, sound customization.
Many units, whether single or double DIN, are plug and play—meaning you simply unplug the factory receiver and add in the aftermarket version. From there, it's just a matter of tuning the sound quality exactly to what sounds best for you.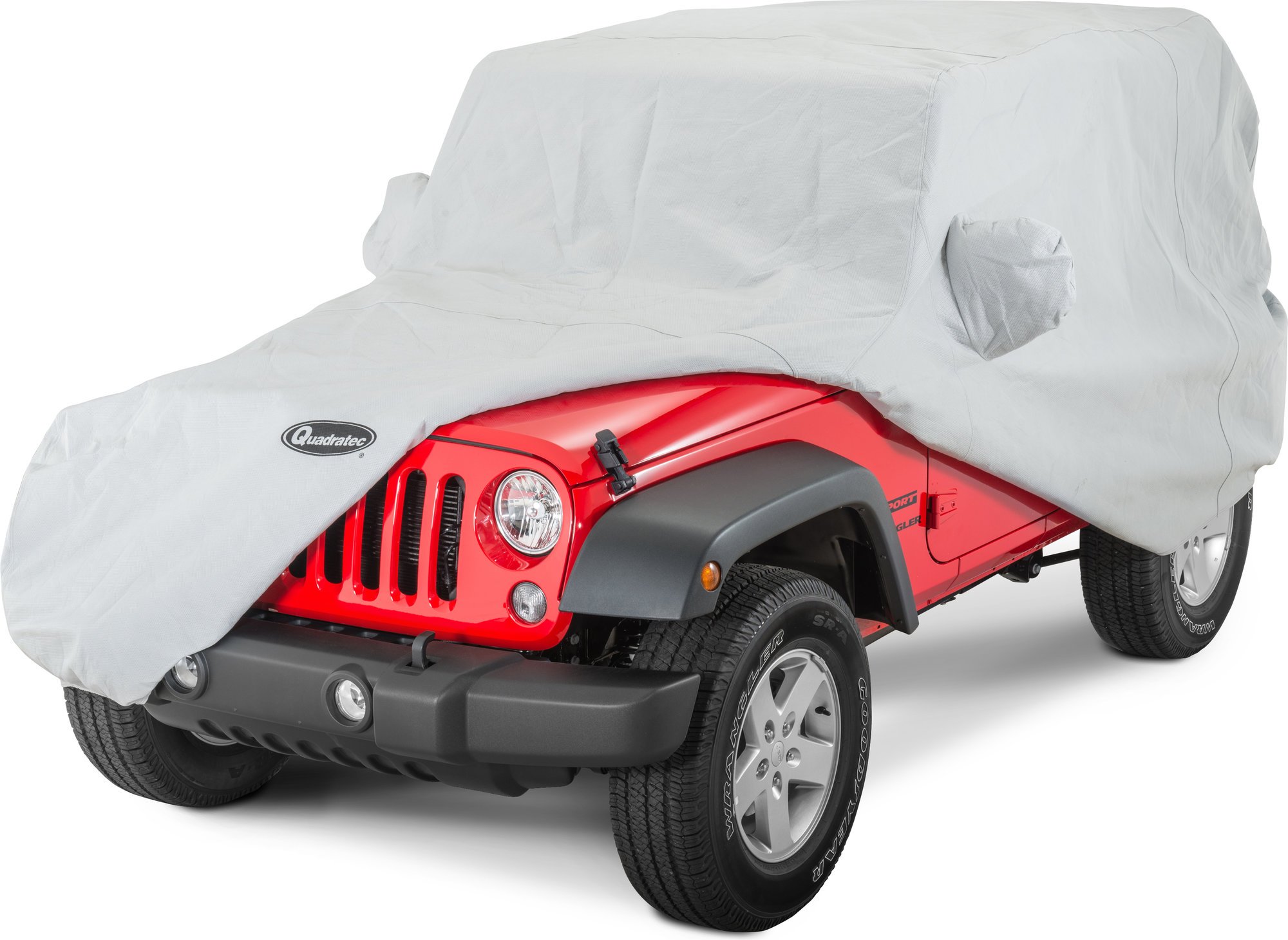 You Need A Cover To Protect Against Rain, Animals, Debris When Parked
The warm topless season doesn't mean you have to leave that Jeep without a top when you are away from the vehicle. Well, you can, but you should probably pay attention to the weather report and make sure you park it somewhere away from shedding trees. Ideally, though, covering up that vehicle when not in use is certainly helpful. For some, that means putting the soft top back up and zipping in the windows. But for others, especially those who pull off their hard top for months at a time, pop up showers or some kind of other impending rainstorm can cause a mess unless the vehicle is somehow protected.
And, like we said, it's not just rainstorms either as morning dew, dust, tree pollen, or even animals can all find their way inside your cabin when the top is off.
So what to do? Instead of struggling to drag on that hardtop each night, why not pick up a relatively inexpensive soft full or cabin cover. These are simple to use—just throw over the vehicle and either secure with straps or cable kits. That way the cover won't blow away or somehow get loose and cause cabin exposure. Just as simple is detachment in the morning; pluck off those straps and cables, roll the top up, and you are topless again and ready to attack the day.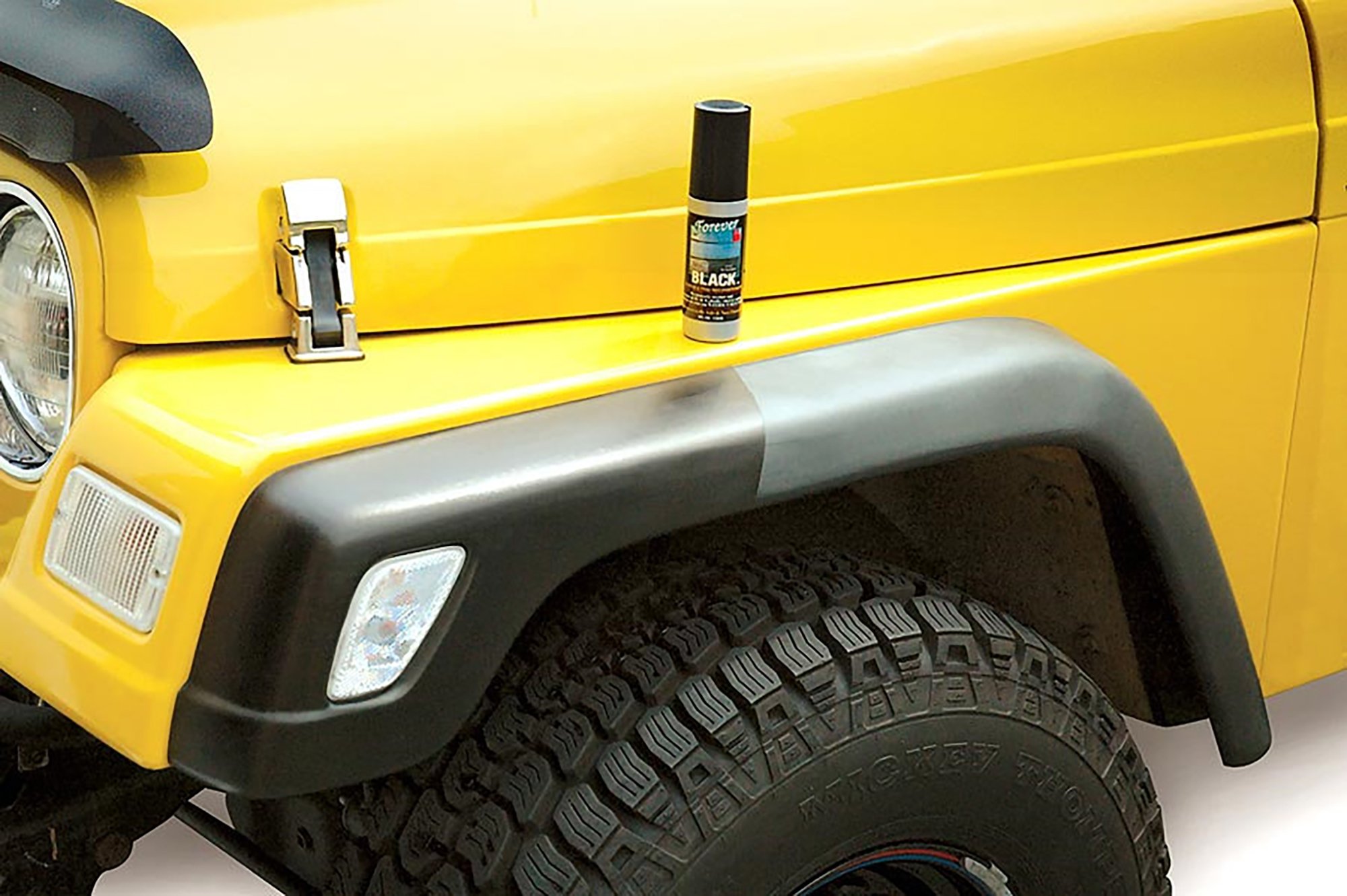 You Need Cleaners, Polishers and Protectants
We all know that seasonal weather can do a number on your Jeep. After all, how many times have you been out driving and come across a Wrangler that looks like rust has almost reclaimed the thing. But while stuff like rain, snow, mud and ice are usually on everyone's radar, we may often forget another danger that looms large—especially during topless season.
The sun.
That's right, the sun can do some decent damage to things like your tires, fender flares, dash and seat covers, and it can do so over time, softly, so you don't really notice until it gets out of hand.
To protect against that damage, there are all kinds of cleaners, polishes and protectants designed to insulate and restore your Jeep's components to a state worthy of topless season. We're talking stuff like UV spray for your seat covers, black restorer for the fender flares and dash, tire and wheel cleaners—even wax and polish for your Jeep's body. Used right, they can provide the ultimate defense for your Jeep, and keep it looking 'showroom new' all season long.