by Matt Konkle
Quadratec Channel Editor
No one really gets a trophy for off-roading. At least, not from the kind of off-roading most people do on weekends with friends or their Jeep clubs. There aren't any medals handed out either. Just scrapes and dents. The occasional broken part. Or worse.
And yet, sometimes it is nice to see where you've been besides receipts for all those repairs. Maybe a little reminder of time well spent. Yeah, you can buy a shirt or some other type of souvenir at the trailhead; even take some smartphone pictures.
Or, depending on the trail, you can get a Jeep Badge of Honor as well as the ability to interact with over 58,000 of your closest Jeep friends.
For free.
The Jeep Badge of Honor is a brand-sponsored mobile phone application which awards hard badges to those who off-road on dozens of trails across the country. This interactive venture also allows users to upload pictures of their adventures and comment about the trail, or reply to what others have done.
"The program started back in 2013, and since then we've shipped over 33,000 badges," said Jeep Product Marketing Associate Brandon Girmus. "We average about 1,000 badges per month and Jeep Badges of Honor are available for 49 current trails in 17 states. The best part is the program is entirely free with no cost to users."
Registering for the program is simple, and the Jeep Badge of Honor app can be downloaded on any Apple or Android phone. With the app, users can get directions to any of the represented trails nearest to them, as well as trail difficulty and current weather conditions.
"Once users have the app on their phone, they can create their account using their Facebook or Google account," Girmus said. "They then can check in when they are within a certain radius of any of the trails in the program. Some trails have a wider range than others because of cell phone access, but once checked in, if you go out of cell phone range, the app will remember that check in when you reacquire service."
After check-in, users will receive an email with a submission form that asks for a mailing address as well as the Jeep's vehicle identification number (VIN).
"We do this to make sure you are actually riding in a Jeep and not a Toyota or Chevy, or something else," said Girmus.
Five new trails located in Montana, Virginia, North Carolina and Georgia just came online in 2017 and badges for these are currently being sourced, and should be available shortly for anyone who has already checked in on those trails.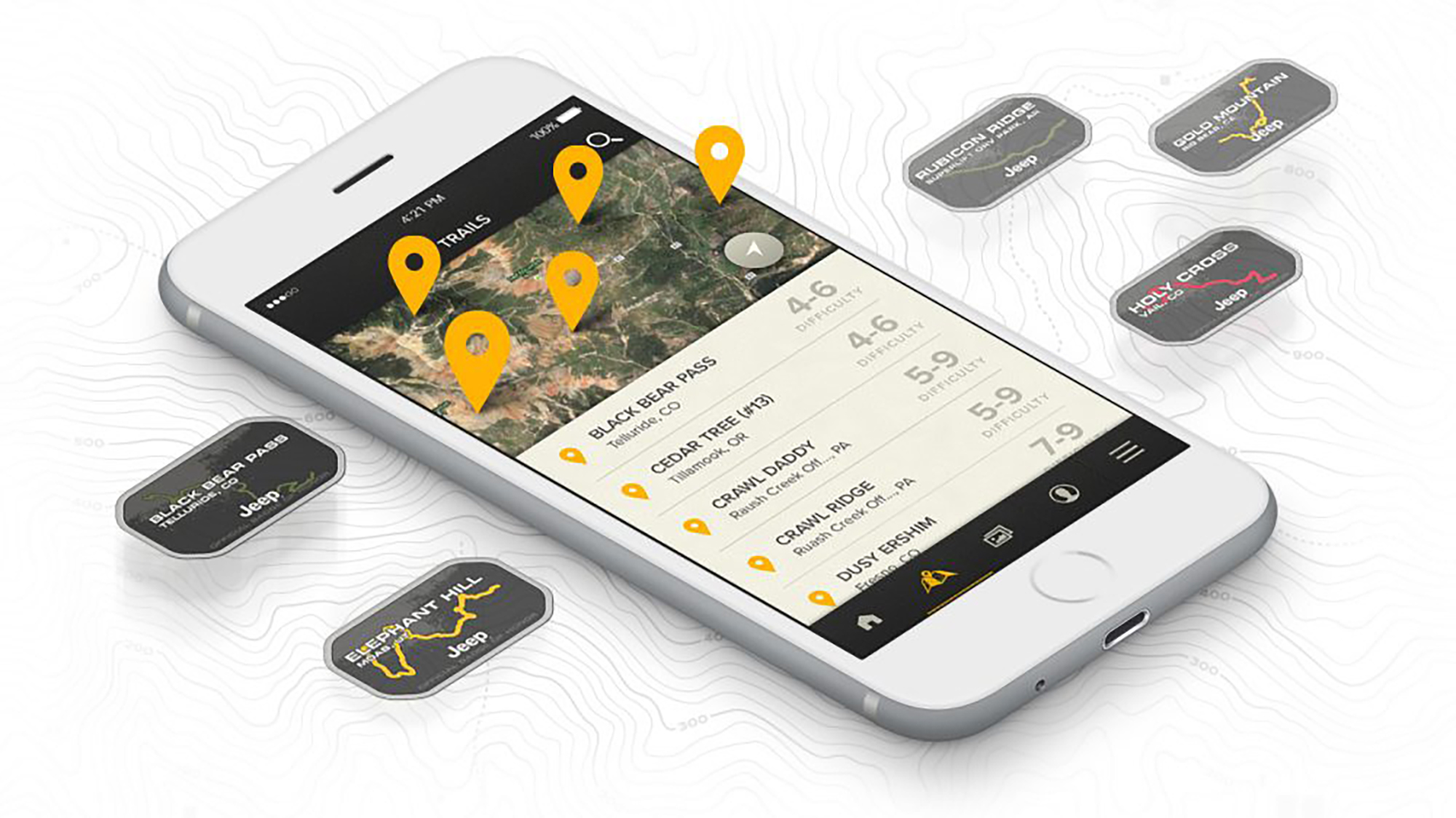 These hard badges are nothing to sneeze at either. They arrive with the trail name emblazoned in silver as well as its location, and each one has a squiggly line embossed in different colors which represents the trail. And not just any random line. Badge of Honor reps use Google Earth to map out each trail in depth to make sure the line on every badge is unique to that trail. The lines also are color coded in green (easy), yellow (medium) and red (hard) to show off a trail's difficulty level.
"None of the badges are for sale and the only way to get them is to physically run the trails," Girmus said.
Girmus said the plan is to add between 3-5 trails to the program per year. While the majority of trails are in the western half of the United States, Girmus added they are definitely looking to include as many eastern sites as possible.
"Yes, our presence on the East Coast is not as much as we really want, and it is an area we are actively focusing on," he said. "Right now there are a lot more trails in the west and mainly that is because there is a lot more public land. The thing with adding eastern trails; they have to be publically accessible to everyone. So it something we are working on."
"We did put in five new ones in 2017, so if we can get five again in 2018 then that's a good thing."
While those hard badges may be the program's real physical benefit, it is not the only thing. Users can also earn points by posting photos of their trail experiences to the app, and commenting on pictures others have posted.
Those who check in for a trail receive 200 points, while posting a photo is worth 20 points and each comment earns 10 points. Users can check into a trail once per day for the 200 points.
The more points received, the closer someone gets to achieving levels. New users start at Trail Explorer, then can move into Trail Commander, Trail Pro and eventually Trail Expert as they accumulate points.
"Currently these levels are only virtual achievements on the app," Girmus said. "But as part of the site's future improvement, we are planning on creating physical badges for those achievements too, so people can put them on their vehicles and show them off."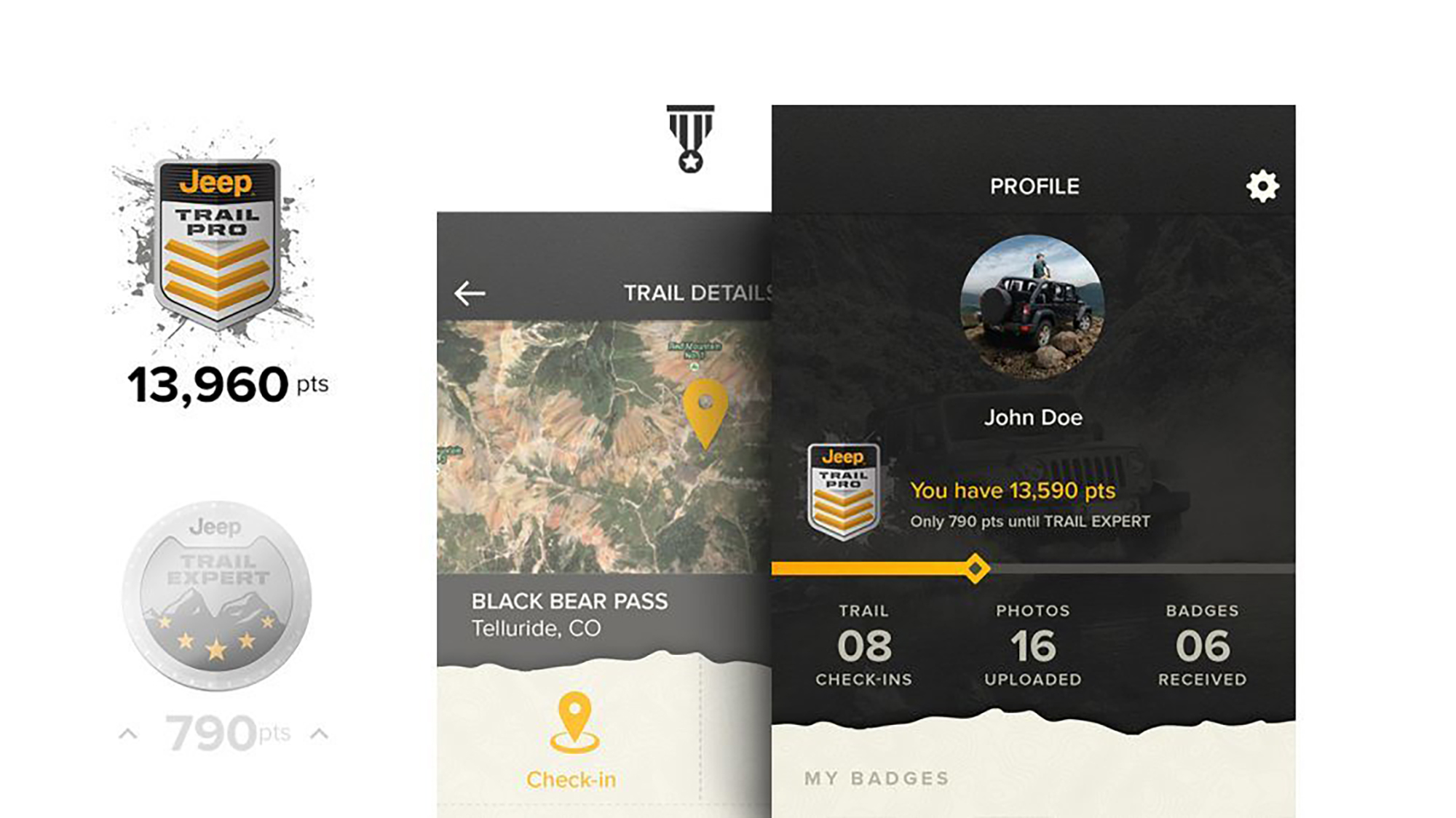 The Badge of Honor app also keeps track of all the badges you've earned so you can make sure you receive all the ones you are owed, as well as the amount of check ins and photos you've posted, and allows you to save your favorite trails.
It even offers an Off-Road 101 section which explains things like trail ratings, offers driving tips on terrain such as mud, ice and snow, and provides safety advice like what to pack before going off-roading, how to use four-wheel-drive and the best way to tread lightly.
With the explosion in Jeep ownership since the program's 2013 inception, Girmus did say they had some hiccups getting badges out promptly to those who completed trails, but are working hard to make sure everyone receives their badges as soon as possible. Currently, they are averaging about a month between check-in and badge receipt.
For those with issues, or who want to share their story or pictures, Jeep does have an email for the Badge of Honor program at [email protected].
"One of my favorite parts of being in the program is seeing what users share with us," Girmus said. "I just received an email from a guy the other day who ran Peters Mill Run (OHV trail in Virginia) for the first time in his KL Trailhawk, and it was neat to see because you don't get very many Cherokee wheeling pictures."
Following the launch of Jeep's newest JL Wrangler, Girmus added that everyone in the program is hoping the Badge of Honor family keeps expanding from its current 58,000 member total - and that there are other improvements scheduled down the line.
"The Jeep Badge of Honor is definitely one of the fun perks of Jeep ownership."
To download the Badge of Honor app, check out Jeep's Badge of Honor page here.