Sir Isaac Newton's Third Law of Jeeping reads 'For every confirmation, there is an equal and opposite reaction.'
So goes many Jeepers' attitude every time someone brings up the Wrangler Pickup.
Fiat Chrysler Automobiles (FCA) let it slip late last Summer there may be an upcoming Jeep Truck and people said 'Great, but not official and no way that is happening.'
FCA CEO Sergio Marchionne and Jeep Global Chief Mike Manley announce plans during the January 2016 North American Auto Show they will build the Jeep Pickup Truck at the company's current Toledo Assembly Plant – and many still said 'Interesting, but not an official word.'
Now we have Mark Allen, Jeep's Chief Designer for FCA, not only saying the Jeep Wrangler Pickup is coming, but that many of its design features are hidden in plain sight on one of the 2016 Moab Concept vehicles.
The Jeep Wrangler Pickup is real. And it just might be spectacular.
"We're finally going to get to do a pickup truck," Allen said Wednesday to Outside Magazine. "I can't explain too much, but there may be things you see on the Crew Chief (concept) that you might see on that truck."
We thought features on the Crew Chief might give us a preview of a production Wrangler Truck as early as last week, after FCA announced the vehicle would be one of six 2016 Moab Easter Jeep Safari concepts.
blog/will-fcas-jeep-crew-chief-concept-be-pickup-first-look-fans
So now the question looms; what designs of the Crew Chief may actually make it to production on the Wrangler Truck.
For his part Allen isn't saying much, other than it probably won't have the Crew Chief's retro front look.
"This is the fourth time we've used that nose [on a concept]," said Allen. "Every time we do it, people go crazy, but I think this is the last time we're going to do it, honestly. Oddly enough though, we've never done a crew cab pickup before. Hint, hint."
Allen also believes the Crew Chief's stamped logoed tailgate will not make it to the production truck product.
"They're just fraught with quality issues," he said. "You end up throwing away a lot of tailgates to get it right. That doesn't mean there won't be something back there, but it won't be stamped in."
The Crew Chief 715 concept, according to FCA, features steel front and rear bumpers, 20-inch beadlock wheels, 40-inch NDT military tires, and was designed to salute legendary Jeep military service vehicles. It is powered by the award-winning 3.6-liter Pentastar V-6 engine along with a five-speed automatic transmission.
Exterior features, such as heavy duty off-road rock rails, a winch mounted into the front and rear bumpers, Dana 60 front and rear axles and a 4-inch lift kit with Fox 2.0 Remote Reservoir shocks, all exist to give the Crew Chief 715 increased capability.
Inside, the no-nonsense interior features leather bucket seats with canvas inserts, aircraft-inspired control switches and Mopar all-weather mats.
The 'Tactical Green' color scheme adds to the military-type design, while the Crew Chief also features a military-themed 5-foot cargo bed.
But which of the above will translate to the next-generation Wrangler Pickup?
Take a close look, and good luck guessing.
"We've hidden some hints about what's going on behind the scenes, right in front of you," Allen said.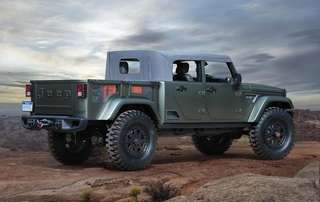 About Quadratec:
Since 1990, Quadratec's mission is to deliver Expert Advice and Unbeatable Prices to enthusiasts of the legendary Jeep® CJ & Wrangler. From classic Jeep vehicles to the current day Wrangler, Quadratec's courteous factory-trained sales & customer service staff has the knowledge to make sure you, and your vehicle, get exactly what you need. Contact us at 800-745-2348 or www.quadratec.com.