by Matt Konkle
Quadratec Channel Editor
Jeep's Gladiator midsize truck has entered the arena. And instead of carrying some huge sword and shield to do battle with the Fords and Chevys of the world, this guy comes in sporting that familiar Wrangler look complete with crew cab and truck bed.
At least, allegedly.
Which means, a Jeep truck purportedly named Gladiator will definitely enter the arena in a few weeks when Fiat Chrysler marches it's newest machine across the stage in a press conference leading up to the Los Angeles Auto Show.
Truth is, no one other than FCA and a few others really know what the thing's name is, or what it looks like.
But according to a popular Jeep truck forum site, they have the inside information and screenshots direct from FCA.
Jeep Gladiator Forum Wednesday posted several photos, along with some detailed spec-sheet information about the upcoming 2020 Jeep truck, all thanks to a user who said it was lifted from a page on Fiat Chrysler's media site. A page that was apparently deactivated shortly afterwards.
This was the same page where it was revealed the vehicle would likely be named Gladiator instead of the previously-believed Scrambler.
These photos clearly show the JL Wrangler-inspired front end complete with that iconic grille, round headlights, four-door body styling, as well as the availability of two hardtops and a soft top. The spec-sheet also promises 'dozens of different door, top and windshield combinations.'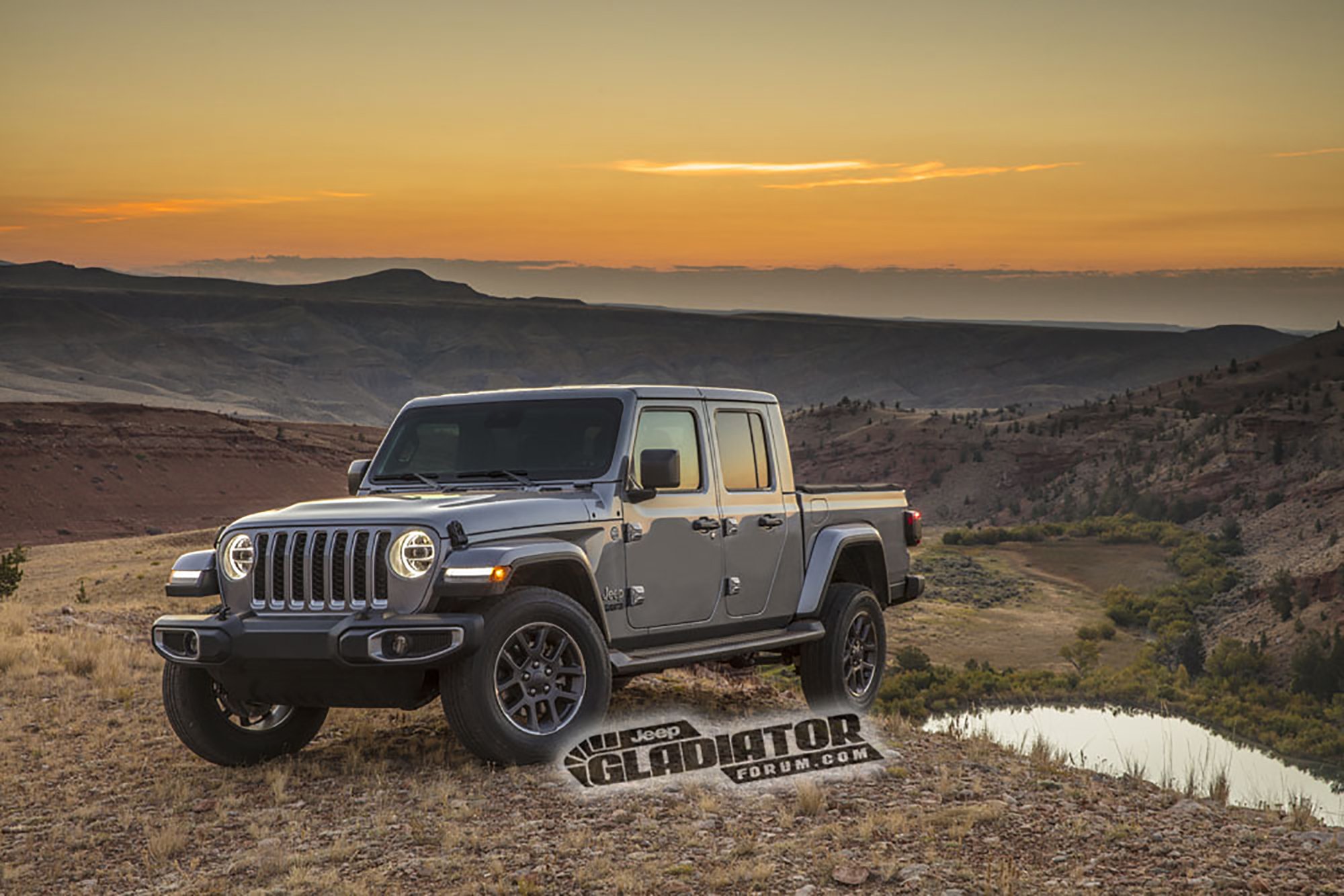 According to the post on Jeep Gladiator Forum, the first Jeep truck since 1992 will be capable of up to 30 inches of water fording, same as the JL Wrangler, offer a towing capacity of 7,650 pounds and payload capacity of 1,600 pounds — both listed as best in class. Additionally, it will sport a five-foot steel bed complete with covered external power source and tie downs to add flexibility for other cargo options.
FCA will launch the truck in April 2019 with its bellwether 3.6L Pentastar engine, and either a six-speed manual or eight-speed automatic transmission as options. But the company promises to also give buyers a 3.0L diesel choice sometime in 2020. However, the diesel will only arrive with an automatic transmission.
As far as trim levels go, we learned earlier this week that FCA plans a Sport, Overland and Rubicon, and Wednesday's forum post also states the Rubicon edition will have a forward facing camera in order to help identify obstacles while on the trail.
Inside the Gladiator looks to be almost no different than the current JL Wrangler, and Wednesday's posted spec sheet indicates buyers will have the option of either a 7- or 8.4-inch touchscreen on the vehicle's fourth-generation U-Connect system.
Other listed features include lightweight aluminum doors, hinges, hood, fenders, windshield frame and tailgate — same as the JL Wrangler — while third-generation Dana 44 axles, Command-Trac or Rock-Trac 4x4 systems, electric front and rear-axle lockers and 33-inch off-road tires will also mirror the Wrangler design. However, it is unclear whether the Sport or Overland will have those axles and lockers, or if that is a Rubicon-only description. Currently, the JL Wrangler Sport has a Dana 30 front and Dana 35 rear axle, as well as no factory locker option.
Again, though, keep in mind none of this information should be considered official. At least not yet.
But you won't have to wait long.
While Fiat Chrysler will most likely have no word regarding Wednesday's photos or released information, the automaker is planning to 'officially' release the Jeep Truck during a November 28th press conference.
In the meantime, check out our Jeep Gladiator page for more information.