by Matt Konkle
Quadratec Channel Editor
It is an assault on the senses unlike nearly any other event in the Philadelphia region. A visual, mouthwatering, auditory, touchable, sensory explosion of a Sunday morning featuring hundreds of area Jeeps from small to crazy. Oh, add in doughnuts, coffee, games, raffles and, well, the opportunity to make someone else's life just a little bit better.
Think that is overkill? Well, if you are asking the question then maybe you've never experienced a Quadratec Jeeps and Java Sunday.
No matter. The company recently unveiled its 2019 Jeeps and Java schedule and you'll have your first chance to see what it is all about this Sunday, March 10, from 9 a.m. to 11:30 a.m. at Quadratec's West Chester, Pa. headquarters.
"We are definitely excited to bring back Jeeps and Java this year for what we feel will be its greatest season yet," said Quadratec's Jeeps and Java coordinator Cory Cole. "Over the past several years, we've watched it grow from a small Sunday morning get together, to something where our headquarters is packed with all kinds of Jeeps and we are able to make a difference in our community — all thanks to so many great area Jeep enthusiasts who come out rain or shine."
The events are normally held on the second Sunday of each month and bring together hundreds of area Jeep owners, friends and family members, as well as numerous manufacturers representatives. Everyone who attends can easily compare vehicle builds, while offering product opinions and discovering new modification ideas. Looking for a new bumper but not sure if it will fit your needs? Or perhaps you are debating on switching from a hardtop to a soft top this season. Chances are, you'll get plenty of opinions from Jeeps and Java attendees. And that sense of camaraderie is one of the special things about being involved in the Jeep community, Cole said.
"It doesn't matter if you've had your Jeep for a week, or a lifetime," said Cole. "You never stop learning as a Jeep owner and these events provide a great forum for people to better understand their vehicle."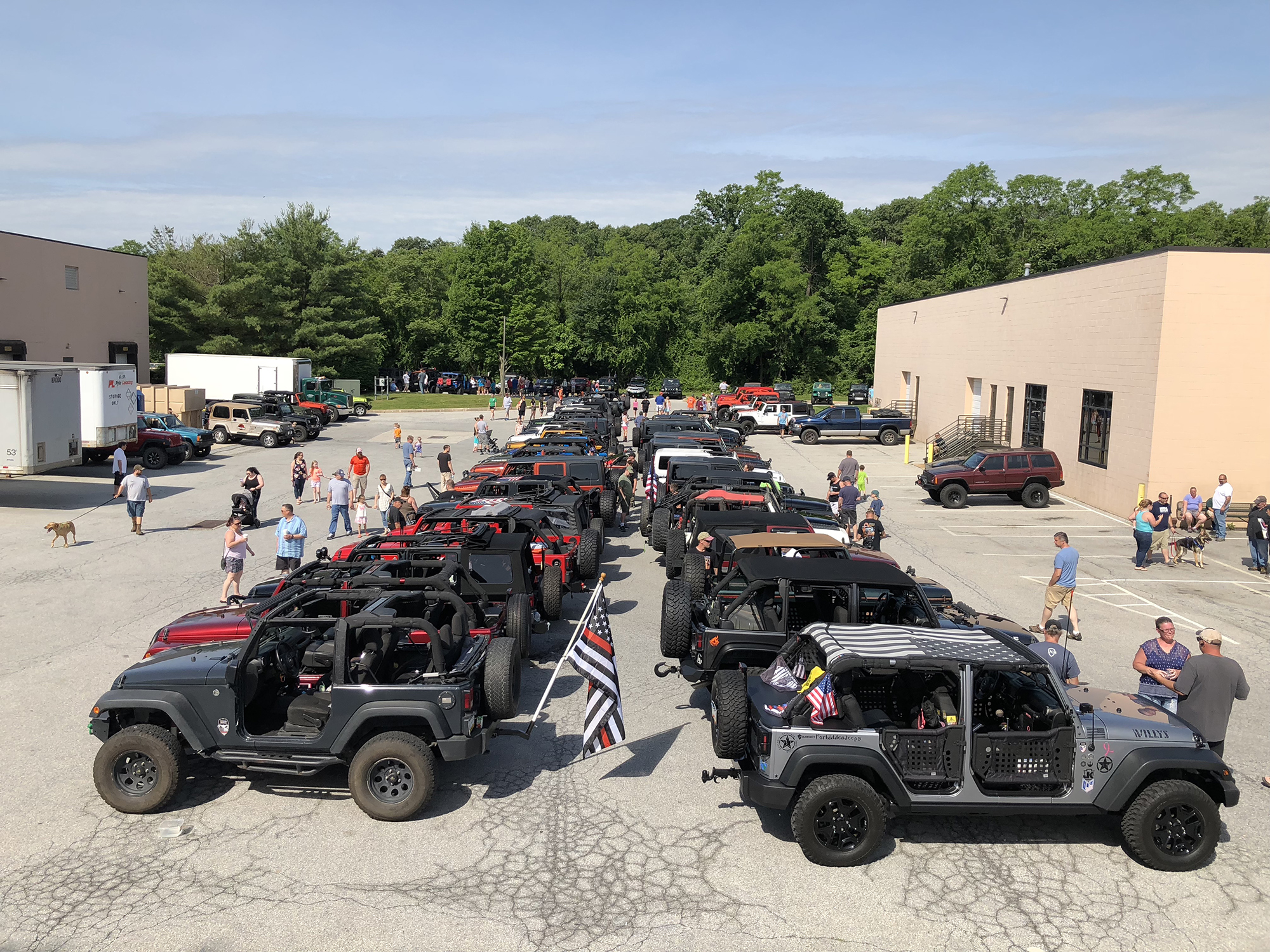 In addition to all the Jeep advice and ideas, there are also plenty of doughnuts and coffee for refreshments, games, raffles and informational sessions as the season progresses.
All Jeeps and Java events are free to attend and everyone will receive one raffle ticket for the chance to win several featured prizes. Additional raffle tickets for a secondary table raffle can be earned through game play and via donations to several area organizations partnered with Quadratec. This year, these include The Michael Strange Foundation, Providence Animal Center, Shriners Children's Hospitals of Philadelphia and WMMR's Preston and Steve Camp Out For Hunger.
"The money donated to these organizations by Jeeps and Java attendees over the years has helped care for children with disabilities, provided services for families of fallen service members, and helped rescue and rehabilitate pets," Cole said. "Plus, all season long we collect canned goods for the WMMR Camp Out For Hunger in December, and last year we were able to donate almost 3,000 pounds of food."
Most Sunday Jeeps and Java events are at Quadratec's headquarters, but again this year the event will go on the road to Spruce Grove Tree Farm in October and November for a Pumpkin Run and Christmas Tree cutting, as well as the farm's Jeep obstacle course.
"We try to give everyone who comes to Jeeps and Java a great experience, and partnering with Spruce Grove offers us the chance to raise that fun level even higher," Cole said. "If you are on the fence about attending, and have some free time on one of our Sunday mornings, come out and say 'hi'. It's a great event."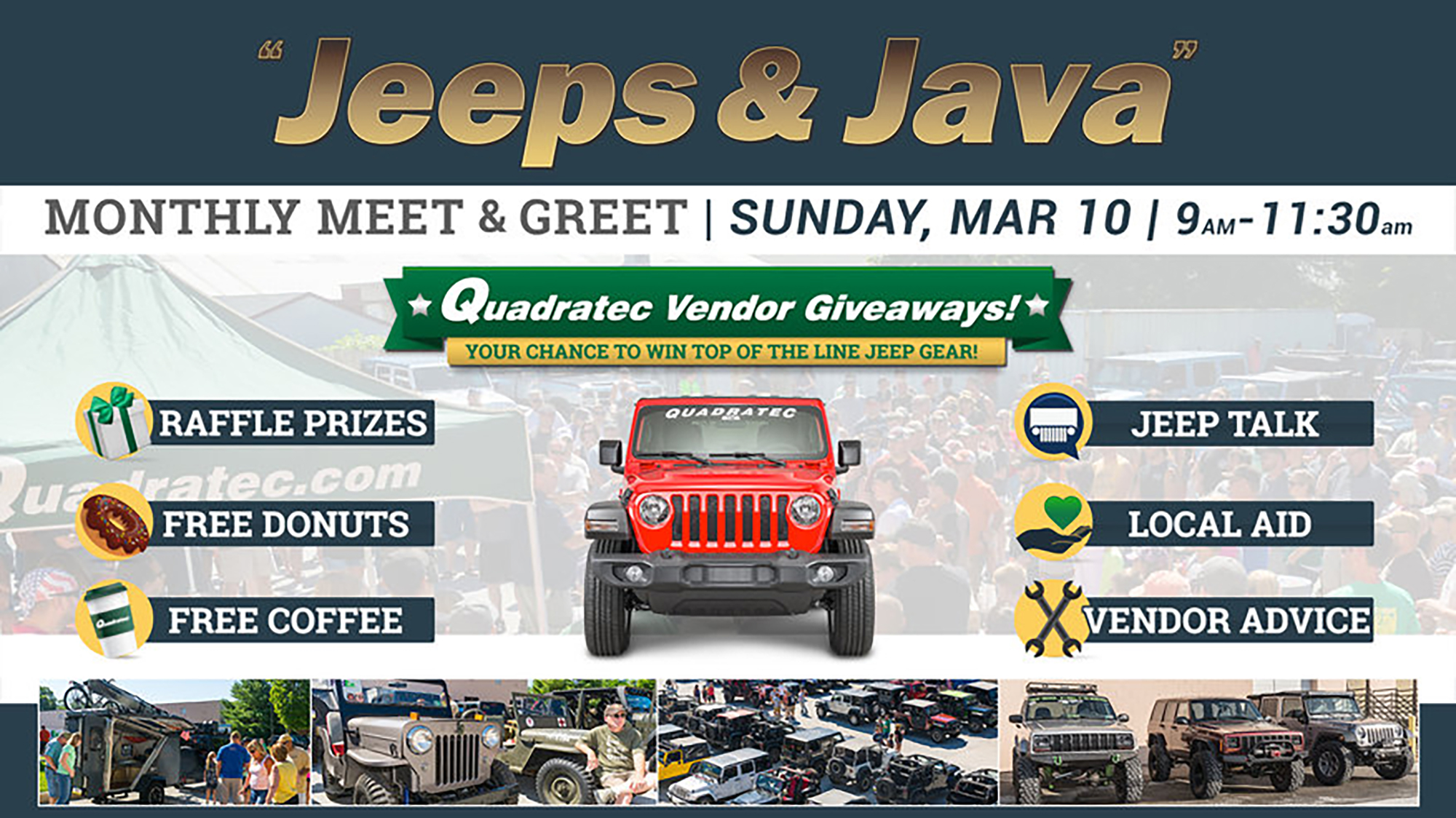 Upcoming "Jeeps & Java" Event Schedule
MARCH: 10th - Sunday at Quadratec (Season Kick-Off)
APRIL: 7th - Sunday at Quadratec Headquarters
MAY: 5th - Sunday at Quadratec Headquarters
JUNE: 16th - Sunday, FATHER'S DAY at Quadratec Headquarters
JULY: 14th - Sunday at Quadratec Headquarters
AUGUST: 4th - Sunday at Quadratec Headquarters
SEPTEMBER: 8th - Sunday at Quadratec Headquarters
OCTOBER: TBD at Spruce Grove Tree Farm-Oxford, Pa. (3rd Annual Jeep Pumpkin Run)
NOVEMBER: TBD - MORE DETAILS LATER THIS YEAR
DECEMBER: TBD - MORE DETAILS LATER THIS YEAR
MAP Directions to: Quadratec Headquarters - 1028 Saunders Lane, West Chester, PA 19380