by Matt Konkle
Quadratec Channel Editor
We know you've seen the acronym; that one spelling out JEEP as 'Just Empty Every Pocket'. And if you haven't, well, it just may describe all the time, effort and cash you, or your holiday gift recipient, have put into the vehicle.
It is a process that never seems to end either, right? That's because, no matter what you have, there always is something else out there to get. Some other modification needed. A gadget, a device. A replacement part to make that next off-road trip better. Or safer.
So, while this acronym is pretty popular out in the community, we'd humbly like to present another for your holiday season shopping.
Just Explore Every Pathway.
For you, if you daily drive your Jeep, it may mean a gift designed to make your travels more comfortable. For someone else on your holiday list who loves heading into the woods each weekend, or the entire summer, this could be entirely different. Perhaps something more protective for the vehicle. Or even, say, a special stocking stuffer prize for someone who'll appreciate, and use, your generosity.
We know how it goes, and that is why—for the sixth-straight year—we've compiled a special holiday list of gift ideas that fits nearly every category. From daily, to offroad. Overlanding to simply Jeep enthusiasts overall.
Let's go.
Overlanding
We think it is safe to say that Overlanding is no longer a smaller side cousin to actual rock crawling or trail riding. It has crested the mountain and now stands tall as a huge part of the community.
After all, the recent Specialty Equipment Market Association event out in Las Vegas even had a dedicated overlanding section featuring top industry products this year. And both the Overlanding West and East events are huge draws for the Jeep community.
So it stands to reason that perhaps you, or someone on your holiday list, has caught the overlanding bug.
But you are still wondering what all the buzz is about, overlanding is a mix camping, overland travel and off-roading together. Something all rolled up into one exciting and demanding adventure. For many, it is simply a journey off pavement where you rely exclusively on your vehicle for accommodations and gear for accomplishment.
Speaking of gear, here are five overlanding products that should be a part of your 2019 holiday list.
TENT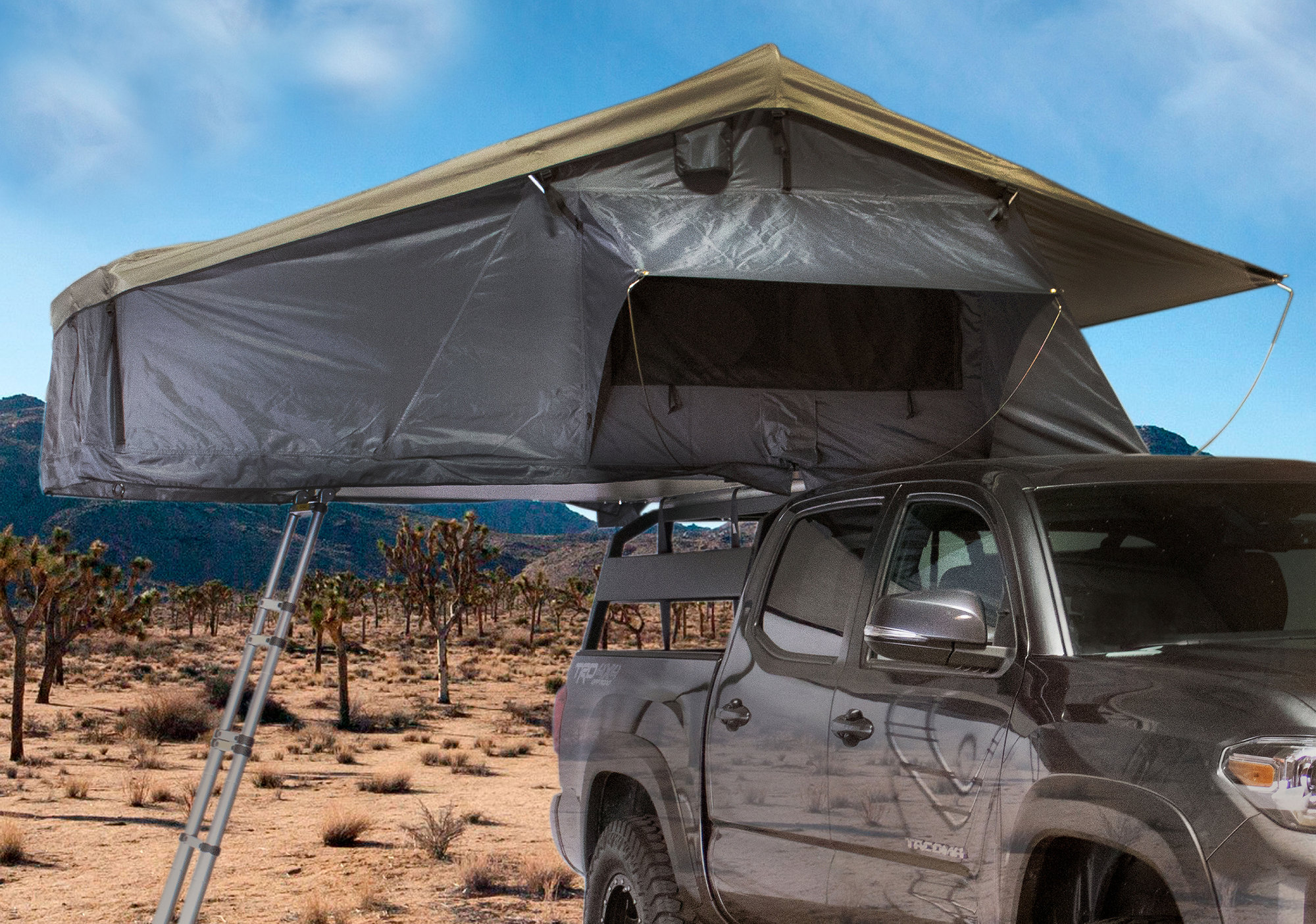 No hotels. No motels. No plush rooms of any kind. When you go out on an overlanding adventure, you are either sleeping inside your Jeep, or somewhere around it outside.
So it only makes sense to have some type of tent system in place when it is time to call it a night. Whether that means a pop up version or something larger mounted to the roof of the Jeep, or even pulling a trailer with a tent, using one gives you the chance to stretch out and relax so you are rested and ready for whatever the next day brings. You can check out our tent selection here to find the perfect one.
ARB CAMP CHAIR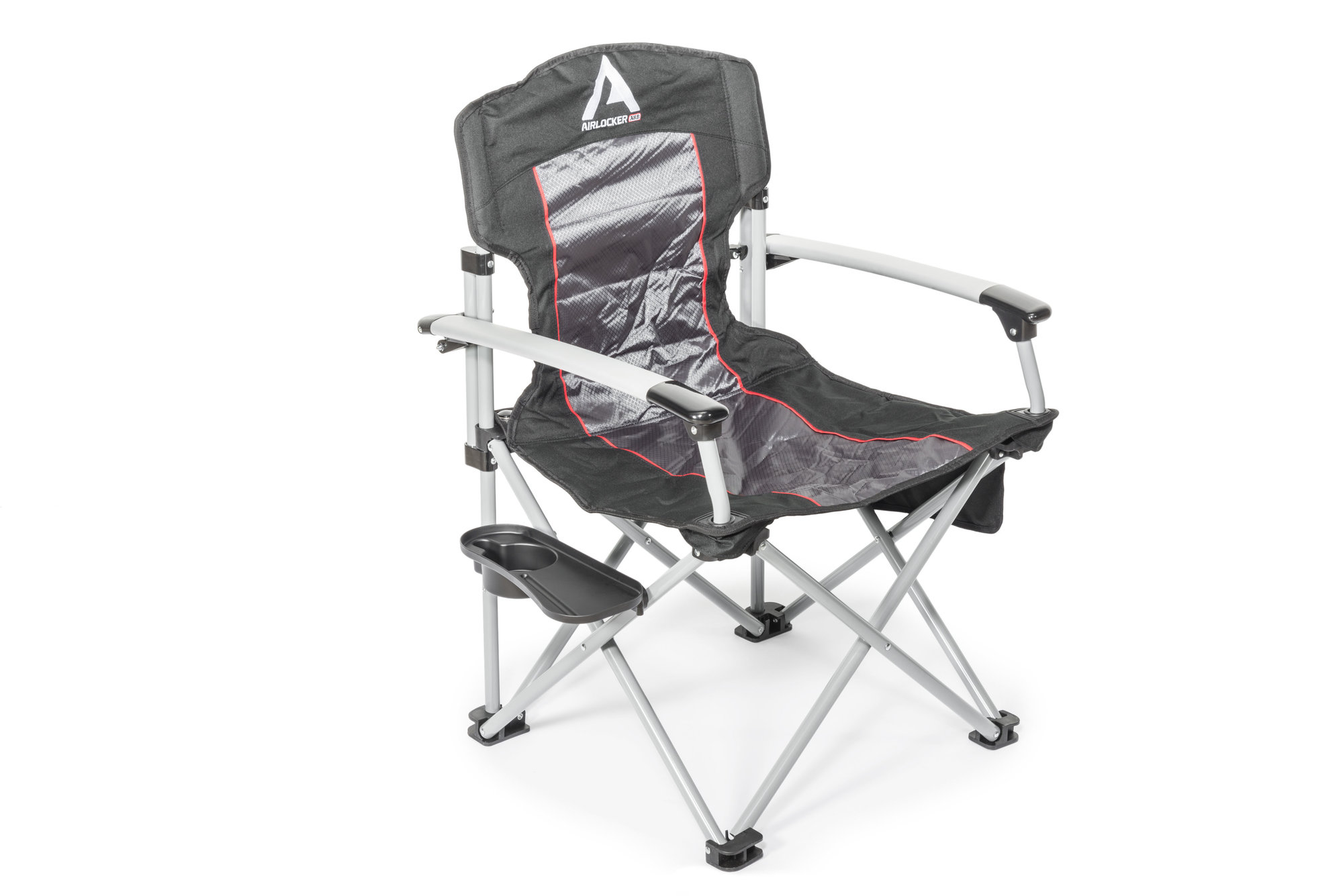 A nightly campsite just isn't the same without a nice, solid chair to unfold and slap against the ground. Sure, you can put a blanket down, but an ARB Camp Chair lets you, or whoever is on your gift list, get up off the ground, pop a drink in the holder and really relax.
JAMMOCK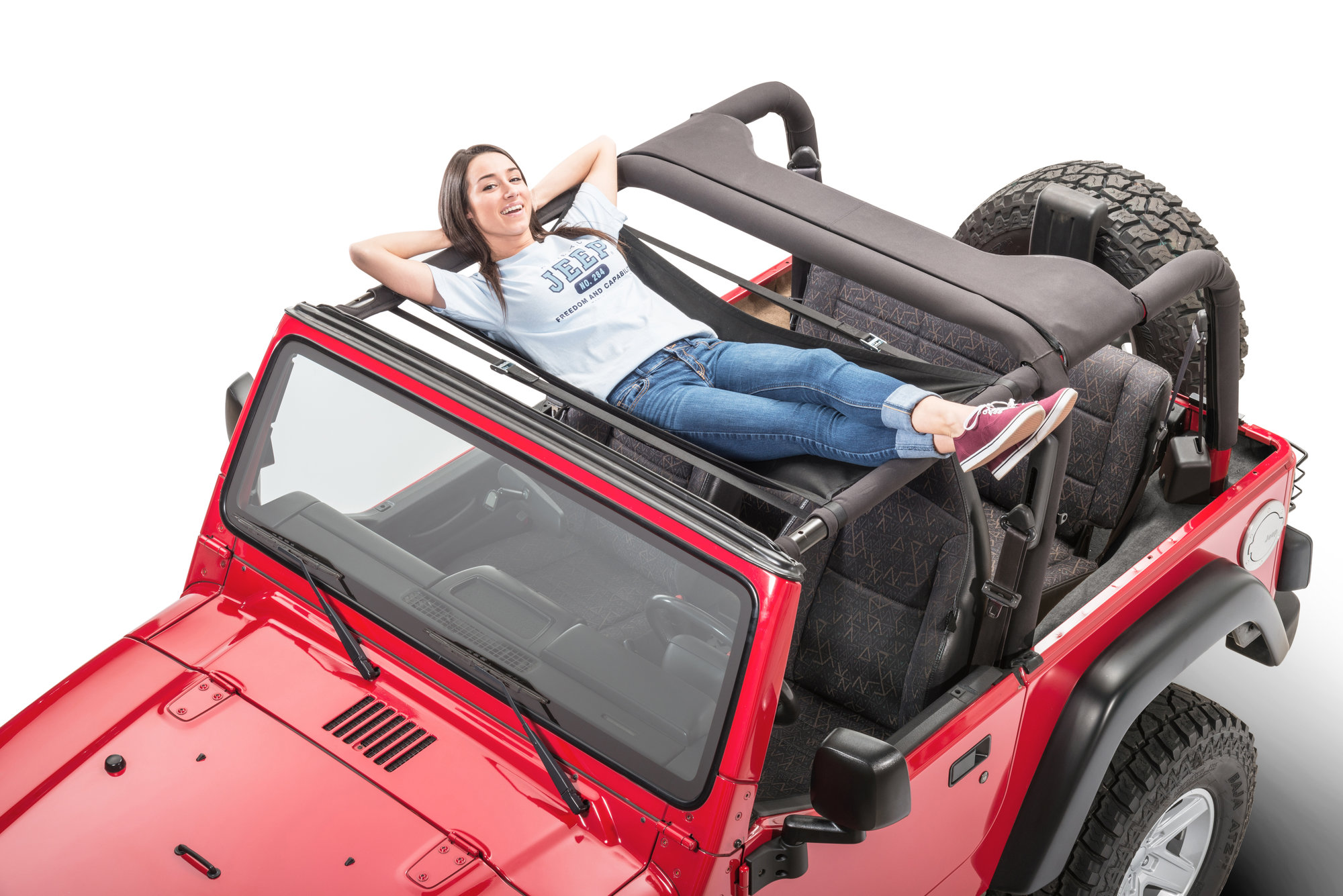 Whether it is a trailside afternoon nap, or an hour or two of stargazing, the Jammock provides the unique ability to get out from the steering wheel, and into a relaxing state, all with a simple buckle and strap system. As good as the camp chair is for spending time around the campfire, the Jammock is just as good for giving you some alone quiet time off your feet.
AIRBEDZ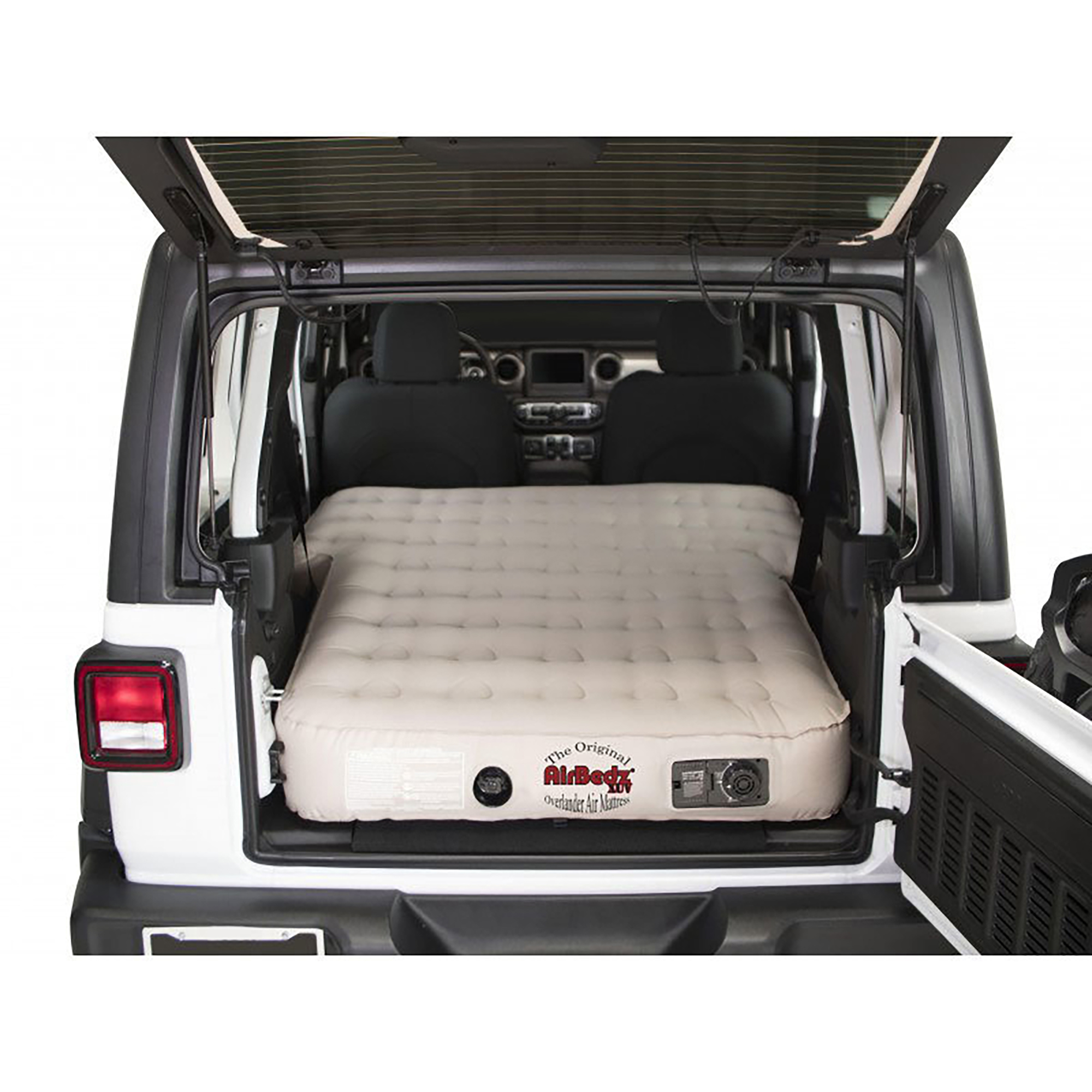 So maybe you, or those on your holiday gift list, feel more comfortable sleeping inside a Jeep rather than above it or inside a ground tent. That's perfectly understandable. So that's why AirBedz perfected an inflatable, confort-coil mattress that is sized just right for the Jeep's interior. It even fits around the wheel wells so there is no extra wrestling to get the thing to fit correctly. Plus, it includes a rechargeable battery air pump that will take the mattress to fully-inflated in just a few moments.
QUADRATEC ALUMINUM CARGO RACK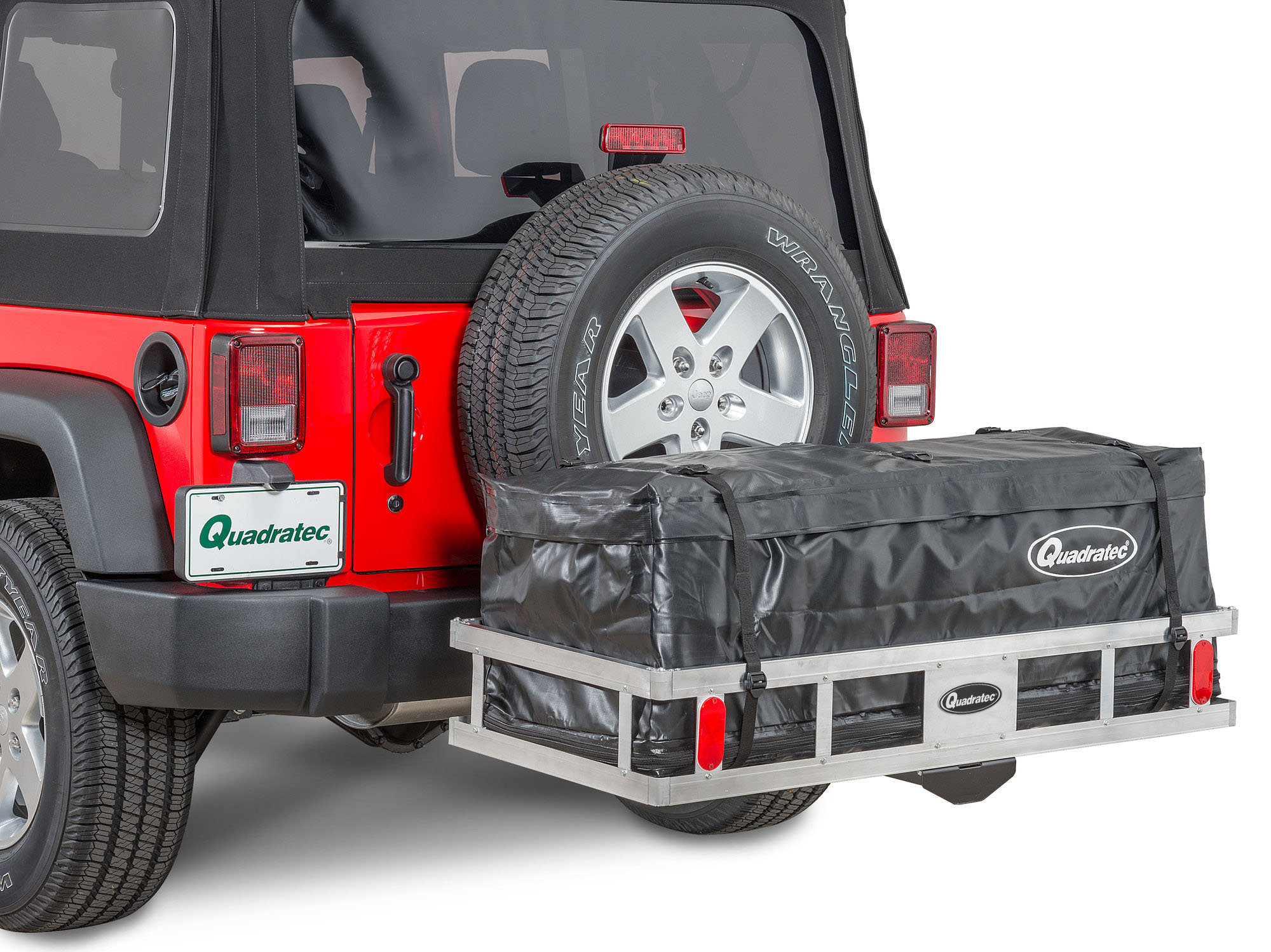 We all know storage space is quite limited inside a Jeep. So what is the overlander to do when compiling all the stuff he/she needs on a weekend, or longer, trip? Well, without adding all kinds of bars and roof rack pieces, the next best thing is a rear cargo rack.
Cargo racks fit into a standard 2" receiver hitch and allow for things like camping gear, luggage, coolers, or whatever else is needed on a camping adventure, to easily fit without worry. Plus, with an added storage bag, this rack not only can store those items, but protect them from the elements as well.
Trail Riding / Off-Roading
Not everyone who owns a Jeep seeks to take it off the pavement, on a trail, over hills, rocks and the like. But those who do tend to be serious about it, and spend a lot of time installing things like winches, larger wheels and tires, suspension lift kits and protective side bars.
All of those things are great, and if you—or those on your holiday gift list—are in need of any of those, then they make great ideas.
Other things tend to be overlooked, though, and also can make for great gifts because they either help protect, offer better visibility, or augment winching and recovery efforts.

DIFFERENTIAL COVERS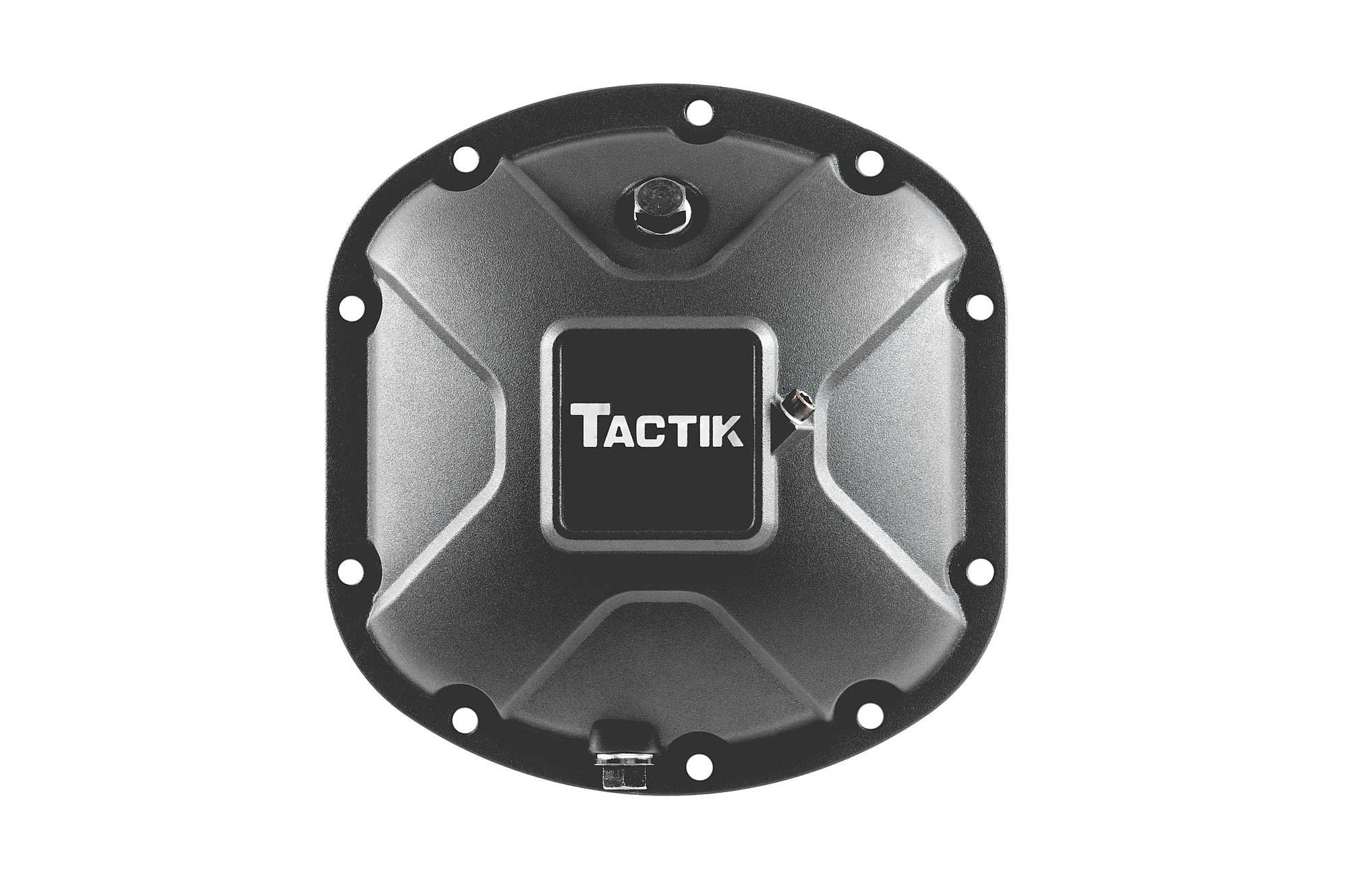 Even though a Jeep's differential area is one of its weaker spots under the vehicle, it is also something overlooked as a lot of people focus on other areas. So replacing the factory differential cover with an aftermarket differential cover is certainly helpful, and makes for a great holiday gift.
Just make sure you know which axles you, or your gift recipient, have before you get that cover as different year Wranglers have different combinations.
SKID PLATES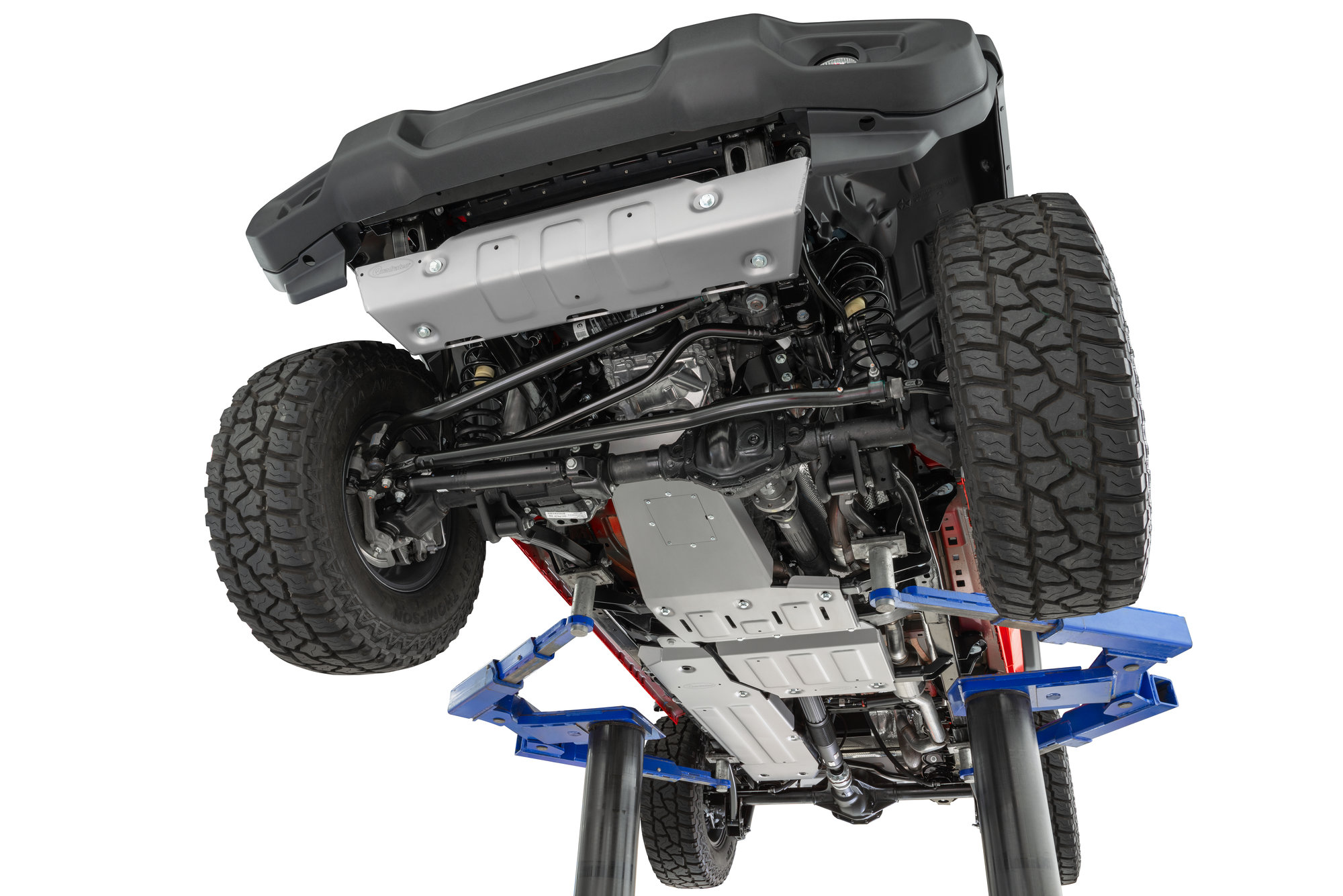 A shield for your Jeep, or someone on your holiday list. That's what an aftermarket Jeep Skid Plate can accomplish. Something that gets between a rock, tree stump, or other obstacle and your valuable undercarriage components like fuel tanks or transmissions.
That way, when the Jeep is off pavement and sliding over a difficult impediment, no one is sweating a fuel tank puncture, or worse.
TUBULAR DOORS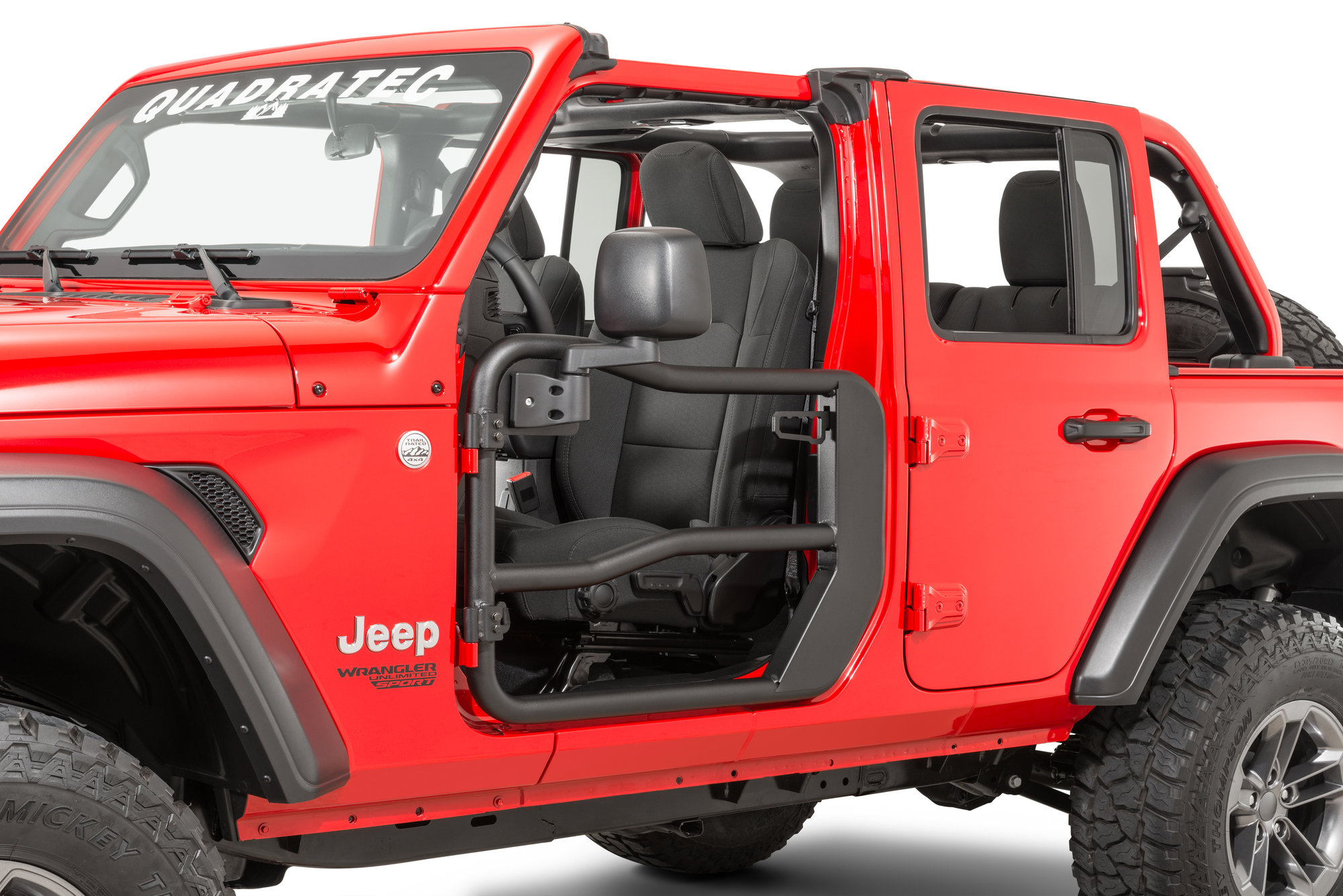 One of the most common things people want when off-roading is added visibility. When you are headed over a particularly difficult obstacle, especially without a spotter, it certainly helps knowing where your tires are at all times.
And whether it is you who wants that extra visibility, or someone you know on your holiday list, adding some aftermarket tubular doors makes for a perfect off-road focused gift.
Sure, you can take those factory doors entirely off and head off-road with nothing, or you can get (or give) some tubular doors in order to provide safety, while still adding that extra visibility.
Many tubular doors either have optional mirrors, or work with the factory ones, to remain legal when on the pavement, and install right on the factory mounting locations—while including OE style latches.
RECOVERY KIT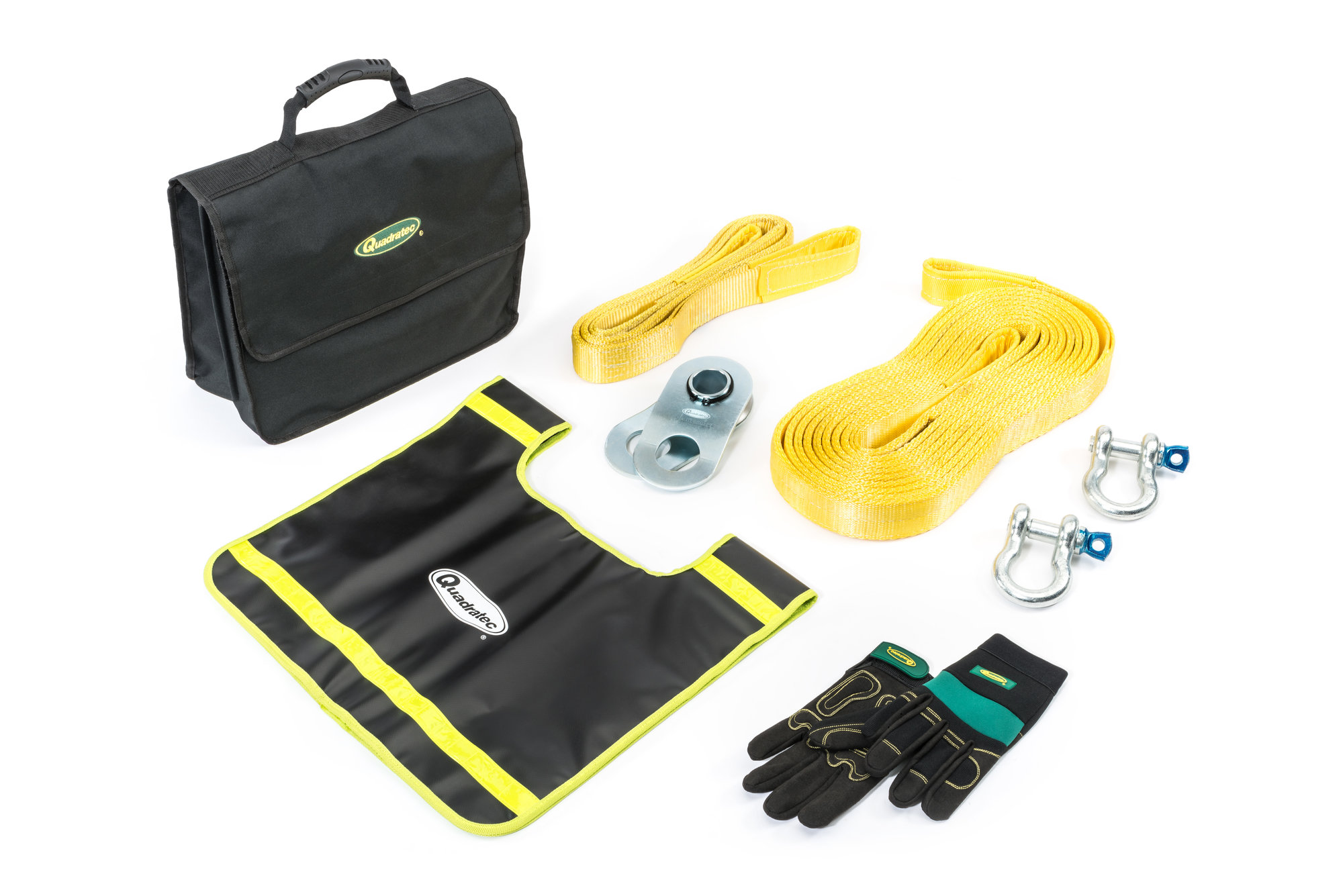 That Boy Scout motto 'be prepared' is something that anyone who loves heading off-road should know and understand. And if you are looking for the perfect item to give this holiday season for that Jeep enthusiast who loves heading off pavement, then a Jeep Recovery Kit can be more than a gift. It can be a lifesaver. Most of these kits are packed with all the recovery essentials needed when off-road - like tow straps, gloves, shackles, winch line dampeners, snatch block and more. Great stuff that is often overlooked by many who think they'll never be in a recovery situation. So check out our Recovery Page and make sure that Jeep owner you know has all the essential recovery stuff they need this holiday season.
FACTOR 55 FLATLINK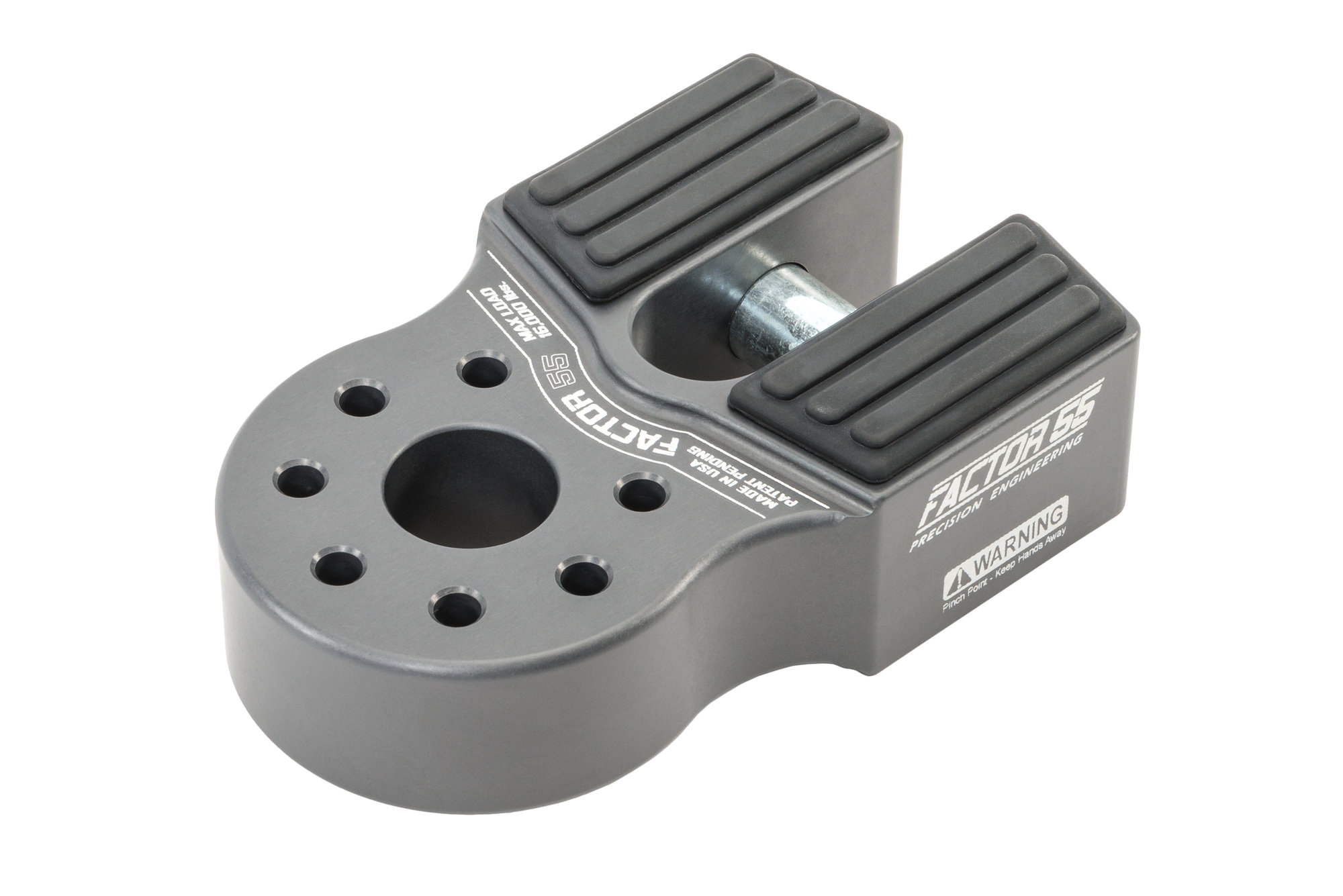 Pretty much every winch out there utilizes a steel hook on the end of its line. But more and more people are realizing that those hooks can often cut or fray recovery straps—or worse, allow strap ends to fall off if the line slacks while winching.
Factor 55's Flatlink replaces that hook with a safer, more secure closed loop winching set up that is compatible with either steel or synthetic line, and has a max load rating of 16,000 pounds. This has become the 'go to' winching accessory over the past few years, and walking around SEMA this year, nearly every build had this one its front.
Daily Driving
These days, with the vast improvements Jeep has made to its Wrangler lineup, more people than ever are daily driving their Wrangler. But no matter YJ, TJ, JK, JL, or JT, there are all kinds of things that can help enhance your daily driving experience, as well simply making the vehicle look better while you are on the road.
Here are some that would make great holiday gifts.
WHEELS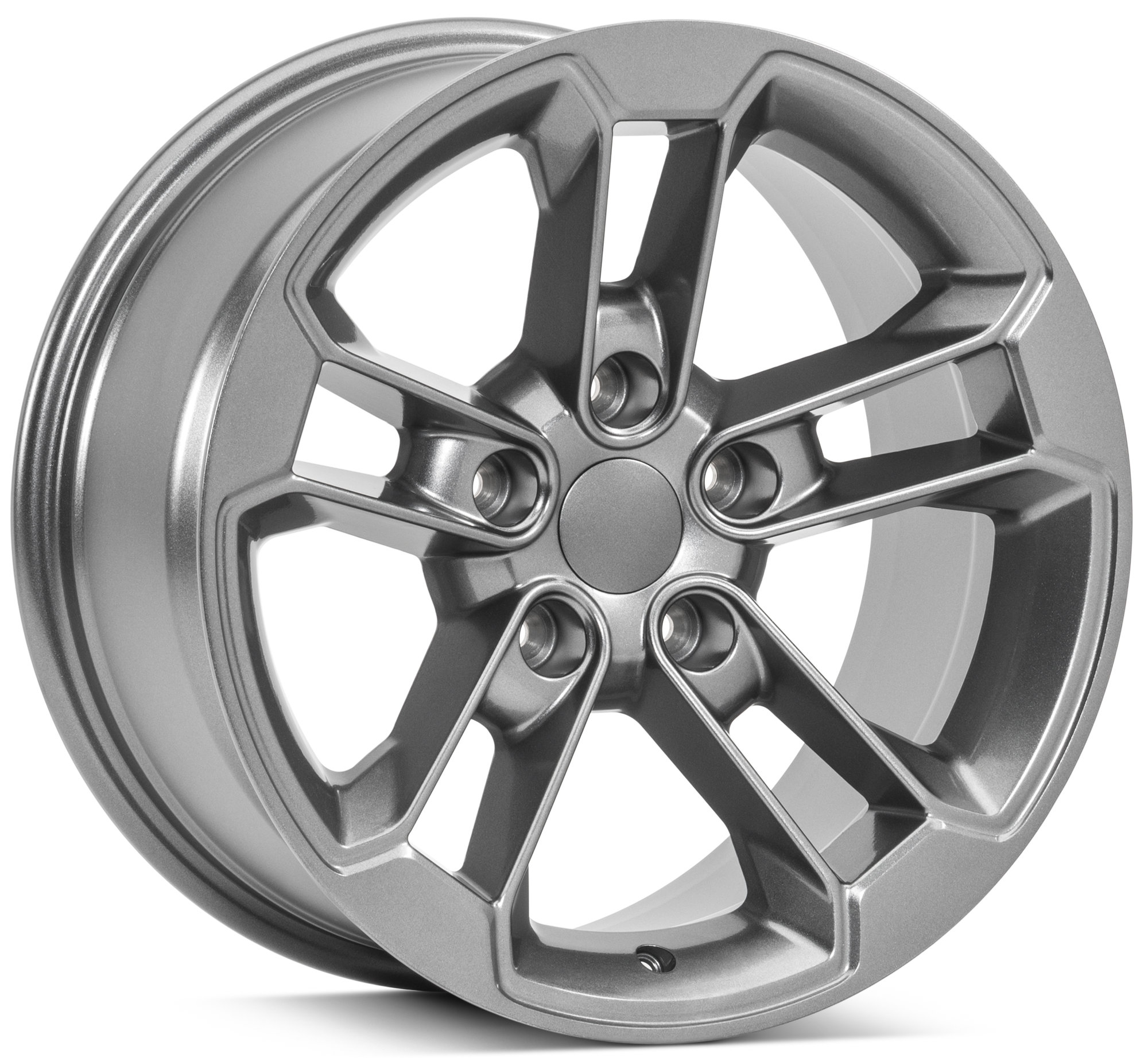 While factory Jeep wheels get the job done for the most part, there are so many options these days that involve different colors, or spoke designs, or even retro looks that you can easily find a set that would look great on your gift recipients Jeep—maybe even your own.
Most are lightweight and designed to fit nearly all of today's tire combinations, while even providing enough backspacing should there be a lift kit involved on the Jeep.
If you like the idea, but are unsure of what may fit, we have this handy wheel guide that can help.
SEAT COVERS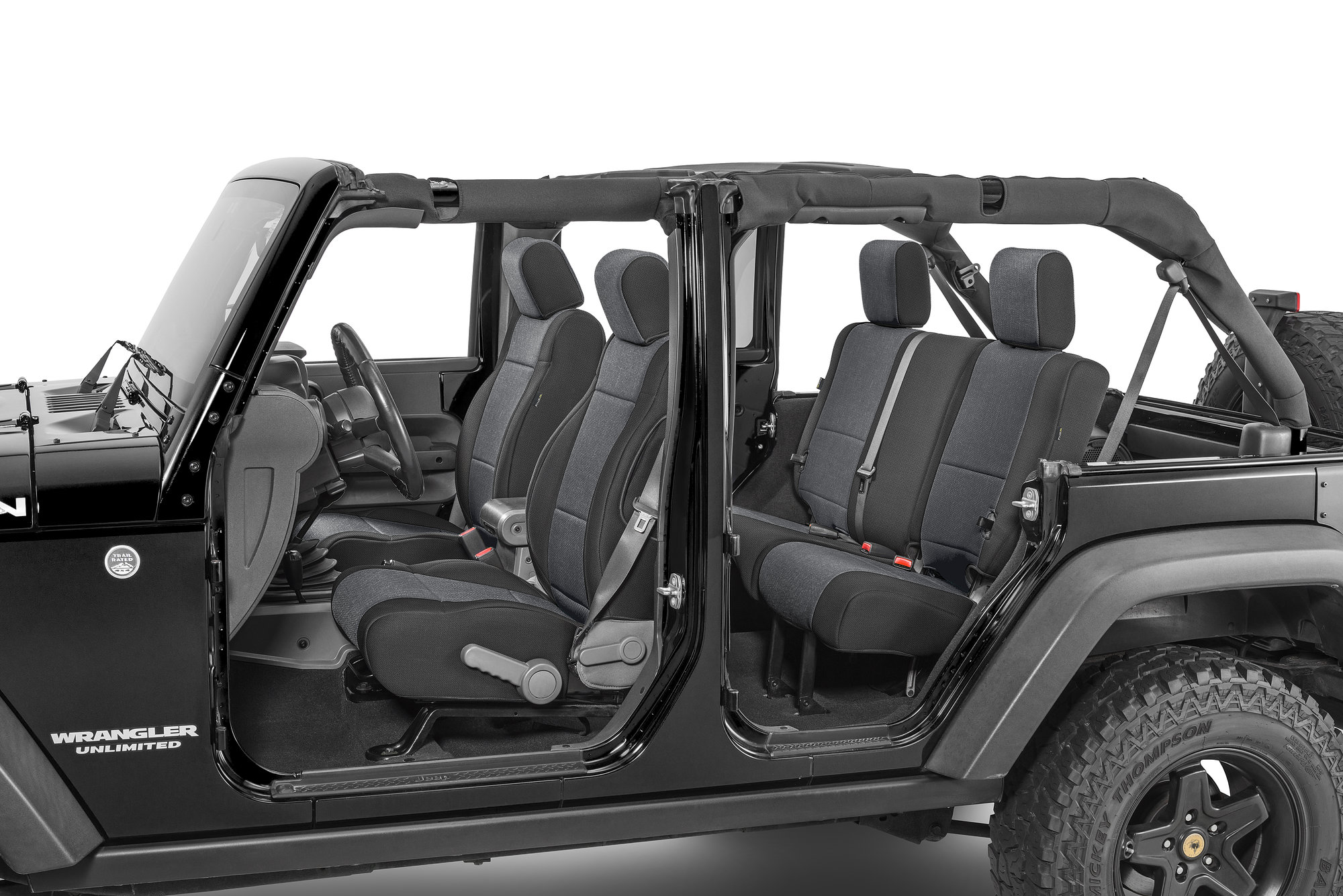 Jeep seats are affected by the elements more so than just about any other type of vehicle seating. Whenever that top is down, those seats can be assaulted by weather, the sun, or other things like mud and sand. This is why seat covers are a solid option for many Jeep owners. Whether it is neoprene, vinyl, nylon, or some other material, seat covers protect that factory material and will help increase the overall longevity of the Jeep's seats. Plus, with all kinds of color combinations, seat covers can also provide a nice way to customize the vehicle's interior.
SPARE TIRE COVER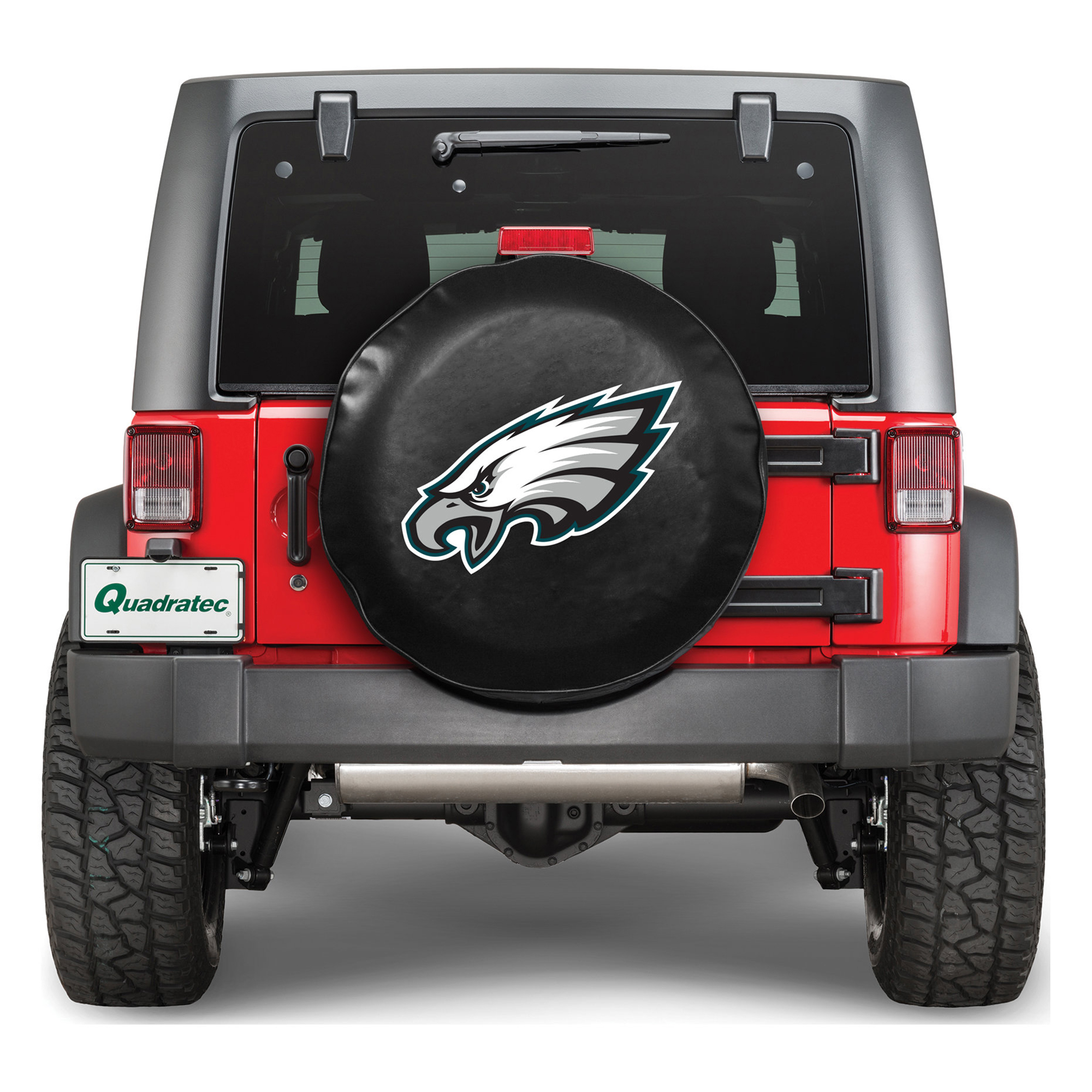 Why cover up that spare tire? Well, it certainly isn't a law, but for you or those on your holiday list, a spare tire cover can be protective, provide security, or show off someone's Jeep or sports team love.
If you need any more convincing on the value of having a tire cover, our handy guide breaks it all down.
HOOD LOCK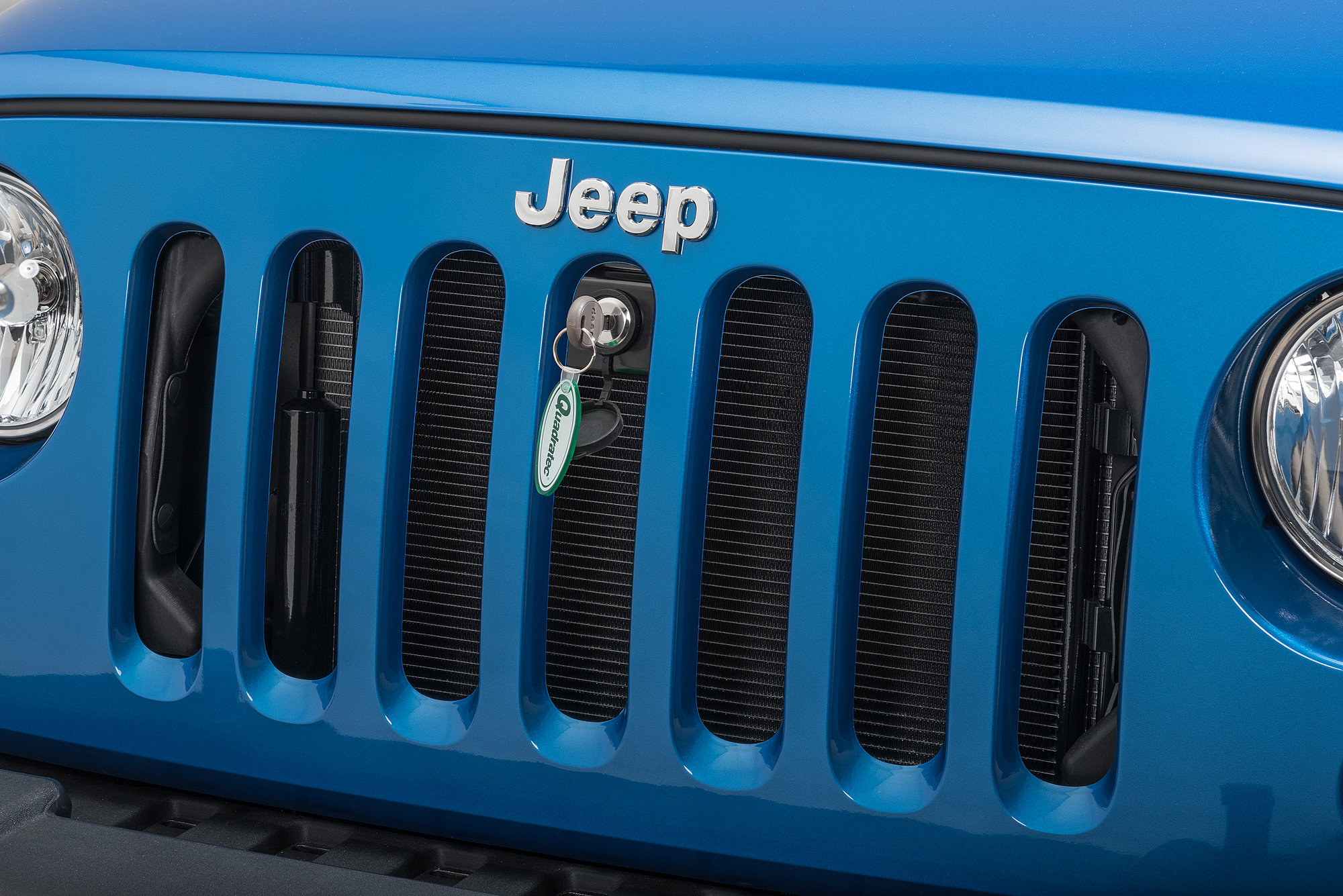 Security. We all know, for the most part, that it is almost non-existent on a soft top Jeep, while being a bit better on hardtop equipped vehicles. Sure, some vehicles have alarm systems and full doors that help, but things can still happen.
However, up in the front around the hood area, there is really nothing at all to stop someone from opening that hood and taking whatever is inside. This means stuff like batteries, air intakes, snorkel systems, electrical upgrades like SPODS, among other things.
So a great way to prevent unauthorized entry of engine bay is to add a high grade hood lock.
Bolt's system makes a great holiday gift because it works with the existing Jeep key so there is nothing additional to carry around. Plus, there is no drilling involved so you don't have to worry about someone messing up their vehicle thanks to your gift.
LED HEADLIGHTS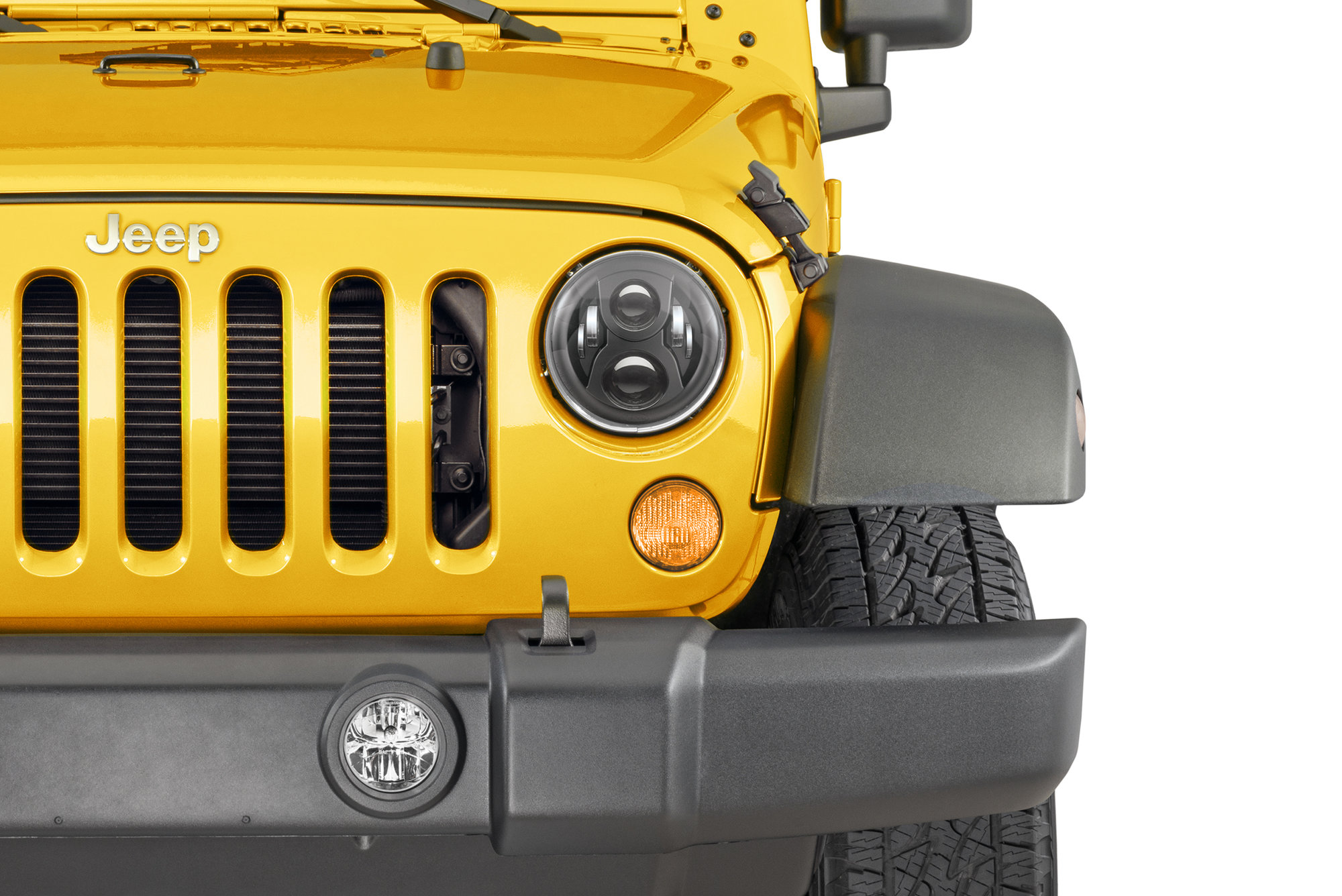 If there is one thing that has been a constant in the Jeep aftermarket world the past few years, it is LED Lighting. More affordable than ever, this lighting has taken the baton from halogen and really pushed the envelope as far as quality and functionality. And it is not just for headlights either. LED lighting can be found in taillights, fog lights and even in auxiliary lighting - meaning the Jeep enthusiast in your life can drive smarter, and safer, no matter the conditions.
It is no secret the stock Jeep halogen headlights are dull, dim, pieces of hardware. But until you see just how strong replacement LED headlights are, you may think that Jeep owner on your gift list is getting by just fine with the factory lights. Well, if you really want to make a bright impression, grab a pair of new LED headlights and make sure your gift recipient has the most powerful lighting around. Our Jeep headlights page can help you find exactly what they need.

Stocking Stuffers
Maybe it is you looking for something as neat as a stocking idea for yourself, or perhaps you have a group or work gift exchange and drew someone who is really into Jeeps. Well, there are definitely some nice things you can check out that would be a great addition for anyone's Jeep accessory pile.
JT BROOKS PRO TIRE DEFLATORS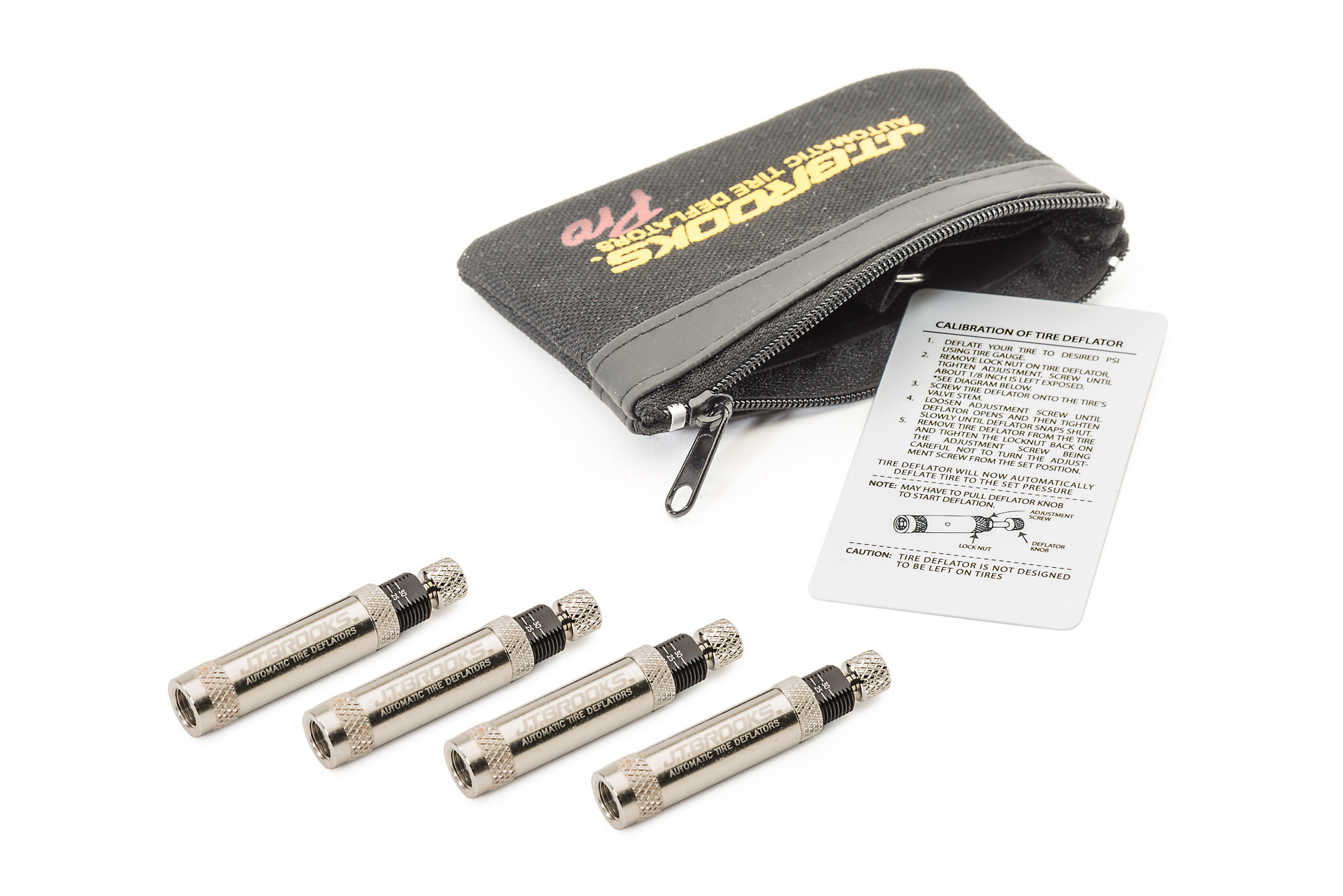 Tire deflators are great choice for someone on your holiday gift list who has caught the off-road bug. JT Brooks Pro Tire Deflators do just that - they hook up to the tire's valve stem and bring down its psi so the tire performs better off-road. The lower the tire pressure, the more a tire's rubber can stay on a rock or other obstacle - providing much better performance. These things are essential for successful off-roading and to check out every tire deflator option, click over to our tire deflator page.
MOPAR DOOR REMOVAL TOOL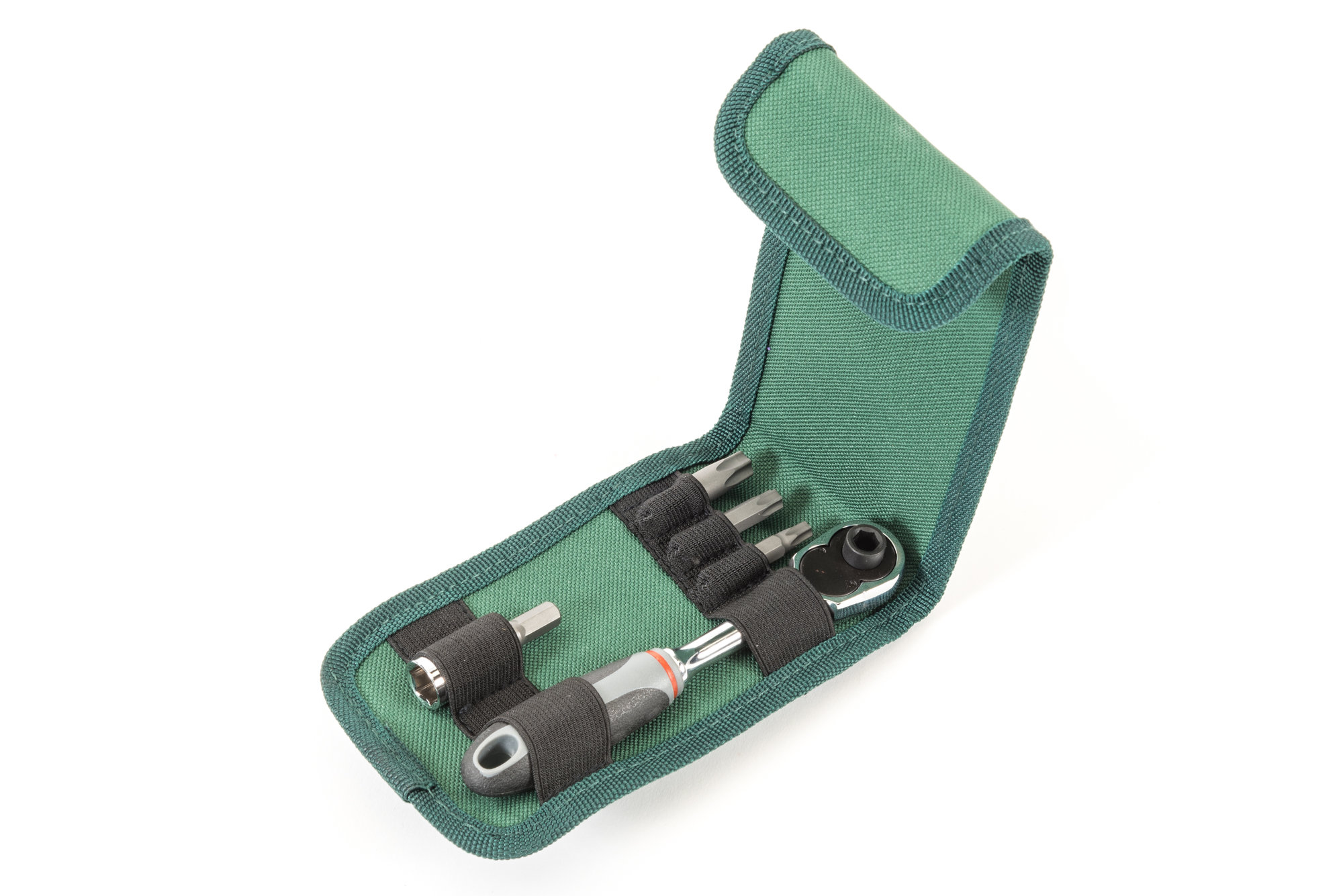 This kit came with many of the later model JK and JL Wranglers, as well as the JT Gladiator, however, it is also something that many people put aside and never see again.
So if you (or that person on your list) loves taking your hardtop, or doors, off during those warmer days, then this tool is perfect to get the job accomplished. And, on the newer JL and JT editions, it also has everything needed to fold the windshield down.
FLOOR LINERS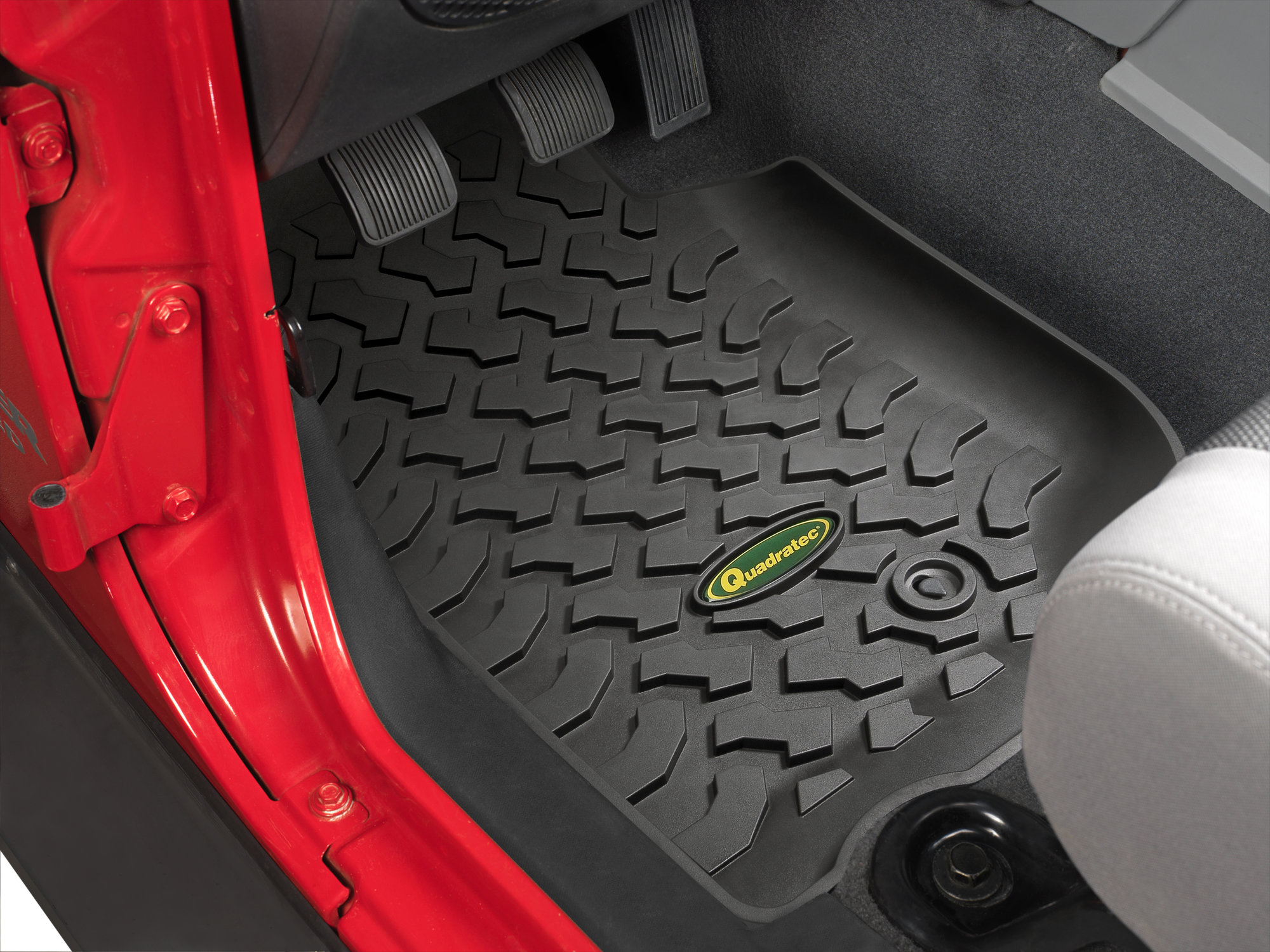 Just like Jeep seats, the vehicle's carpeting can also come under attack from the elements. And it doesn't really matter if that top is down, either. Everyday wear and tear can chip away at a Jeep's carpeting just as much as tracking in mud or snow, or accidentally leaving the top down in the rain. So floor liners make an excellent gift for that Jeep enthusiast on this year's shopping list. Most liners are custom made to perfectly fit the Jeep's footwell area, and come with anchors so the liners do not move around. Some are carpeted, while others are rubberized or plastic with grooves to trap moisture. Check out our Floor Liner page for all the great shopping options.
GRIZZLY CUPS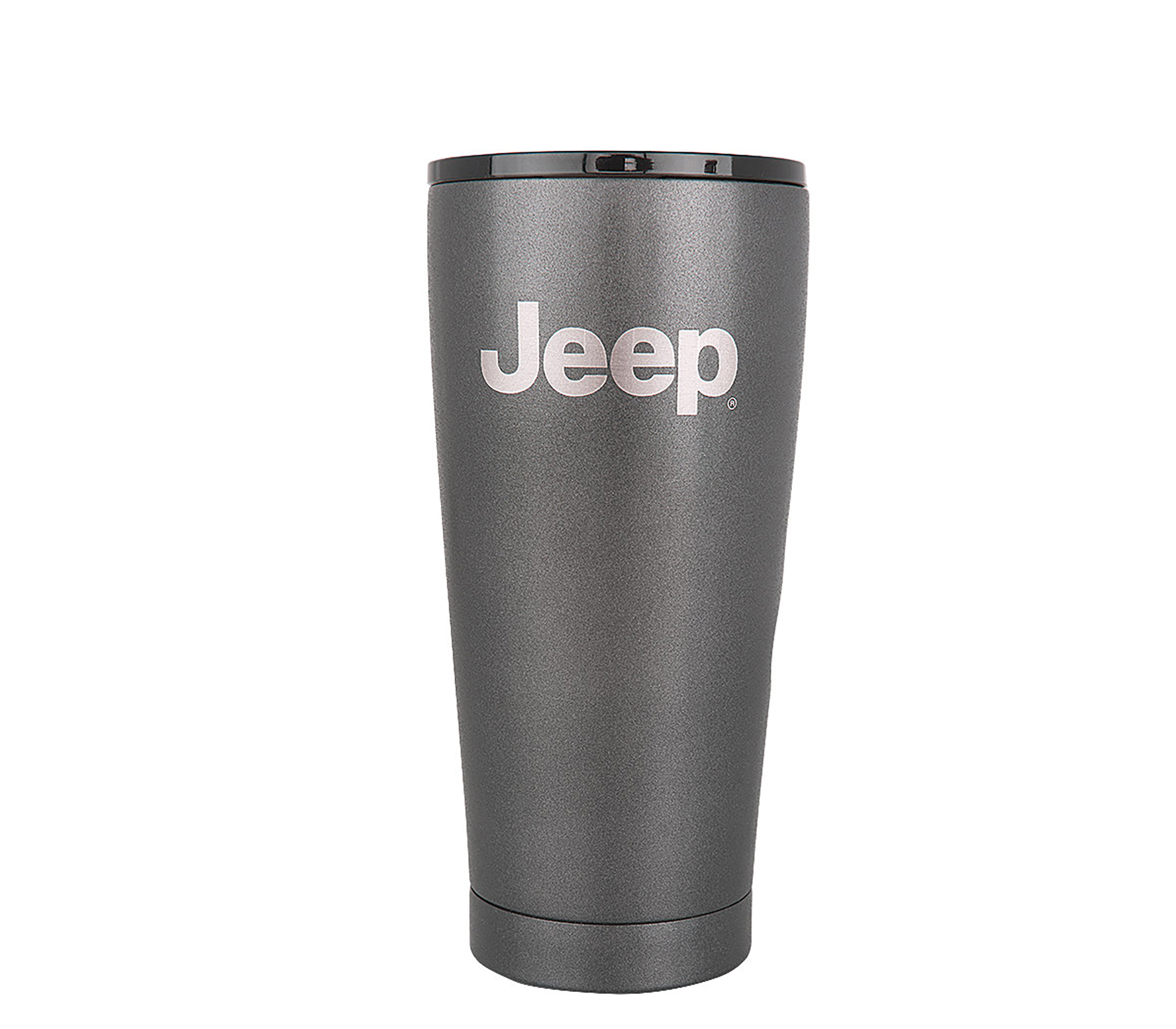 Pure insulated goodness. That's what you could give to that Jeep owner on this year's shopping list. And we mean pure insulated goodness found in Grizzly Jeep Logo Cups, can coolers, tumblers and water bottles. All of these guys are designed to fit inside a Jeep's cup holder and are perfect to keep that morning coffee warm, or afternoon soda cold, during the ride to and from work. To check out all our Jeep cup inventory, head over to our Jeep Cups, Glasses and Mug page.
TRAIL SHOVEL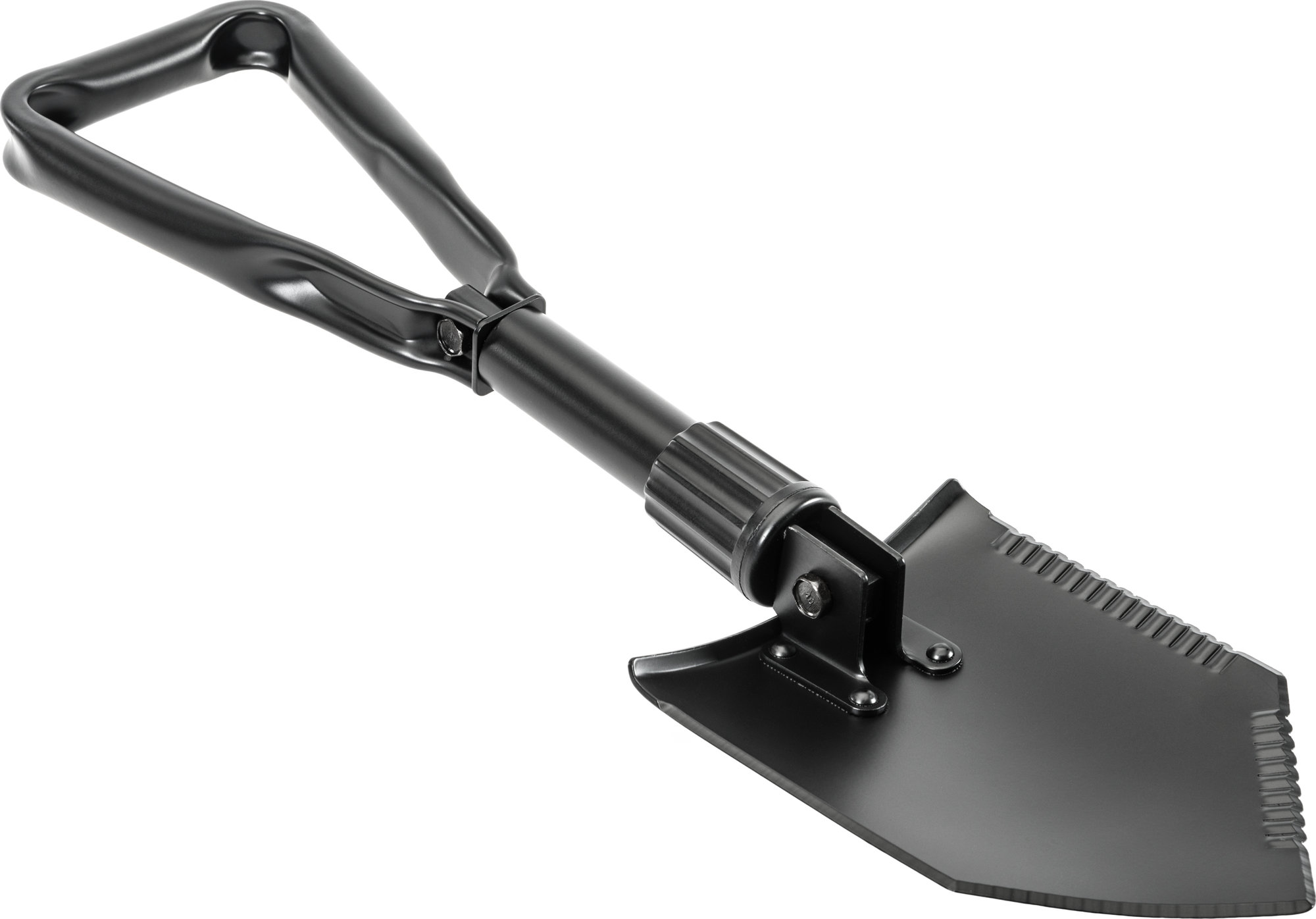 When a Jeep heads off-road, sometimes weird things can happen and tires get buried in dirt or mud. That is why a solid, strong recovery shovel is a great tool to add on your stocking stuffer shopping list.
This shovel folds up neatly for storage pretty much anywhere in the Jeep, and then can be put together quickly when a situation arises. It also offers two serrated edges to help cut as well as dig.
It is handy and convenient enough that you will probably toss one in your stocking as well as for whoever is on your list.
For other top holiday gifts, make sure to check out our Jeep Gift Guide page.