How do you change an icon, without changing an icon?
That is a question Jeep executives have no doubt wrestled with over the past few years as they worked on redesigning a next generation Wrangler in time for the 2018 model year.
And while we all have pretty much seen the final result, just about everyone in the Jeep world will still be focused on Wednesday's official press reveal of the new Wrangler JL to check out and critique everything that has, and has not, changed.
For good and bad.
Sounds a bit like 1986.
The spotlight that year may not have been as large, but stakes for American Motors Corp. were just as high as they were preparing to launch an entirely new Jeep model to a diehard, and skeptical, fan base raised on the age old CJ vehicles.
As we await this Wednesday's JL reveal, lets take a look back and revisit the last big overhaul in the Jeep line. Sure the Wrangler has undergone a few upgrades over the years, but nothing like what AMC did to entirely change up the brand's DNA.
-----
A civilized Jeep.
That was how AMC portrayed its new Jeep vehicle in 1986.
Something better, more refined, but still with the lifeblood of everything Jeep stood for over its lifespan.
Civilized.
Called the Wrangler, after AMC's marketing team went through a ton of other, less popular names, the vehicle boasted a smoother ride, more stability and an upgraded interior that, AMC hoped, would endear itself to a wider consumer base.
It was definitely a risk. Definitely, because real Jeep enthusiasts at the time loved their CJ vehicles. And yet, for AMC, it was a risk worth taking as the CJ was stagnant on dealer lots – especially compared to the new and popular Cherokee that launched earlier in the decade.
For four decades, the company's vaunted CJ-series vehicle ruled the Jeep landscape and captured the hearts of a small, but dedicated, following. However, over the years, as the CJ's popularity grew (it sold a record 71k units in 1979), more and more inexperienced drivers tried to operate the thing like a regular car, which caused rollovers during sharper turns, and numerous complaints about its hard, rough ride.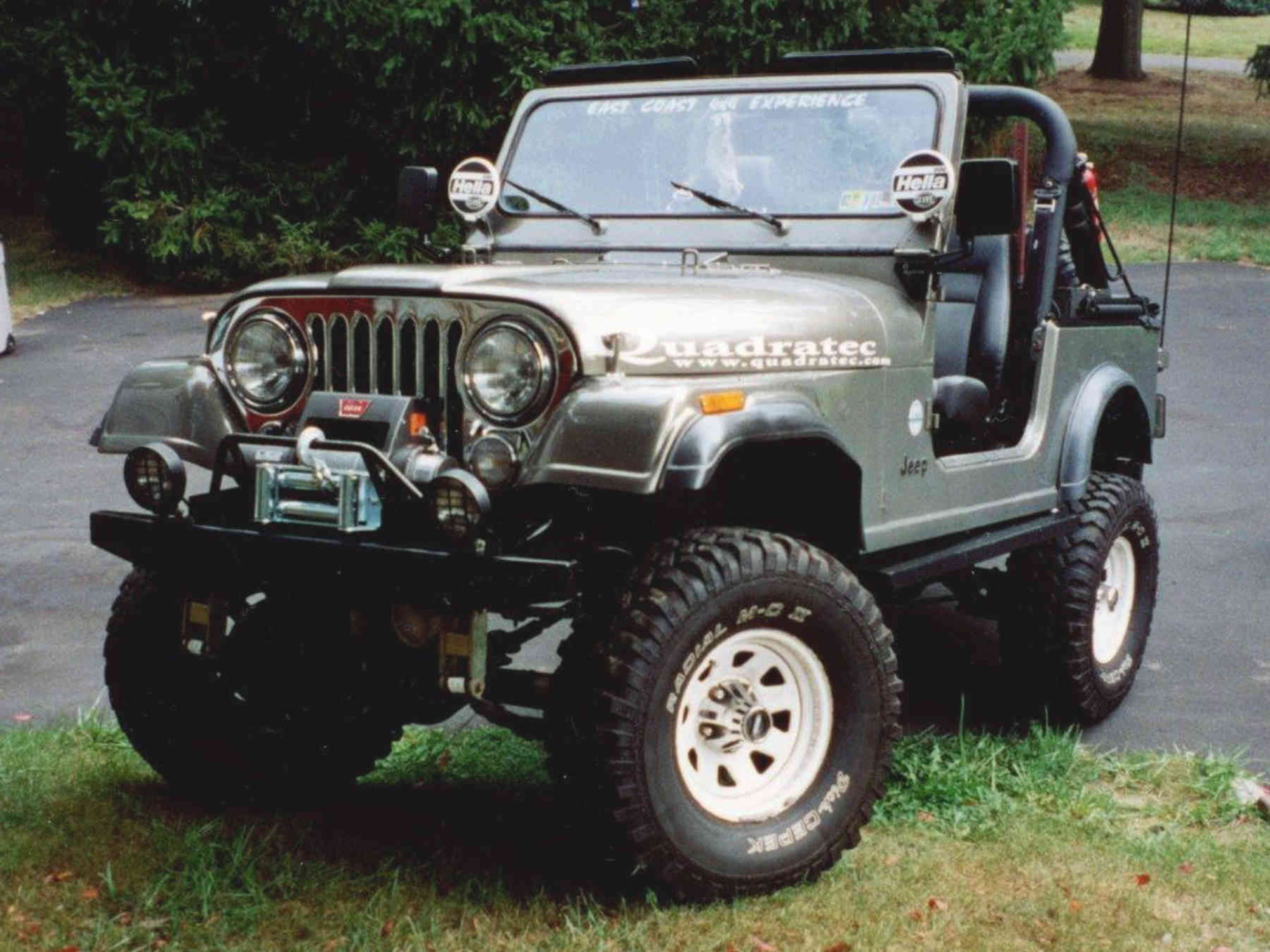 In addition, the late '70s and early '80s saw an energy crisis which turned many American drivers towards lighter, more efficient 4x4 vehicles. AMC's new Cherokee (1984) was one of those vehicles, boasting a lightweight unitized body, a more sophisticated four-link suspension design, and much-improved fuel economy. The Cherokee's runaway success, along with AMC's own consumer data and slowing CJ sales, made the company finally realize a replacement was needed for its CJ-7 edition.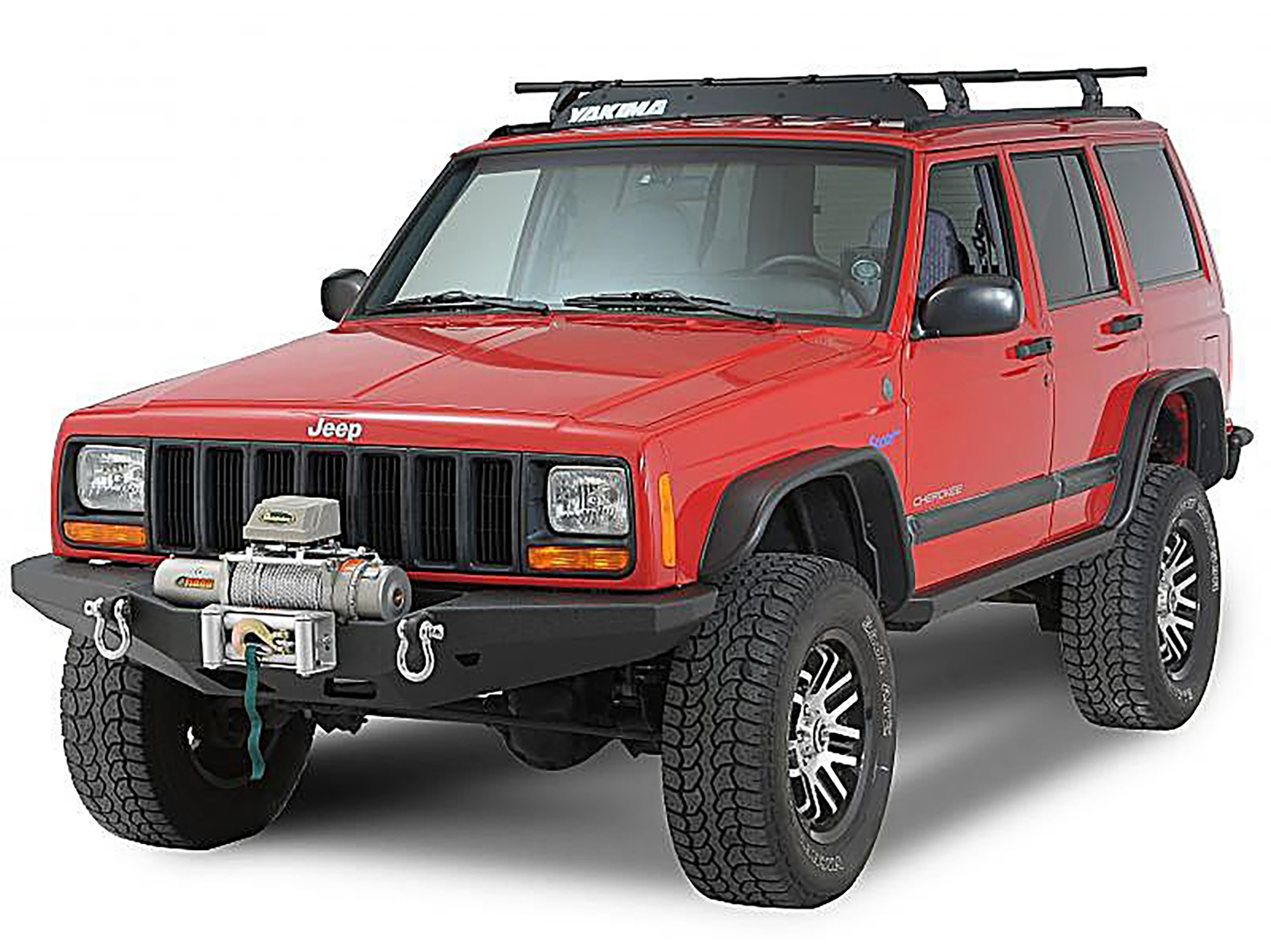 So it began tinkering with the CJ-7 during the mid-1980s and eventually came up with something new from the ground up that still had the classic Jeep look, but utilized a wider track and slightly less ground clearance for stability, as well as offering more comfort thanks to wider leaf springs. It also employed track bars and sway bars for improved handling. Most of these part designs were borrowed right from the Cherokee.
All in the hopes of capturing that daily driver who wanted something more comfortable and drivable, yet still with some ruggedness.
But not everything translated well to the new Wrangler.
AMC also wanted to tie the hot-selling Cherokee and new Wrangler together through a similar front face look. Enter square headlights. While the Wrangler still retained its familiar seven-slot grill design, it eliminated the long-standing round headlight look for a square version.
This did not go over well at the start even though AMC made point after point that the Wrangler was an entirely new direction for the Jeep franchise.
"The product philosophy behind the two vehicles is completely different," said then AMC VP of Product Engineering François Castaing.
The new Wrangler was formally announced in February 1986 at the Chicago Auto Show, and critics were happy to note the vehicle continued to use a separate body and frame design, rigid solid axles in both front and rear, a fold-flat windshield, and can be driven without doors.
However, those square headlights, and better ride, were divisive for traditional enthusiasts. Many termed the vehicle, whose internal code was 'YJ', as a 'Yuppie Jeep' and believed there was no way it would perform better than a CJ.
Eventually, though, everyone came around to see the highly capable Jeep YJ for what it was – a bold new redesign that transformed Jeep from a popular (but niche) brand to something way more mainstream. The YJ sold just over 45k units in 1987, and finished its run in 1995 with production of 119k.
Wrangler YJ models were manufactured between 1986 and 1992 at the Brampton Assembly plant in Ontario, Canada, but subsequently moved to the Toledo South Assembly plant, which originally produced the WW2-era Jeep Willys.
Ironically, AMC never got to see its YJ skyrocket to success. The laboring company was bought out by Chrysler in 1987.
Now it is Fiat Chrysler's turn to carry on the Jeep legacy with its launch of an all new Wrangler edition. No, it is not the same as rolling out an entirely new vehicle - there will be more to come on that as the JT Scrambler and Wagoneer loom in the distance - but Jeep sales now hover around 200k units per year.
Which makes for a lot of eyes on this new vehicle. No doubt eyes which will take in and comment of everything the new vehicle has to offer. Good and bad.
Just like 1986.
Some YJ facts and figures:
The YJ used a 2.5 L AMC 150 I4 or optional 4.2 L AMC 258 I6 until 1990. Starting in 1991, the vehicle replaced the 4.2L power plant with a fuel-injected 180 hp 4.0 L AMC 242 . The NP207 transfer case was used only for 1987, when it was replaced by the NP231.
Despite the new grille, the YJ body is very similar to that of the CJ7, and is somewhat interchangeable with some major modifications. The YJ also was given a larger windshield over the CJ. Besides its square headlight design, YJs are easily identifiable by wiper blades which rest on the windshield.
The roll cage was extended in 1992 to allow for rear shoulder belts, and anti-lock brakes were added as an option the next year. An automatic transmission option for 4-cylinder Wranglers came in 1994, along with a center high-mounted brake light.
There were no 1996 model year Jeep Wranglers, even though the vehicle was sold in 1996. YJs produced that year were sold as 1995 model years, but did include a few new parts not seen on any earlier YJ. This included the new generation TJ Wrangler bump stops on the hood, reinforced tailgate hinges, and some vehicles even had rear TJ bumpers. Others also got the newly tuned I6 that was designed to run quieter in preparation for the TJ Wrangler launch.
Top options for the Wrangler YJ included a soft version with half doors, featuring removable soft plastic zipper windows. Full-frame doors with conventional glass windows were optional on soft-top models, while hard top editions with rear wiper and defroster were optional as well, but came standard with full-framed doors.
The YJ featured large mirrors with manually adjustable arms on half-door models, while full-framed doors received smaller adjustable mirrors with fixed arms. Depending on year and interior color, Wrangler YJs were offered with top color options in black, white, tan and gray. Roll bar padding normally matched top color, with the exception of white tops.
Different trim levels included the base version, which many referred to as the 'S' or 'SE', Laredo, Islander, Sport, Sahara, Renegade and Rio Grande.